The Disney Dining Plan
By Dave Shute
OVERVIEW: THE DISNEY DINING PLAN(S)
(This page is one of a series explicating Walt Disney World lingo, abbreviations, and FAQ for first time family visitors to Walt Disney World.)
There are several Disney Dining Plans available to guests at Walt Disney World resort hotels. The basic idea of these plans is that by pre-paying for most of your meals, your budgeting is simplified, and, possibly, you might save money.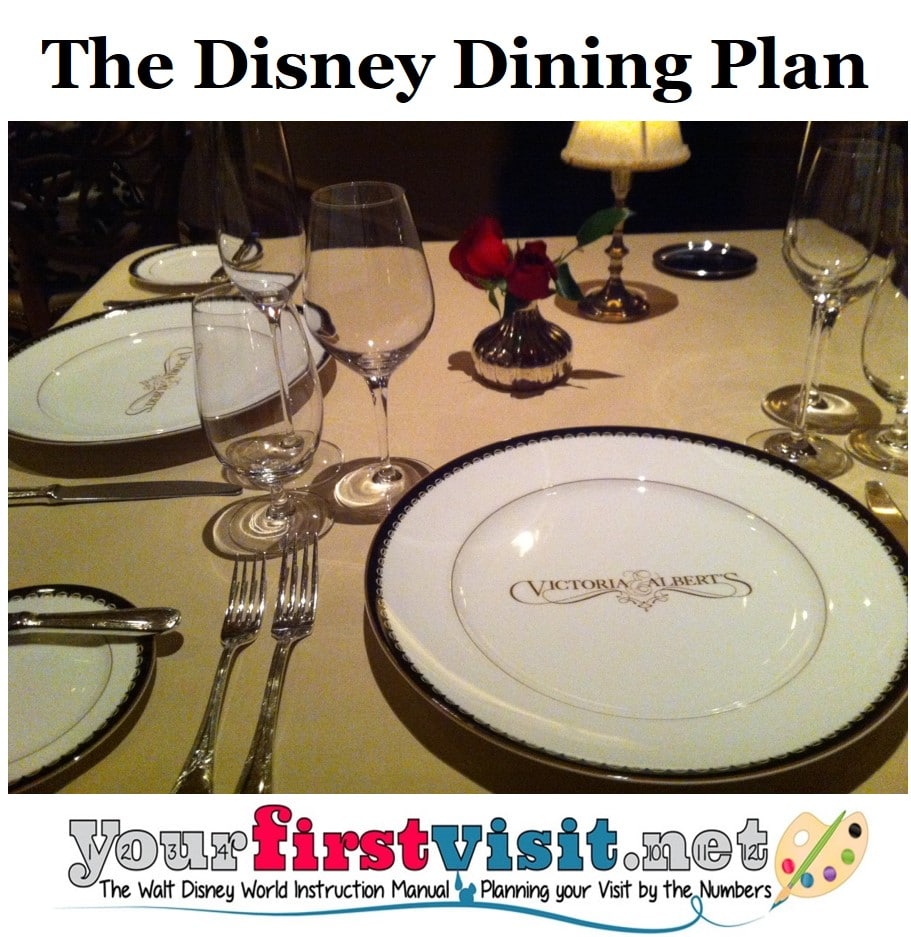 (See this for the official Walt Disney World website material on all of these plans.)
Only one of Disney Dining Plans–the "Disney Dining Plan" itself—is worth considering.  This site recommends that those eating all the meals in one of its recommended itineraries purchase it.
The rationale for this is that those with younger children eating a number of character buffet meals will save some money by purchasing the dining plan.  Not a lot, though.
Buying this plan, however, raises a couple of complexities.
First, to get the maximum value out of it, you really should eat at some of Walt Disney World's best loved dining settings.  These can book up months in advance, so you should follow this site's advice on when your plans should be firm.
Second, while you are actually at Walt Disney World, there can be confusion about which credits apply to which settings, and what items are included and not included.  The itineraries of this site take care of most of this for you.
MORE DETAIL ON THE DISNEY DINING PLAN(S)

All of the Disney Dining Plans work basically the same way.
You buy the same dining plan for each person registered in your hotel room, for each night of your stay. (You can't buy it for kids under three, and kids three to ten have special, much lower, prices.)
When you check in, you will be granted a certain number of credits of various types for each night of your stay.  These credits can be used on any day of your stay, and by any member of your party, except that you can't trade kid table service credits for credits for those 10 and over.
So, for example, you could use none of your credits on one day, and have half of your party use all of your remaining credits the next.
The plans vary by what credits you get, and how many per night of your reservation.
The basic plan, called the Disney Dining Plan, is the one recommended for those following the itineraries of this site, as they will save a little money from using it for all the meals the itineraries present, rather than paying cash for all of them.
The rest of this page goes into much more detail on the plans, and is based on the wildly helpful The easy Guide to Your Walt Disney World Visit.
THE DISNEY DINING PLAN
Disney World dining is expensive. For some guests, it may even be the priciest component of the vacation, eclipsing the cost of lodging and theme park tickets. The three versions of the Disney Dining Plan (Quick Service, Regular, and Deluxe) are a way to prepay some of these dining expenses.
Years ago, when the Regular Dining Plan included appetizer and tip at sit-down restaurants, you could actually save some money by using these plans. These days it's hard for us to recommend them, although the new-in-2018 inclusion of a single alcoholic drink per meal will improve the value payoff of these plans for some, and for others make the cost of the plans easier to forget.
Ignoring alcohol:
The Quick Service Dining Plan is priced so high that it's only possible to break even or come out ahead if you use the credits solely for lunch and dinner. From there, you'll need to order only the most expensive items to eke out a potential savings of a dollar or two per day.
At a cost just over $78 per adult per night, the Regular Dining Plan is expensive and saving money with it requires planning only the most expensive meals.
The Deluxe Dining Plan comes with three quick or table service meals per day at a cost of about $119 per night per adult. Users either spend three or more hours per day eating table service meals or use their credits on faster quick service meals, in turn reducing the value of each credit.
The addition in 2018 of one alcoholic drink for each quick and table service credit will change the value equation of these plans for some.
No quick service venues at Magic Kingdom offer alcohol. But those who would otherwise have paid cash for at least one alcoholic drink at most of their meals anyway will see an additional value of around $15–$30 per night for the Quick Service and Regular Plans, and even more for the Deluxe Plan. This additional value may well turn the plans into more reasonable economic choices for those who imbibe in the ways that they reward.
We suggest skipping the dining plans, with these exceptions:
Pricing on the Regular Plan is advantageous for visitors with kids under the age of ten that plan multiple buffets and character meals. The cash cost of a child buffet at many character meals exceeds their cost of the Regular Dining Plan for that day.
If you take comfort in pre-paying some of your dining expenses as a budgeting tool (even if this means you spend more money), the Quick Service or Regular plans may make sense for you—the cash loss may be worth the budget comfort. It's nice knowing that food is pre-paid and users are free to order whatever entrees and desserts that they like, even if those prices are higher than they're accustomed to paying.
Those 21 and over who would have had an eligible alcoholic drink at most of their quick and table service meals anyway may come out ahead, especially on the Quick Service Plan, which gives you just as many free drinks per night as the Regular Plan but costs about $23 per night less.
With or without a dining plan, the typical family eating their meals on property should budget $50–$75+ per adult per day, and between $20 and $40/day for the kids—depending on their ages and appetites.
THE QUICK SERVICE DINING PLAN
The 2020 Quick Service Dining Plan includes per person, per night:
Two quick service meals (entrée/beverage)
Two snacks
In addition, each guest receives a refillable mug for use at their resort (or any other Disney World-owned hotel).
So a family of four staying for five nights would receive ten quick service meals, ten snacks, and a refillable mug each. For 2020, after tax pricing is:
$55 per night for those ten and older
$26 per night for kids ages three to nine
Ignoring alcohol, adult quick service entrees are typically $11–$15 in the theme parks. Add a $4 fountain beverage and your average meal comes to around $17. Eat two of those, in addition to a $6 Churro and $6 Mickey Ice Cream Bar, and add about $3 for a day's worth of the refillable mug, and you're close to breaking even, after adding tax. Substitute an $8 beer or $10 mixed drink for the soda and you've eked out a savings of about four dollars assuming you've eaten and enjoyed everything.
Kids' Picks generally come in around $7 each. Eat two and add a $5 Popcorn and $7 Mickey Pretzel and the use of the refillable mug, and you've covered the day's cost.
While it's more possible now than it has been for the past several years to save a few dollars per day on the Quick Service Dining Plan, those savings evaporate whenever you eat breakfast, when prices are usually lower, or whenever someone feels forced to order and eat something that they ordinarily wouldn't. It also makes it difficult to schedule a table service meal or character buffet since those meals aren't included on the Plan. You can pay cash for such meals, but if doing so pushes you to using a credit for breakfast—or worse, ending your vacation with unused credits—the Quick Service plan will cost you money.
On the other hand, as noted, the value of an alcoholic drink at each meal may well put those 21 and older ahead of the cost of this plan
THE "REGULAR" DINING PLAN
The 2020 "Regular" Dining Plan—often known simply as the Disney Dining Plan—includes per person, per night:
One quick service meal (entrée/beverage)
One table service meal (entrée/dessert or select side/beverage)
Two snacks
In addition, each guest receives a refillable mug for use at their resort (or any other Disney World-owned hotel).
For 2020, after-tax pricing is:
$78.01 per night for those ten and older
$30.50 per night for kids ages three to nine
Child pricing is advantageous with a cost just about $4.50 more than the Quick Service Plan. With several character buffets priced over $20, it's easy for kids to come out ten dollars or more ahead each day they dine at such a venue.
For those older than 9, the price of $23/per day more than the Quick Service is harder to justify. There are meals where you do well—Akershus for lunch or dinner, after tax, costs $66 per adult, and standard character meals now cost about $58 per adult, after tax. Over the course of a day, an adult ordering a typical quick service lunch alongside a beer, a snack, and dinner at Akershus will pay less under the Dining Plan than with cash.
Outside of buffets and ignoring alcohol, it's difficult to find restaurants with average entrée and dessert prices high enough to cover the cost of the plan. Let's assume you're spending the day at Hollywood Studios and select 50's Prime Time Café for dinner. You select the third most expensive entrée, the $24 Golden Fried Chicken, and the most expensive dessert, the $10 Peanut Butter Layered Cake, along with an $8 Root Beer Float as your beverage. With tax, the meal comes out to $44, which is $34 away from covering the cost of the Dining Plan with just a quick service meal and two snacks to go. At the costliest quick service, Docking Bay 7 Food and Cargo, the most expensive quick service lunch you could put together with a non-alcoholic beverage is $26 with tax. That's about $6 higher than average. Even so, add a $6 Mickey Ice Cream Bar and $7 Mickey Pretzel as snacks and you've only "saved" about $5 on the Dining Plan after going out of your way to order some of the most expensive items at the park. If you had simply ordered the meatloaf instead of the fried chicken at 50's Prime Time, and the chicken instead of the pot roast at Docking Bay 7, then you would come out behind the cost of one day on the Dining Plan.
The economics of two-credit meals are even worse. Signature restaurant entree prices are about 1.5x the cash cost of regular restaurants, but cost twice the number of credits, resulting in a lower per-credit value. For example, the most expensive meal you could put together on the Dining Plan at California Grill is a $65 lobster and scallops, $16 chocolate cake, and $14 cocktail. That's $95 after tax, or just $42.50 per credit for the most expensive meal at one of the most expensive restaurants on property. To compare, the most expensive dinner you could put together at Trattoria al Forno, a single credit restaurant, is a $42 Whole-roasted fish, $8 tiramisu, and $13 cocktail. The value of that single credit with tax is $67.10, or 58% more value than you'd find at California Grill.
THE DELUXE DINING PLAN
The 2020 Deluxe Dining Plan includes per person, per night:
Three meals—either quick service or table service, as you choose. Table service meals include an appetizer where applicable, and all meals include the specialty and alcoholic beverage credit
Two snacks
In addition, each guest receives a refillable mug for use at their resort (or any other Disney World-owned hotel).
For 2020, after-tax pricing is:
$119 per night for adults
$47.50 per night for kids ages three to nine
On paper, there is a lot of value potential here, particularly for kids under the age of ten and those over 21 who drink at every meal.
To maximize that value, however, you could be spending more than three hours a day dining—even more if you avoid two-credit meals—and building an itinerary largely around being at specific restaurants at specific times.
And let's not forget the actual cost. A family of two adults, a 15-year old, and a 7-year old would cost a whopping $405 per night. For that, Josh and Dave will cook and serve your family of four both lunch and dinner, and offer all the Bud Light you can handle, while intermittently breaking out into song and dance.


Follow yourfirstvisit.net on Facebook or Twitter or Pinterest!!
RELATED STUFF