Why You Can't Get Be Our Guest Reservations, Even at 180 Days…
By Dave Shute
GETTING A RESERVATION AT BE OUR GUEST
Among this site's more than 4 million visitors are a lot of Disney insiders, who sometimes send helpful notes about various items.
One of the best is DisneyDiningAgent, who posted an important comment yesterday covering a lot of topics.
One of his (or her!) topics was why it's so hard to get a table service reservation at Be Our Guest.
BE OUR GUEST IS BOOKING UP AS FAR OUT AS 190 DAYS OUT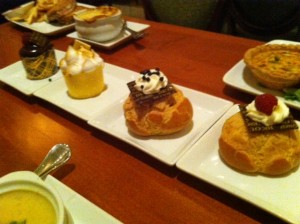 Dining reservations at Disney World open at 180 days out, except for Walt Disney World resort hotel guests.  For these guests, bookings open at 180 days, but the window for booking extends from their arrival date through the next ten days.
This means they can book Be Our Guest up to 190 days out. And, according to DisneyDiningAgent, they are.
Now obviously not everyone is staying for ten days.
But what happens is that the people staying 5 days book it 185 days out, those staying 6, 186 days out, etc.  So when people call 180 days ahead and try to book Be Our Guest for the date 180 days in advance, the capacity 180 days out is often gone, so, if they are a WDW resort hotel guest, they then book it for later in their visit…and then people calling the next day have the same problem, and respond the same way.
There's no great answer to this.
If you really want to do dinner at Be Our Guest (right now, until Fastpass+ emerges, the only reservable meal), your odds will be best if you stay at a Disney resort, aim to do Be Our Guest on the last day of your visit, and be on-line at 6a eastern the first day you can book.  If the on-line system isn't working (all too common–more on that later), then start dialing the phone just before 7a.
What's your Be Our Guest story?  Were you able to book 180 days out, or, if you stayed in a WDW resort, did you pick–or get stuck with–a date later in the reservations window?
Follow yourfirstvisit.net on Facebook!
RELATED STUFF