Review: Cabana Bay Beach Resort at Universal Orlando
By Dave Shute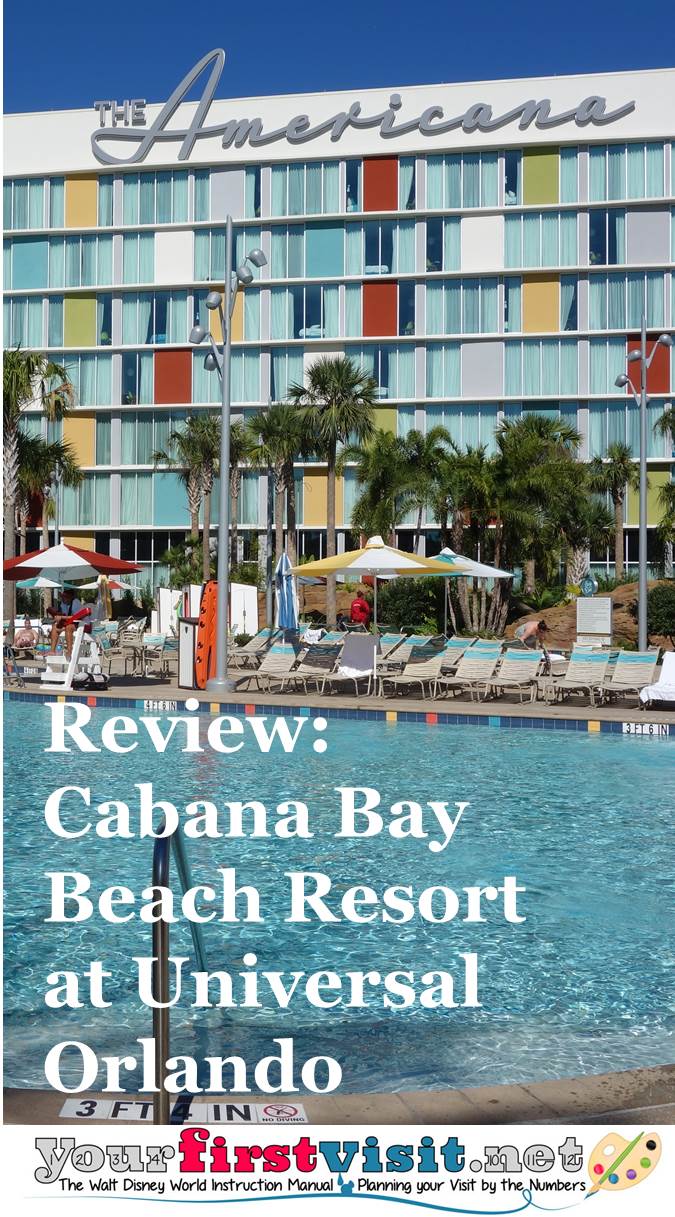 Cabana Bay Beach Resort, a Loews hotel at Universal Orlando, opened in 2014 in stages beginning at the end of March.
The fourth Universal hotel, and the first "value/moderate" (the ambiguity is both intentional and accurate) to be built at Universal, Cabana Bay Beach Resort offers two room types:
Typical four person two queen bed rooms, and
Six person family suites with two queens and a bath in one space, and a fold-out sofa bed in another small living/kitchenette space.
Cabana Bay Beach Resort offers convenient access to Universal Orlando at a much lower price than the Royal Pacific, Portofino Bay, or Hard Rock.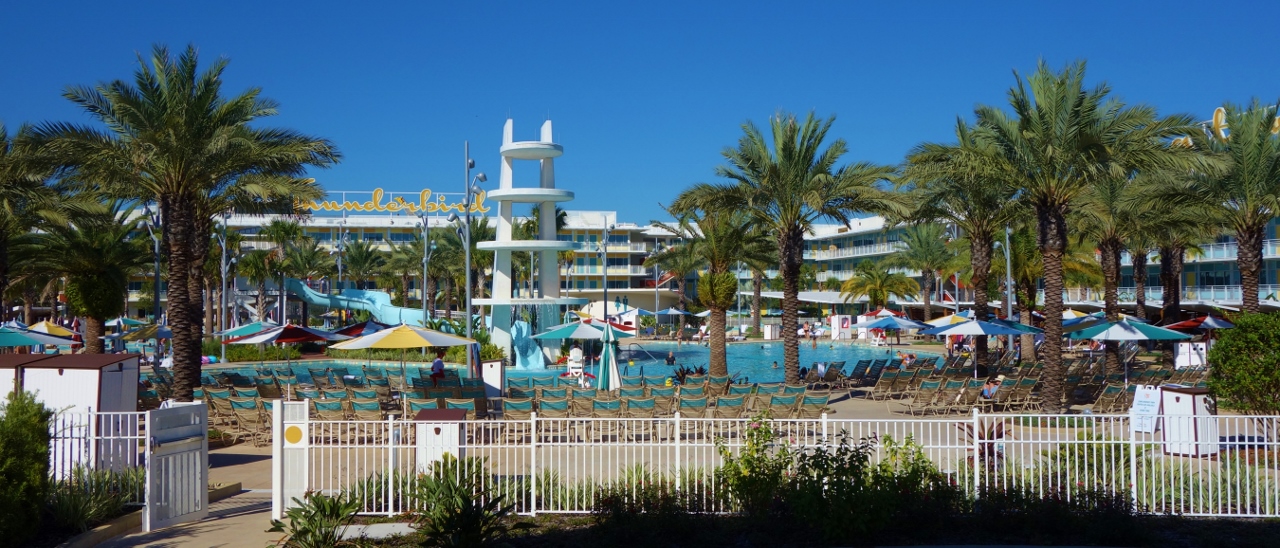 However, it does not have so many amenities as these deluxe Universal resorts (especially dining) and does not offer the full range of park perks that guests at the more expensive resorts get.
Specifically, guests at Cabana Bay Beach Resort do get the early morning access to the Wizarding World of Harry Potter but don't get the Universal Express line-jumping pass for other rides that guests at the more expensive hotels get.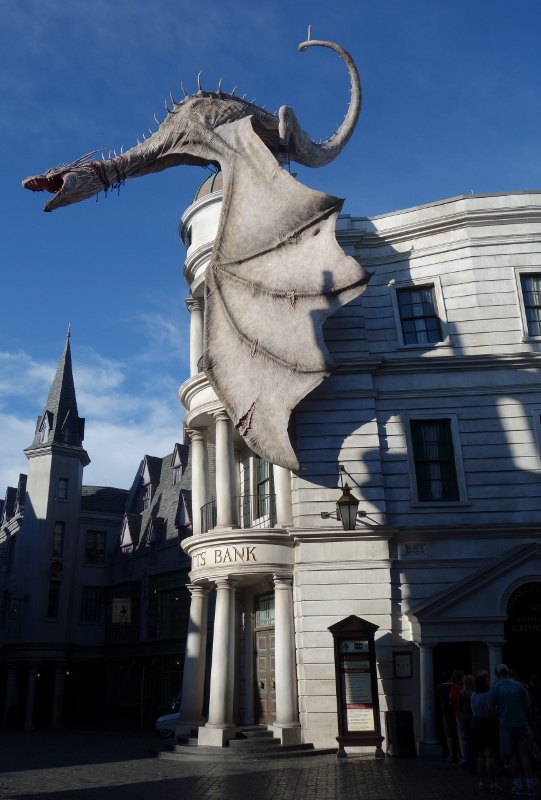 "Early access" is the one hour period during which only Universal hotel guests can enter the Wizarding World (at either one or both parks—it's varied), and if you arrive the turnstiles well before this period starts, you can save a lot of waiting.
For guests focused on Harry Potter and indifferent to fine dining at their hotel, standard two-queen rooms at Cabana Bay are a great choice. I'm not so keen on its family suites.
Because of the value of early entrance, I've always suggested that people who want to see Harry Potter without waiting for hours should stay a night or two at one of the Universal hotels. Cabana Bay makes doing so much more affordable, especially for larger families.
Comparing Cabana Bay to Disney values, moderates, and family suites is a natural act, but I'm not sure how relevant it is. In general, don't choose between Disney and Universal hotels; rather, stay at Disney for your Disney World days to get 60 day access to FastPass+, and stay at Universal for your Universal days to get early access to Harry Potter.
That said, I stayed in both Cabana Bay rooms types in November 2014, and at Disney World have stayed in 22 different value resort standard rooms and family suites, and 27 different moderate rooms, so here's my comparisons:
CABANA BAY BEACH RESORT COMPARED TO DISNEY WORLD VALUE RESORTS
Standard rooms: Cabana Bay much, much better, with queen beds, more floor space, and coffeemakers. A little more expensive than some values, cheaper than others. Perhaps more likely to be on deal—it's too early yet to say.
Family Suites: Cabana Bay's are much smaller, not nearly as good, but priced much lower than Disney family suites. Adults who plan to put the kids on the two queen beds and themselves sleep on the fold out couch should think again. Families that can put the adults in the queen room will likely prefer the beds to those in the Art of Animation Family Suites, and almost certainly will prefer them to those in All-Star Music Family Suites unless they need the four sleeping spots that Music suites offer. Space overall too small for the six people it can sleep. Many will find two connecting queen rooms at Cabana Bay a better choice than a family suite.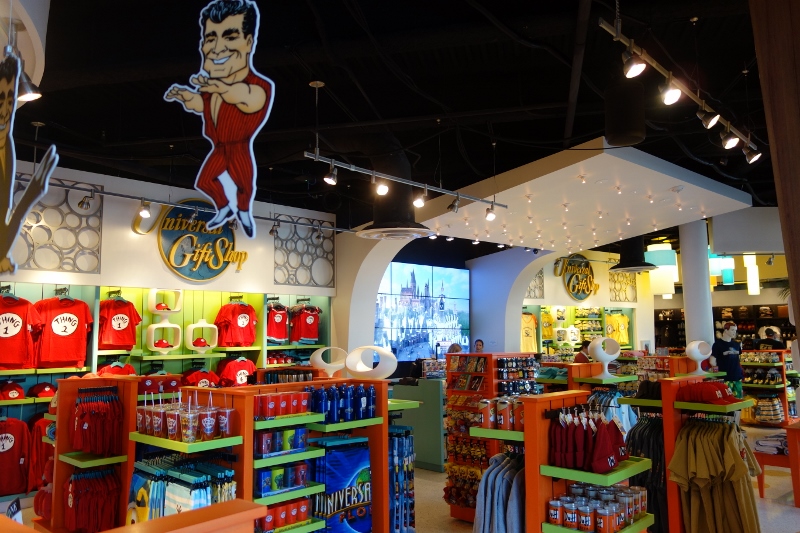 Theming: Cabana Bay is lightly themed as a 60s Florida art-deco roadside motor hotel. This will escape pretty much all kids and not be of much interest to most adults; it is generally much less garish than the theming at Disney values, but at times it does indeed seem a little loud. Jack LaLanne??
Amenities: Much, much better dining, pools, and other amenities than at the Disney values.
CABANA BAY BEACH RESORT COMPARED TO DISNEY WORLD MODERATE RESORTS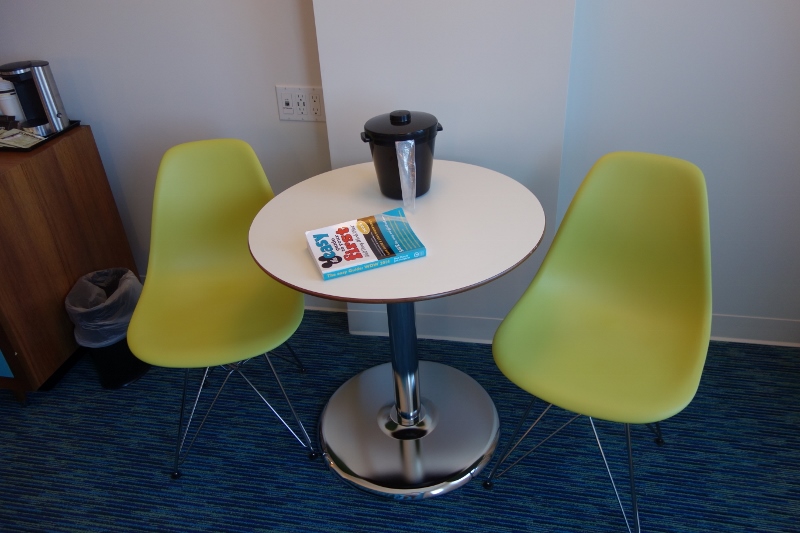 Standard rooms: Smaller and less well appointed. Although their 300 square feet seems pretty comparable to the ~314 square feet of Disney moderates, Cabana Bay's room entry from interior halls means a waste of square feet in the room's entry hall between the bath and closets. As a result, the bedrooms are larger at the Disney moderates, and in particular longer. The table and chairs fit the Cabana Bay 60s art deco theme but to the eye look cheap, and there is no footstool/bench, common in Disney moderates except Coronado Springs. No rooms sleep five. Cheaper than Disney moderates—sometimes much cheaper.
Theming: Disney moderates are more subtly themed and have much better landscaping. The absence of landscaping at Cabana Bay comes from the tight footprint—while not small, Cabana Bay is much more compact and easy to get around than the Disney moderates, except perhaps French Quarter.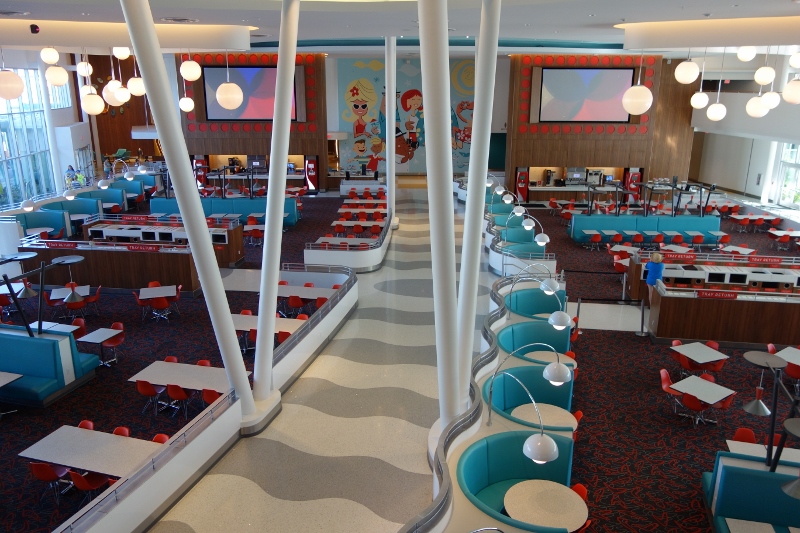 Amenities: Comparable to or better than the moderates, except for table service dining. Has a great gym—you'll find a gym only at Coronado Springs among Disney's moderates. The quick service dining area of the Cabana Bay food court is cavernous compared to those at the Disney moderates. I haven't eaten yet at the table service in the bowling alley (I am not making this up), but its menu is more limited than the Disney moderate table service offerings.
CABANA BAY BEACH RESORT AT UNIVERSAL ORLANDO
Cabana Bay Beach Resort has two wings, each surrounding a pool complex, with most other amenities in the middle.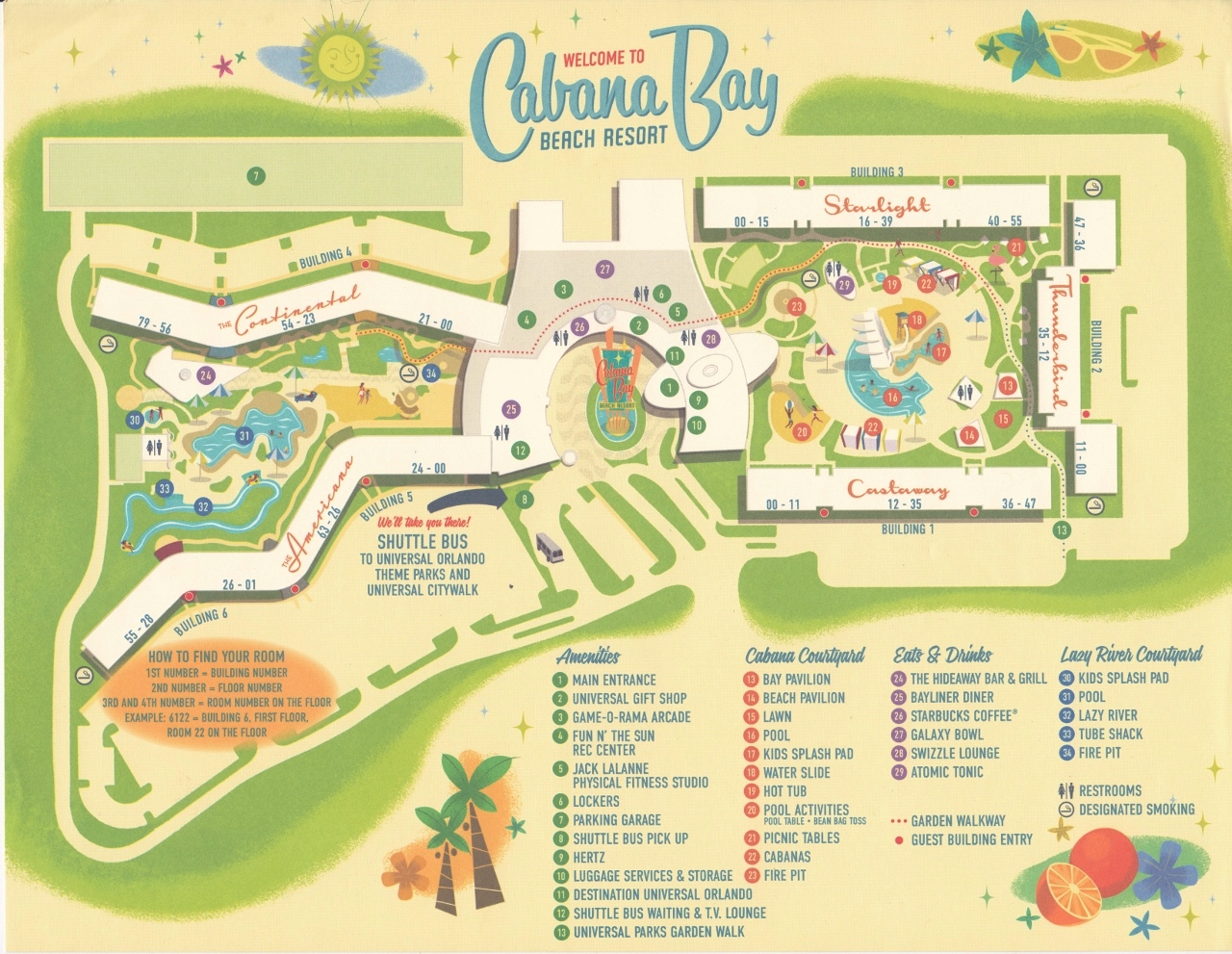 One wing is variously called the North Courtyard or the Cabana Courtyard, surrounds the Cabana Pool complex, and has 600 family suites with exterior entrances in the Starlight, Thunderbird and Castaway buildings. No standard rooms are available in this Courtyard. It's on the right in the map.
The second wing, the South or Lazy River Courtyard, left on the map, has 300 more family suites and all 900 standard four person rooms in the Americana and Continental buildings, all opening to interior corridors.
The corridor difference in the family suites means that Cabana suites have their windows in the living room, and Lazy River suites have them in the bedroom. It also means that the Cabana suites should be quieter. Exterior doors are typically MUCH better insulated than interior doors (to cut back on heating and cooling costs) and half as many people walk by on exterior corridors than interior ones (because there are twice as many exterior corridors).
On the other hand, interior corridors are out of the weather, welcome in the summer. Moreover, the interior corridors in the Americana and Continental buildings also connect directly with the central building holding the main amenities and services, so if you are in a standard room or one of the family suites in these two buildings, you don't have to go outside at all to get to the main dining options, bar, bowling alley, etc.
My family suite was in the interior corridor-ed Continental building, and while I had no noise issues, I also—after trying the sofa bed for ten minutes—slept in the more isolated queen bed space, so may have missed some ruckuses.
I didn't do floor plans on this visit—I'll have them next time around—but here's the basics of the layouts:
CABANA BAY BEACH RESORT FAMILY SUITES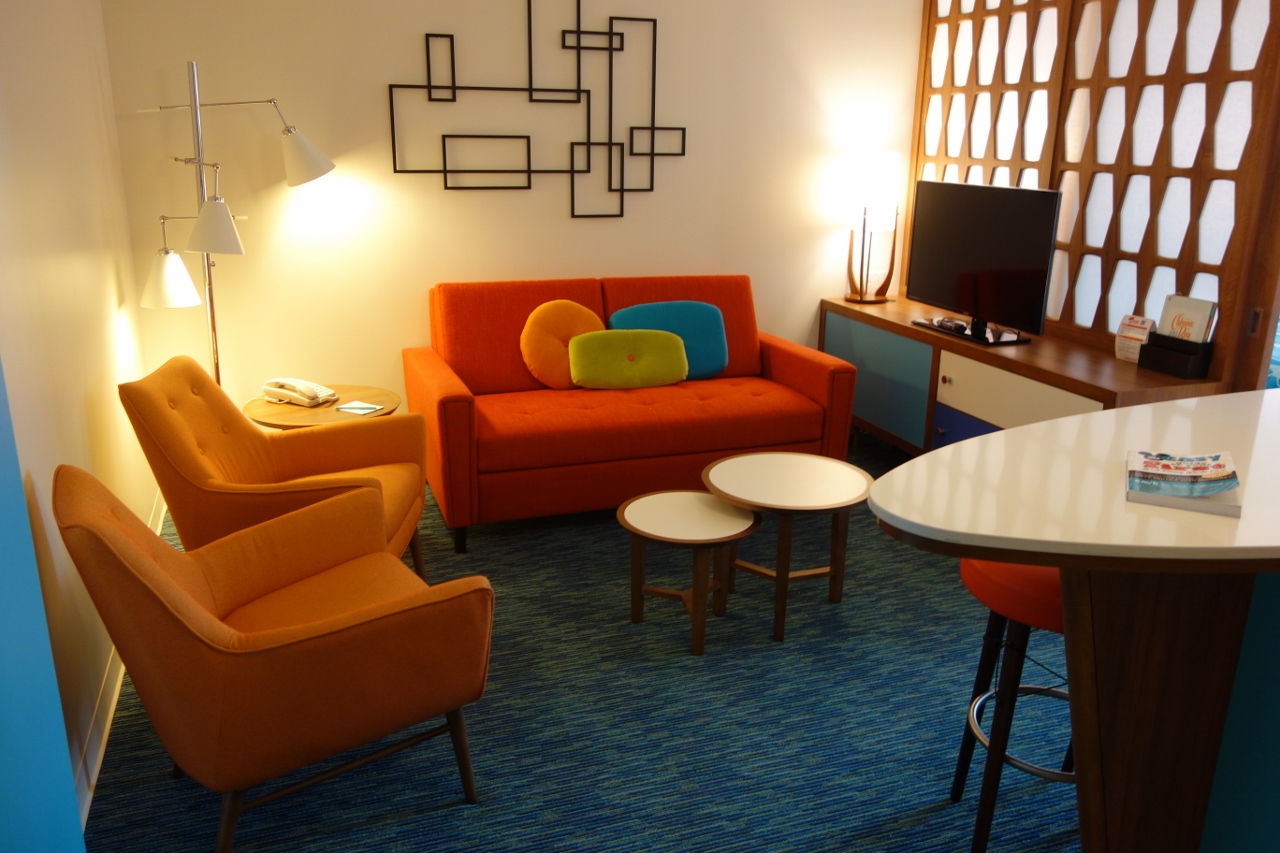 You enter the family suites into a living/dining kitchenette area.
One side has the kitchenette with a microwave, mini-fridge, and storage. The other side has a couch and a couple of small easy chairs. A two person table (high enough that more can stand at, but there's not much room) divides the two.
The connecting door, if there is one, is also here. No Disney family suites that I am aware of have connecting doors, so this is nice. The connecting doors connect only to another family suite—not to standard rooms. The Cabana buildings have only family suites, and the Lazy River buildings have only stretches of family suites, then a break, then stretches of standard rooms, because of footprint and length differences.
A TV stands on top of a split dresser, with half the dresser drawers serving this side of the suite and half the other bedroom space. This is not a lot of storage for six, and the drawers are awkward to access, cramped by a bed in the queen room and by the fold-out bed, when opened, in the living room.
The bedroom space of the family suite, with its two queens, is oddly proportioned, as it is much narrower than typical hotel rooms. The TV is on the wall instead of on a dresser, and the space that in standard rooms is occupied by a dresser and chairs instead here is on the other side of a wall. This space—widened a few feet–is used for a walk-in closet and a three compartment bath—with a sink area, a toilet in its own room on one side of the sink, and a bath/shower and another sink in their own room on the other side of the sink space.
This is not a lot of bath for six people—but much better than a bath divided into only two spaces. Disney family suites offer two full baths, at least one of them also divided.
The bath in Cabana Bay Beach Resort family suites is only accessible from the queen space, and oddly there's no privacy curtain at the central sink area which is open to the queen room, so lights may wake some.
I can't particularly recommend these family suites. Too many design compromises and not enough space. Most families that need the extra beds will want two connecting queen rooms instead, which give more space, better and more beds, better storage, and another bath, at the cost of the living room furniture and the microwave.
A full photo-tour of a Cabana Bay Beach Resort family suite is here.
CABANA BAY BEACH RESORT STANDARD ROOMS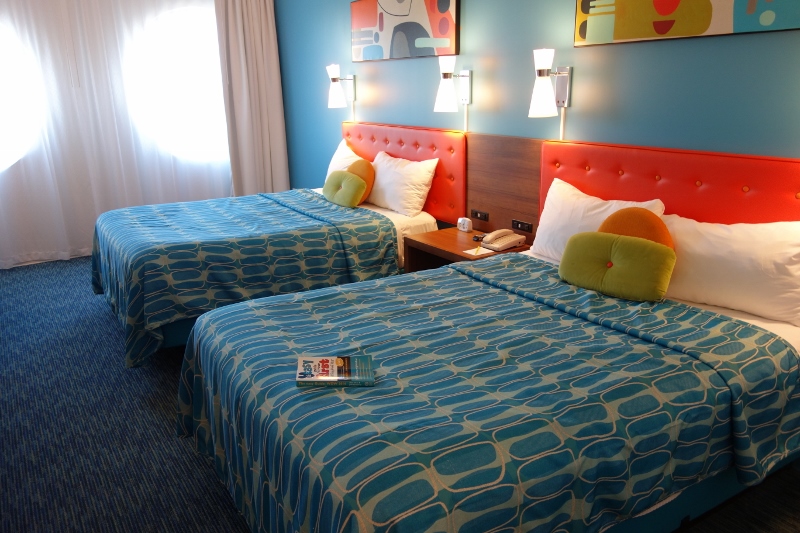 Standard four person two queen rooms at Cabana Bay have a much more traditional design, looking like almost any other interior-corridor accessed two bed rooms.
You enter into a hall with a divided bath on one side and closets on the other.
The bedroom space is beyond, with queens on one side and a table, chairs, and a dresser/TV/mini-fridge thingy on the other.
These rooms are not so long as my photo suggests. I had an unusually-dimensioned room at the break of a shorter wing, and thus got both cool porthole windows and also a room about three feet longer than most.
From looking in the windows of other rooms (yes that was me, sorry, but I did it for a good cause) the bed far from the bath is very tight on the window wall—more so than in the Disney moderates.
Other than the ugly chairs and table, and the tight space at the further bed, these are great moderate rooms for four person or smaller families than can fit them.
A full photo-tour of a Cabana Bay Beach Resort standard two queen room is here.
KID APPEAL AND CONVENIENCE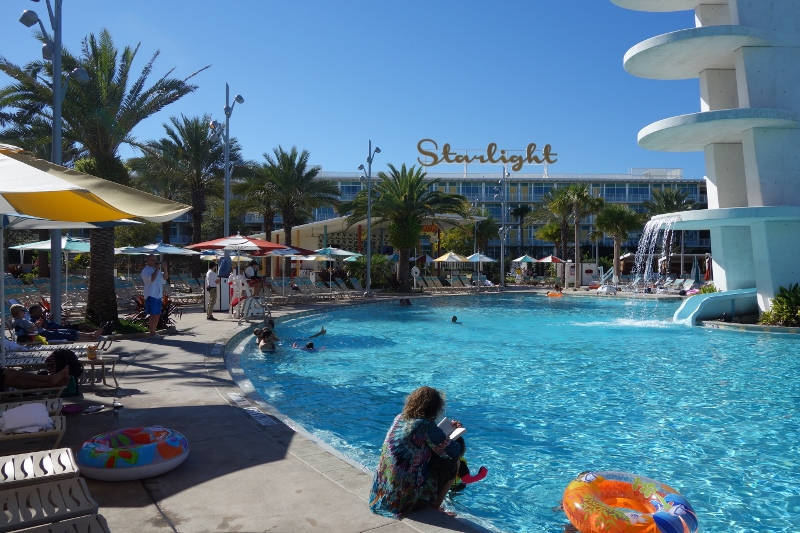 No Universal resort has the strong visual kid appeal of, for example, Disney's Wilderness Lodge or Art of Animation resorts. Cabana Bay has less than most, but kids will love the pools. More to come on these, but the Cabana pool complex has a great slide (above) and a kids water play area, and the Lazy River side (below) has a water play area and a lazy river.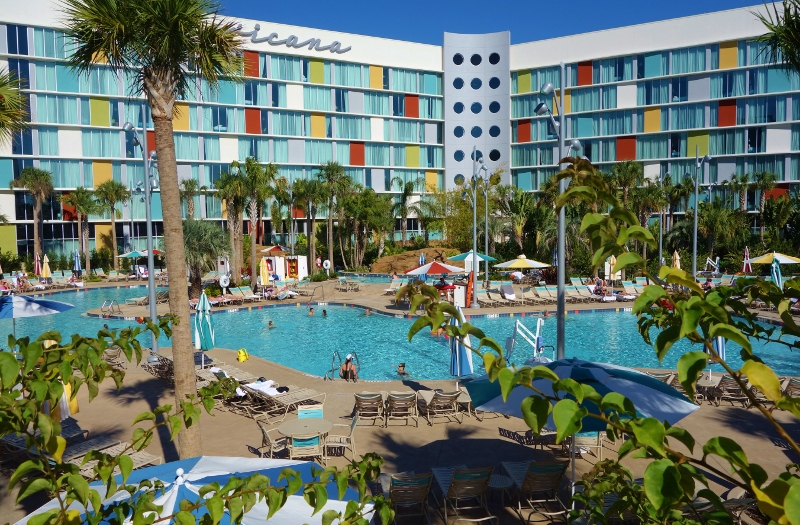 Access to Universal is via bus. There's one bus stop, nearer the Lazy River Courtyard buildings. Bus service during my visit was great, and you can also walk to the Universal Parks from Cabana Bay.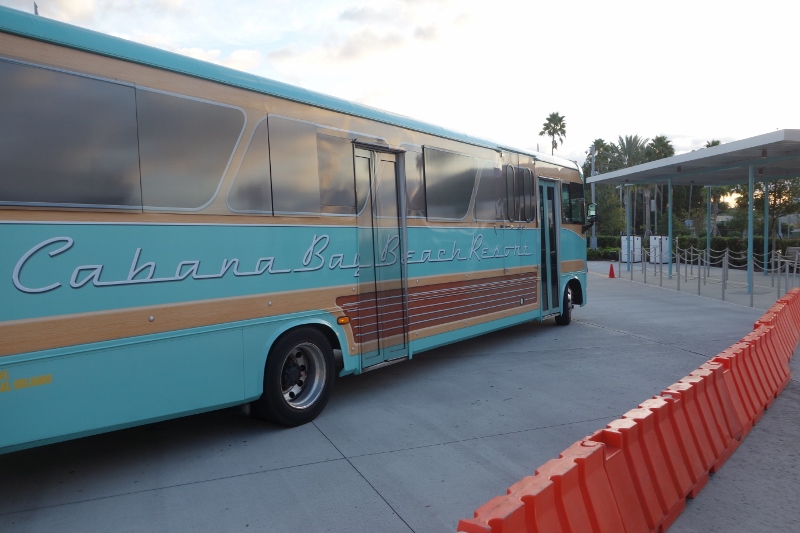 BEST PLACES TO STAY AT UNIVERSAL'S CABANA BAY BEACH RESORT
I'm pretty sold on an upper floor room in the Americana building.
The interior corridors of the Lazy River Courtyard's Americana and Continental buildings are more comfortable—though potentially noisier—than the exterior corridors in the Cabana Courtyard buildings (and if you want a standard room, you won't find one in the Cabana buildings anyway).
Of the two Lazy River buildings, the Americana Building is closer to the bus stops, so it gets the nod.
Upper floors tend to be quieter and more private—the rooms I looked in were all on the first floor, you know.
Views are tougher. Except at the Animal Kingdom Lodge, I'm not too keen on first timers paying for views in rooms they won't be in that much.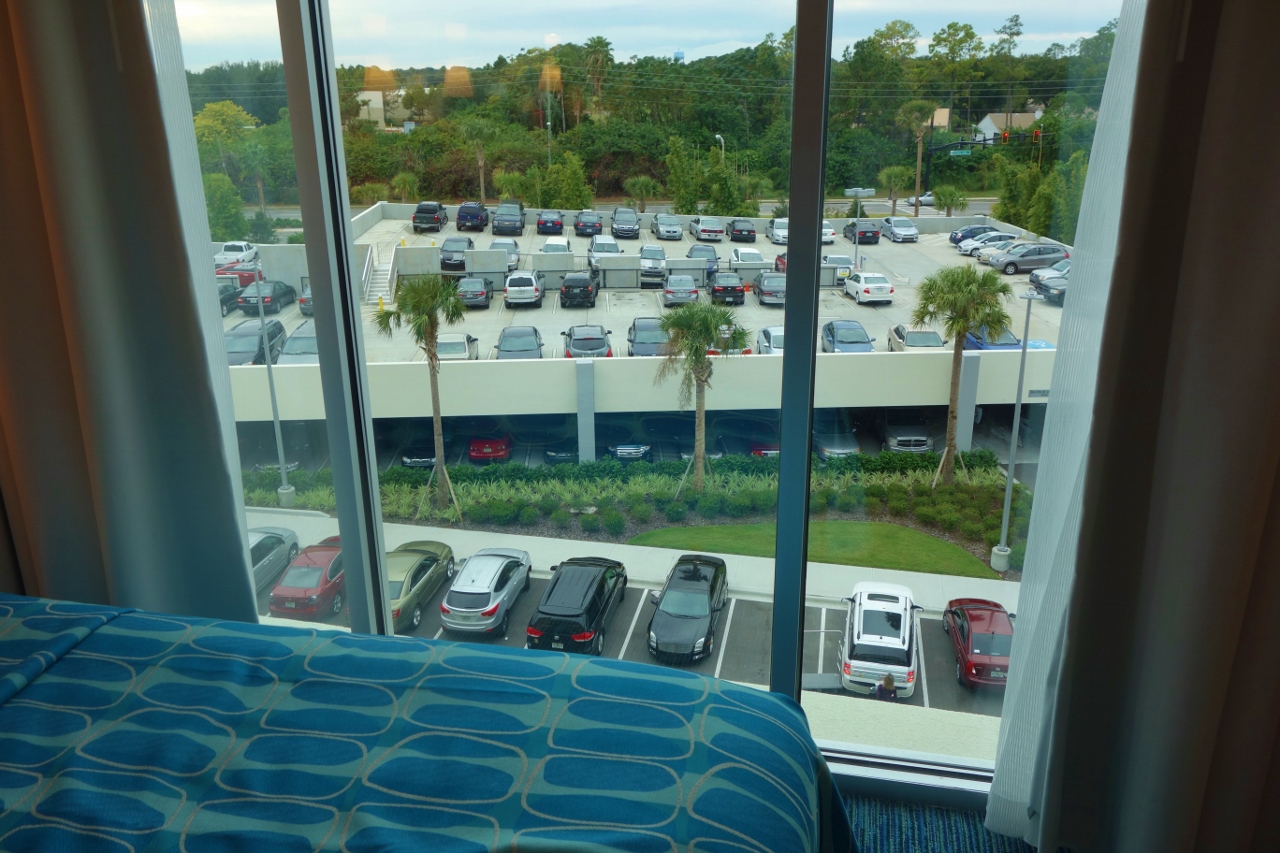 However, the parking lot views at Cabana Bay are particularly lousy. One side has parking lots and a construction wasteland, the other side parking lots, parking garages, and Turkey Lake Road. So if your itinerary suggests you will be in the room a lot, then a pool-view room might be better—making an upper floor (to avoid pool noise) even more important.
PHOTO TOUR OF A STANDARD TWO-QUEEN ROOM AT UNIVERSAL'S CABANA BAY BEACH RESORT
This review continues here!!
PAGES:  1  |  2  |  3  |  4  |  5   |  Next
Follow yourfirstvisit.net on Facebook or Google+ or Twitter or Pinterest!!
RELATED STUFF