The Pools at Cabana Bay Beach Resort at Universal Orlando
By Dave Shute
(For the first page of this review of Universal's Cabana Bay Beach Resort, see this.)
THE POOLS AT UNIVERSAL'S CABANA BAY BEACH RESORT
Cabana Bay Beach Resort is divided into two courtyards, each of which has a pool complex. Preferences will vary, so try them both.  The Cabana Courtyard has a slide; the Lazy River Courtyard has a…lazy river!  But each area also has much more.
THE CABANA COURTYARD POOL COMPLEX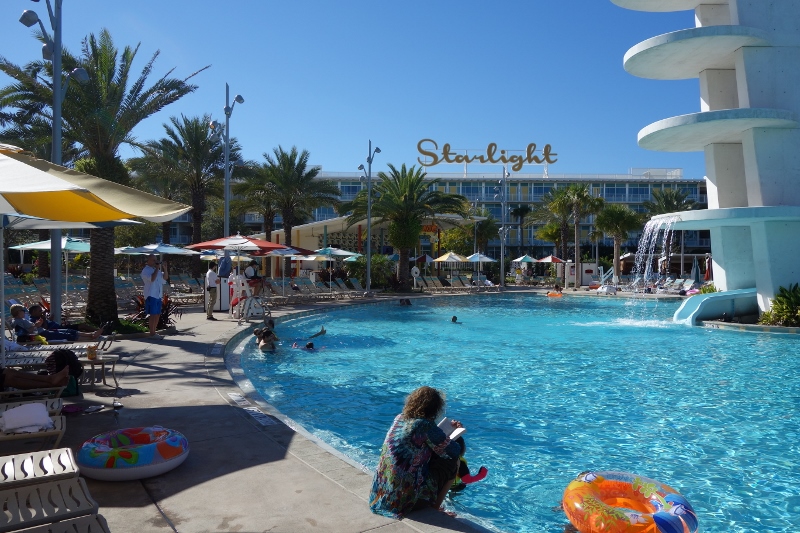 The Cabana Courtyard is just outside the lobby and surrounded by the 600 family suites in this section of Cabana Bay.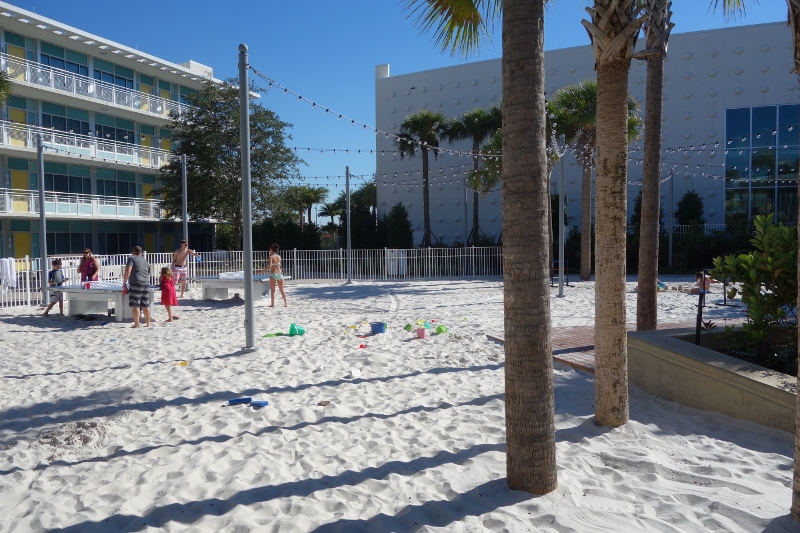 Just outside the lobby you'll find this sand play area.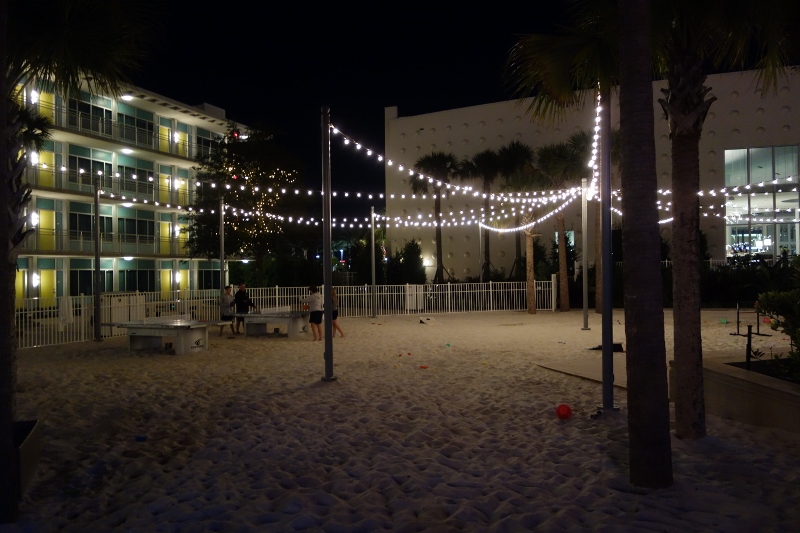 Here it is in the evening.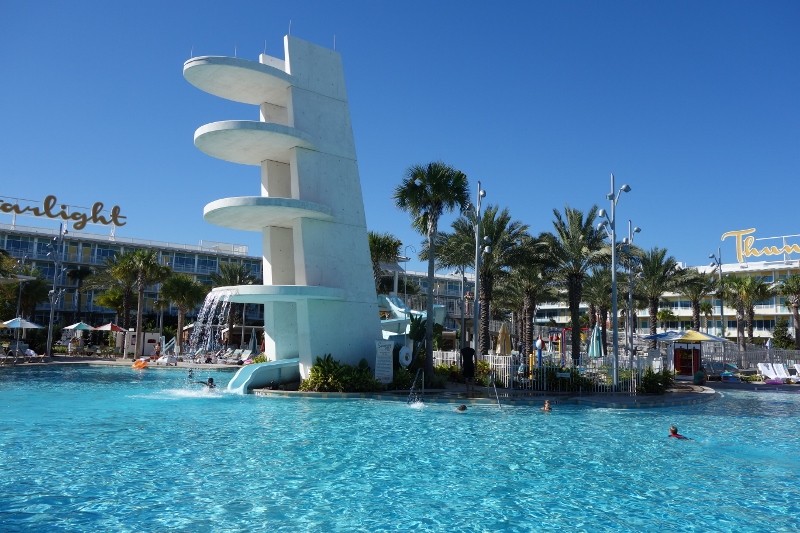 The pool itself is dominated by the art-deco slide tower….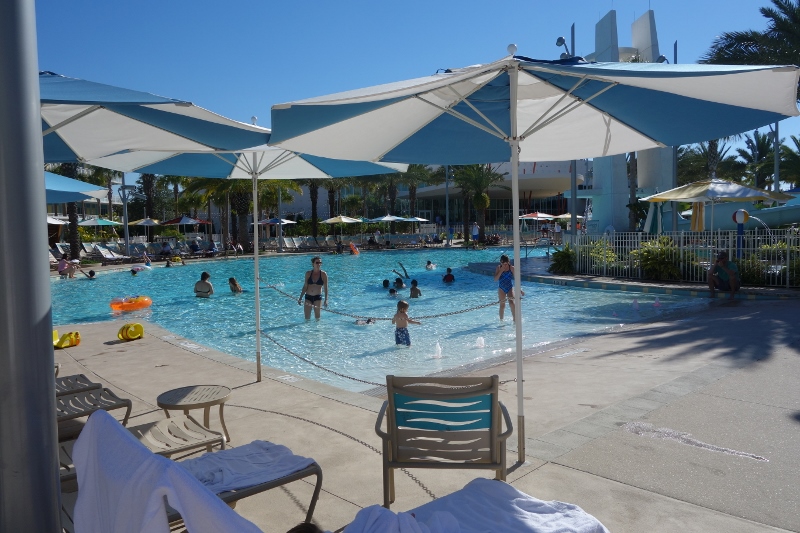 …but there's much more to it, including this zero-entry area…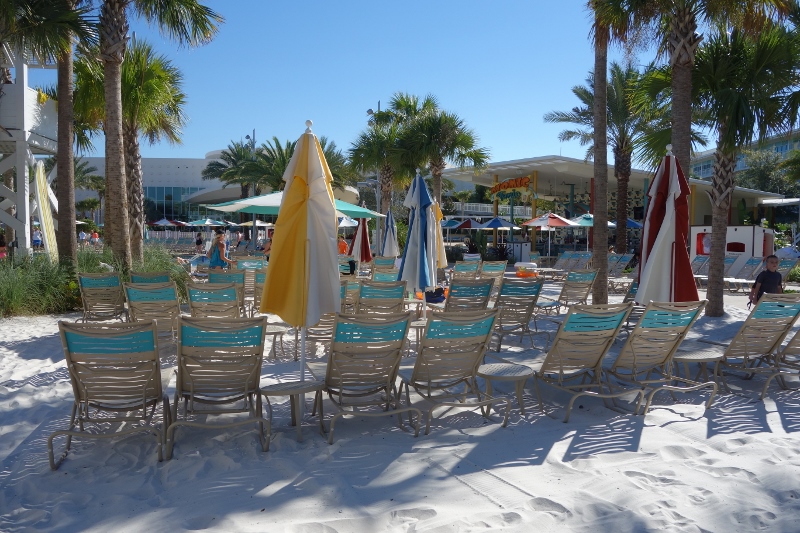 …a sandy lounging area…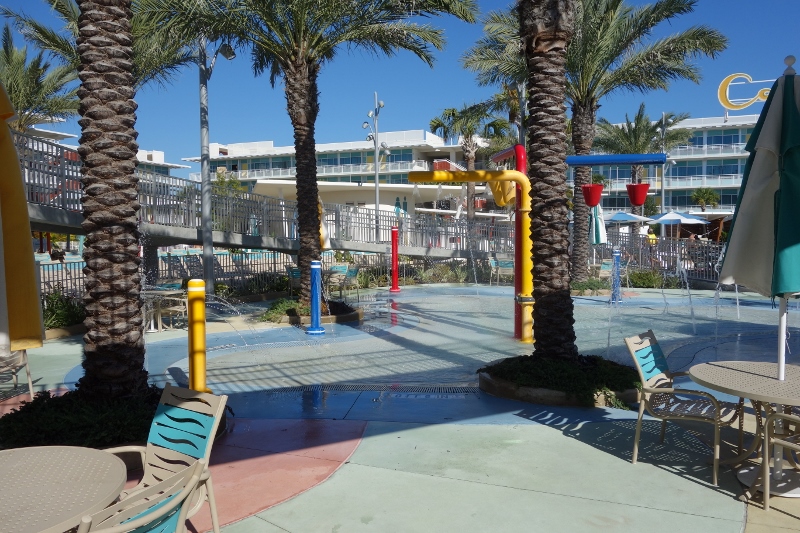 …and a kid's water play area.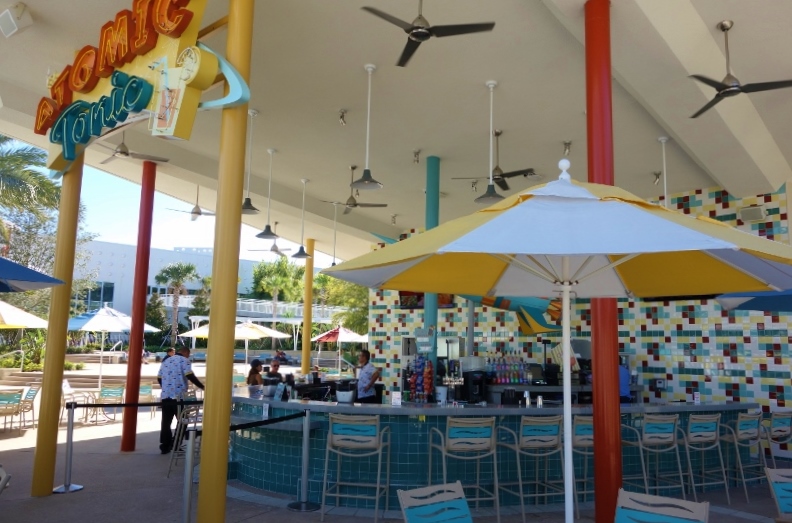 There's also a pool bar and grill with a fairly extensive menu.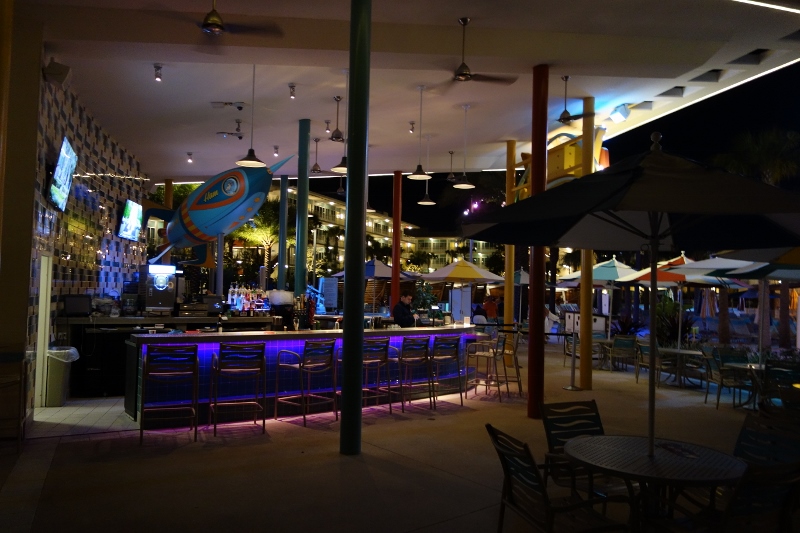 The same bar–"Atomic Tonic"–at night.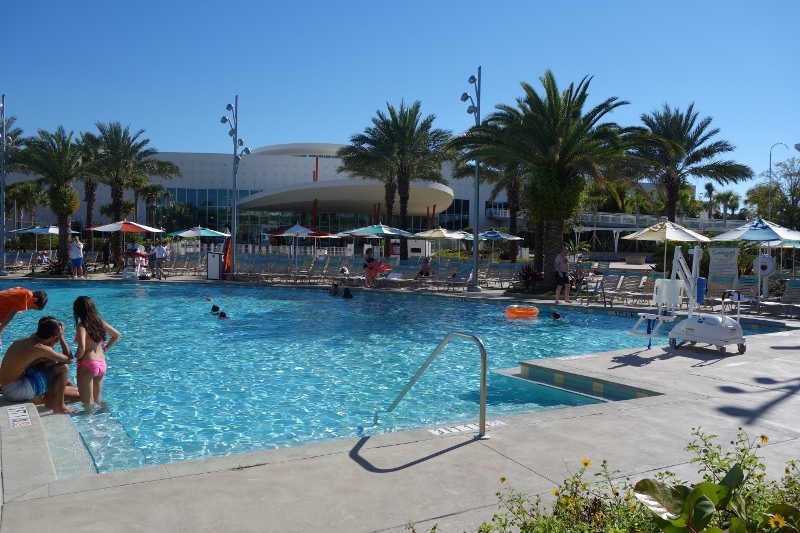 Unlike Disney's moderate resorts, between the two pool complexes there's plenty of seats for all the people this resort will hold.
THE LAZY RIVER COURTYARD POOL COMPLEX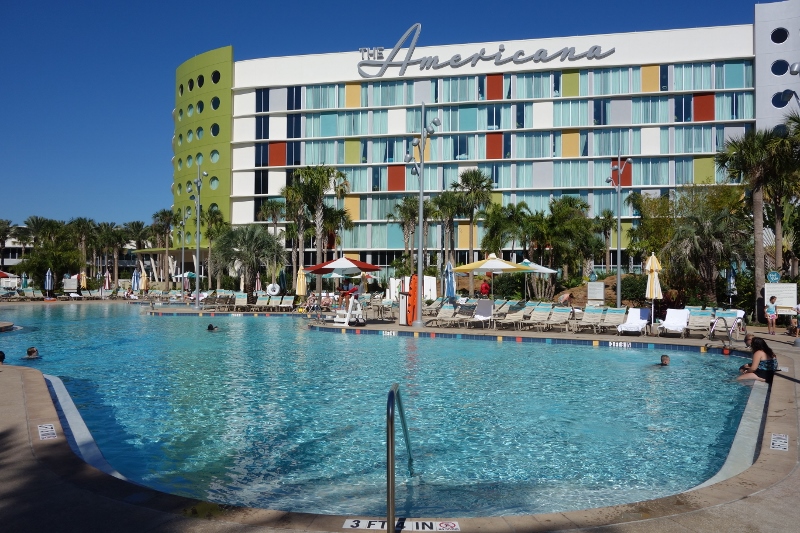 The Lazy River Courtyard pool complex opens from the Bayside Diner and is between the family suites and four-person rooms in the Continental and Americana buildings. Rather than a slide, it has a lazy river; amenities otherwise are similar.  Different folk will prefer one or the other; I liked the Lazy River area pools much better–the theming, while sound, was a little more subtle.
It also has a zero-entry section…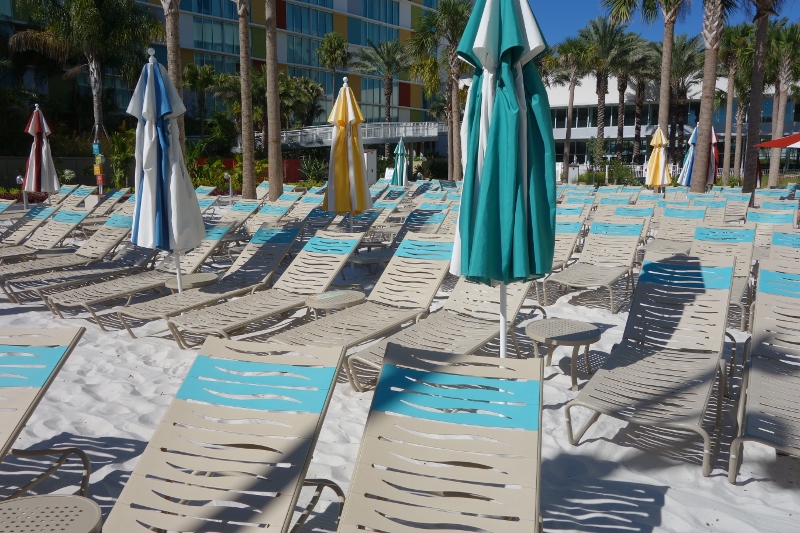 …large sand lounging area…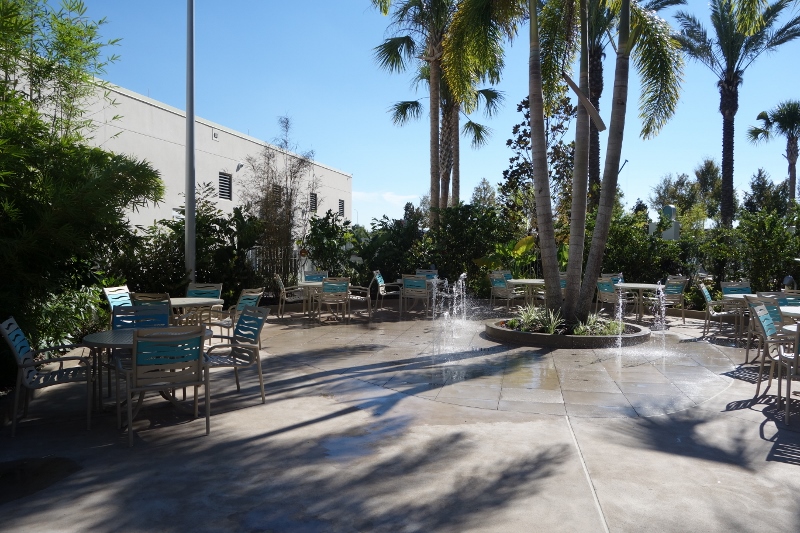 …kids play area…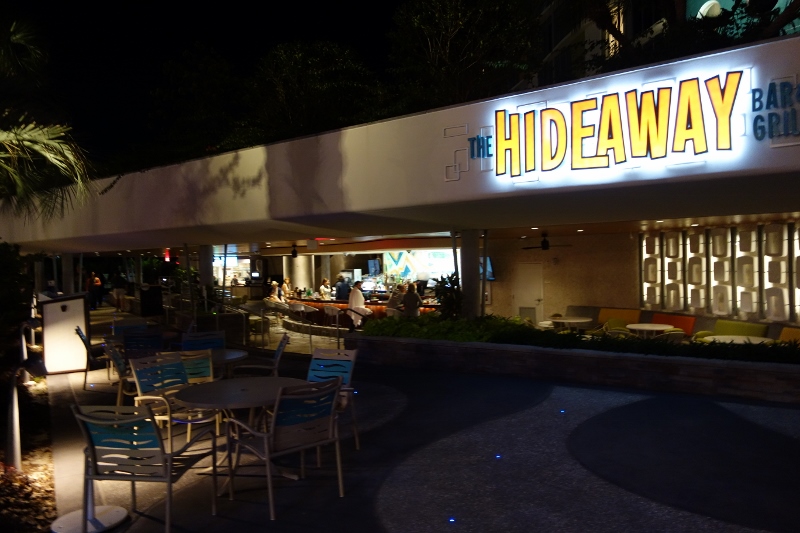 …and bar and grille.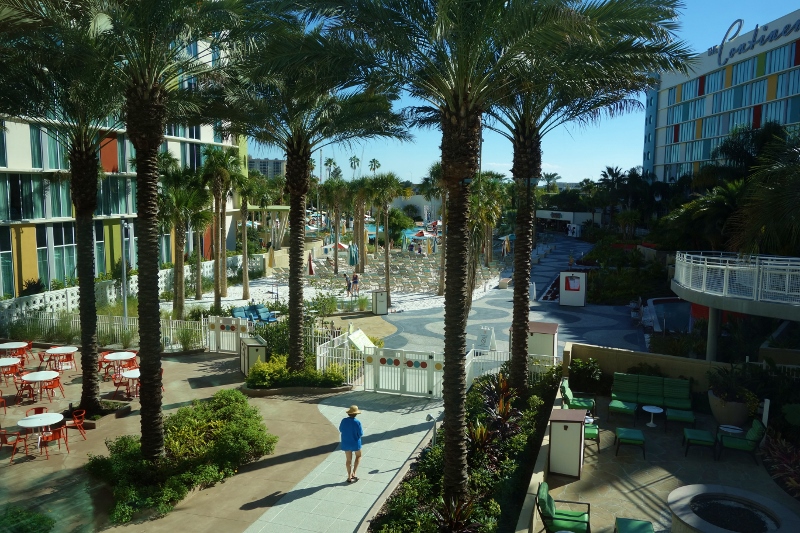 There's a game area near the Bayside Diner (center left in the photo), also with firepits (there's firepits on the Cabana side as well.)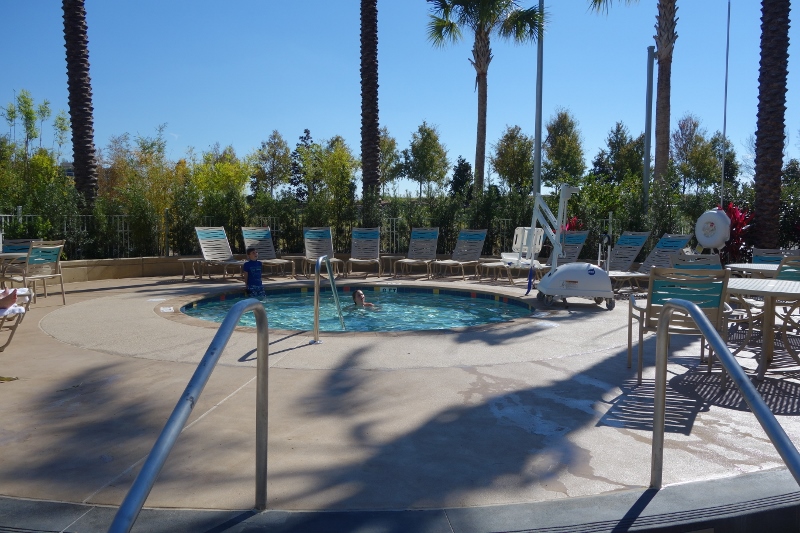 A hot tub…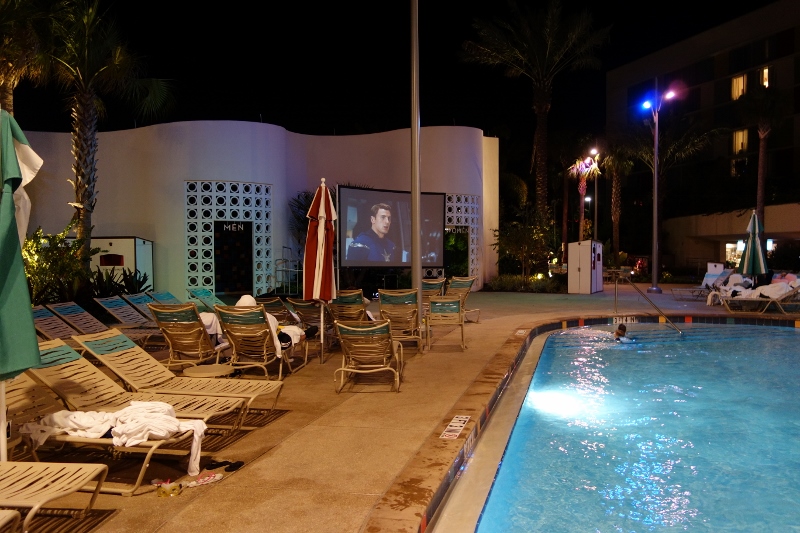 …and movies at night.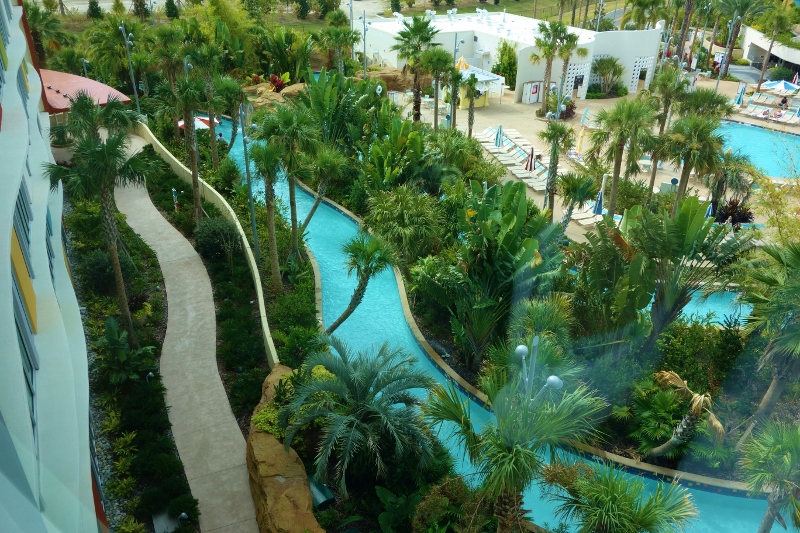 Then there's the Lazy River–seen here from my window in the Continental building.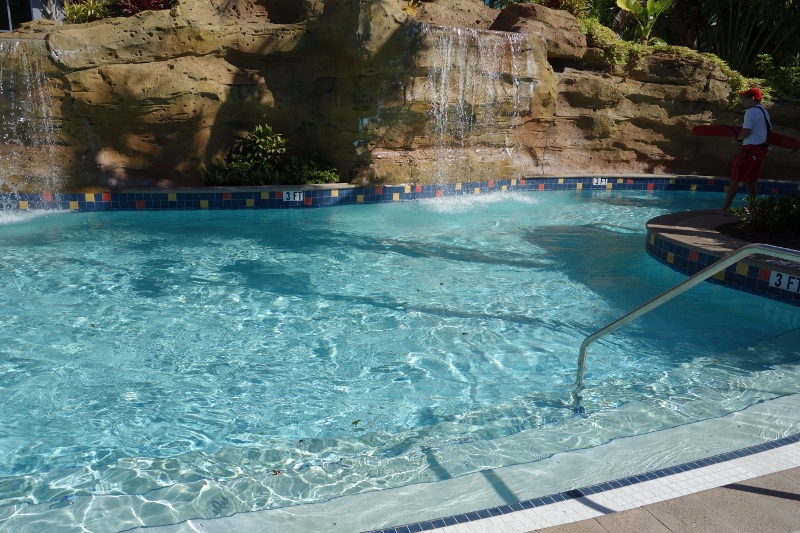 There's not a lot to this lazy river–but  no Disney value or moderate has anything close to it.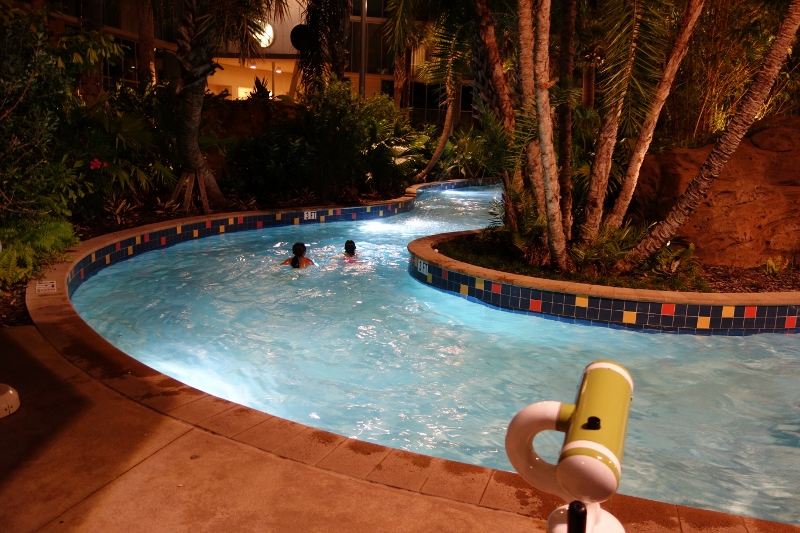 Tubes are optional–but if you want one, you can buy one for 12 bucks, or bring your own.
The Cabana Courtyard pool complex on its own is better than any Disney value resort pool; add the Lazy River side and you've got a total pool complex better than any Disney moderate as well!
PAGES:  Previous  |  1  |  2  |   3  |   4  |  5
Follow yourfirstvisit.net on Facebook or Google+ or Twitter or Pinterest!!
RELATED STUFF