Review: Loews Royal Pacific Resort at Universal Orlando
By Dave Shute
HOTELS FOR THE WIZARDING WORLD OF HARRY POTTER
This site's Instructions for the Wizarding World of Harry Potter suggest that families wishing to visit Harry Potter that can afford it book a room at Loews Royal Pacific Resort.
This is because the Universal resorts (the Royal Pacific, Portofino Bay, and Hard Rock) give terrific perks at Universal Orlando to hotel guests.
Most relevant to Harry Potter is that the Wizarding World opens to guests of these hotels one hour before it opens to the general public. (If you are staying just one night, this is true both your day of check-in and your day of check-out.)
This makes it particularly easy to fit in both Ollivanders and Harry Potter and the Forbidden Journey without hours of waiting.
Another great perk is that Universal hotel guests can use their room key as the equivalent of a FASTPASS for many rides at any time.  This does not currently apply to the Forbidden Journey or Ollivanders--the only perk that applies to them is the early entry.
All three hotels are nice, convenient to both parks at Universal Orlando, and expensive.
Portofino Bay is the most expensive and  gorgeous, but its theme will go over the head of most kids
Hard Rock Hotel is the next most expensive, and appealing to older kids who like music
The Royal Pacific is the least expensive of the three, and its Indonesian/South Seas theming is the most accessible of the three to younger kids.
For most families, the Royal Pacific will be the best choice.
THE ROYAL PACIFIC AT UNIVERSAL ORLANDO
The Royal Pacific opened as part of Universal's massive expansion more than a decade ago.
This was the same expansion that added Universal's Islands of Adventure, the theme park to which the Wizarding World was added.
While most guides consider it a deluxe resort, those with deep experience of Walt Disney World resort hotels will find that it shares features of both deluxes and moderates.
If I had to pick just one of these categories, it would be deluxe…but it's not as clear-cut as some would have it.
On the dates I stayed, the Royal Pacific was priced, at $269 a night, almost exactly between the prices of the Wilderness Lodge  (Disney's least expensive deluxe resort) and the moderate resorts for that night ($335 and $190–exactly halfway would have been $262.50; all pre-tax.)
WAYS THE ROYAL PACIFIC IS LIKE A DELUXE RESORT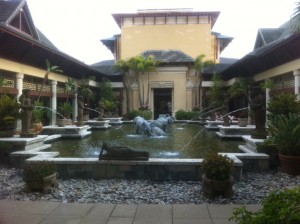 Quality of lobby theming–the central lobby courtyard is particularly lovely.
Range and quality of sit-down restaurants.
Quality of its pool–see higher on this page for an image.
Convenience to the Universal theme parks–you can either walk or take a boat, either in ten minutes or so.
WAYS THE ROYAL PACIFIC IS LIKE A MODERATE (OR VALUE) RESORT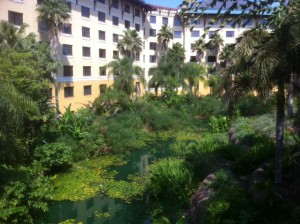 Dull overall exterior architecture–more reminiscent of a Homewood Suite than a Disney World deluxe.
No real hotel theming other than lobby.
No balconies.
Small rooms with capacities of only four.
Mini-fridges not standard, cost extra.
Parking not free ($15/night)
ROOMS AT LOEWS ROYAL PACIFIC RESORT AT UNIVERSAL ORLANDO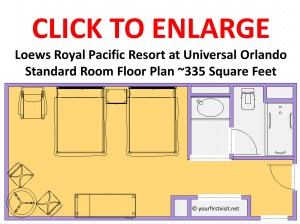 Rooms at the Royal Pacific are smallish.
Holding 4 people in about 335 square feet, they have the same capacity and about the same size as Disney's smallest-roomed deluxe resorts, the Wilderness Lodge and Animal Kingdom Lodge.
The bedroom area of the Royal Pacific is a tad bigger than these–but still smaller than the bedroom areas at Disney's moderates–see this.
Compared to the Disney Lodges, the slightly bigger bedroom and layout of the beds (one being closer to the bath wall) allows for a larger table, and the addition of a welcome armchair.
On the other hand, there's no balcony, and only one–rather than two–sinks in the bath area.
This review continues here.
RELATED STUFF