Review: Standard Rooms at Loews Portofino Bay Hotel
By Dave Shute
LOEWS PORTOFINO BAY HOTEL AT UNIVERSAL ORLANDO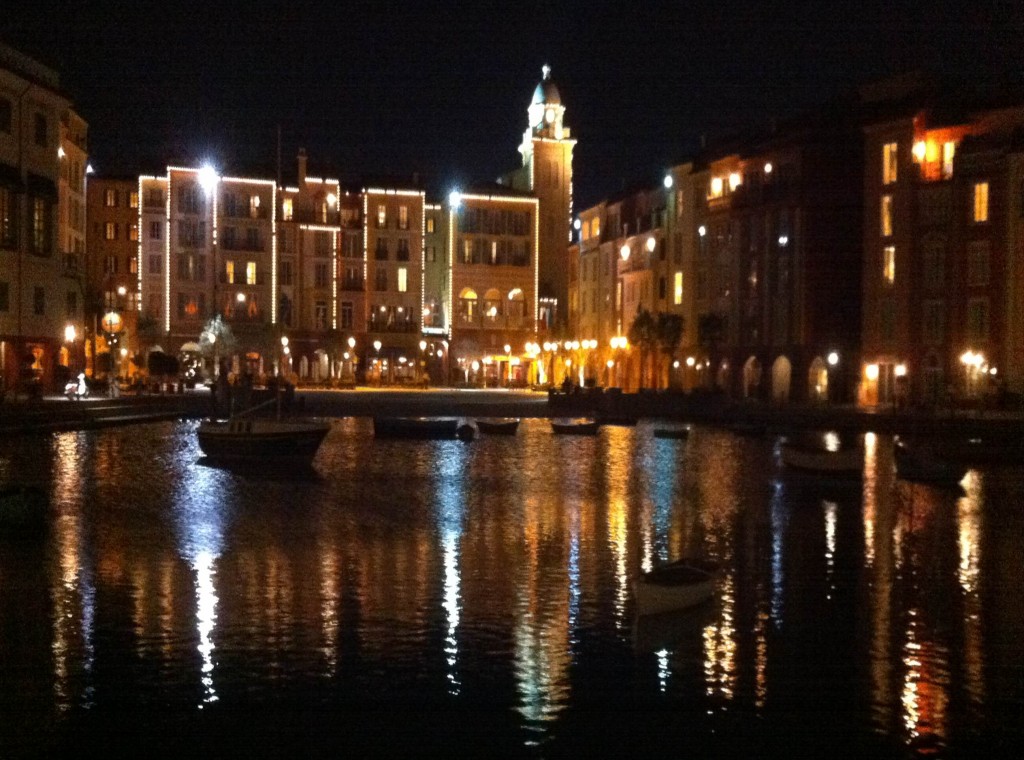 Loews Portofino Bay Hotel is one of three deluxe hotels in the Universal Orlando resort. (The other two are the Royal Pacific, reviewed here, and the Hard Rock Hotel.)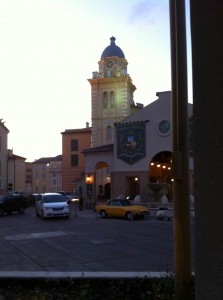 This site's Instructions for the Wizarding World of Harry Potter suggest that families wishing to visit Harry Potter that can afford it book a room at at one of the Universal hotels.
This is because the Universal hotels give terrific perks at Universal Orlando to hotel guests.
Most relevant to Harry Potter is that the Wizarding World opens to guests of these hotels one hour before it opens to the general public.
(If you are staying just one night, this is true both your day of check-in and your day of check-out.)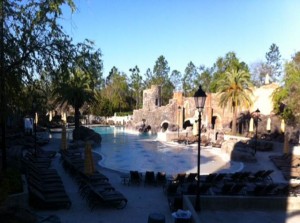 This makes it particularly easy to fit in both Ollivanders and Harry Potter and the Forbidden Journey without hours of waiting.
Another great perk is that Universal hotel guests can use their room key as the equivalent of a FASTPASS for many rides at any time.  This does not apply to the Forbidden Journey or Ollivanders--the only perk that applies to them is the early entry.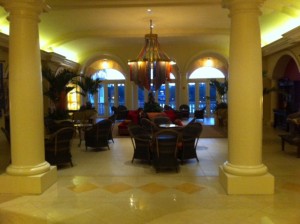 All three hotels are nice, convenient to both parks at Universal Orlando, and expensive. Loews Portofino Bay is the most gorgeous (and expensive) of them, but its village theme will go over the head of most kids.
We had the chance to stay at Portofino Bay in early March. Our stay wasn't long enough for a full review of the hotel and all its services, so this is really just a review of our room (though as you'll note there's photos of the rest of the place above).
REVIEW: STANDARD ROOMS AT LOEWS PORTOFINO BAY HOTEL AT UNIVERSAL ORLANDO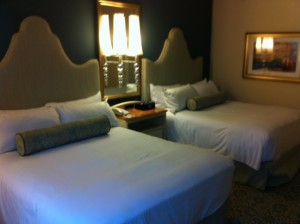 We stayed in a standard room–the most common type among Portofino Bay's 750 rooms.
The website for this hotel claims that standard rooms have 450 square feet.  I got almost 10% less square feet than that…but have chosen not to contest the 450 square feet claim…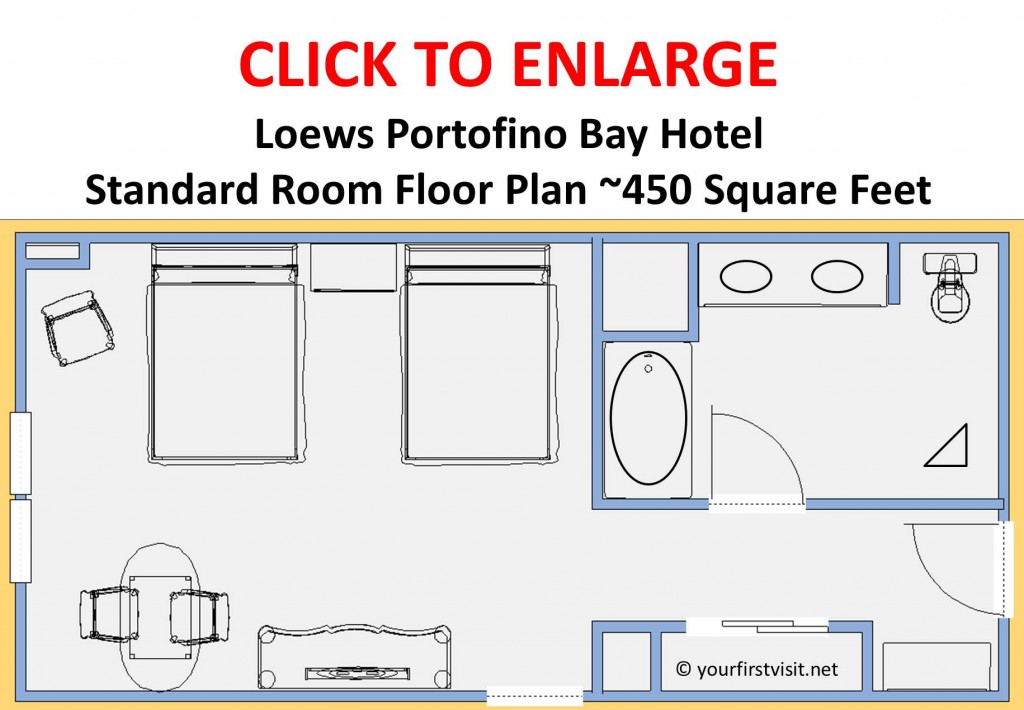 The room has a fairly standard layout, other than some odd use of space in the bath, and a nicely designed desk that does double duty as a table.  See the image.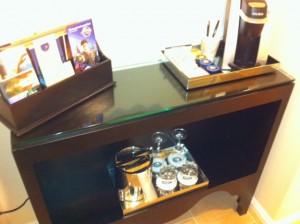 The entry includes a small table with a coffee maker, glassware and ice bucket, and various material about Universal Orlando and Loews.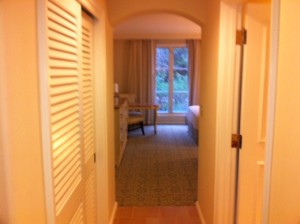 Further along this entry hall there's a good sized closet–the closet doors are to the left of the image–and a bath on the right.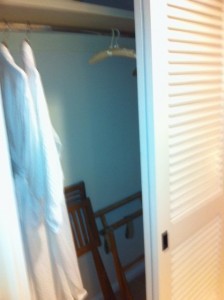 The closet is good sized, and unlike standard deluxe rooms at Walt Disney, comes with robes. (Note to the sharp-eyed reader: I swear this photo is focused on something--I'm just not sure what…)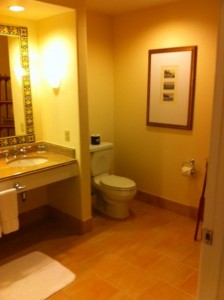 The  bath is quite large, but–as you can see in  the floor plan above, does not well-use the space it has in the corner.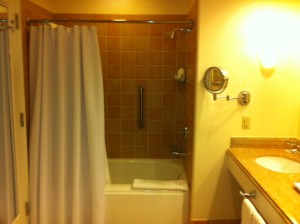 The tub, about 5′ long, is standard -sized, but seems a bit small for the square footage available.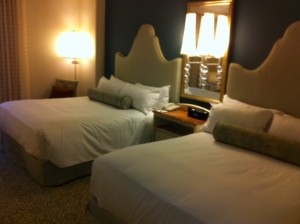 Past the entry hall you'll find two queens and an easy chair on one side of the room…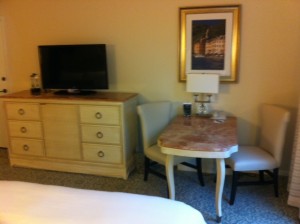 …and on the other side a desk with chairs that also works as a table, and an object that combines a dresser, TV, and mini-bar.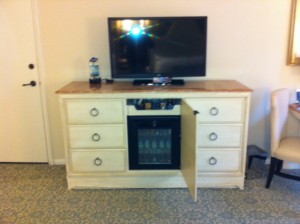 There's no regular fridge in the room, just the mini-bar.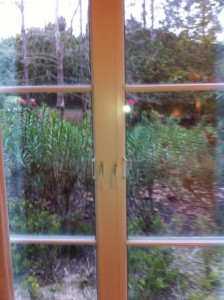 These standard rooms come in two views: Garden and Bay.  Our room was a Garden View room, and the image shows the view out of our window.
These rooms overall are spacious and well-appointed.  But they have no real distinctiveness for either kids or adults, and could be anywhere, at any convention hotel.
Follow yourfirstvisit.net on Facebook!
RELATED STUFF