Review: Bay Lake Tower at Disney's Contemporary Resort, Page 7
By Dave Shute
(For the first page of this review of Bay Lake Tower, see this.)
MORE ON BAY LAKE TOWER AT DISNEY'S CONTEMPORARY RESORT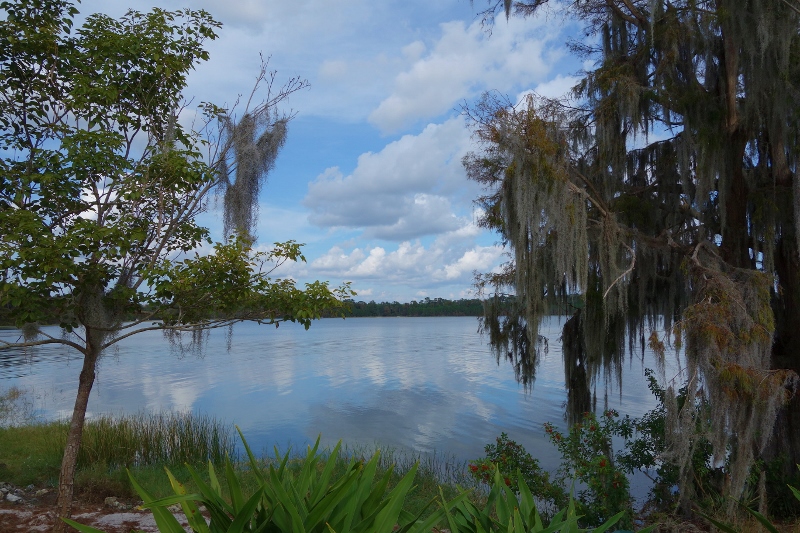 According to Walt Disney World's website,  "Bay Lake Tower at Disney's Contemporary Resort…has been designed to complement the fabled styling of the classic Disney's Contemporary Resort building and promises to deliver some of the most dramatic views available anywhere at Walt Disney World Resort."
Bay Lake Tower opened in August 2009 as part of the new generation of Disney Vacation Club resorts.
Like Kidani Village at the Animal Kingdom Lodge, which also opened in 2009,  it features larger kitchen/living/dining rooms in its one and two bedroom villas, allowing both for one more person in occupancy, and a much more livable space, even when the fold-out beds in this area are opened.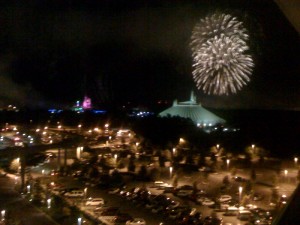 Views from Bay Lake Tower are indeed spectacular.
See the photo to the right for a view of Wishes from my tenth-floor balcony a few years ago.
Otherwise, like Disney's Contemporary Resort, Bay Lake Tower is essentially un-themed.
While its design and look are not as dated and brutal as those of the Contemporary Resort, neither are they interesting, playful, or kid-appealing.
Like many other Disney Vacation Club resorts co-located with a deluxe hotel, Bay Lake Tower relies on Disney's Contemporary Resort for many services.
Bay Lake Tower has no shopping or dining options of its own–for these, one walks to the Contemporary, either outside or via a key-access fifth-floor sky-way.
Speaking of key access…Bay Lake Tower is unique at Walt Disney World for the extent to which it is closed to those without keys.  Key access is required for all entrances, including from the Contemporary, and to and from the pool.
I suppose this extra measure of security is welcome, and partly explained by how close a walk it is from the Magic Kingdom.  Given the absence of restaurants, there's no real reason for anyone other than a guest to be in the building…other than curiosity, a defining characteristic of Walt Disney World fans.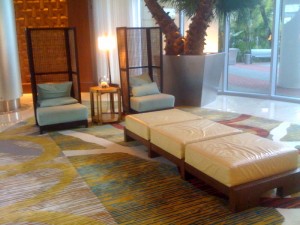 Also in the lobby is a guardian of its top-floor "Top of the World Lounge"–which, after 5p, is reserved for Disney Vacation Club members who are paying for a Bay Lake Tower stay using DVC points.
The lobby also has a small but distinguished collection of funny looking chairs. See photo above.
As oddly shaped as they are, more commonly than not they were draped with kids–so they must be comfortable!
Bay Lake Tower guests are welcome to use all of the facilities of the Contemporary, including its pool, beach, and water sports options.
Bay Lake Tower also has its own nice-sized pool, surrounded by the wings of the C-shaped building. See this for more on the pool.
Between the pool area and the main lobby are shuffleboard and boules courts.
Bay Lake Tower's principal negatives are the small size of its studio and studio-based two bedroom lock-off villas, and its lack of kid appeal.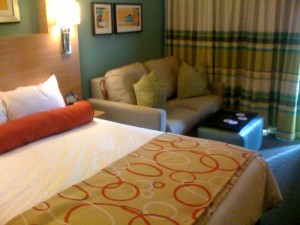 The bedroom component of its studio rooms is comparable in size to those of the value resorts, and smaller than the VIP suites at Disney's pet center, Best Friends Pet Care!
Returning visitors will likely find Bay Lake Tower to be a favorite. The views from the higher floors are indeed spectacular, and in convenience it is second only to the Polynesian Resort.
EXTERNAL LINKS FOR BAY LAKE TOWER AT DISNEY'S CONTEMPORARY RESORT:
PAGES: Previous |  1  |  2  |  3  |  4  |  5  |  6  |  7


Follow yourfirstvisit.net on Facebook or Twitter or Pinterest!!
RELATED STUFF