Theming and Accommodations at Disney's Beach Club Villas
By Dave Shute
(For the first page of this review of Disney's Beach Club Villas, see this.)
THE THEMING OF DISNEY'S BEACH CLUB VILLAS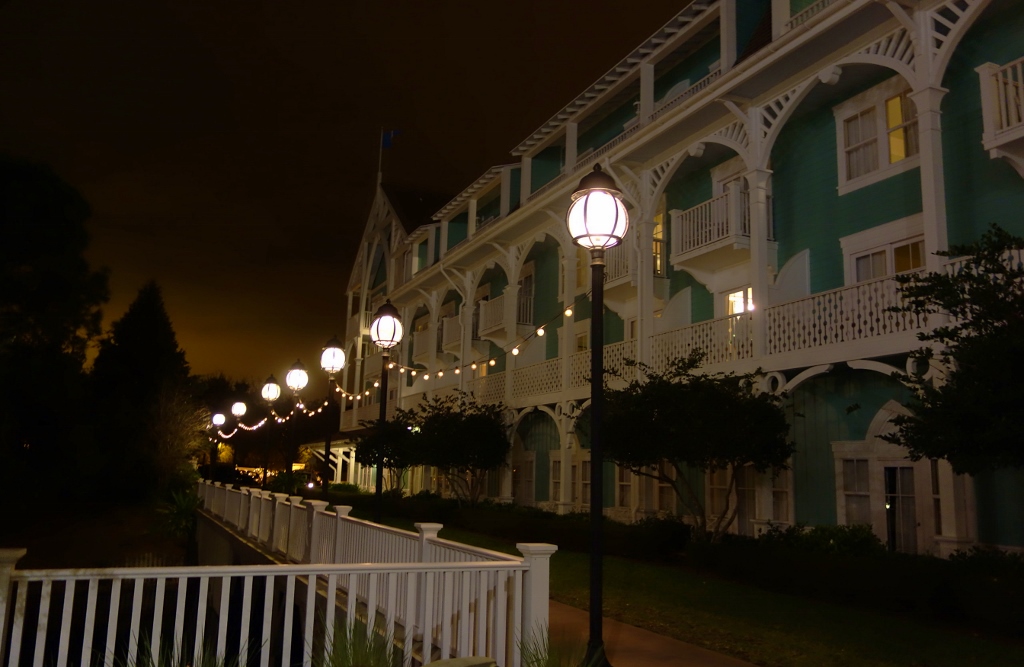 Disney's Beach Club Villas is one of many Disney Vacation Club options at Walt Disney World. These resorts are available not only to DVC members, but also to everyone else, just like any other Disney World offering, through the regular Walt Disney World website or resort reservations phone number at 407-939-7675.
Kelly, the long-time travel agent partner of this site, can also book them for you. See the form near the bottom of this page for how to contact her.
They also are sometimes available to the general public at a discount through renting points from a Disney Vacation Club member or point broker.
Because the two sets of options at the Wilderness Lodge, Animal Kingdom Lodge and Saratoga Springs are so different, for review purposes I count thirteen options among the Disney Vacation Club resorts at Walt Disney World.
The overall ranking among them for first time family visitors is as follows:
The next DVC offering to open will be Reflections, located on grounds that were formerly part of Fort Wilderness.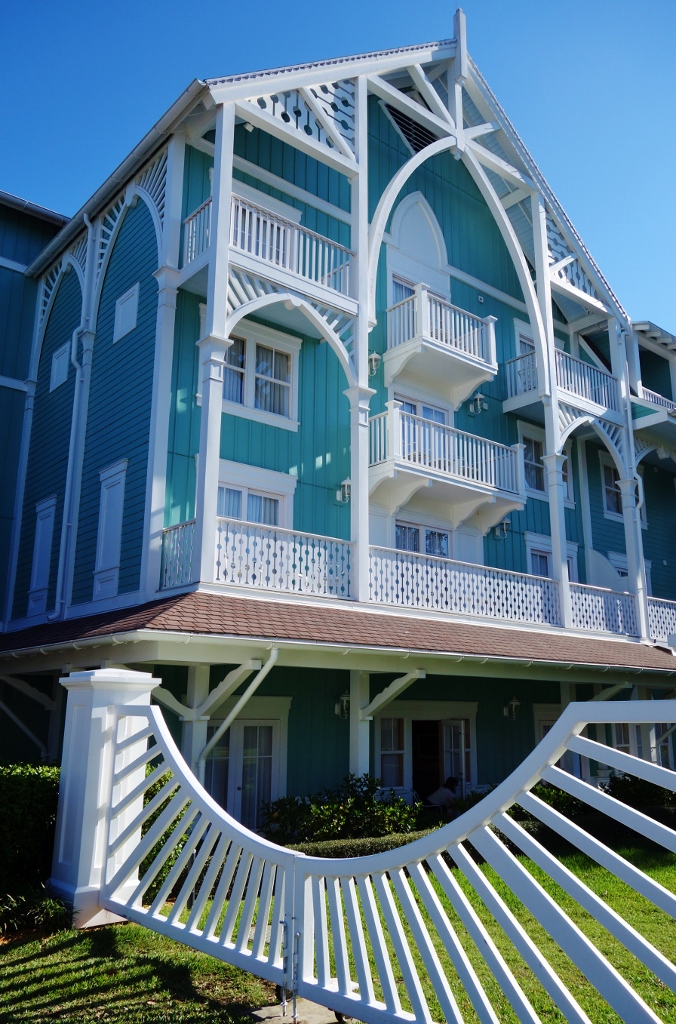 Disney's Beach Club Villas opened in 2002 as the fourth on-site Disney Vacation Club resort.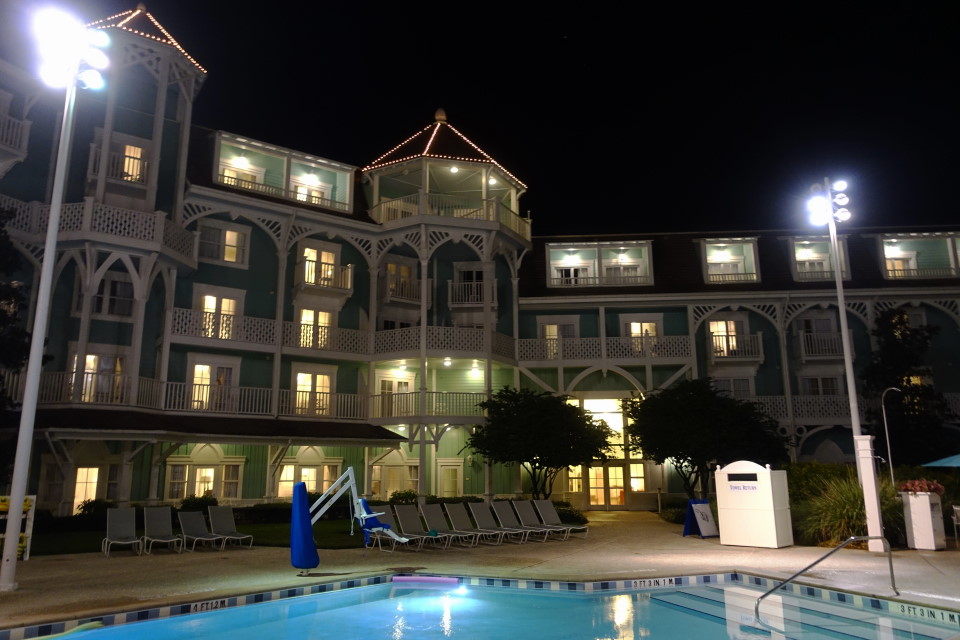 According to Disney's web page on the Beach Club Villas, they
"…wrap leisure, elegance and romance into a full-service New England-style Disney Deluxe Villa Resort…
…The nautical allure of the Eastern Seaboard comes alive with architecture that features intricate wooden accents and a soft pastel color palette. Retreat to one of our stately Studios with kitchenettes or one of our spacious Villas complete with a kitchen, living area and a host of home-style amenities. Enjoy charming views from your windows and private porch or balcony."
Designed by the architect who did the rest of the Epcot resorts, Robert A.M. Stern, the Beach Club Villas share the charming "Stick" architecture of sister resort the Beach Club, but are even more graceful and lovely than the sister resort is.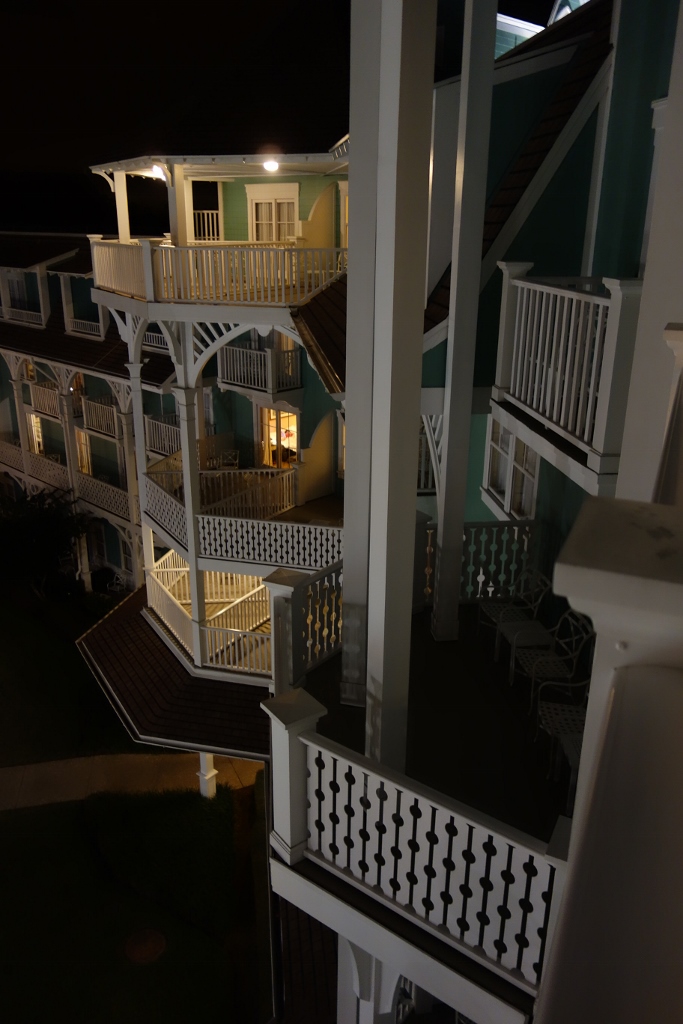 The Beach Club Villas are in fact as lovely as any other resort at Walt Disney World, and are at least comparable in beauty to the Grand Floridian…and perhaps, because of their smaller scale, even more charming.
The smaller scale, angled facade, and more playful detailing of the Beach Club Villas help it better reflect its roots in domestic architecture.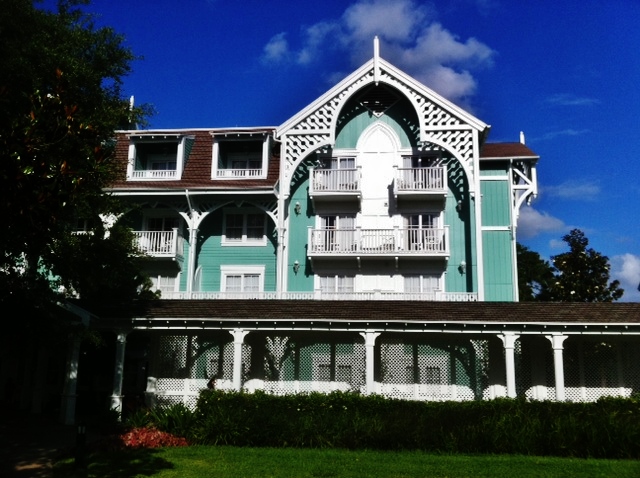 For example, some of the facades include not only the clapboard siding common at the resort but also towers designed with board and batten siding.  A small thing, but one that hints at having a domestic history rather than being a monolith.
The Villas are a lovely sea green, a warmer and more inviting color than the (still-nice) cooler blue of the Beach Club.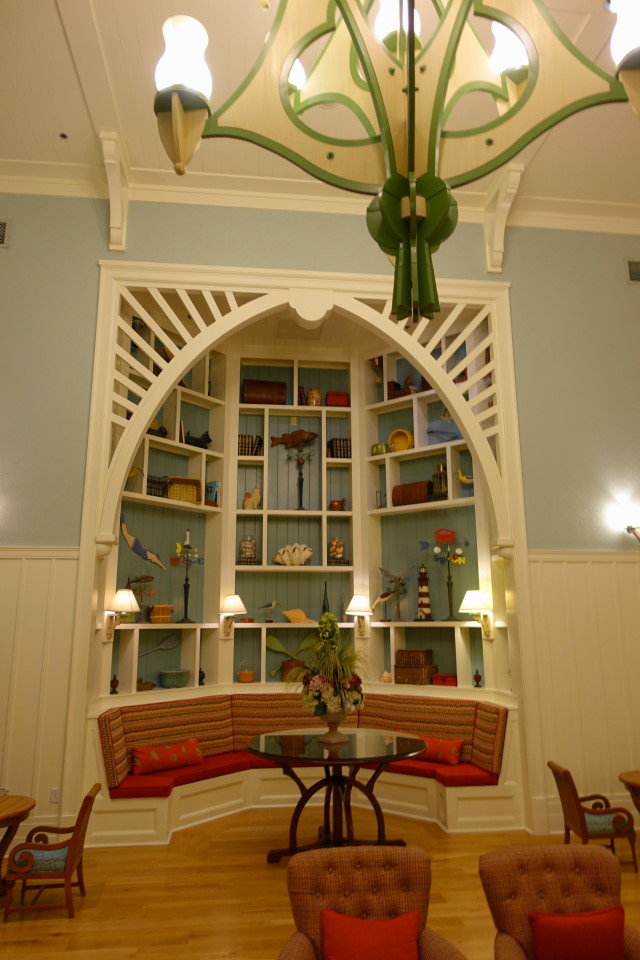 Interiors spaces are just as nice, especially the main entry lobby through which guests will walk many times as they access the Beach Club, Epcot, Crescent Lake, and the BoardWalk.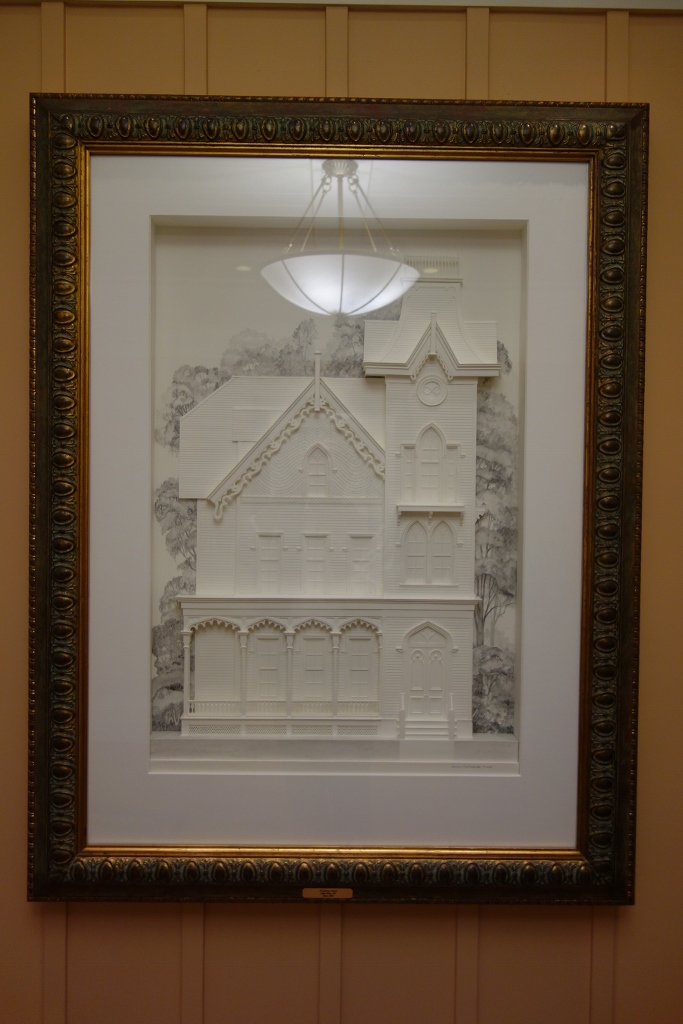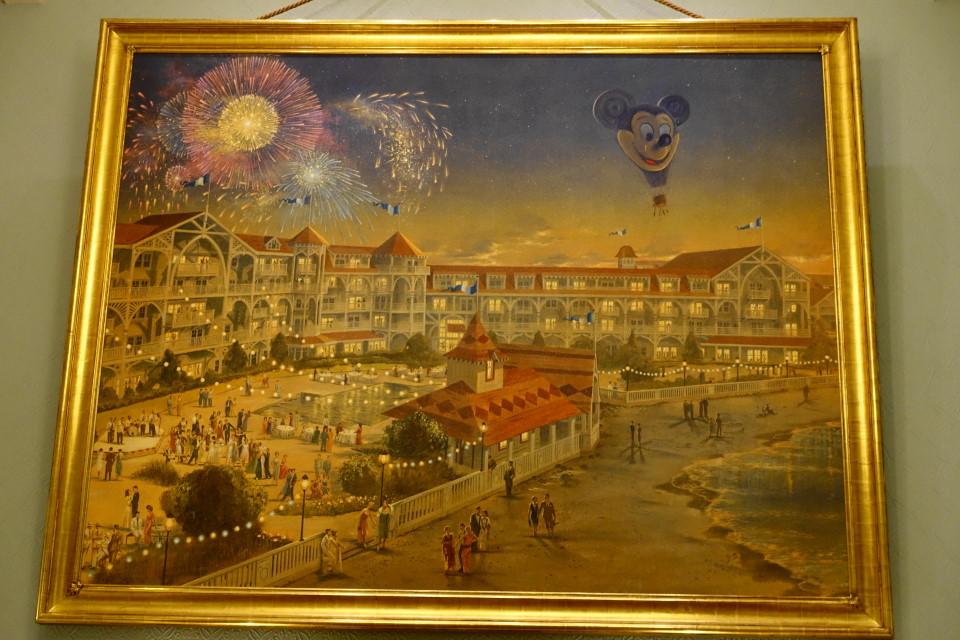 There's also some fun art…
ACCOMMODATIONS AT DISNEY'S BEACH CLUB VILLAS
All Disney Vacation Club resorts except the Polynesian Villas have Studio rooms, One-Bedroom Villas, and Two-Bedroom Villas.
Most have Grand Villas as well.
Disney's Beach Club Villas does not have Grand Villas. The other three room types are covered on this page.
STUDIOS AT DISNEY'S BEACH CLUB VILLAS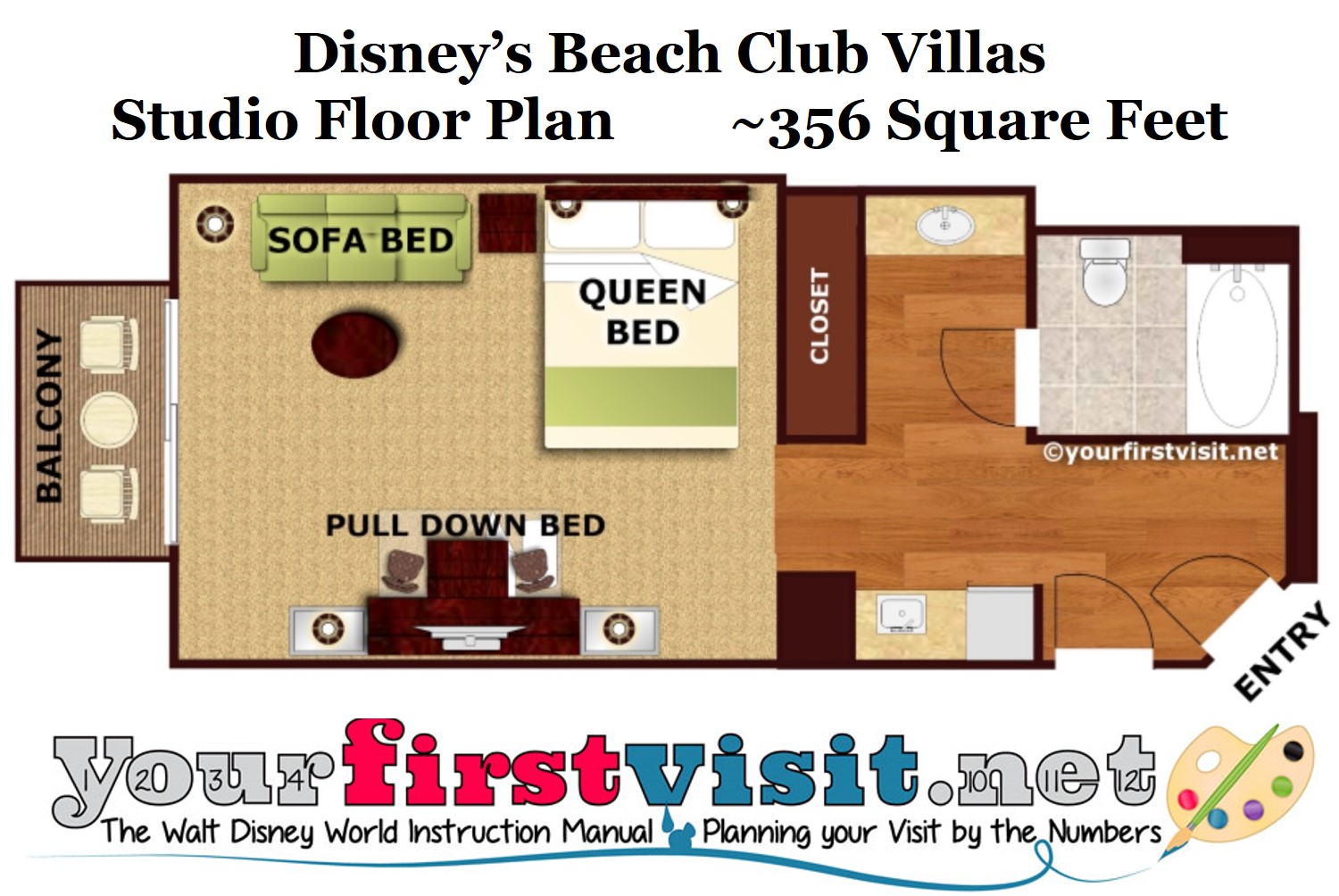 At Disney's Beach Club Villas, Studios sleep five and have a microwave and mini fridge.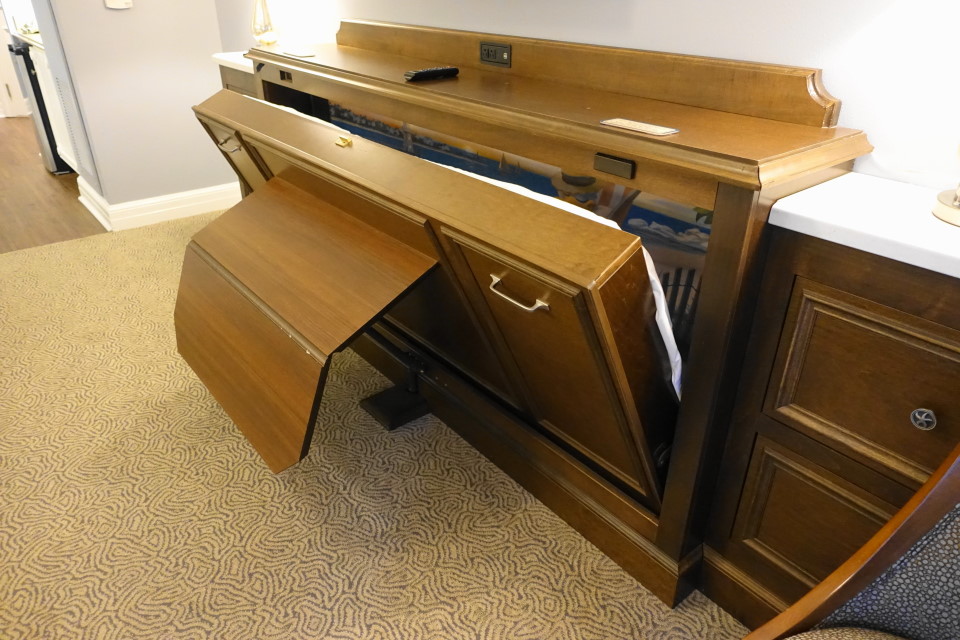 The microwave is one of several ways Studios are different from regular rooms at the Beach Club.
A second distinction is that the second bed is a full fold-out couch, rather than a queen.
A third is that the third bed is a flip-down that takes away the small table when down.  The third bed in standard Beach Club rooms is a convertible couch (some Beach Club rooms don't have the couch).
The studios are about 30 square feet smaller than standard rooms at the Beach Club, and they feel even smaller than this, as the bath/entry hall area of the studios is larger than that in standard Beach Club rooms.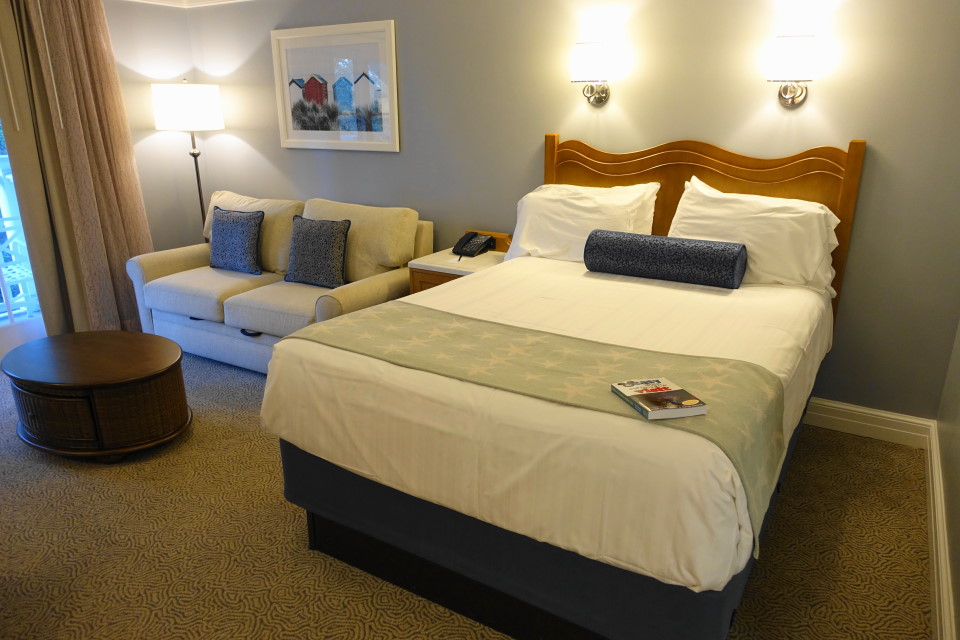 These studios go for about the same price as regular standard view Beach Club rooms.  I don't see how the microwave makes up for the smaller living space, smaller second bed and loss of the table when the third bed is in use, so I can't recommend these rooms over the Beach Club itself for first time family visitors.
A photo tour of a Beach Club Villas Studio begins here.
ONE-BEDROOM VILLAS AT DISNEY'S BEACH CLUB VILLAS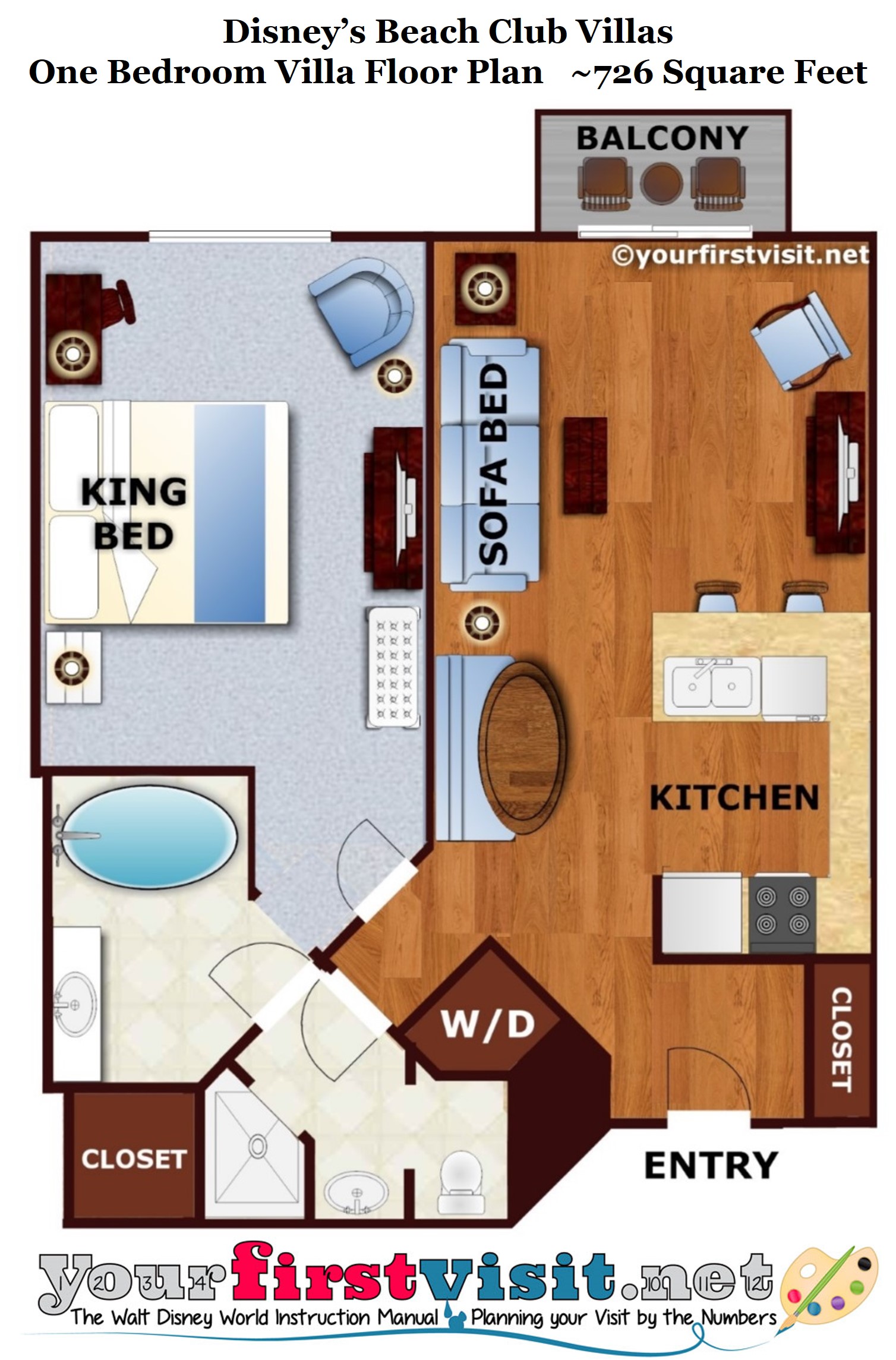 One-Bedroom Villas at the Beach Club have a master bedroom with a king bed.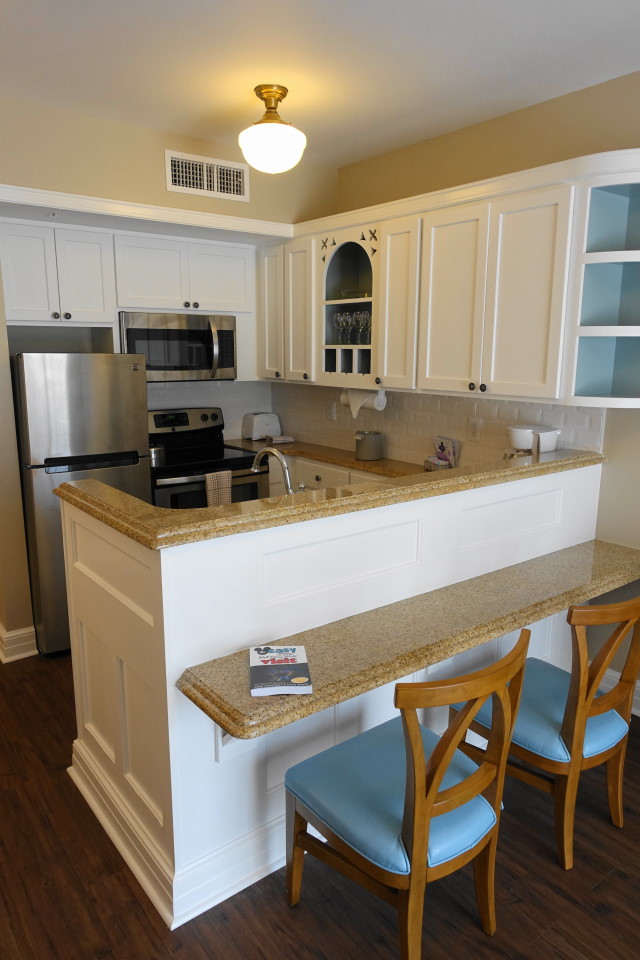 They have as well a full kitchen/dining/ living space, a washer/dryer, and sleep 4 in about twice the space of a studio.
The two additional sleeping spots are on a good-sized but thin fold-out couch in the living room space.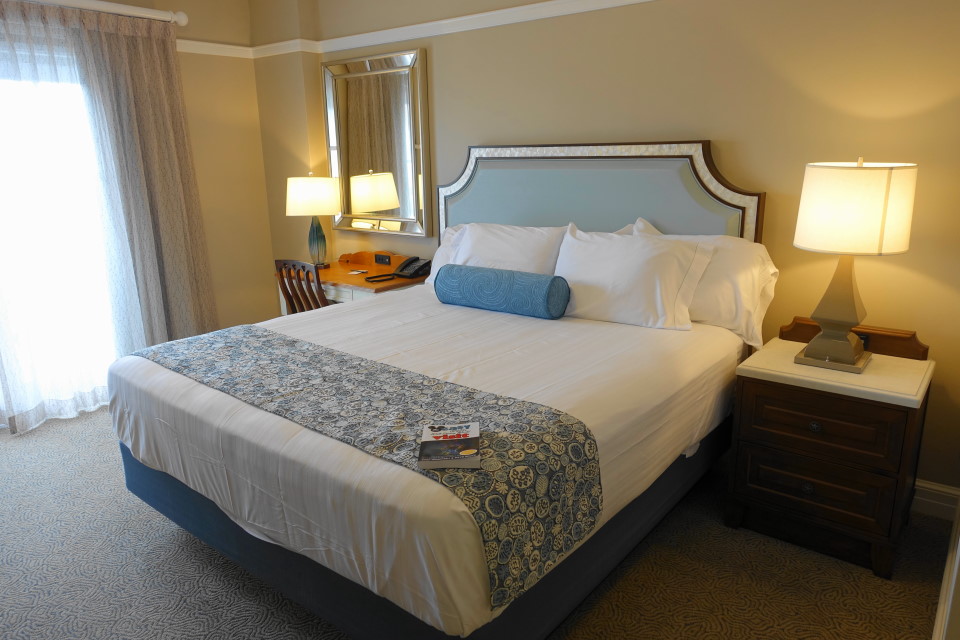 The bath is shared, with access to it from both spaces. The kids on the sofa bed don't need to enter the master bedroom to get to this bath.
One-Bedroom Villas are among the most comfortable ways to stay at Walt Disney World.
Depending on the price season, these villas are only around 40-50% more expensive than a standard Beach Club room, for twice the space.
The additional space, full kitchen, and living and dining furniture are hard to beat, even though if you are following one of this site's itineraries you won't be in your room much to enjoy them!
They aren't for everyone…but the value is there if you can afford it and your family fits.
A photo tour of a One Bedroom Villa begins here.
TWO-BEDROOM VILLAS AT DISNEY'S BEACH CLUB VILLAS
Two-Bedroom Villas add a second bedroom to the amenities of a One-Bedroom, and sleep 8 or 9.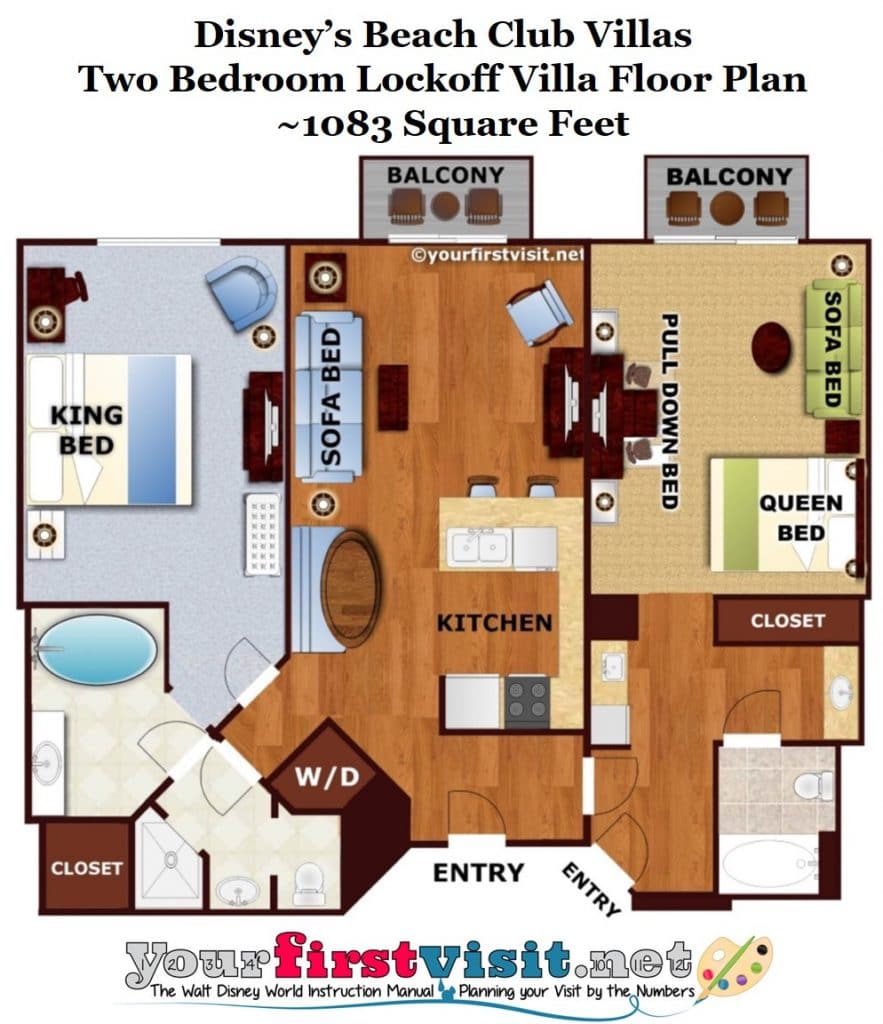 Some second bedrooms are simply connecting Studios. These Villas thus sleep 9, and are depicted in the floor plan above.
Others were designed from the start to be part of a dedicated Two Bedroom Villa, and these–typically–have two queens in their second bedroom, sleep eight, and replace the Studio's kitchenette with a closet. See the floor plan below.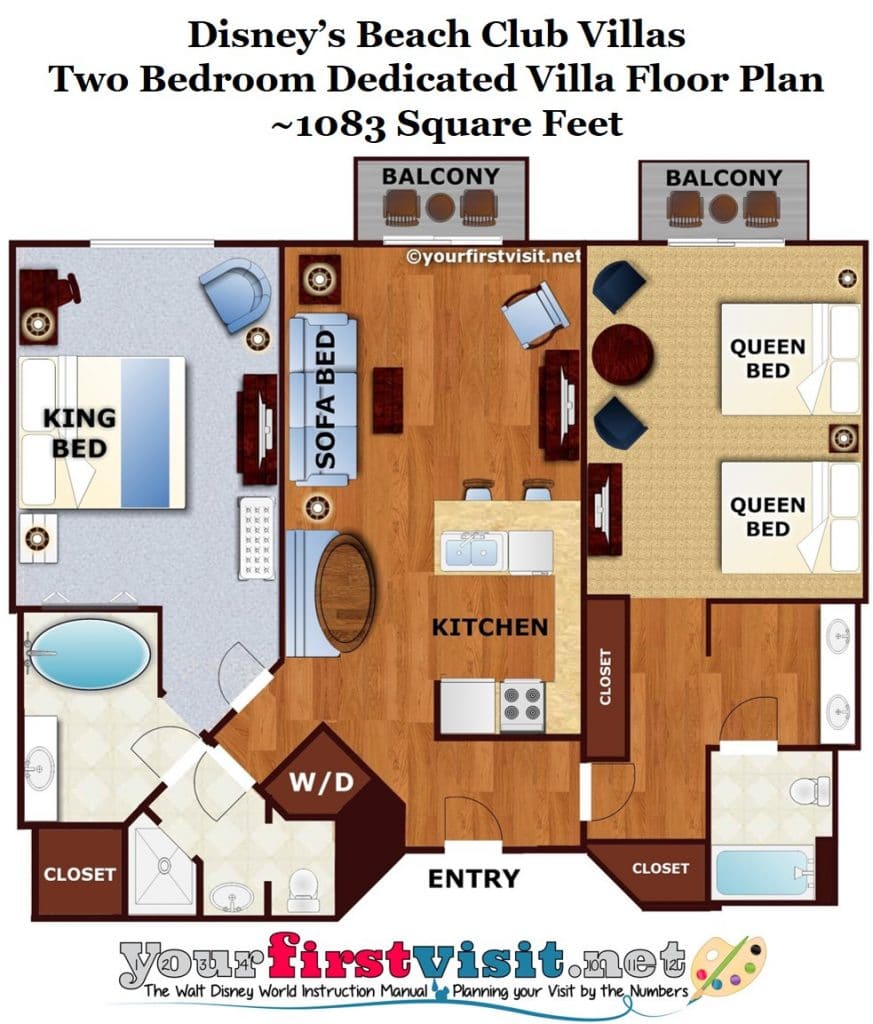 Two-Bedroom Villas can be either cramped or comfortable, depending both on how you use them and what you are comparing them to.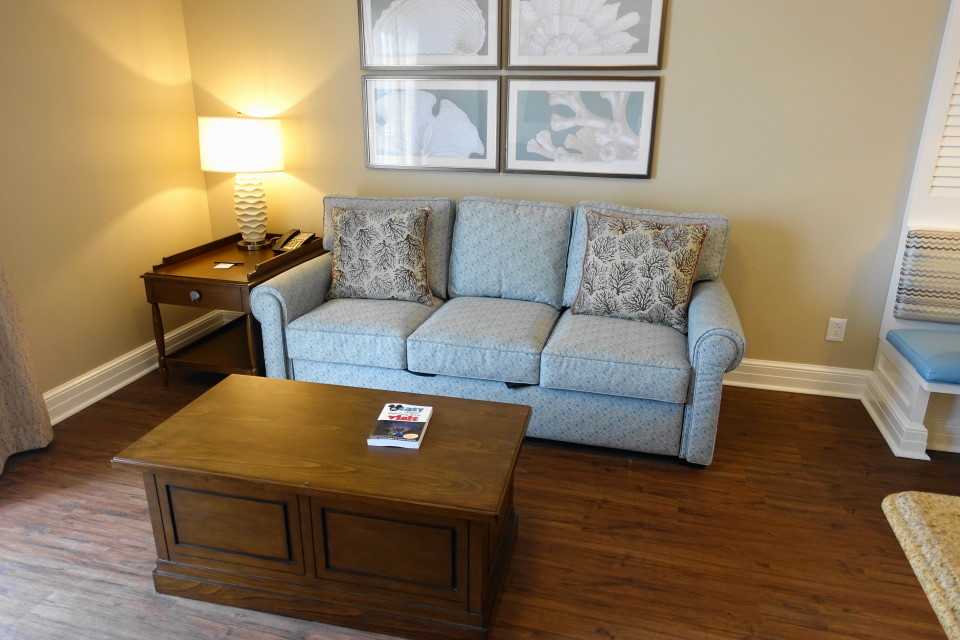 Like many DVC Two-Bedroom Villas, in Disney's Beach Club Villas Two-Bedrooms there isn't enough seating space in either the living room or in the dining spaces for all the people these rooms will fit.
The living room chairs will seat three to four people, with two more chairs available at the kitchen's breakfast bar.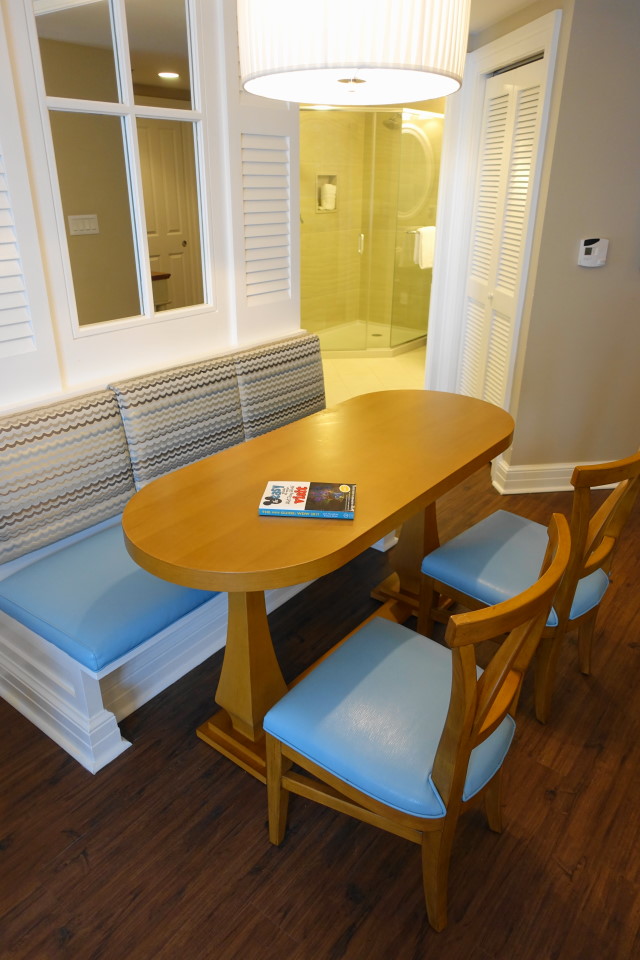 The dining table will seat five comfortably and at most six.
So if you are filling a two bedroom with 8 or 9 people, things can get awkward, especially compared to the ease with which One-Bedroom Villas fit the people they can sleep.
These space issues are part of the reason why these rooms are only about 50-80% more expensive than One Bedroom Villas, even though they have double the sleeping capacity.
On the other hand, depending on the price season, a Two-Bedroom is only 10-20% more than two standard Beach Club Resort rooms, but provides 50% more space, and, compared to those rooms, all that extra kitchen/dining/living space and furniture.
If your family's sleeping needs will fit in the bedrooms–that is, if you don't need to use the fold-out bed in the living space–Two-Bedrooms are a particularly comfortable option.
(To each of the capacity figures above, you can add one more kid under 3 at time of check in who sleeps in a crib.)
The Beach Club Villas have many strengths for first time visitors, bringing together the positives of the DVC resorts–extra, more livable space, full kitchens–with those of the Beach Club: access to Stormalong Bay, Epcot and Disney's Hollywood Studios.
The weaknesses of the Beach Club Villas are also shared–many families won't be in these rooms enough to enjoy their amenities, and the architecture, lovely to adults, is dull to kids.
This review continues here.
The long-time travel agent partner of this site, Kelly, can book you at the Beach Club Villas or anywhere else at Disney World.  Contact her using the form below!

Follow yourfirstvisit.net on Facebook or Twitter or Pinterest!!</p
RELATED STUFF