Review: Disney's BoardWalk
By Dave Shute
DISNEY'S BOARDWALK
Disney's BoardWalk is a Walt Disney World dining and entertainment district along Crescent Lake, largely built as the ground floors of Disney's BoardWalk Inn and Disney's BoardWalk Villas.
It's never really clicked, and for first-time family visitors, isn't worth a special trip.
Family entertainment includes bikes for rent, street performers, midway games, a video arcade, face painting, hair braiding, caricatures and such. More of these are available in the afternoon and evening, and on busy days, than in the morning and on less busy days.
Dining options on the BoardWalk include the Flying Fish Cafe (seafood), Trattoria al Forno (Italian), the ESPN Club (sports bar with burgers) and the Big River Grille and Brewing Works (craft beer and American food).
Food carts and other more casual food options (pizza, ice cream, hot dogs) are also available. (Other dining options are within an easy walk at the Yacht and Beach Club, and the Swan and Dolphin.)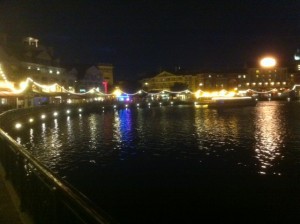 Entertainment venues for adults include Jellyrolls and Atlantic Dance, both admitting only those 21 and older.  Jellyrolls is a (usually) rollicking dueling-piano nightclub.  Atlantic Dance is a usually near-empty VJ-based dance club.
The family entertainment is fun, and the BoardWalk offers an alternative to going into nearby Epcot (and using a ticket) for dining in the Epcot area, and an alternative to going to Disney Springs for 21 and older entertainment.
It doesn't do a stellar job at either. 
While each of the BoardWalk's restaurants has committed fans, only Flying Fish is reliably on a par with Epcot's best options. The Swan and Dolphin also have dining more interesting than what's at the BoardWalk
The ESPN Club is a great–though crowded–place to watch major sporting events on TV, and Jellyrolls is a hoot, but neither is distinctively better than equivalent places in many visitors' home towns
As a result, the BoardWalk has never really clicked as a destination, and tends instead to be used mostly by guests of the hotels in the Epcot resort area.
With more than 4,000 hotel rooms here, this is enough to keep everything except Atlantic Dance hopping most busy evenings.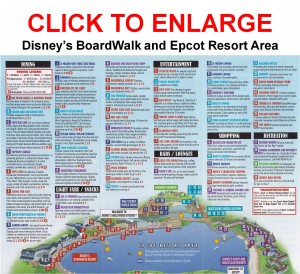 Atlantic Dance seems never to hop…even when all of the Epcot resort area conventions centers (there's four of them) are humming.
No tickets are required to visit the BoardWalk (though the nightclubs, especially Jellyrolls, may have a cover charge) and parking is available at the BoardWalk Inn.
See the map above for where everything in the Epcot resort area is–the BoardWalk venues are in red.
The BoardWalk can also be accessed from Epcot or Disney's Hollywood Studios, by boat or by walking…but if you stay late, you won't be able to exit through Epcot, and the boats to the Studios may no longer be running.  Late evening visitors from outside the Epcot resort area should in most cases plan to take a cab home.
RELATED STUFF