Tornadoes at Walt Disney World
By Dave Shute
OVERVIEW: TORNADOES AT WALT DISNEY WORLD
Although hurricanes get much more attention, tornadoes are likely an equal threat to central Florida visitors—although neither is a major risk.
Winter/Spring tornadoes are a particular threat.
MORE ON TORNADOES AT WALT DISNEY WORLD
Tornadoes are a threat for a couple of reasons.
First, unlike most areas subject to tornadoes, Florida has not one but two tornado seasons—a summer season, from June until September, associated with the thunderstorms that are common in the afternoons of summer months, and a winter/spring season from February through April.
The presence of a winter/spring tornado season—what the  Florida Division of Emergency Management calls the "Deadly Spring Season"—comes as a surprise to many visitors from out of the area.
Second, during the winter/spring tornado season, tornadoes are as likely to happen at night, when people are sleeping, as during the rest of the day.   This comes as a surprise to people who associate tornadoes with afternoon thunderstorms (which is in fact when most develop during the summer season).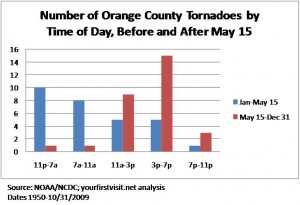 See the image for the time of day during which tornadoes were recorded in Orange County, Florida—where most of Walt Disney World is located.  (Click it to enlarge.)
The blue bar is for tornadoes that occurred before May 15; the red bar for tornadoes the rest of the year.   The pattern is clear—while summer tornadoes are most common in the afternoon, winter/spring tornadoes are most common at night.
Third, while hurricanes are widely reported on over a number of days, because they develop slowly and put at risk wide swathes of the world, tornadoes develop very quickly and are typically very local.
Unless one is paying attention to local weather forecasts, the risks that they may occur can go unnoticed.
TORNADOES AT WALT DISNEY WORLD—WHAT TO DO
1. Pay attention to the weather forecasts, and have a battery backed up weather alert radio with you.
Such radios can be set so that they come on with an alarm tone if severe weather has been forecast.  This can be your alert to find a safer place.
One example of many available is in this Amazon.com link: Midland WR120EZ NOAA Weather Alert All Hazard Public Alert Certified Radio.
2.  Pick as soon as you arrive a place of safety.  
Your hotel will have been constructed to codes designed to make it safe in most severe weather.  So if you are in a hotel, you simply need to pick the safest place in your room.
Almost all hotel design designs have the baths in the interior of the building and away from windows.  This will likely make the bath the safest place in your room, and the right spot to go if tornadoes are reported in your area.
If you are camping—for example at the campground at Walt Disney World's Fort Wilderness Resort—your structure (that is, your RV or tent) will perhaps be much less safe.
A weather radio with an alarm is particularly valuable here, and finding a safer spot ahead of time—for example, the inside of the campground baths—even more critical. Ask the campground staff for their advice on places of safety.
I cannot find any evidence that any visitor to Walt Disney World has been physically harmed by a tornado.  That said, these basic precautions can't hurt, and may help.
DATA SOURCES
All this site's weather pages except for the material on cyclonic storms and on tornadoes are based on 20 years of data from the National Weather Service ending in December 2006. The cyclonic storm material is based on 30 years of data from Wikipedia. The tornado material is from NOAA/NCDC and goes  from 1950 through October 2009.
ORLANDO WEATHER LINKS


Follow yourfirstvisit.net on Facebook or Twitter or Pinterest!!
RELATED STUFF