Review: Shades of Green Resort at Walt Disney World, Continued
By Dave Shute
(To go to the first page of this review, click here.)
NEGATIVES OF SHADES OF GREEN
Shades has several negatives for first time visitors who are not sure whether or not they will ever return, and want to see the best of Walt Disney World for a reasonable price.
In particular, this site ranks resorts for first time family visitors based on their kid-appeal and then their convenience, and Shades of Green comes up short on both.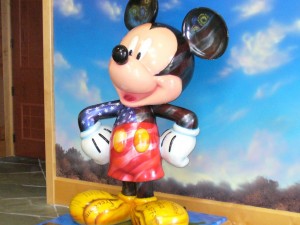 Kid Appeal. Unlike the richly kid-appealing theming of the Walt Disney World Resorts this site recommends, Shades of Green has very little evidence that you are staying within a mile of the Magic Kingdom.
Disney theming is limited to a pool shaped like Mickey Mouse's head, and a statue of Mickey in the lobby.
Otherwise, Shades has more of the look and feel of a country club, or a business or convention hotel, and could be anywhere.
Convenience. Shades of Green has its own buses, and they run too infrequently, and (especially during off-peak seasons) too late in the morning for the result to be convenient.
Buses are available to the Ticket and Transportation Center (TTC), Disney's Hollywood Studios, and Disney's Animal Kingdom.
The first morning buses to the latter two theme parks arrive too late for you to follow this site's itineraries.
The bus to the TTC is not nearly as convenient for Magic Kingdom visitors as are the buses from the other Walt Disney World resorts, which drop you off just outside—and 15-30 minutes closer—to the Magic Kingdom.
Shades of Green visitors can walk to Disney's Polynesian Resort, and take advantage of its transportation options. But this walk adds another 10-30 minutes to your transportation time (depending on your pace and your room location).
Furthermore, Shades of Green does not participate in key money-saving Disney programs.
Families following the itineraries of this site are encouraged to sign up for the Disney Dining Plan and Disney's Magical Express. These two programs combined will save such families hundreds of dollars.
Shades of Green guests cannot participate in either of these programs.
For some families, the hotel savings from staying in Shades of Green will more than make up for the extra costs that come from not being able to participate.
However, one only saves money at Shades of Green if one would otherwise have stayed in a deluxe resort, or, for most families most times of the year, at a moderate resort.
Given the level of discounts Walt Disney World is currently making available (see this) value rooms during most seasons will be less expensive than Shades of Green for many families.
During the value season, depending what on deals Disney makes available, moderates may be less expensive as well, especially when transport and dining costs from the Disney Dining Plan and Disney's Magical Express are figured in.
No value or moderate has rooms anything near the quality of what you will find at Shades of Green; but you will find Disney owned-and-operated resorts that are much more fun, and as convenient or more. See this for more on where to stay at Walt Disney World.
Dining at Shades of Green continues to improve—I had the best pizza there I have had anywhere in years.
Dining is much better than that available at the value resorts, but not nearly as good as that available at the typical Disney deluxe resort. It is comparable to dining at moderates.
ELIGIBILITY FOR SHADES OF GREEN
Rooms at Shades of Green can be reserved by active duty and retired US military personnel, plus a number of other individuals meeting specific military, Department of Defense, or related criteria. See this page on the Shades of Green website for exact eligibility criteria.
RECOMMENDATION
Eligible families looking for deluxe rooms at Walt Disney World at prices comparable to or well below that of a Walt Disney World moderate resort should investigate Shades of Green, after noting any deals and discounts that may bring Disney owned and operated resorts into their price range.
This is particularly the case for families returning to Walt Disney World.
First time visitors will likely have a better trip by staying at a Disney owned-and operated resort.
If that can't work, the next best option is to do a split stay, dividing your visit between Shades of Green and a Disney owned and operated resort. See this page for more on such a split stay.
EXTERNAL LINKS FOR SHADES OF GREEN
Deals and Discounts
Shades of Green
Other Resources for Military Families