easy Guide 2015 Changes
By Dave Shute
This page supplements The easy Guide 2015
It presents
Links to better/larger versions of some of the key charts
Changes and updates, by date
Typos and other awkwardness
Report any other issues, or make wonderful comments about the book, me, or Josh, especially me, using the comment form below!
LINKS TO LARGER OR COLOR OR BETTER OR NEWER VERSIONS OF KEY EXHIBITS
Page 12 Comprehensive Guide to Rides
Page 14 Disney World Rides Excluded by Height
Page 26  2015 Crowd Calendar
Page 28  2015 Price Seasons
Page 40 2015 Weeks to Visit Rankings
Page 45 Resort Features by Price Class
Chapter 5 in general: larger color, floor plans of all standard rooms are in the resort reviews
Chapter 6 in general: The Cheat Sheets–including touring plans, large color maps and wait times–are all here.
Page 210 Guide to Disney Dining
CHANGES NOT INCORPORATED IN ANY EDITION YET
I mixed up which rooms lose the Murphy bed in "dedicated" Two Bedroom Villas at the Grand Floridian on page 95. As I know perfectly well since I stayed in one, it's the second bedroom, not the living room, that loses the Murphy bed.
CHANGES FIXED IN BOOKS PURCHASED AFTER 11/25
Two tables shipped between 11/22 and 11/25 had typos.  Below is the correct version of the table on page 12…
…and here's the correct version of the table on page 14.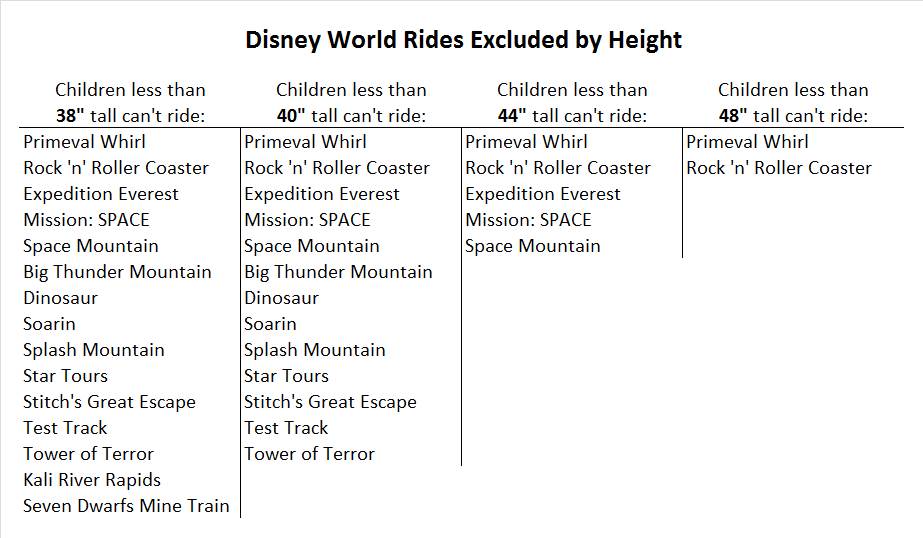 Both these are fixed in all Kindle editions and in paperbacks shipped after 11/25.
CHANGES FIXED IN BOOKS PURCHASED AFTER 11/21
Many paperback copies shipped the week ending 11/21 had grossly defective tables. For what happened–and more important, how to get one of those replaced–see this.