A Friday Visit with Jim Korkis: The Old New Fantasyland
By Dave Shute
Welcome back to Fridays with Jim Korkis! Jim, the dean of Disney historians, writes about Walt Disney World history every Friday on yourfirstvisit.net.
THE NEW FANTASYLAND OF 2009
By Jim Korkis
Sometimes Walt Disney World announces upcoming attractions with great fanfare and detailed concept art, but several factors can prevent those dreams from becoming a reality. On September 12, 2009 at the D23 Expo held at the Anaheim Convention Center in California, then Walt Disney Parks and Resorts Chairman Jay Rasulo revealed detailed plans for a massive expansion of WDW's Fantasyland that would open in 2012 and be completed by 2013.
Rasulo told an eager crowd: "There have been a lot of rumors online, and I don't know where they come from, and I don't even know where they get started, but it's about a big expansion of Fantasyland at Walt Disney World.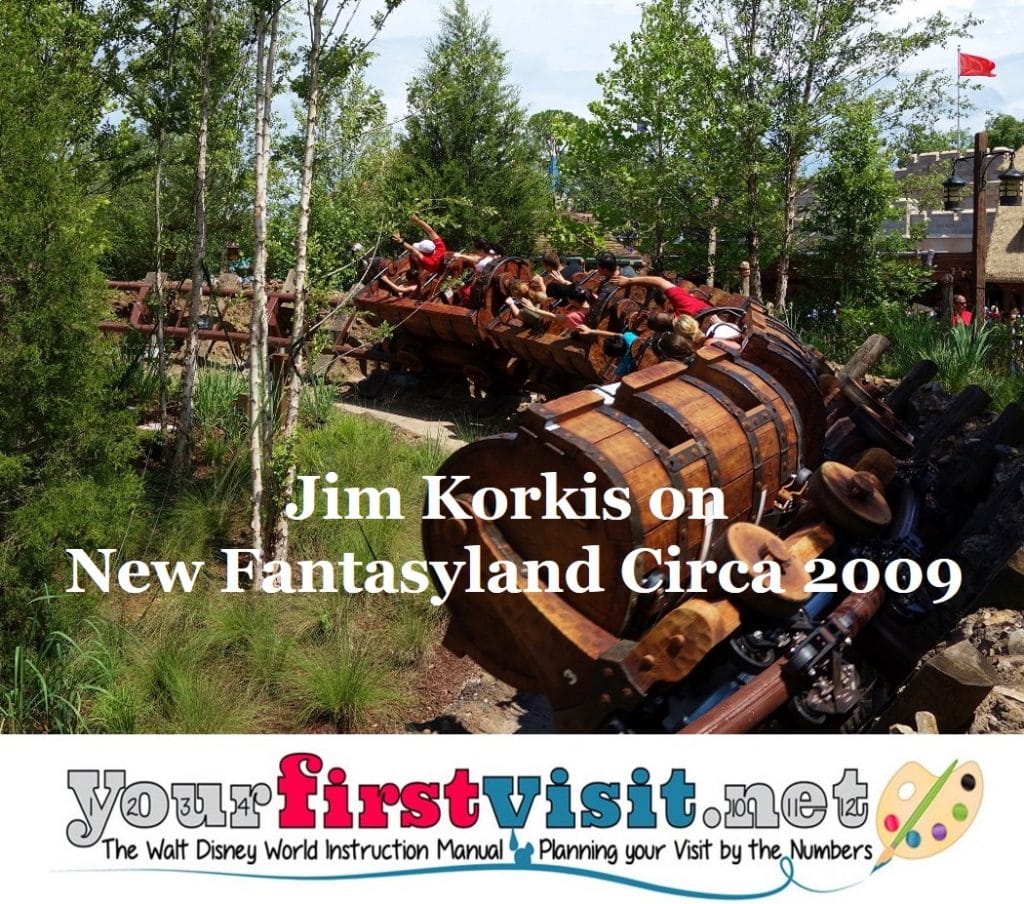 "Well, these rumors are absolutely — true. We are doubling the size of Fantasyland to include more of your favorite princesses. Meeting a Disney princess is always a very special highlight of any visit to the Magic Kingdom.
"Now those visits are going to be more entertaining than ever. You'll meet Disney princesses in their own fairy tale worlds. You'll be immersed in the sights, the sounds and the magic that make every princess story so memorable."
With the continuing success of the Disney Princess franchise that started in 2008, the expansion would emphasize these popular Disney characters in order to synergize with merchandise sales.
Cinderella's country chateau would be where she lives with her stepmother and stepsisters in a forest setting.  At the Cinderella Chateau, guests would have observed the Fairy Godmother magically prepare Cinderella for the royal ball and then guests would be able to share a dance to prepare for the ball.
At the Sleeping Beauty Cottage, participants would have helped celebrate Briar Rose's surprise sweet sixteen birthday party with the help of the good fairies Flora, Fauna and Merryweather. Among other things guests would make birthday cards for the princess and then greet her with a big surprise.
Belle would host a "comical retelling" of her story with the Beast in her father's cottage.
In addition, Dumbo would be moved to brand new circus grounds and expand into two spinning attractions. Be Our Guest would be an elaborate dining facility with multiple rooms in Beast's castle. Under the Sea: Journey of The Little Mermaid would be similar to the one being built for Disney's California Adventure and would also feature a meet-and-greet location with Ariel.
Tinker Bell and her fairy friends would reside in Pixie Hollow where guests would shrink to the size of a pixie and play among towering blades of grass and flowers.
Concerns from fans that the additions were too "girl-centric" resulted in Disney making some changes while retaining some of the originally announced items when Tom Staggs, who had three young sons, replaced Rasulo.
"One of the things that I thought the early design did fantastically was delivered on that princess experience. And that does tend to skew toward girls. We've kept that intact – not exactly necessarily the way it was presented – but that appeal is there," Staggs told the Orlando Sentinel in August 2010. "I think we've added some things that aren't just princess-focused, and that's a good positive."
The Snow White Seven Dwarfs Mine Train took the place of the princess cottages and Storybook Circus took over the area for Pixie Hollow. However, the concept of Princess meet-and-greets was retained with the creation of the Princess Fairytale Hall and Enchanted Tales with Belle.
When the plans were significantly changed for the area, there was discussion to move Pixie Hollow over to Epcot as part of the Flower and Garden Festival or to find a more permanent home according to The Orlando Sentinel newspaper at Disney's Hollywood Studios to tie-in to the Tinker Bell animated films. Neither happened.
*  *  *  *  *
Thanks, Jim! And come back next Friday for more from Jim Korkis!
In the meantime, check out his books, including his latest, Call Me Walt, and his Secret Stories of Walt Disney World: Things You Never You Never Knew
, which reprints much material first written for this site, all published by Theme Park Press.


Follow yourfirstvisit.net on Facebook or Twitter or Pinterest!!
RELATED STUFF