Review: Dumbo in Storybook Circus at the Magic Kingdom
By Dave Shute
DUMBO IN NEW FANTASYLAND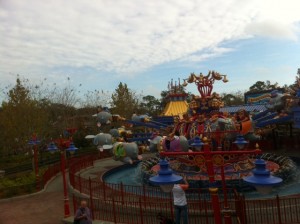 Dumbo–a simple and undistinguished flying elephant ride–has been a mainstay in the Magic Kingdom since the park opened, delighting millions of toddlers, not so much their parents.
As part of the Fantasyland expansion project, Dumbo has been moved to the new Storybook Circus section of Fantasyland (where Toontown Fair used to be located), spiffed up, added to the FASTPASS program, duplicated so that there are now two copies of the basic Dumbo ride, and had an air-conditioned indoor waiting play area added.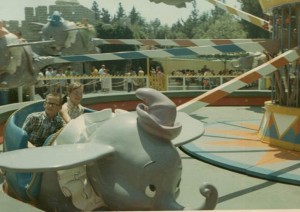 For both parents and little ones, the changes are an improvement.
For the little ones who love Dumbo so much, the ride has the same appeal to little kids that it (and its earlier incarnation at Disneyland) has always had. Little ones will enjoy the added color and action of the new Storybook Circus setting, and the play opportunity in the stand-by line.
(The image is my sister and I on Dumbo at Disneyland in the late 60s.)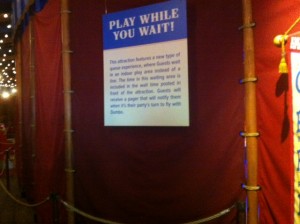 For the parents who wait with these kids, the changes–so far–have been a godsend.
The addition of FASTPASSES and the doubling of capacity means wait times are down, and the air-conditioned play area both increases the comfort and decreases the boredom the waiting line.
It's still just Dumbo–skippable for all but the younger set–but Dumbo with a faster moving, more comfortable line than it's ever had before, and a more charming and thematically appropriate setting in Storybook Circus!
RELATED STUFF