Dining Options at Caribbean Beach During Its Refurb
By Dave Shute
(For the first page of this review of Disney's Caribbean Beach Resort, see this.)
The counter service area and Shutters table service venue in Centertown at Disney's Caribbean Beach Resort closed in May 2017 for replacement.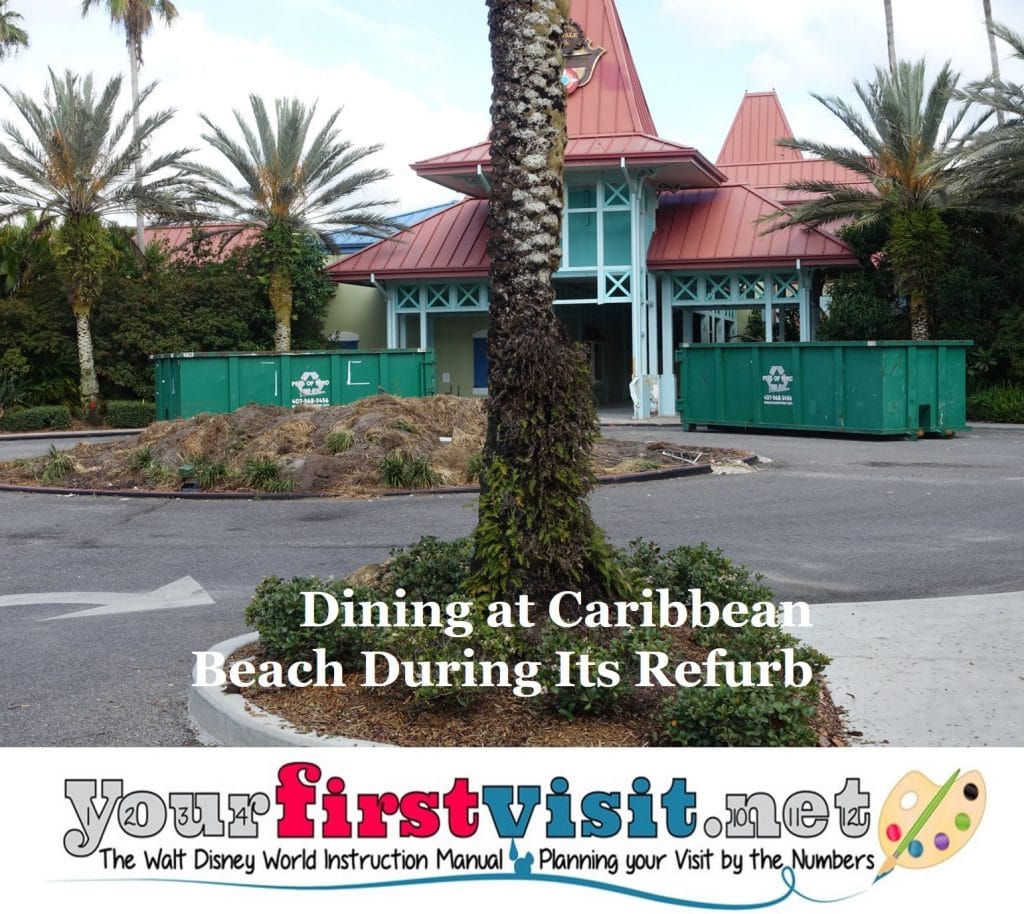 Alternate dining arrangements have been made, and during my May visit and June stay at Caribbean Beach, I had eight meals here.
A full report follows later on this page, but here's the short review of  temporary dining at Caribbean Beach:
Breakfast: Fine. Supplies for cold in-room dining are easily available, and the hot buffet and food truck offerings are entirely adequate.
Lunch: Weak. Both hot and cold offerings are limited. The quality of the hot food is good, but options and capacity are each slim. Cold food is widely available in limited options and while the fruits and salads are OK, the cold sandwiches are weak.
Dinner: Adequate for a meal or two.  Between the buffet, food truck, room service, and other options, most will find something to like, but the offerings at each option are limited, and capacity is tight except at the buffet.
A couple of general points before diving into the details
Disney has not consistently met demand in its smaller venues, so outages have happened–the Centertown food truck was out of sliders when I wanted them, and I've seen reports of the Trinidad South truck being out of lamb and the Island Markets selling out of sandwiches.
Waits at the Centertown food truck and buffets may "feel" long at busy times. By my stopwatch, in both cases the entire cycle wait (from committing to starting to eat) is comparable to what you'll find at other Disney World moderate and value resort food courts at busy times, but don't expect these to be "quick" options.
The buffets may use two holding lines–one to enter the tent (for fire marshal/egress safety issues) and a second before the buffet line (to allow those who have already eaten to get in line for seconds without going back out of the tent to the beginning of the line).
While you are in these lines, others may enter the tent simply to use the air conditioned tables or access the beverage station. Neither these people nor those returning to the buffet line for "seconds" are cutting in line, though it may feel like that at times.
OK, everything else I know is covered below.  If you want to see a specific venue, click the links:
THE CENTERTOWN OFFERINGS
The largest range of dining options is in Centertown, between the main pool and Trinidad North.
Here's you'll find a food truck offering all-day dining, a buffet serving breakfast and dinner, a bar, and, at times, a mini-truck with snacks.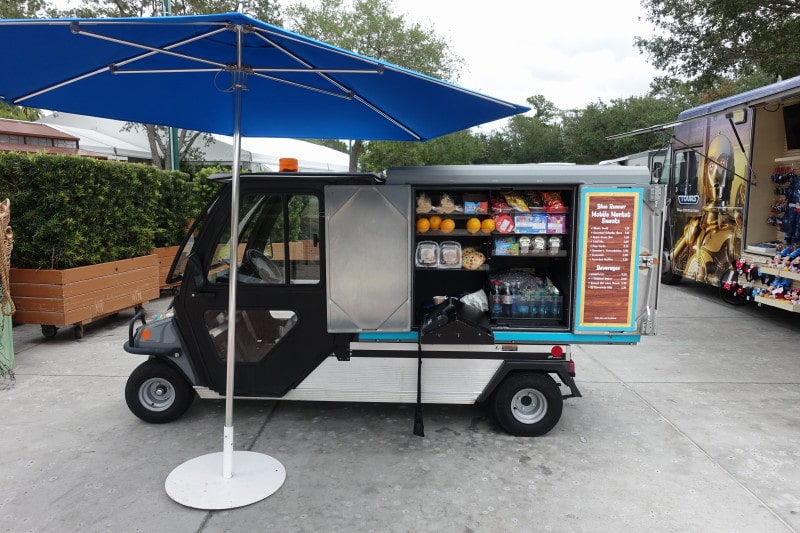 I'll get to the food truck and buffets in a minute, but to cover the minor Centertown entries, here's the mini-truck…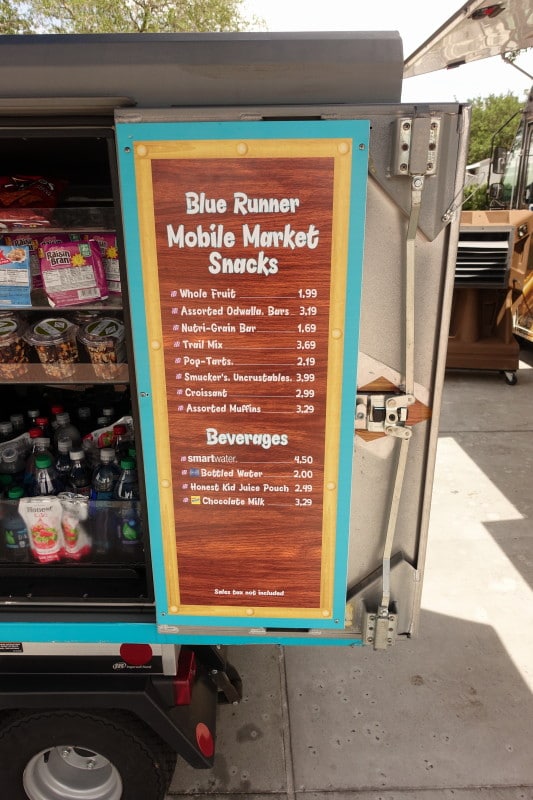 …and a closer shot of its menu (click it to enlarge it).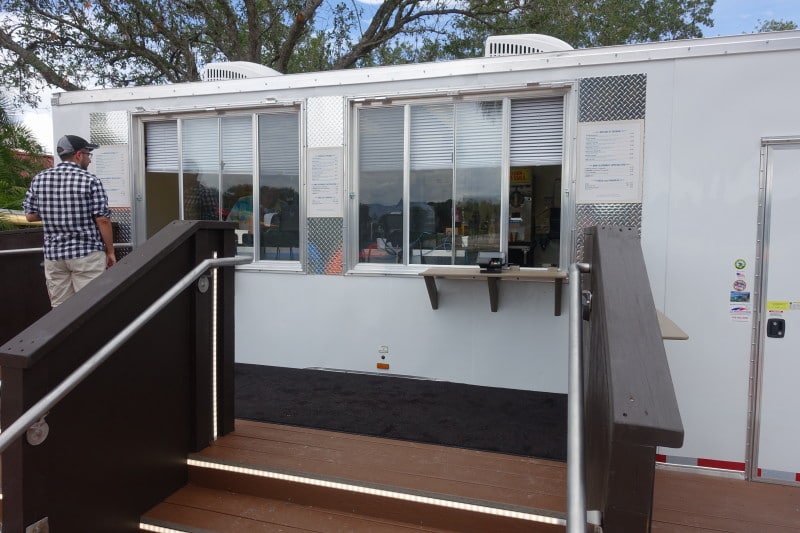 The bar is visually horrible but with two bartenders, it operates just fine.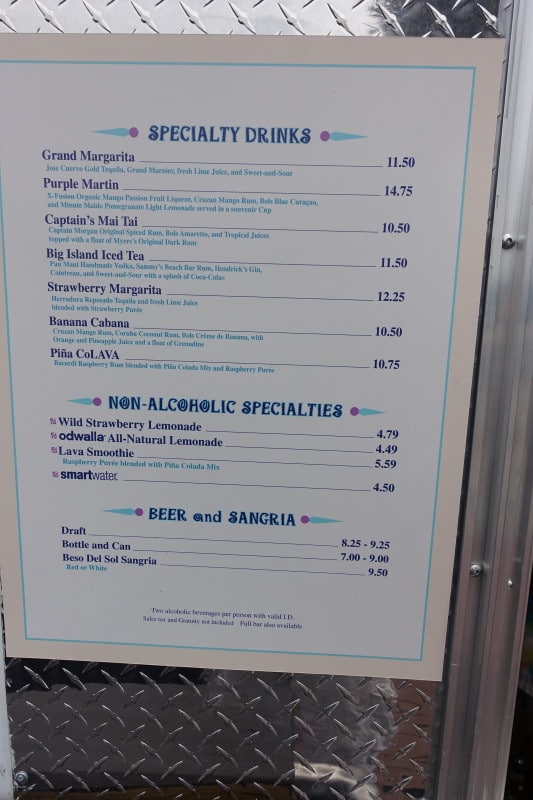 The bar menu.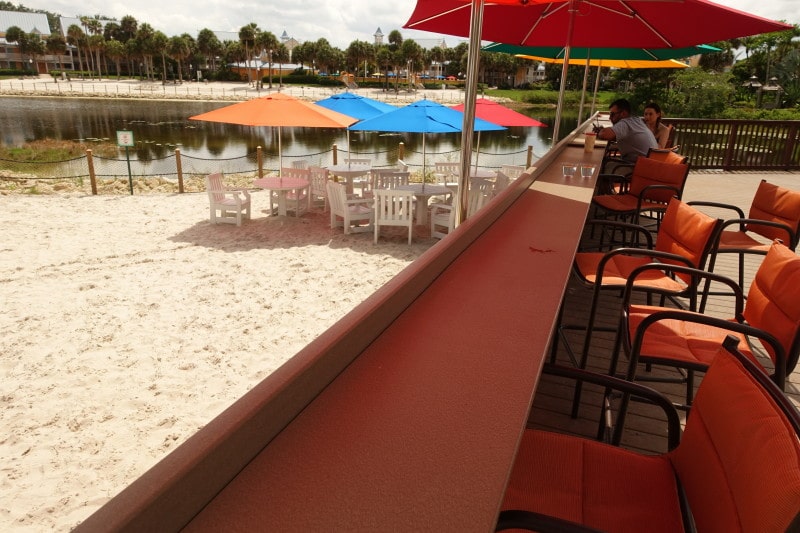 Bar seating is available along a rail and at tables by the beach.
THE CENTERTOWN FOOD TRUCK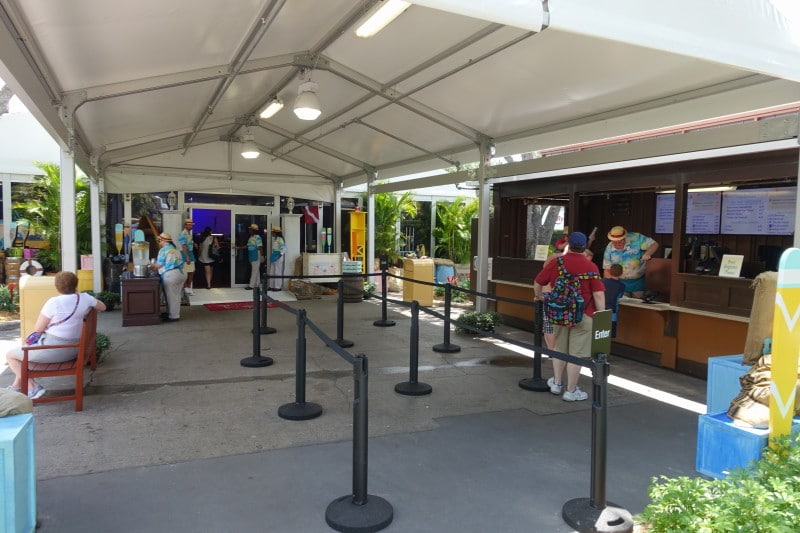 All day dining is available from a food truck. You order from the kiosk on the right above…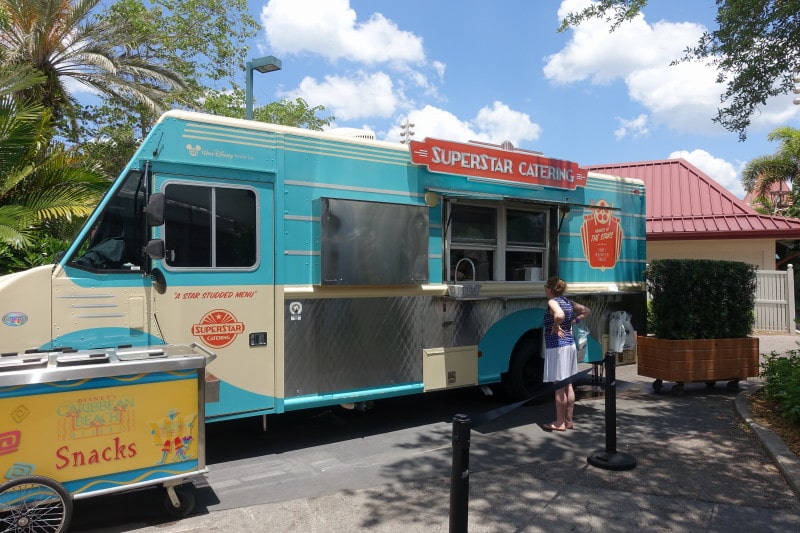 …and pick your food up at the truck itself, typically being given a pager so that you can wait for your meal in the air-conditioned buffet tent.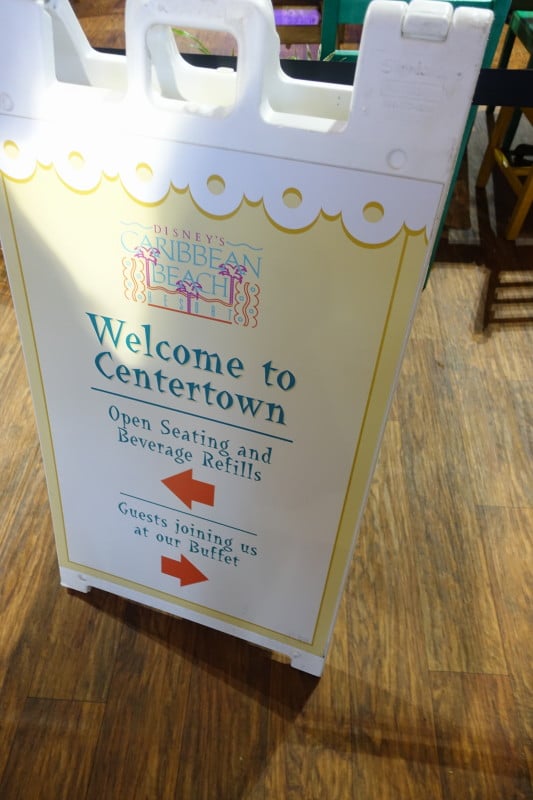 You can then eat outside, bring it to your room, or enter the buffet tent and eat there.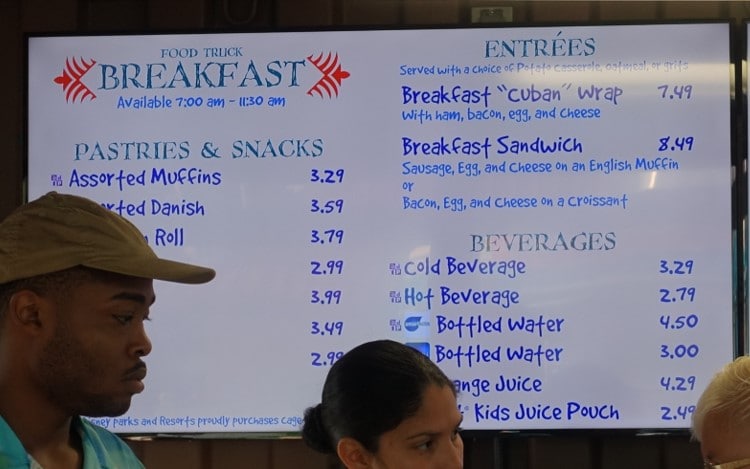 The food truck runs two menus, one for breakfast and one for lunch and dinner. My image of the truck's limited  breakfast menu, above, has a bit of a Jungle Cruise feel. For a more readable version, click here.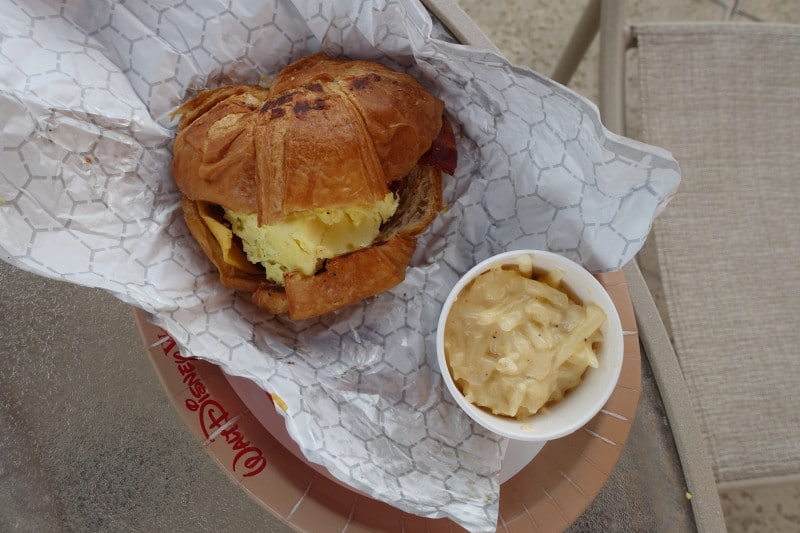 I had the bacon egg and cheese sandwich with a side of potato casserole. Both were fine.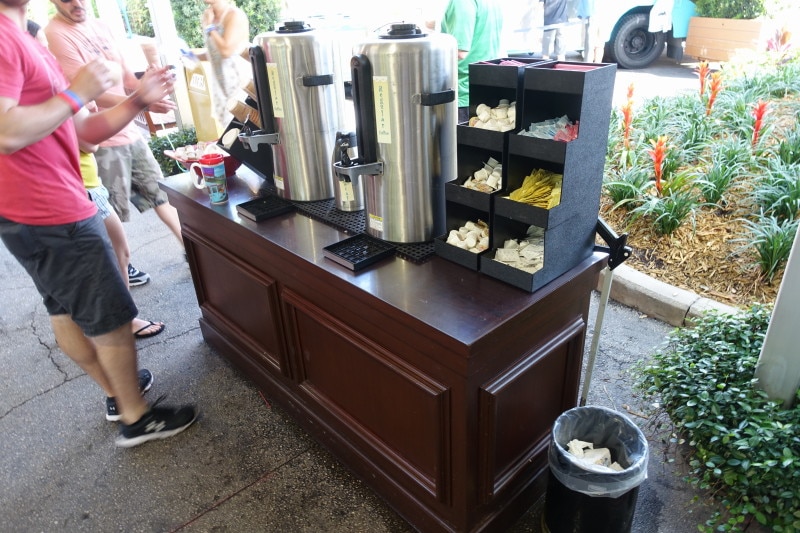 Morning coffee is available outside (later in the day sees a shift to a lemon-water service here) and also inside the tent, which also has a refillable mug station.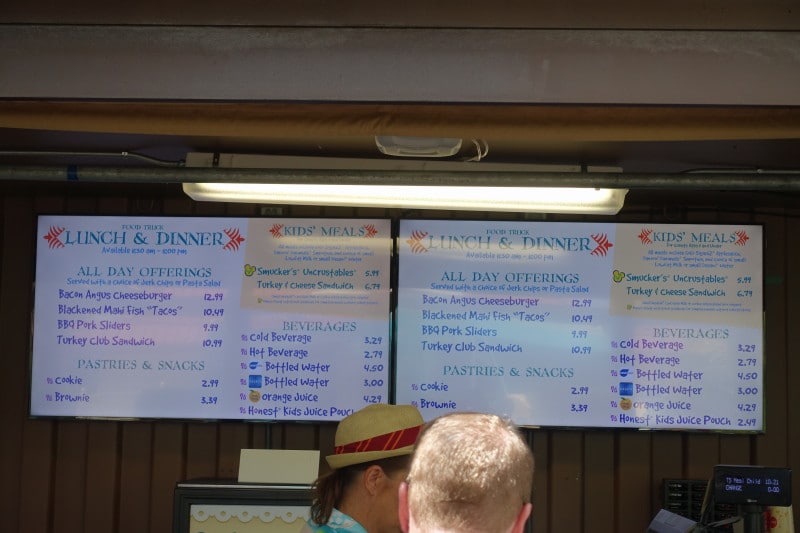 The lunch/dinner food truck menu is also limited (click it to enlarge it)…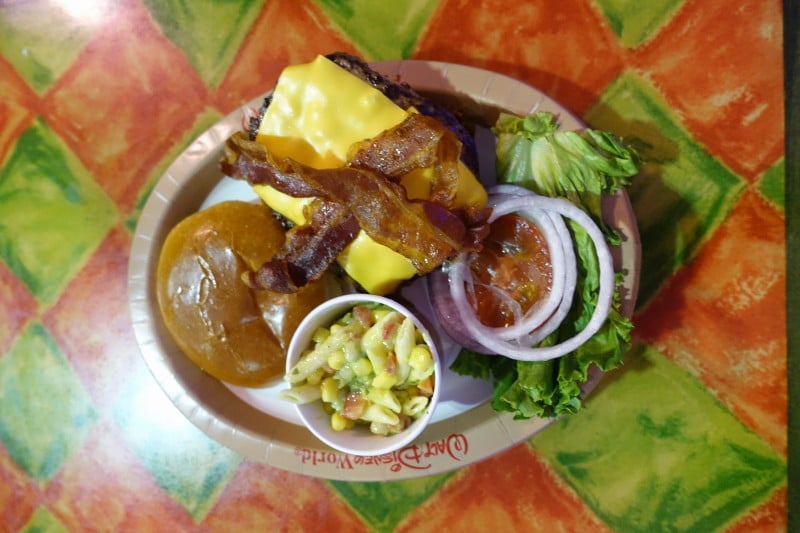 …but the burger was much better than most Disney food court burgers.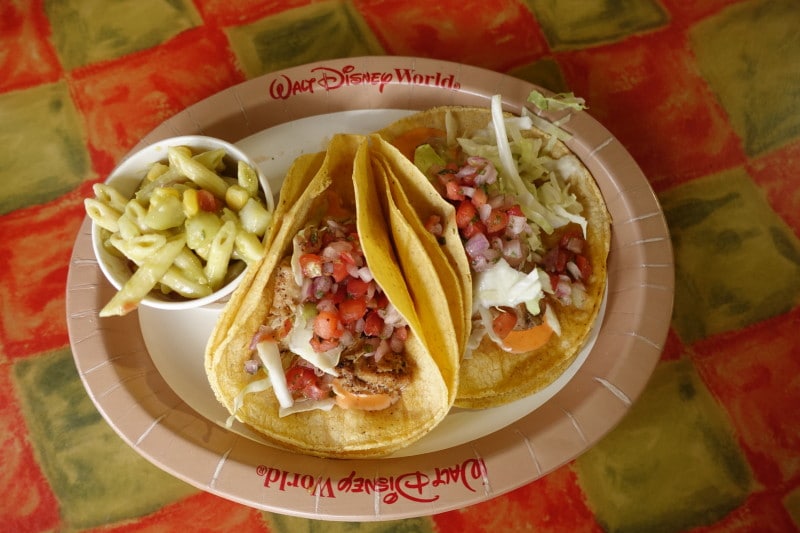 The fish tacos were good, too.
The food truck serves breakfast from 7-11.30a, and lunch/dinner (same menu) from 11.30a to 9p.
THE CENTERTOWN BUFFET–BREAKFAST
The main option, however, is the buffet. It's open for breakfast and dinner–but not lunch. The buffet is open for dinner from 5-10p, and for breakfast from 6.30-11.30a.
You pay for the buffet at the same area where you pay for the food truck. Breakfast prices are $13.99 for those ten and up, and $8.99 for those 3-9 years old, or one quick service credit. Dinner prices are $20.99 for those ten and up, and $11.99 for those 3-9 years old, or one quick service credit.
You then get a wrist band, which is what allows you into the buffet line—and allows the buffet tent to also serve double duty as an air-conditioned area for eating off the food truck, and/or filling your refillable mugs.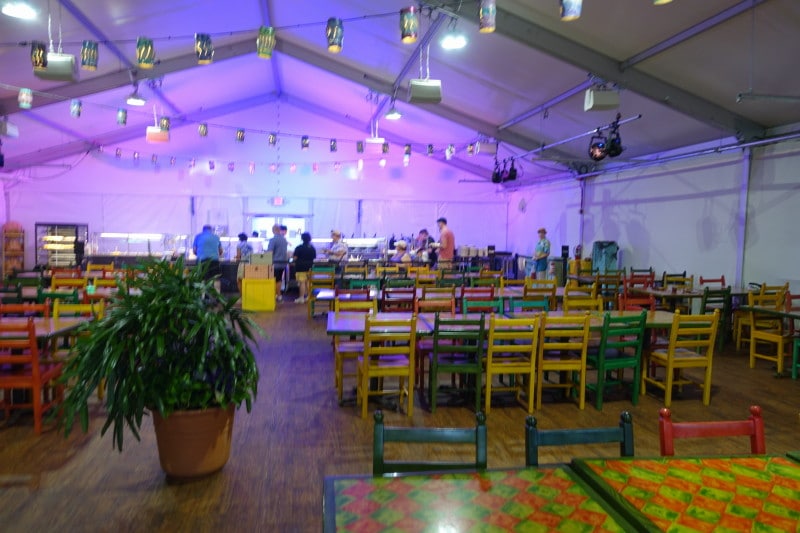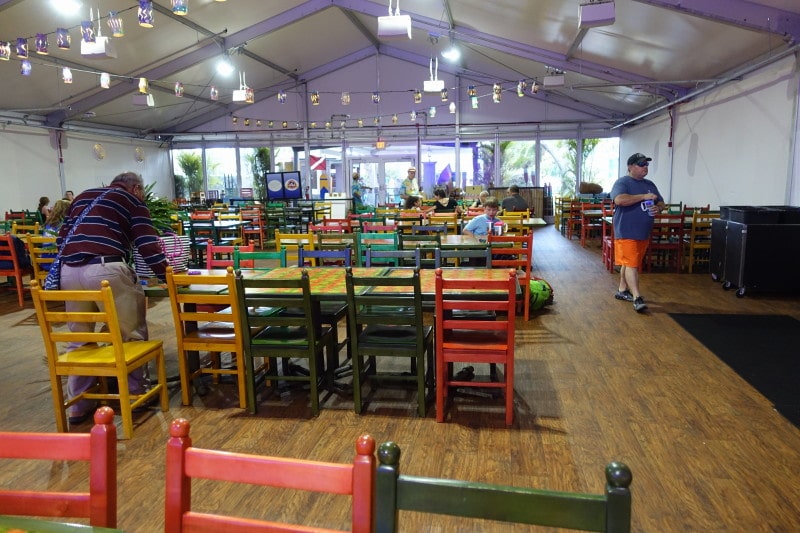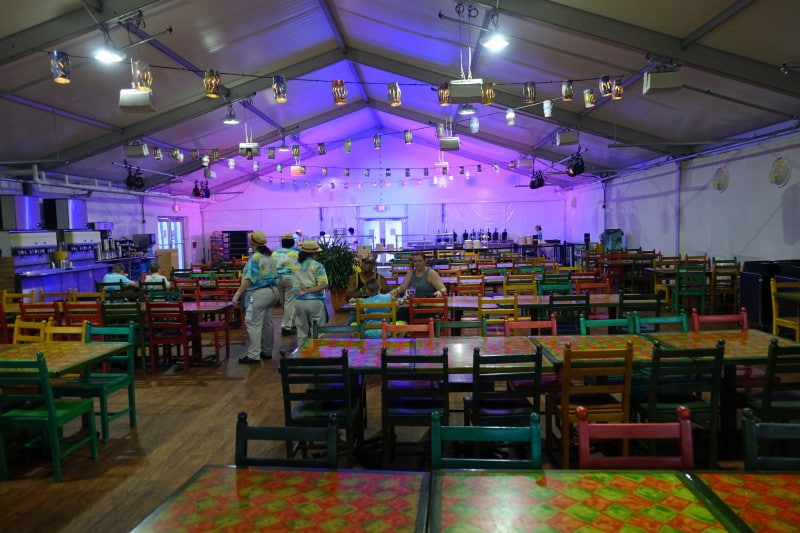 Here's a couple of views of the buffet tent, which seats on the order of 250-300 people.
The buffet is all-you-can-eat if you dine in, and you can dine in or do it as a takeaway. However, you can't both do a sit-down all-you-can-eat buffet meal and then also fill up a to-go plate. One or the other, bucko.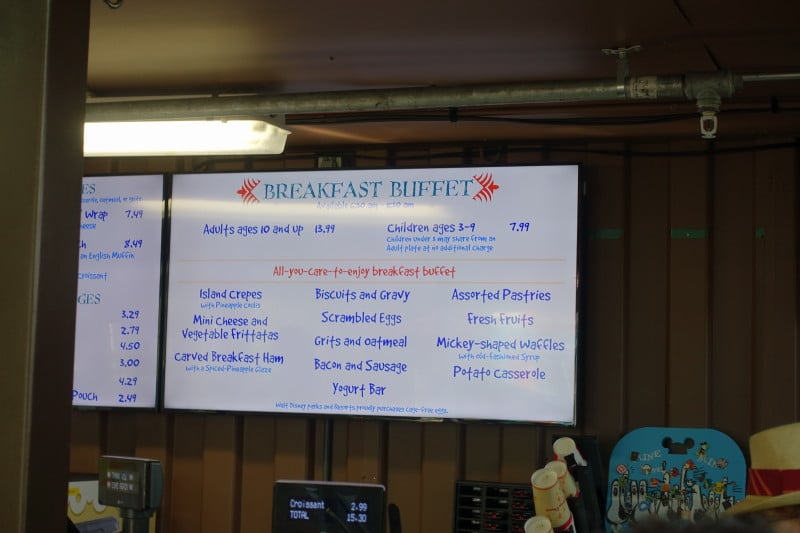 The breakfast buffet menu is above and also here.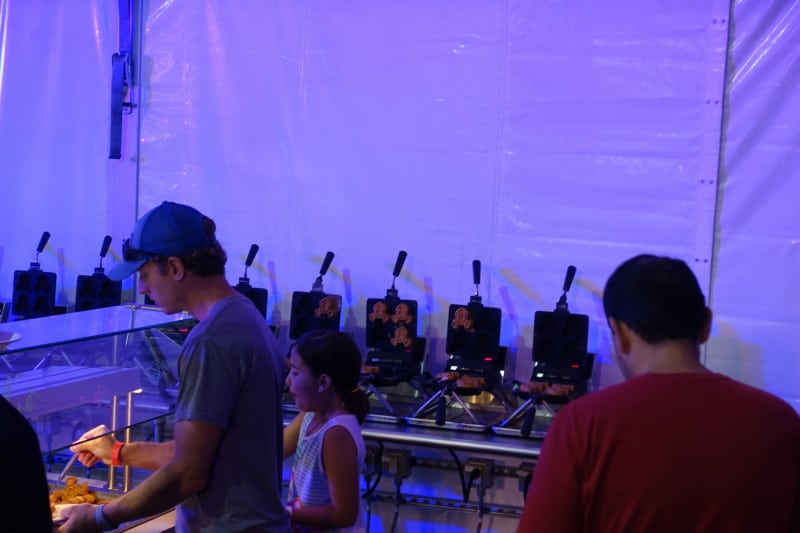 First on offer is the waffle station, with waffles being made in the background.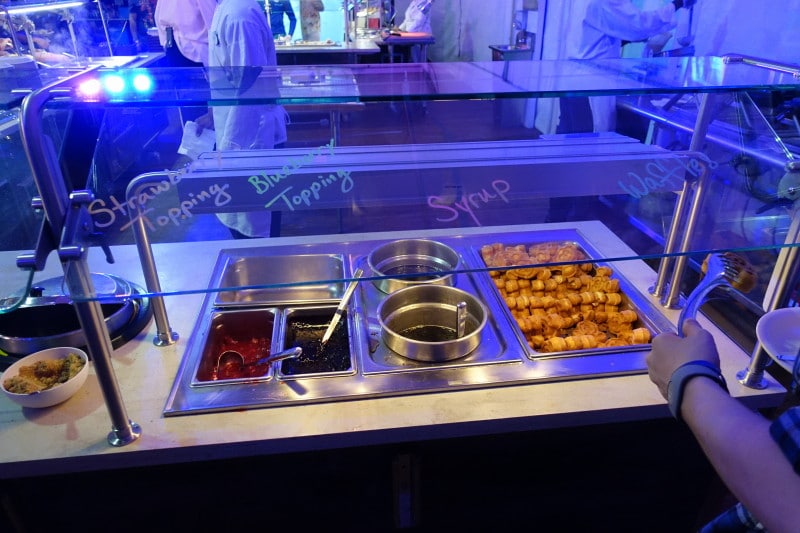 The waffle station includes waffles, syrup, and blueberry and strawberry toppings.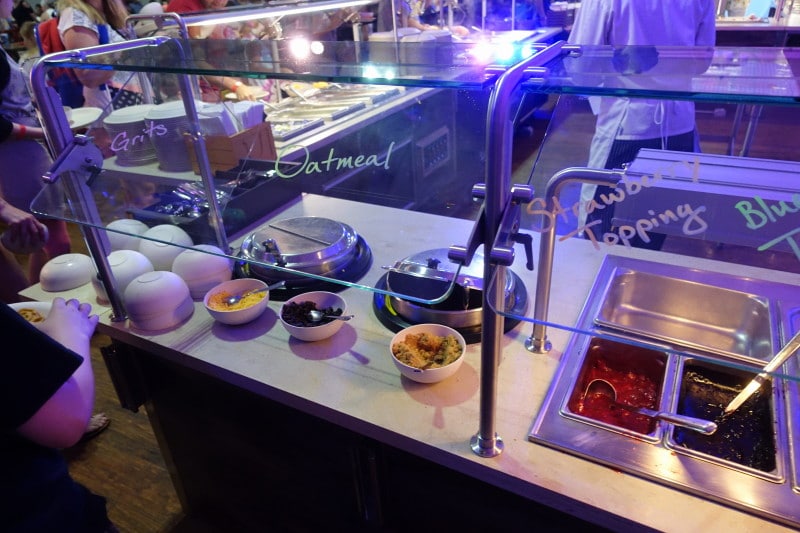 Next is oatmeal, grits, and some more toppings.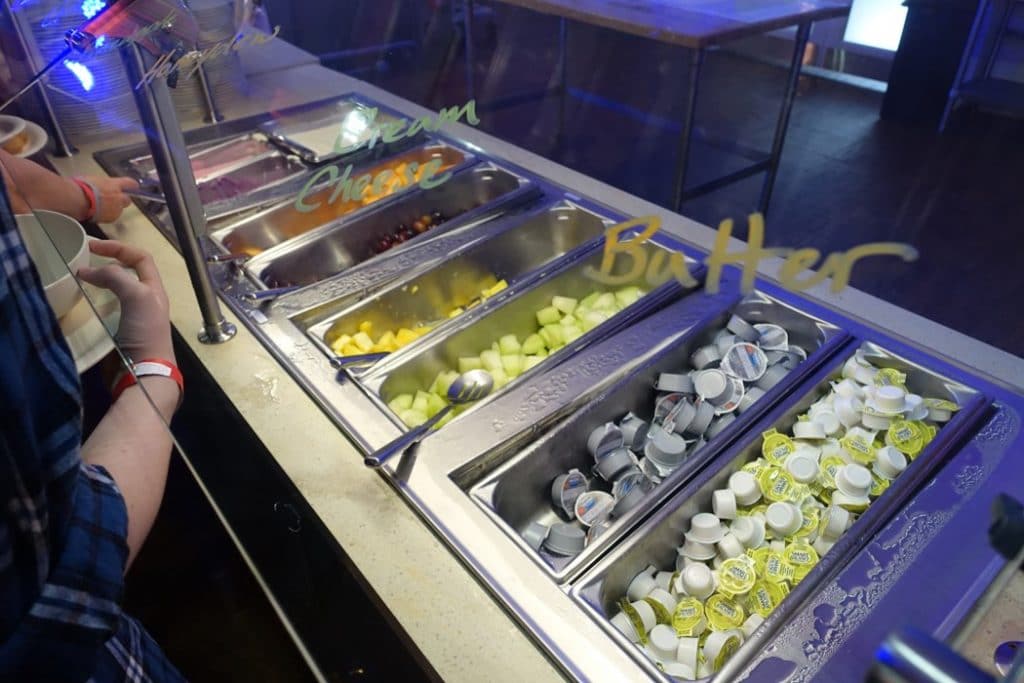 Around the corner you'll find butter and cream cheese, a variety of fruits…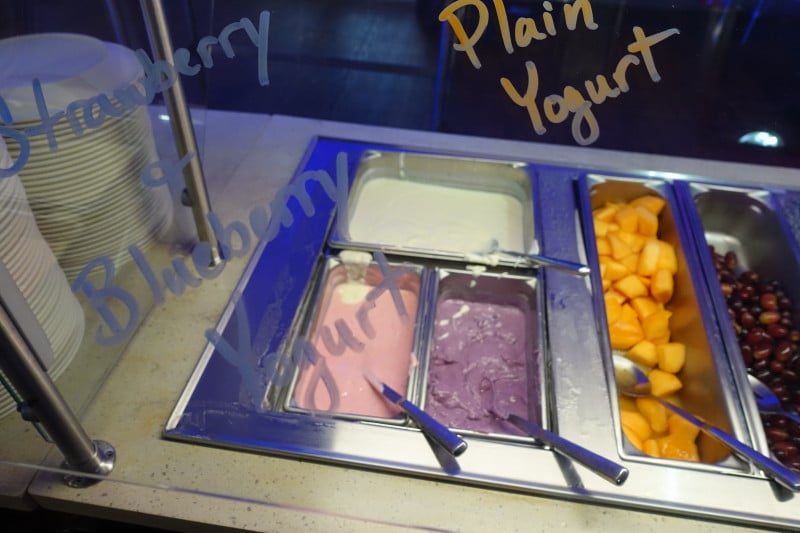 …and several yogurts.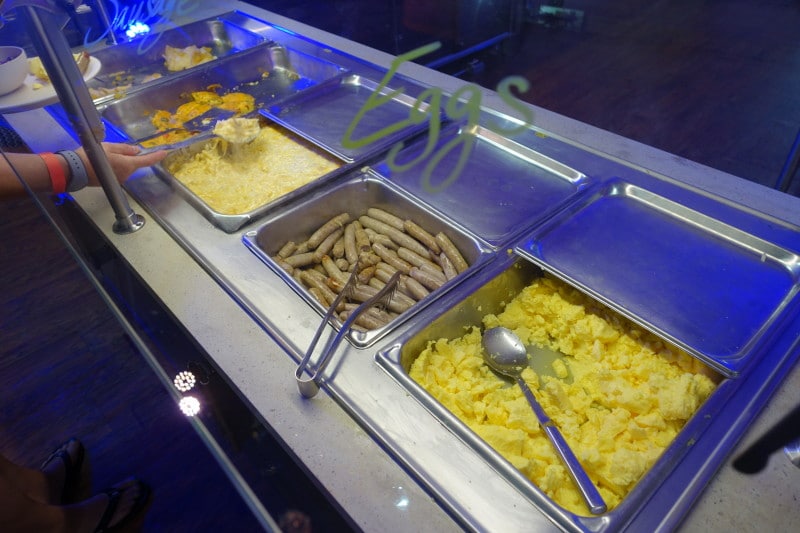 The hot station is next, with eggs, sausage, the same potato casserole you can get at the food truck as a side…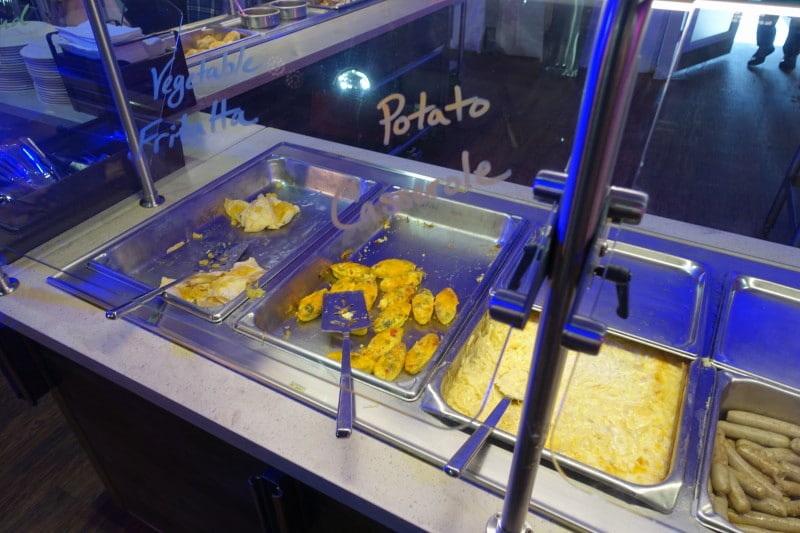 …veggie fritattas and "Island Crepes."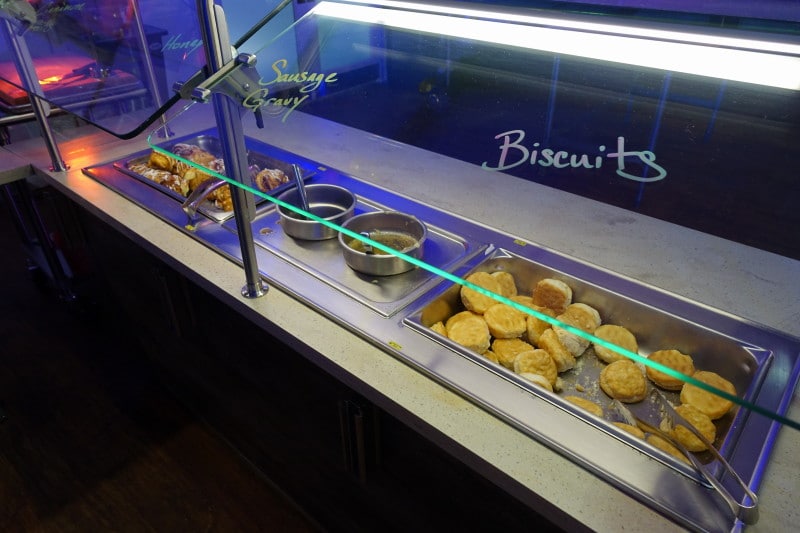 Next is  a station with biscuits, sausage gravy, and pastries.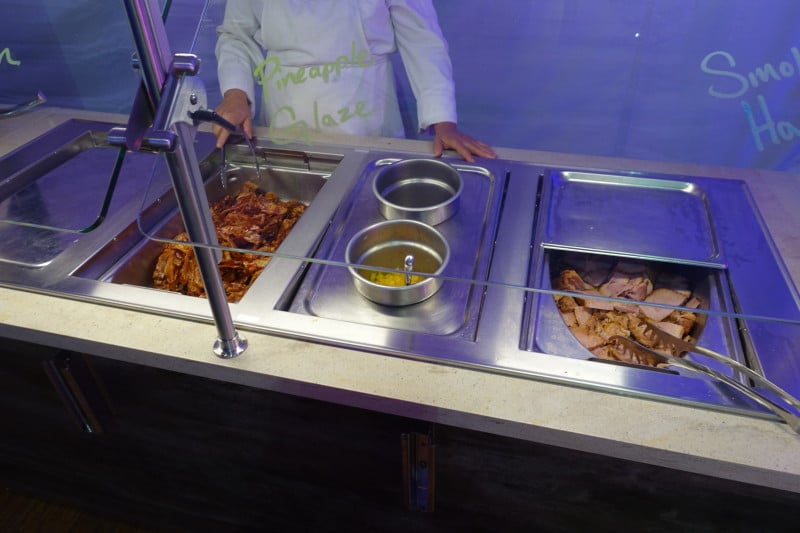 Then the bacon and ham station, with ham glaze.  This is the only station where a cast member portions the offerings–which, after you've tried the sausages, will make perfect sense to you.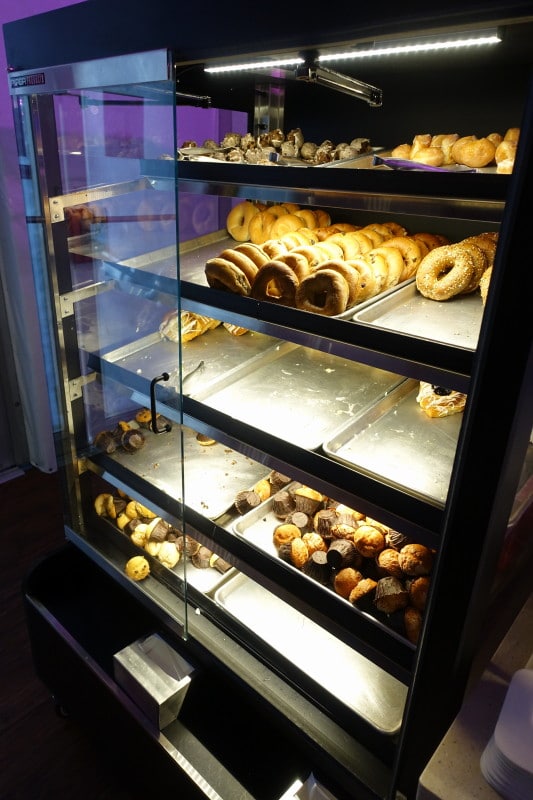 Finally,  there's a selection of breakfast bagels, pastries and breads.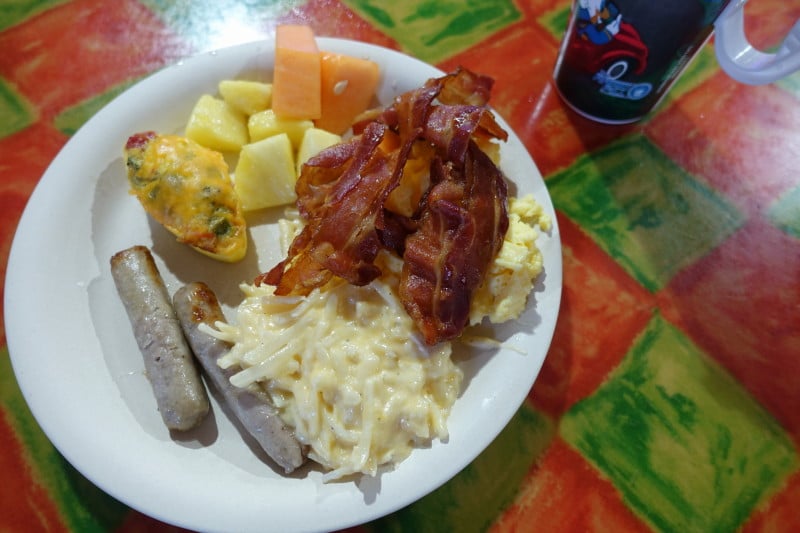 Here's what I assembled.  All was fine except the sausages, which looked unappetizing, were cold, and had little flavor. Bacon is the way to go! (The potato casserole looks weak but was quite good, as was the frittata.)
See below for the drinks station.
THE CENTERTOWN BUFFET–DINNER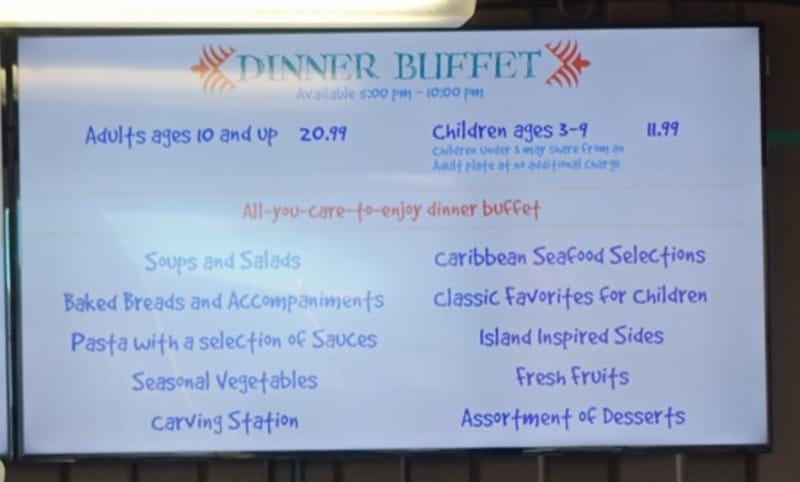 Here's the dinner menu. Frankly, there's a little less here than meets the eye, so I strongly suggest that early on a stay at Caribbean Beach you go inside and inspect the actual offerings, so that if you later decide to have dinner here there's no surprises.
My main issue with the buffet is how limited the options are. Frankly, for a quick service credit, it's nicely priced if you can find meal items you are in the mood for, but the adult cash price is high for the range of options available.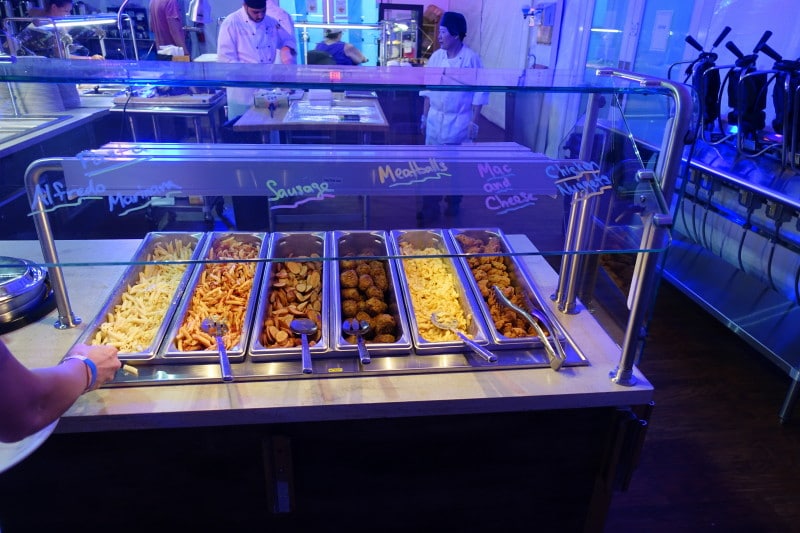 The first station combines some kids offerings with what the menu calls the "Pasta with a Selection of Sauces." You'll find here chicken nuggets, mac and cheese, meatballs, sausage, pasta alfredo, and pasta marinara.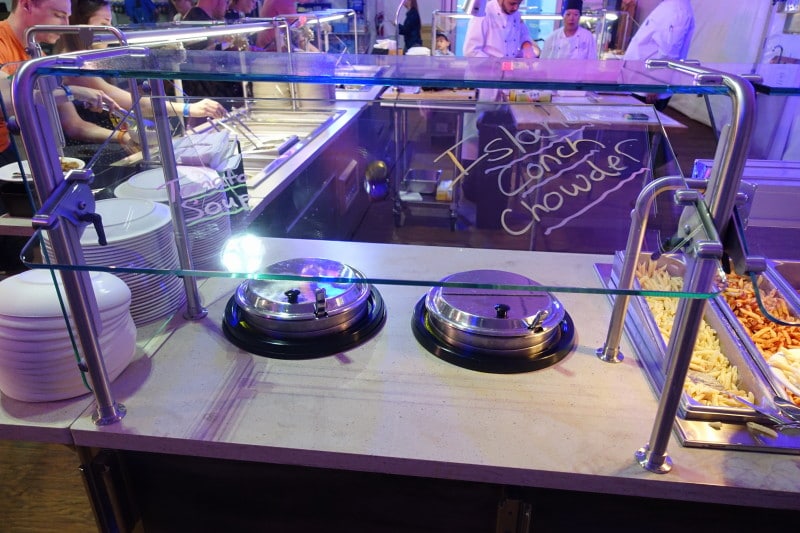 Next are a couple of soups—on one of my visits, tomato and Island Conch Chowder. I had the chowder—it was very mild.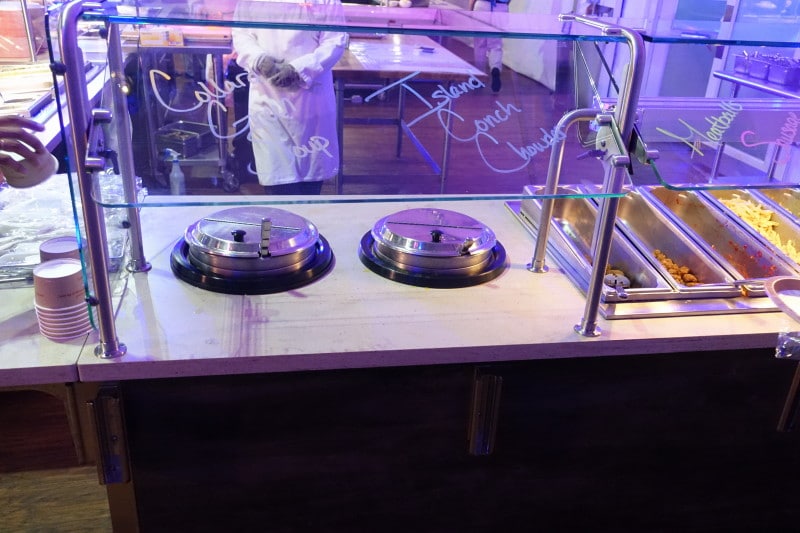 On another visit, instead of tomato, the second soup was collard green soup.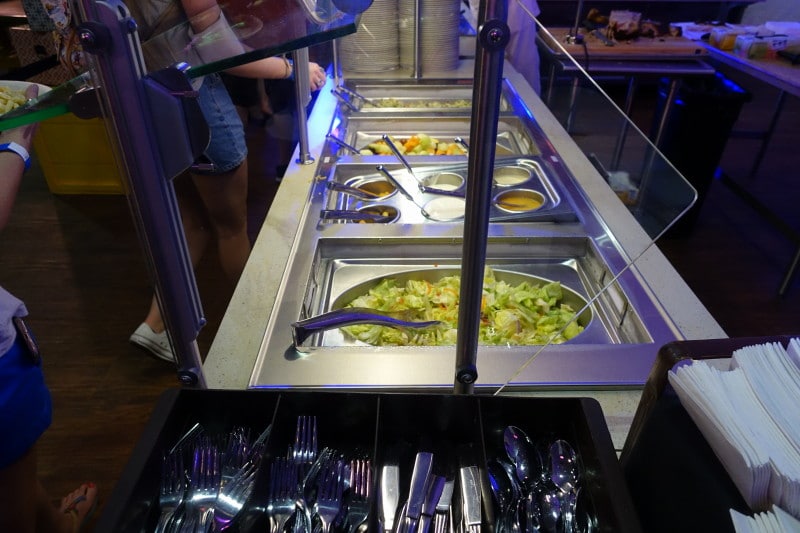 The salad section has precisely one greens option—mixed lettuce, mostly garden variety—well you know what I mean, it's exactly the opposite of the variety of greens in our salad garden—six dressings, mixed fruit, and a pasta salad and slaw salad.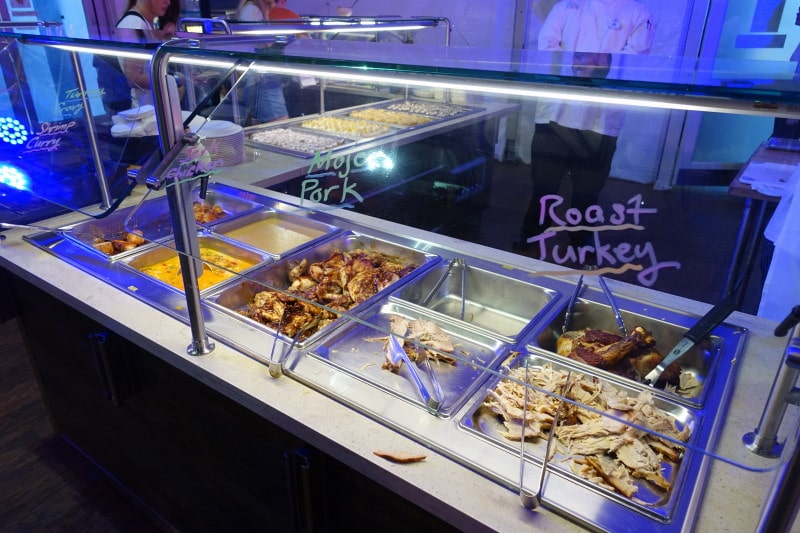 The entrée station includes the carving station—at both of my dinners, it was carved turkey. At one dinner, other options included roast pork, jerk chicken, and shrimp curry.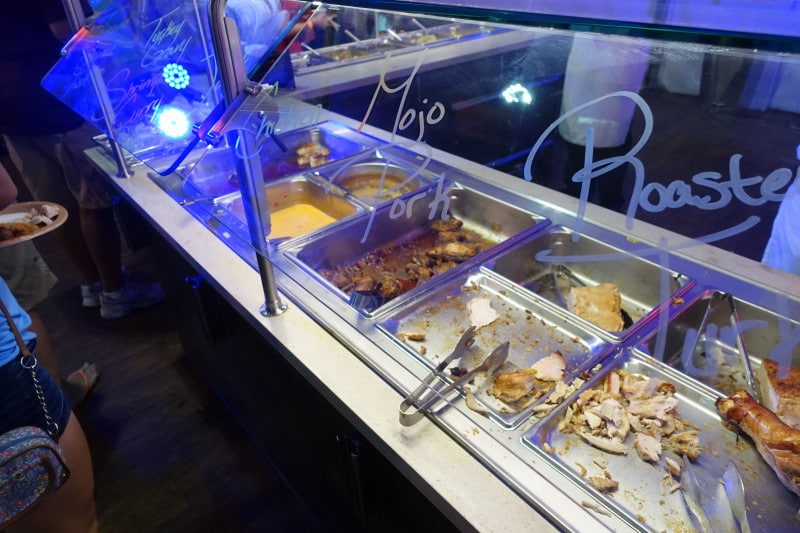 At another dinner, the same roast turkey, pork, chicken and shrimp was available, with "Island Glazed Fish."
No beef—even though beef is common at carving stations at moderate and value food courts. If you want beef, get a burger at the food truck.
The meats were all adequate–mildly flavored (even the curry) and with a tendency to dryness–although the turkey gravy helps with this. The baked chicken and the shrimp curry were probably the best of the lot.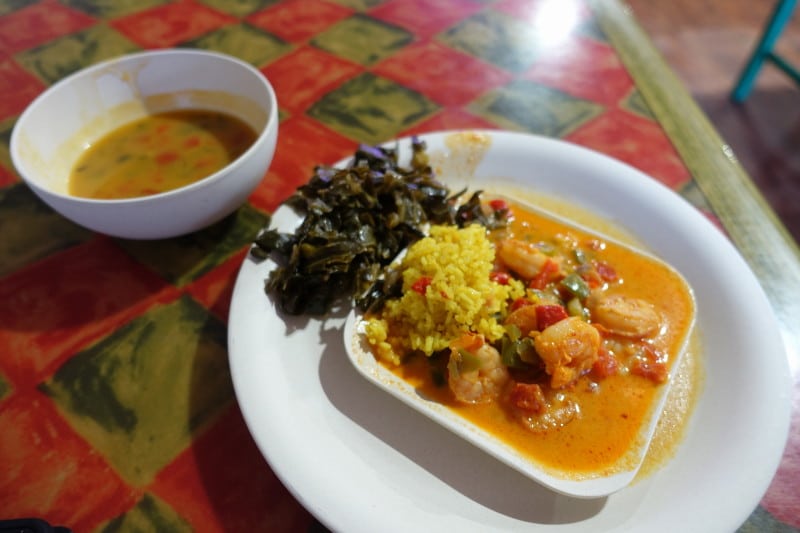 The image is of one of my dinners–the chowder, shrimp curry, rice, and collard greens. All these were delightful, expect for the greens, which were far too sweet.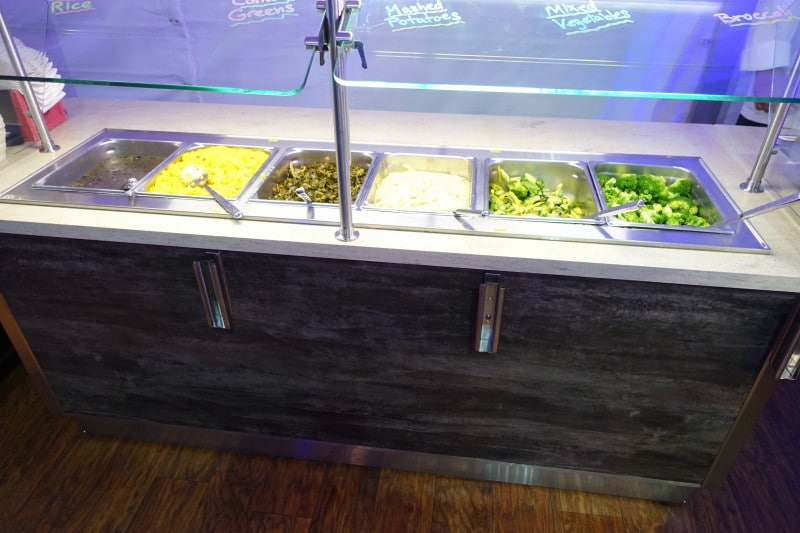 Vegetables available my visits included broccoli, mixed vegetables, mashed potatoes, rice, black beans and collard greens.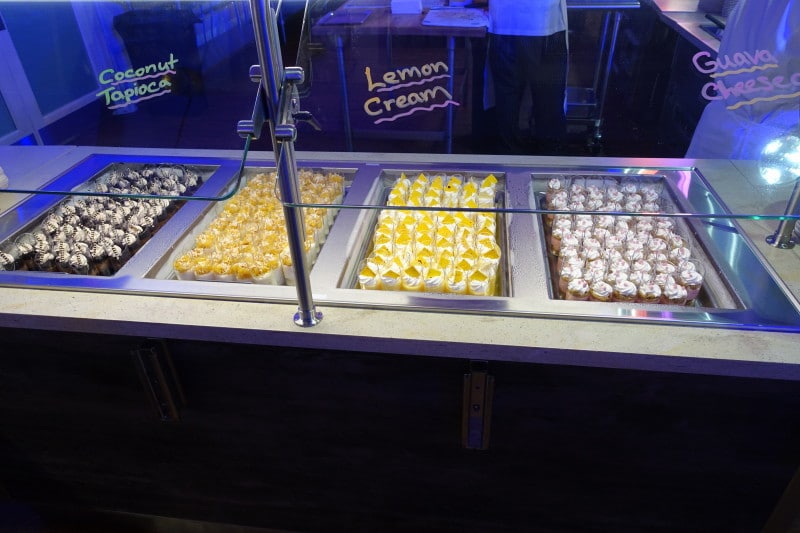 There's also a dessert selection…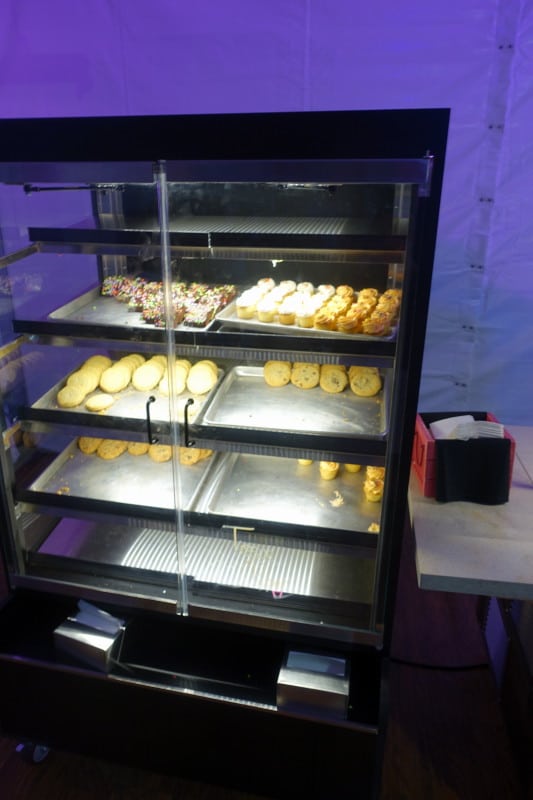 …and a bread service area.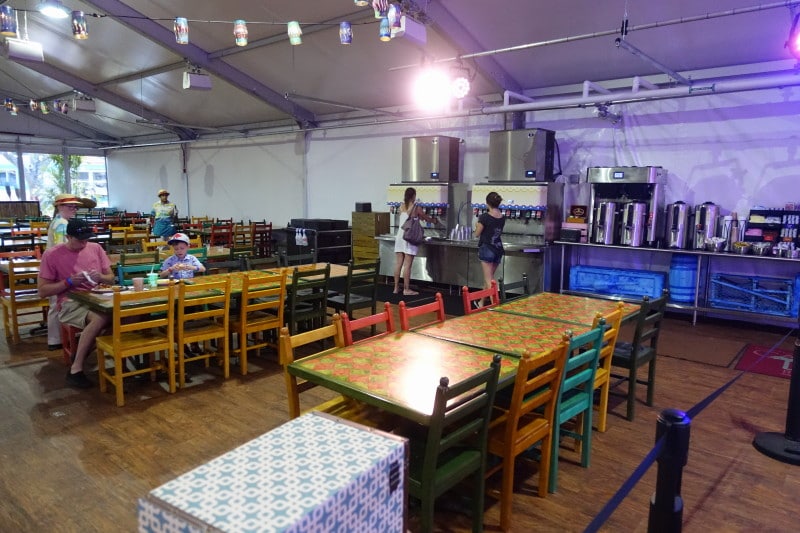 Off to the side is the beverage station, which is also accessible to those with refillable mugs. (You can get the mugs both outside the buffet and in the Island Markets, covered next.)
Service is incredibly attentive—at my first dinner, I must have had three cast members ask me how the food was, and two others ask if they could get me a drink. Others have commented on nightly live music here as well—such was not playing during either of my dinners.
An expansion in offerings would make me not hesitate to recommend this buffet. Another pasta, another soup, one or two more leaf salad leaf options, some salad toppings, a beef entrée and one or two more "casserole" or sauced entrees, and a couple more vegetable options would round it out nicely.
But without that, if exactly what's on offer works exactly for your group, it's fine; otherwise, it's more of an emergency option than something I'd count on for a nice dinner at Caribbean Beach.
THE ISLAND MARKETS
"Island Markets" are in three converted rooms—one each in Martinique (2509), Jamaica (4308), and Aruba (5524). (The first two digits of the room number indicate the building number.)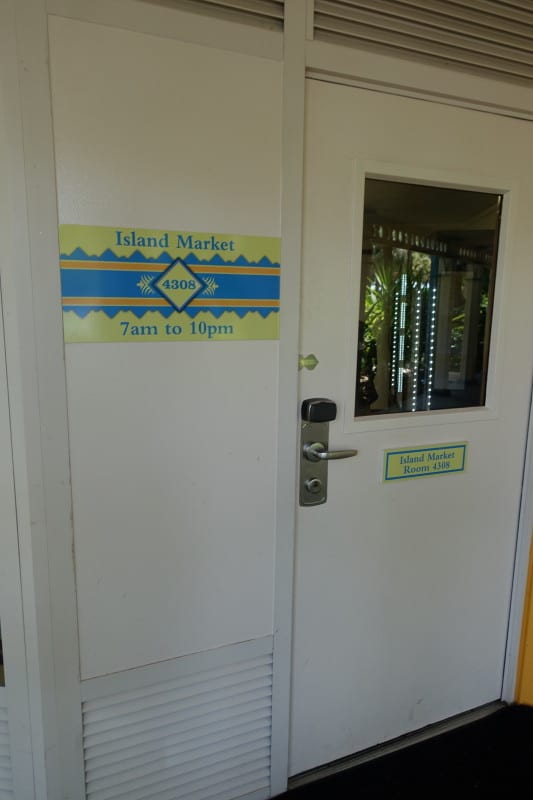 They offer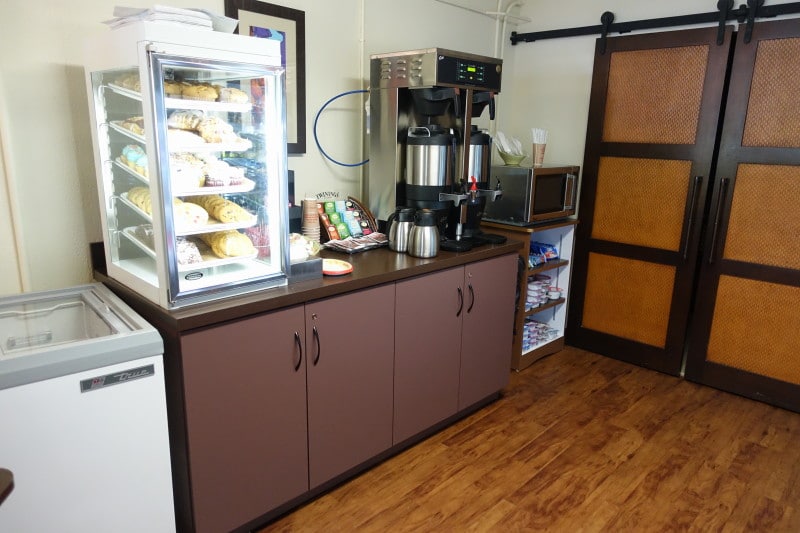 … ice cream (above, in the box at left), pastries, coffee and tea, cereals and pop tarts (with a microwave above)…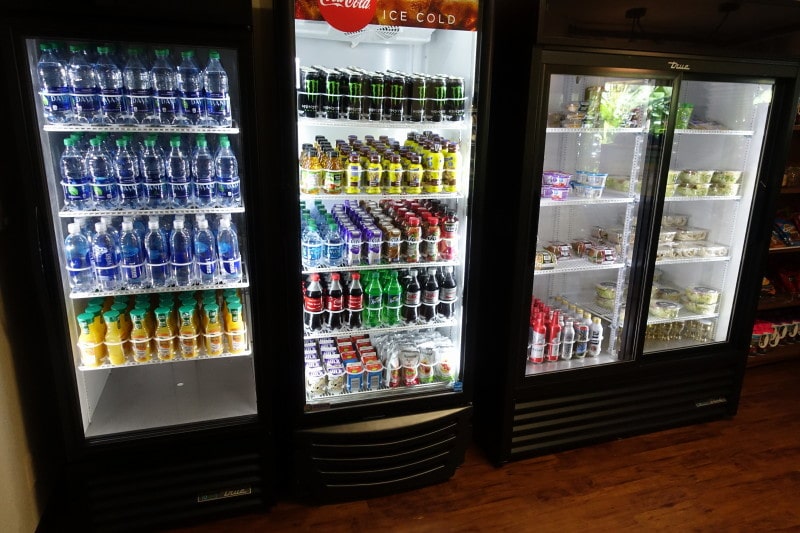 … drinks, yogurt, fruit, salads, sandwiches and wraps…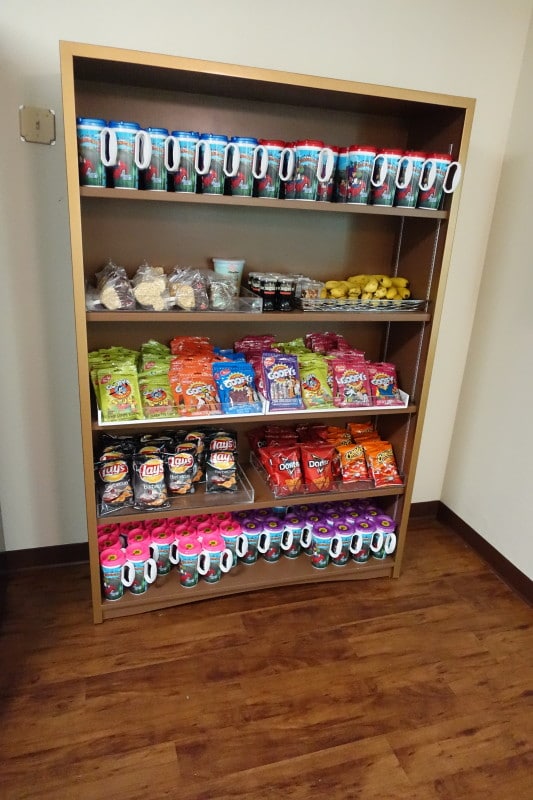 … and refillable mugs, bananas, and snacks.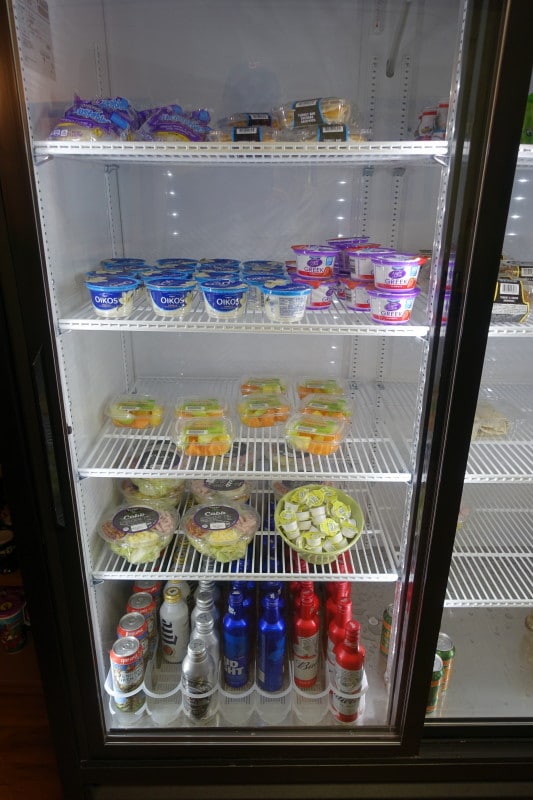 A couple of closer looks at the salad side of the cold case…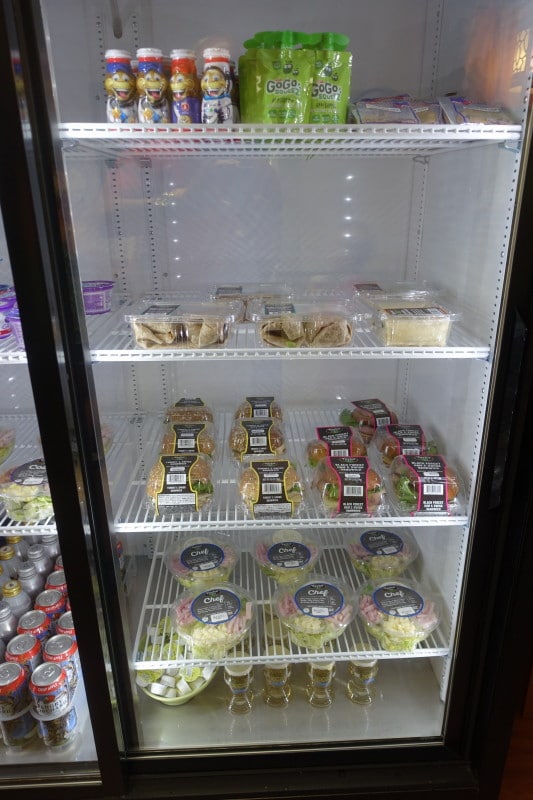 …and the sandwich and wrap side.
The wraps/sandwich/fruit/salad choices are thin, and have sold out at times by early evening. I expect that problem to be largely fixed shortly as Disney learns more about patterns of demand.
Regardless, the offerings of these spaces work better for snacks and for breakfast supplies than they do as a place to grab lunch or a light dinner—unless you are thinking very light.
The Island Markets are open from 7a-10p.
THE FREESTYLE COKE MACHINES
Refillable mugs can be refilled in freestyle coke machines—where you get to design your own drink, like my favorite, peach Sprite.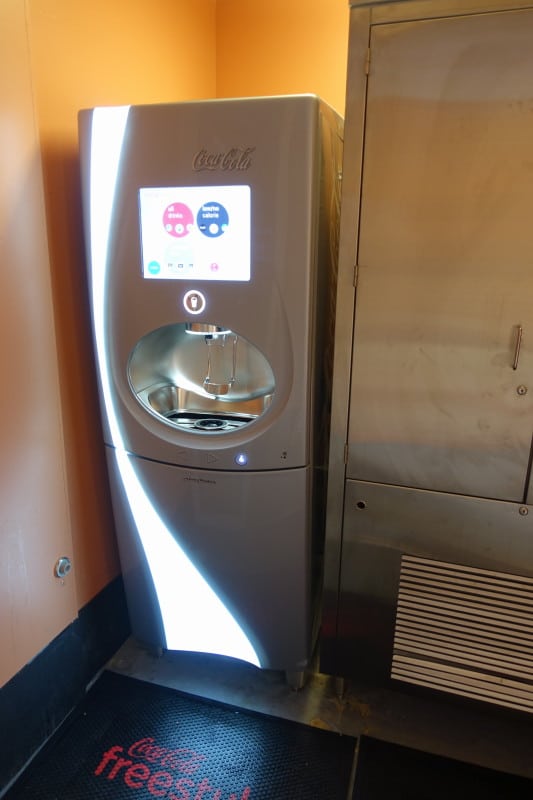 These machines are available in one or two buildings in each village, replacing in those buildings the old-style Coke machines—which remain in the rest of the buildings. Find the right building, then follow the signs for Ice and Vending.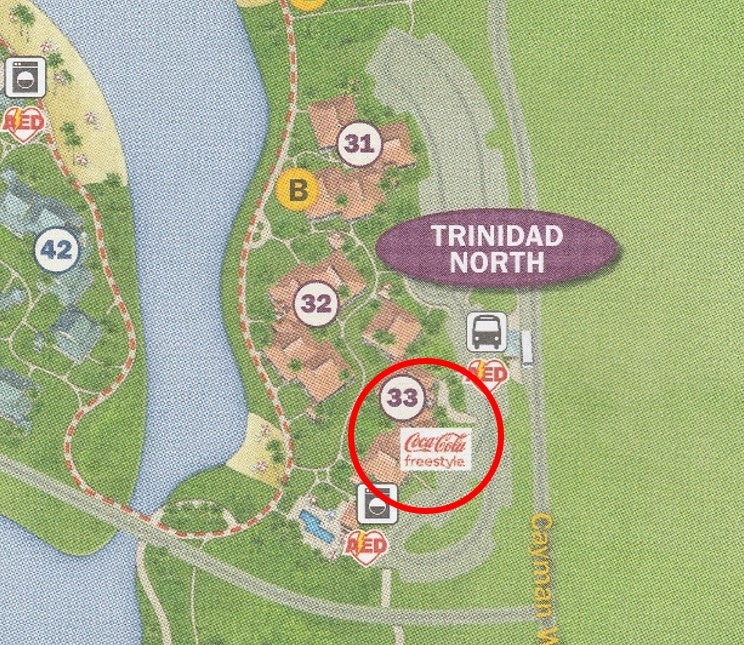 Buildings with the freestyle machines are marked on the resort map–note what I've circled in red.
THE TRINIDAD SOUTH FOOD TRUCK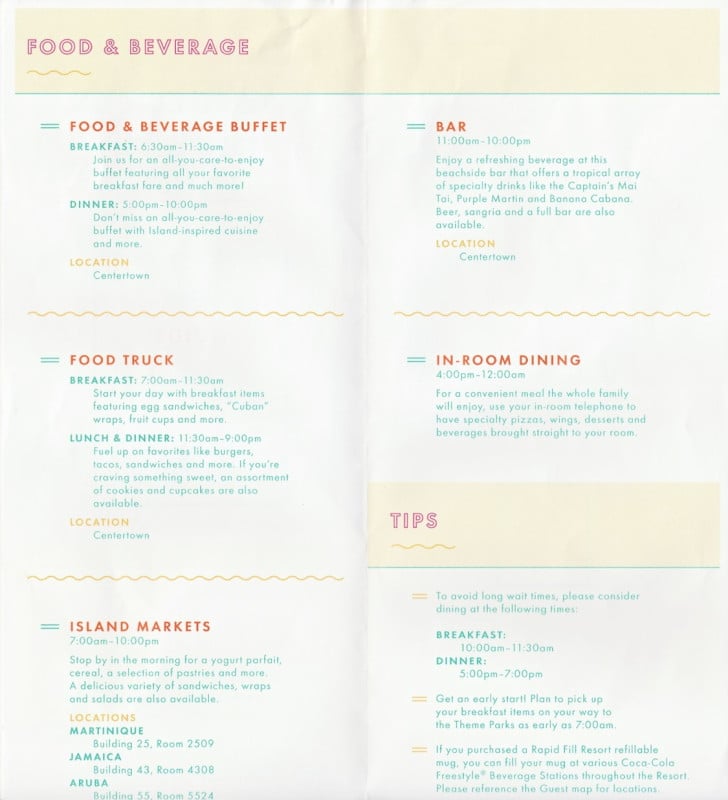 The overview of dining at Caribbean Beach Disney provides does not include a food truck at Trinidad South.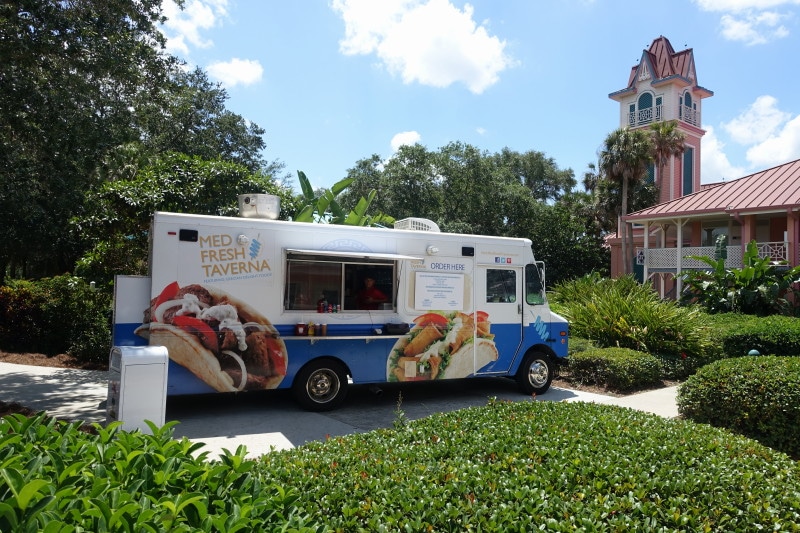 But on both my mid-May and June visits, every day one was there, on the parking lot side of the quiet pool…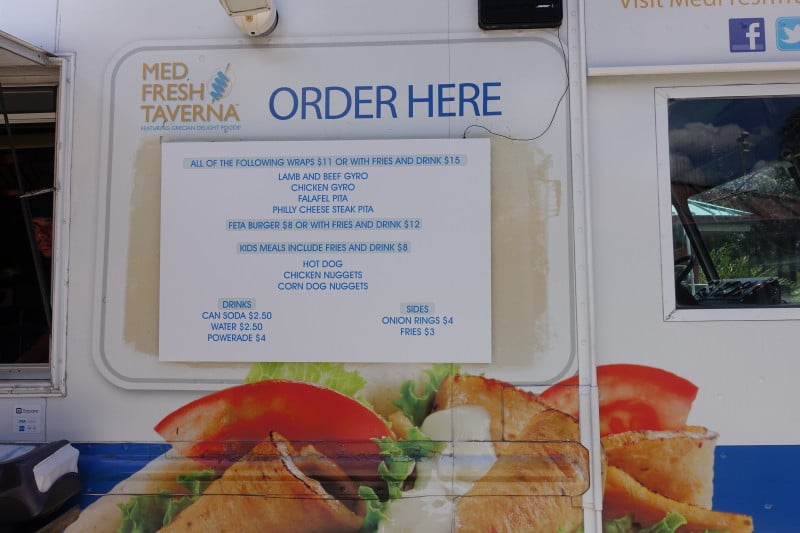 …specializing in gyro and pita sandwiches (click the image to enlarge it).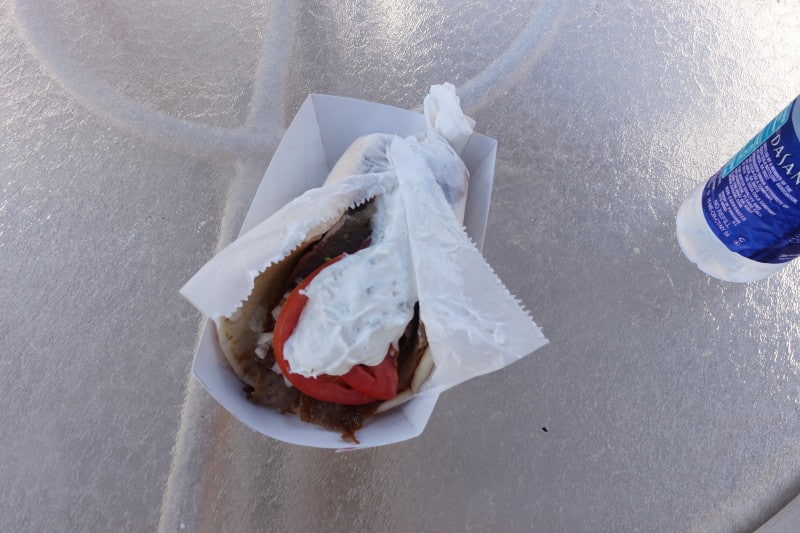 I quite enjoyed my lamb and beef gyro. Lots of sauce…
I imagine that the absence of it being listed means you can't count on it being there.  But if it is, it's a handy option for those staying in the otherwise distant-from-food Pirate Rooms in Trinidad South.
IN-ROOM DELIVERY OF PIZZA AND SUCH
Another option is ordering off of the limited delivery menu, which features, pizza, wings and such. The menu (click to enlarge):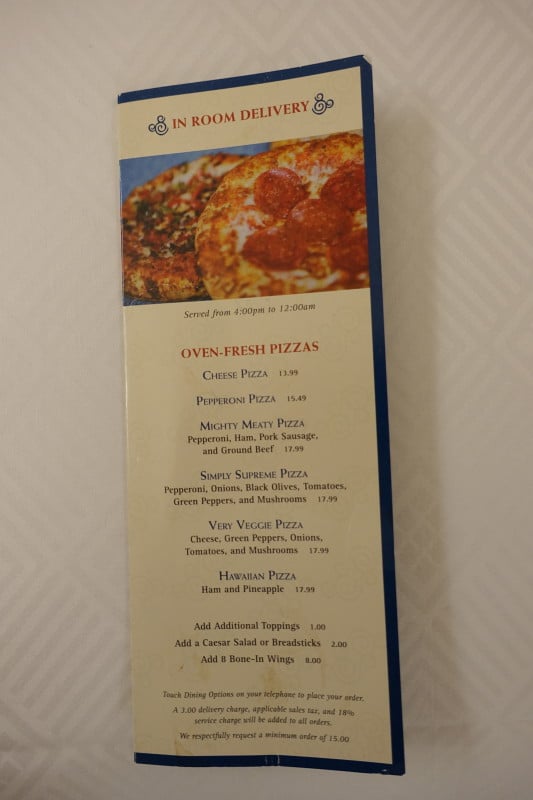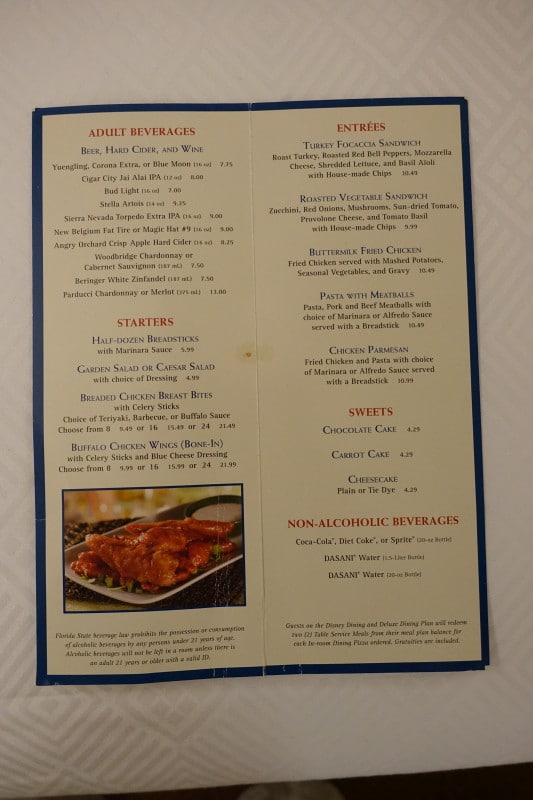 I've never had delivery pizza at Disney World. I tried to order one on my June visit, but a lizard-drowner of a storm meant everyone was sheltering in their rooms and ordering pizza, so after 15 minutes on hold I gave up and got a salad from an Island Market instead.
This option is available from 4p till midnight. Don't use the dining plan for these options–way too many credits will be charged.
SNACKS AT CUSTOM HOUSE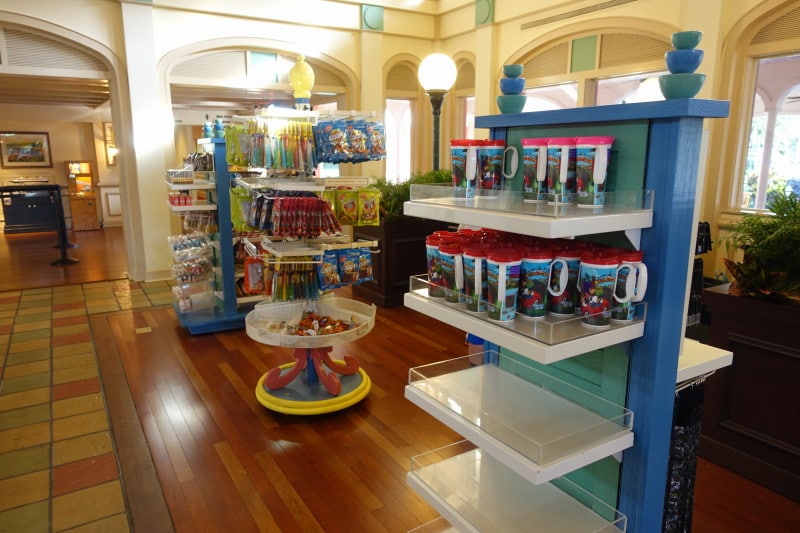 There's a small selection of snacks available for sale at the Custom House.
A BREAKFAST BAG IN YOUR ROOM
As a "thank you" for staying here during the construction, you'll find a small soft-sided cooler in your room (if you don't get one, call from your room phone for one).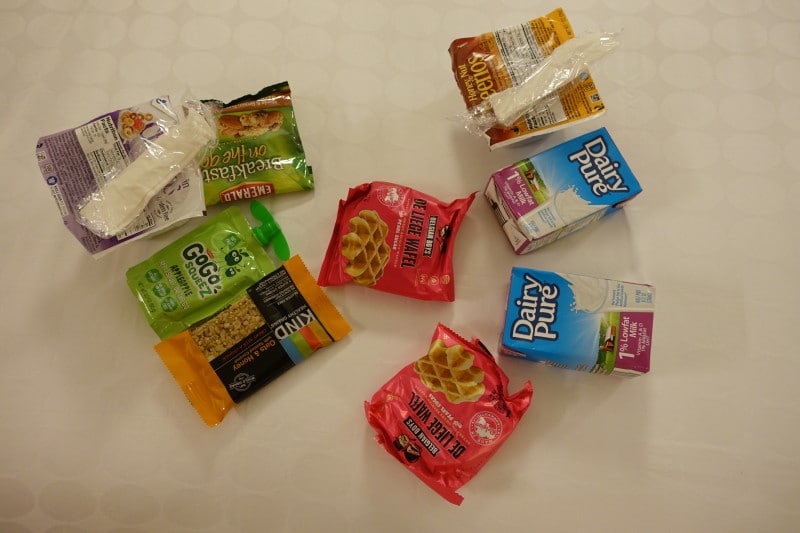 The bag includes a couple of bottles of water and a selection of shelf-stable breakfast items.
THE VENDING MACHINE IN THE QUIET POOL LAUNDRIES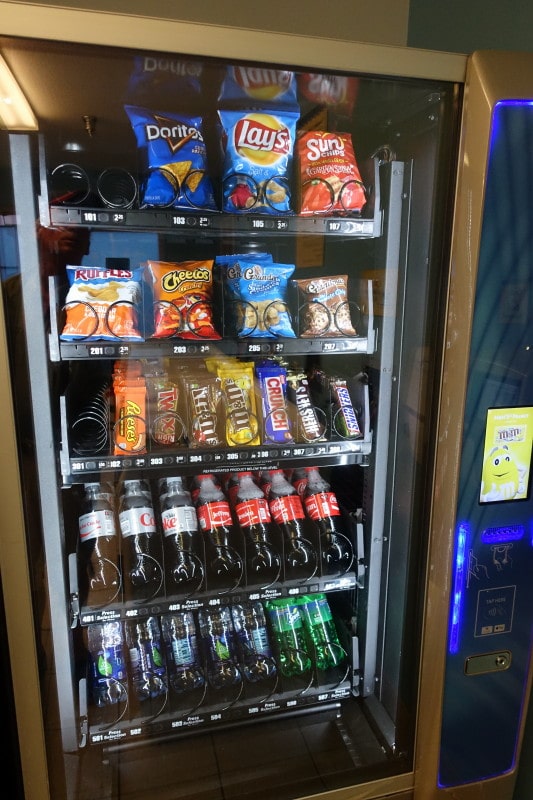 Finally, a post on the disboards Caribbean Beach thread reminded me that there's a vending snack machine in the quiet pool laundry rooms!
This review continues here.



Follow yourfirstvisit.net on Facebook or Twitter or Pinterest!!
RELATED STUFF