Review: Avatar Flight of Passage in Pandora at Disney's Animal Kingdom
By Dave Shute
REVIEW: FLIGHT OF PASSAGE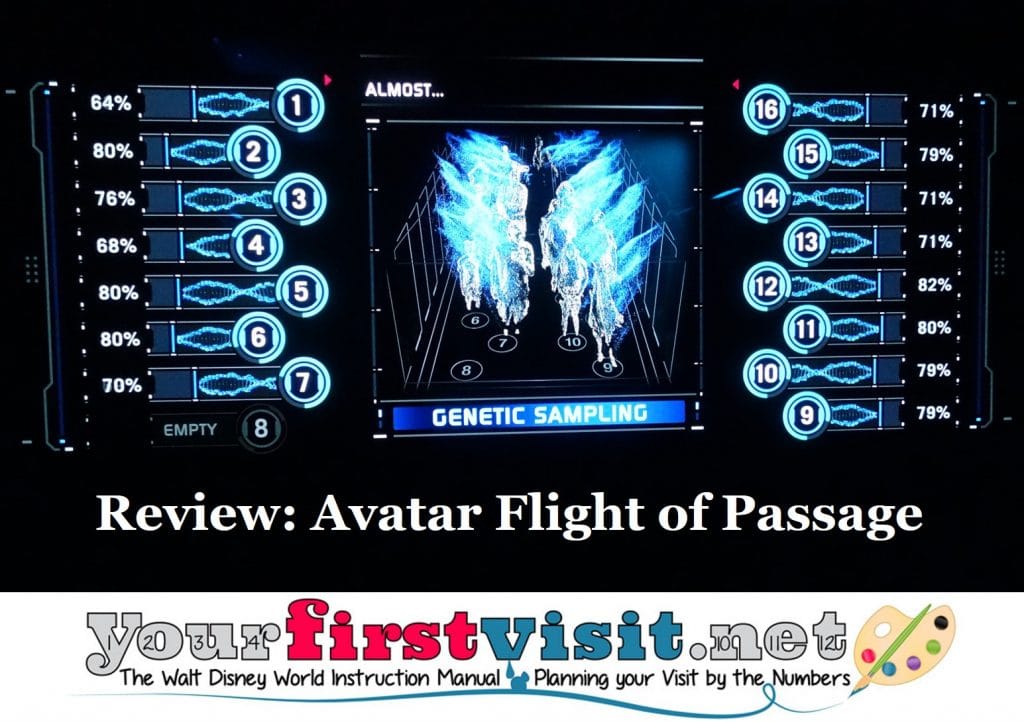 Avatar Flight of Passage, otherwise known as Flight of Passage or "The Banshee Ride,", is a new ride that opened in the Animal Kingdom's new land, Pandora: World of Avatar in late May 2017.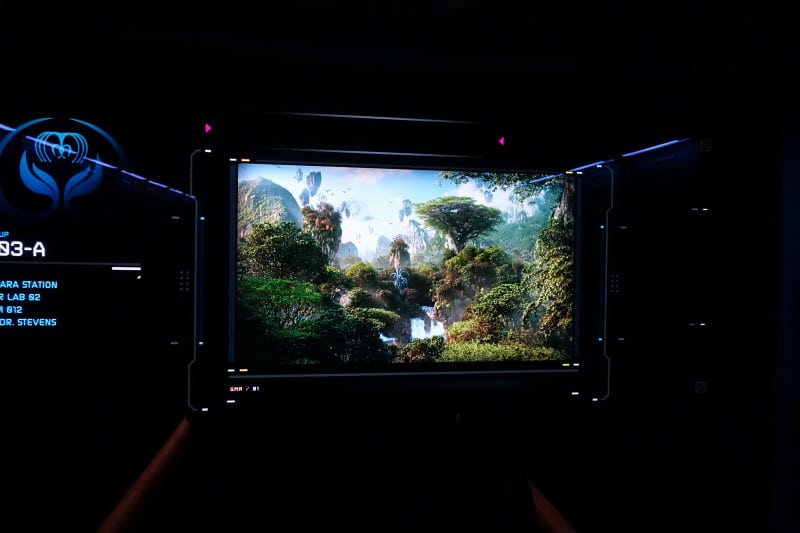 Flight of Passage is a motion simulator set in front of a 3-D screen that imitates the experience of flying on the back of a living banshee (think Dragon) through the wildernesses of Pandora, the moon on which Avatar is set.
A technological tour-de-force, Flight of Passage is the best ride at Disney World. The sense of motion is uncanny and thrilling; the visuals are incredibly sharp from edge to edge and just as incredibly interesting (even if you don't care about, have never seen, or don't remember the movie); the other effects—from sea spray to the fragrance of an old-growth forest after rain—are expertly carried off.
Some have compared the ride system to a combination of Soarin' Around the World and Star Tours. This gestures towards the neighborhood of the truth, but underestimates the power and quality of the ride—like saying that Splash Mountain is based on the ride system of it's a small world.
Flight of Passage has instantly become the hottest ticket in Disney World, with standby waits exceeding five hours early on and still not uncommonly hitting three hours.
The best way to see it is via FastPass+, but they have been hard to find even for those who can book their FastPass+ 60 days ahead. Those eligible for morning Extra Magic Hours and trying to see it then will be competing with thousands of others aimed at the same concept, so should arrive at security well before open. Ditto for those attempting to see it first thing on a non-EMH day.
The standby queue is long, lovely, and interesting.
Some photos from it: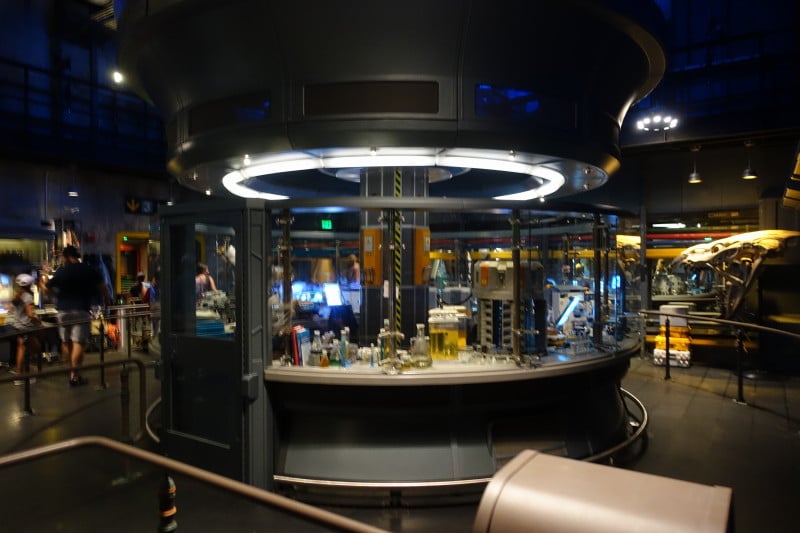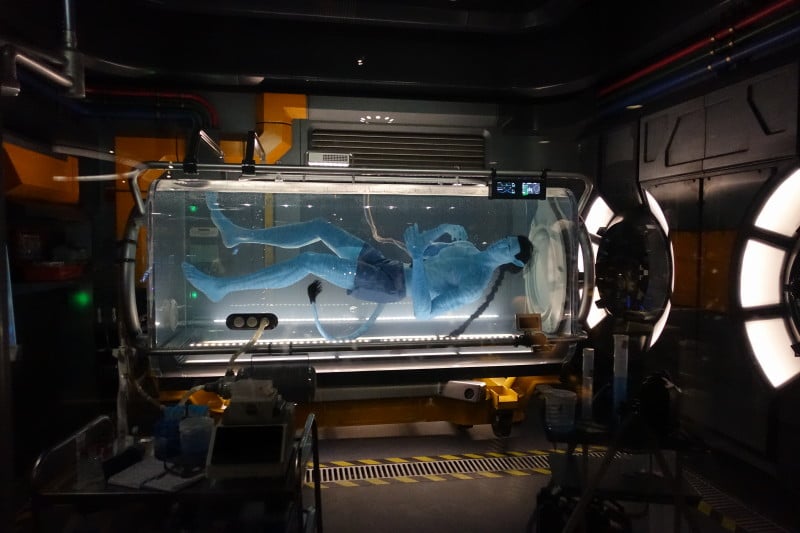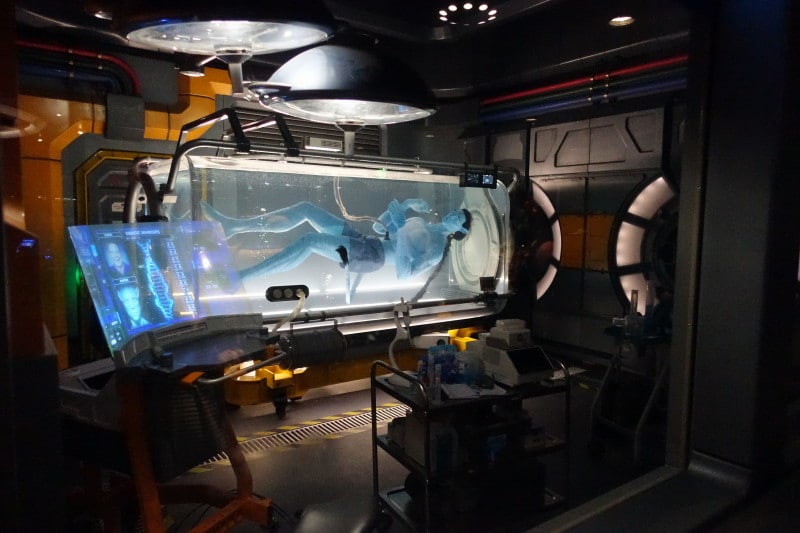 My co-author Josh has dozens more photos from it here.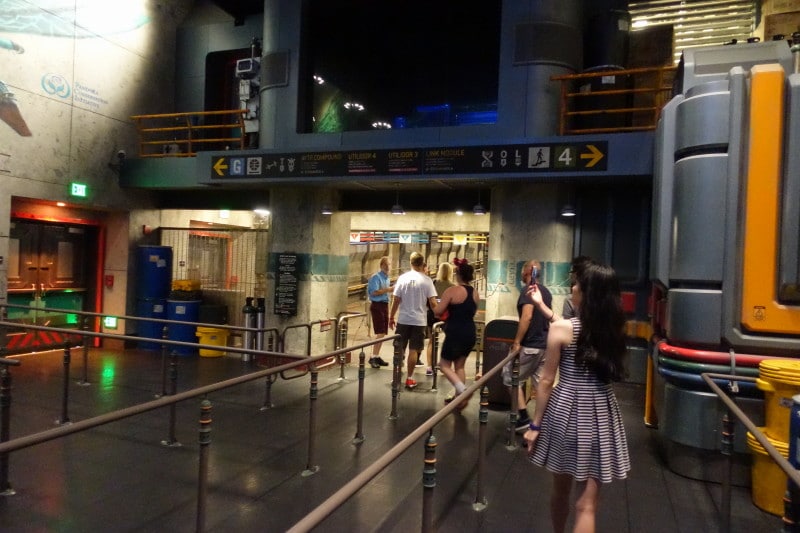 The FastPass+ queue is brief and uninteresting. This is the point where the two lines merge.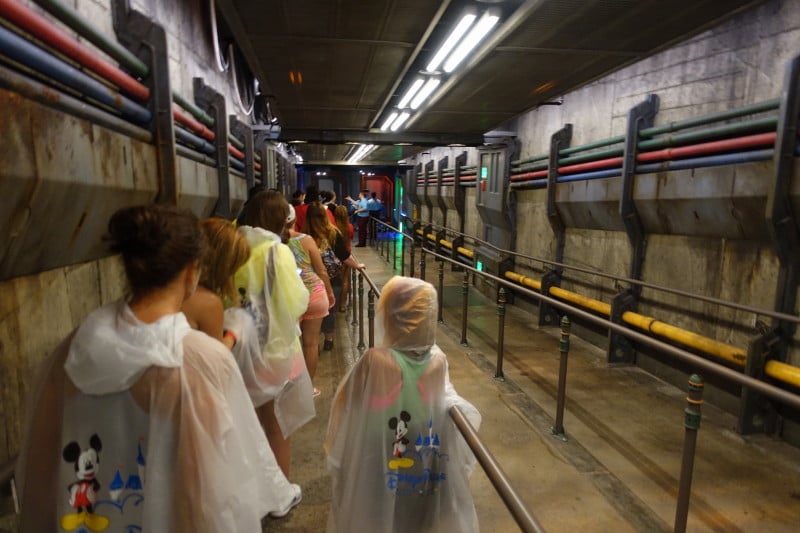 Once you are through the queue you are sectioned off into one of several waiting areas, and then go through two pre-shows.
One pre-show introduces (or re-introduces) you to the concept of the banshee and "links" you to an Avatar (only Na'vi and Avatars can ride banshees, right?).
There actually three variants of this pre-show
The standard one
A longer one with variable timing that goes on if guests in another pre-show area headed to the same ride system as you are delayed, and
A third that shows during the first ride of morning EMH, and skips major parts of the standard or alternate pre-show because the cast member at 6.30a forgot to light the can of sterno that warms up all the computers running the pre-shows.
I saw all three.
The matching to an Avatar is pretty cool. Among other things, you can see a stylized version of your party on the screen ahead of you as you are "matched." In the shots, I'm on spots 7, then 12, then 16 (our ponchos add to the mystery of these shots).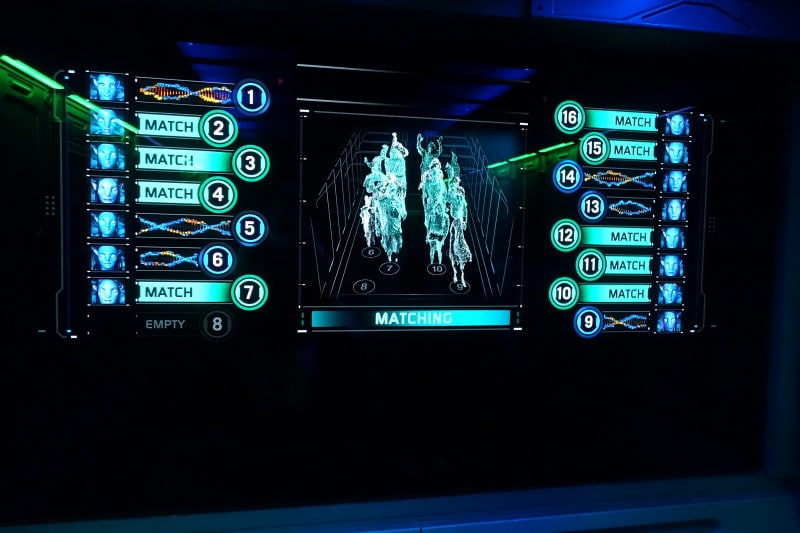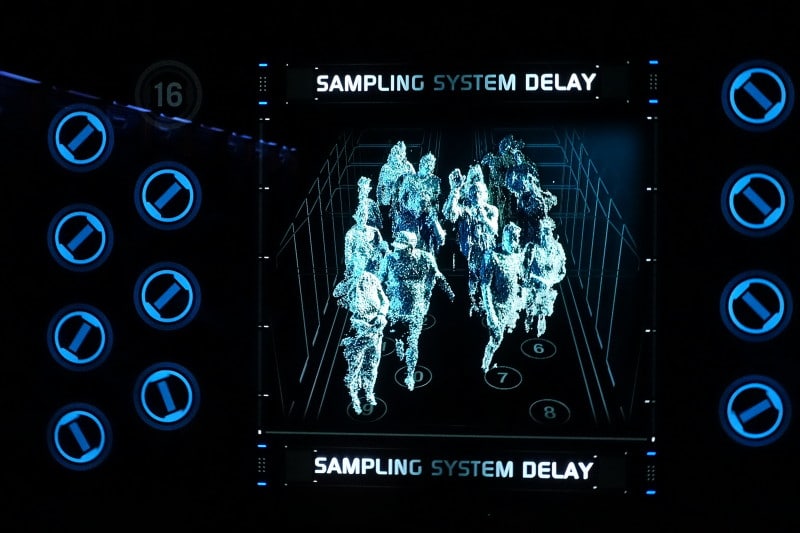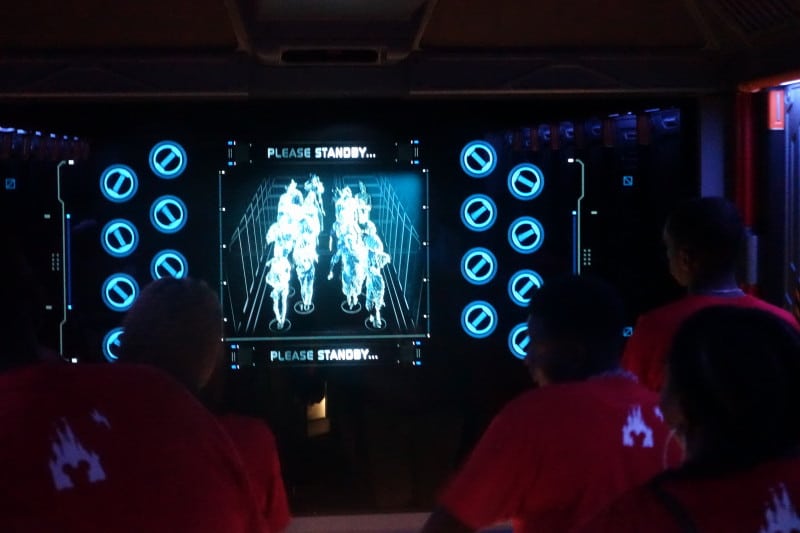 On the other hand, frankly it gets a little old after you've ridden a few times. I found myself yearning for the simplicity of Space Mountain, where you go from the queue to the stars with no intervening 20 minutes of explanations…
The second pre-show introduces you to more of the ride concept and the ride system.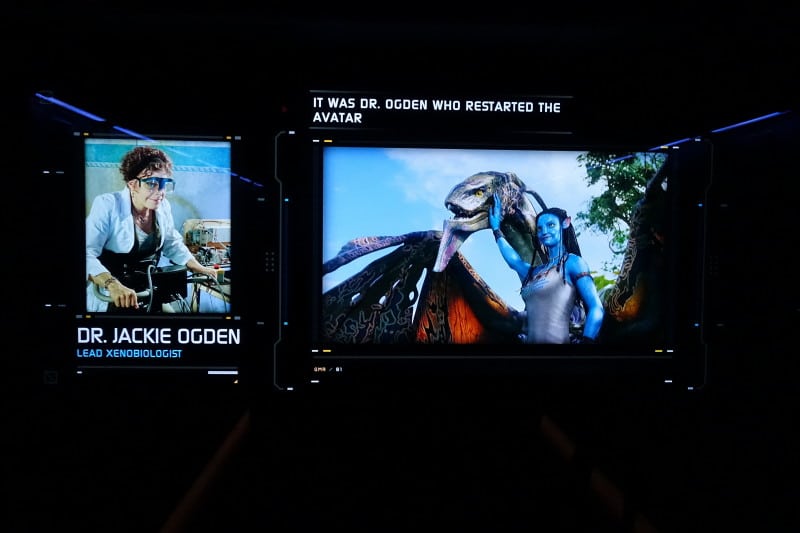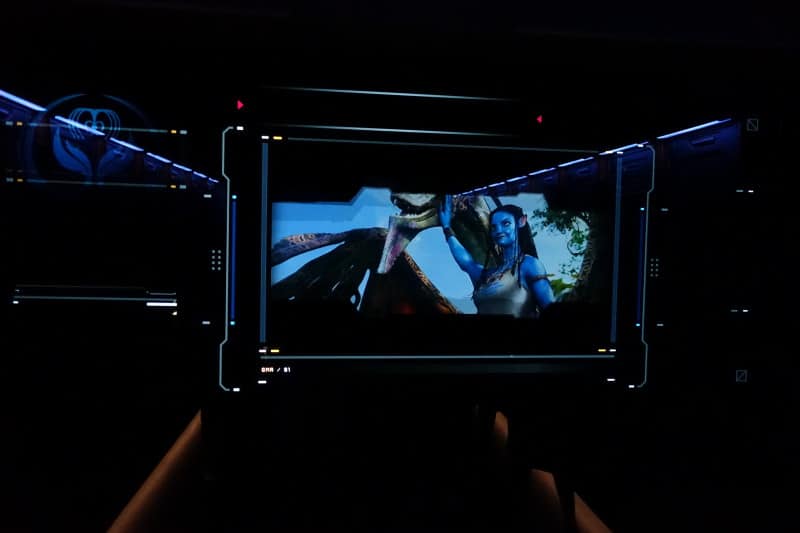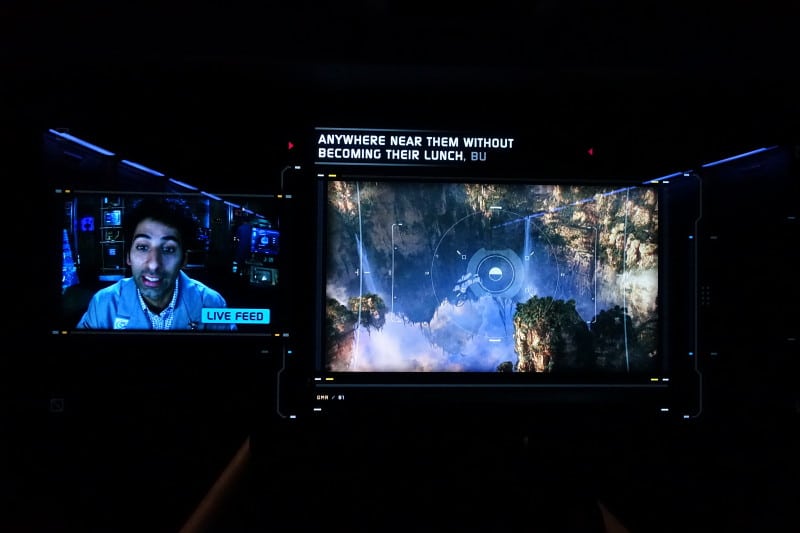 It ends with the request that there be no images or videos on the ride. This is partly because you kinda need both hands to hold on, and partly because the ride's swoops and turns create a fair degree of likelihood that you'll drop your phone or camera. In honor of that, I have no photos from the actual ride experience–and still have my camera! But trust me—don't miss it.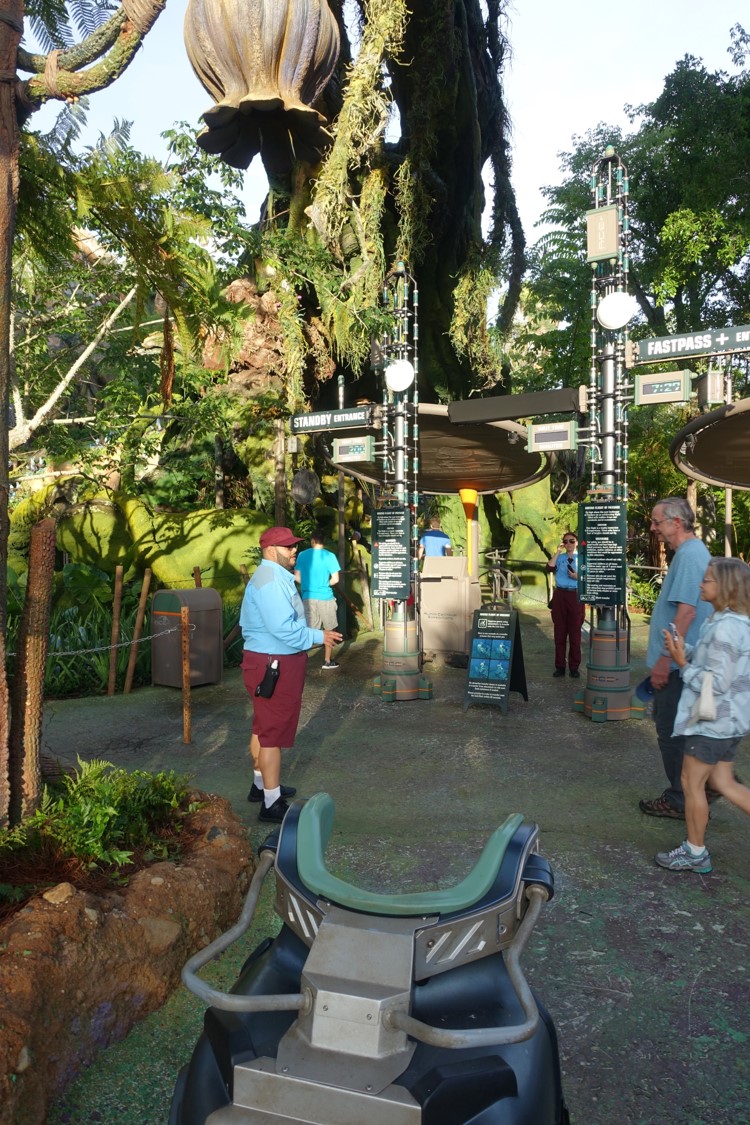 Not everyone will fit the ride restraints—and those in chairs need to be able to transfer themselves. There's a test version of the ride seat outside. If you are at all concerned, see if you'll fit the restraints on the test version before you get into line.
Getting on the ride vehicles is like boarding a motorcycle, in rows of eight. After you are on the vehicle, restraints will capture your back and the back of your legs (leg shape seems to be the key issue when people don't fit).
And then you are off on your banshee ride through the skies and forests of Pandora!
I have a slight degree of motion sickness, and a slight fear of heights—both of which at times can make, for example, Tower of Terror a bit of a trial. Despite the motion and drops of Flight of Passage, I found no issue with either of my troubles.
The minimum height for Flight of Passage is 44 inches. The youngest of kids who are tall enough to ride it may be frightened by the ride, and because of the distance between individual ride vehicles, it may be difficult to comfort them.
But for those tall and mature enough to enjoy it, it will be one of the best things they do at Walt Disney World.


Follow yourfirstvisit.net on Facebook or Twitter or Pinterest!!
RELATED STUFF