Review: Na'vi River Journey in Pandora at Disney's Animal Kingdom
By Dave Shute
REVIEW: NA'VI RIVER JOURNEY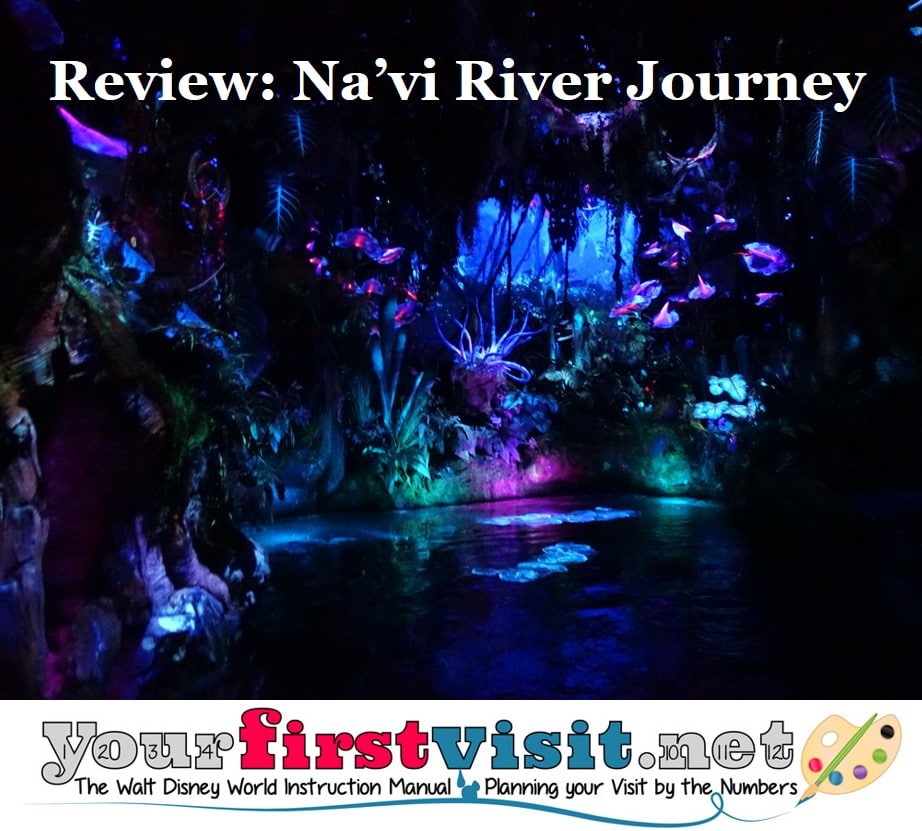 Na'vi River Journey, a new ride that opened in the Animal Kingdom's new land, Pandora: World of Avatar in late May 2017, is a boat ride that takes you through the flora and fauna of Pandora, the moon on which Avatar is set.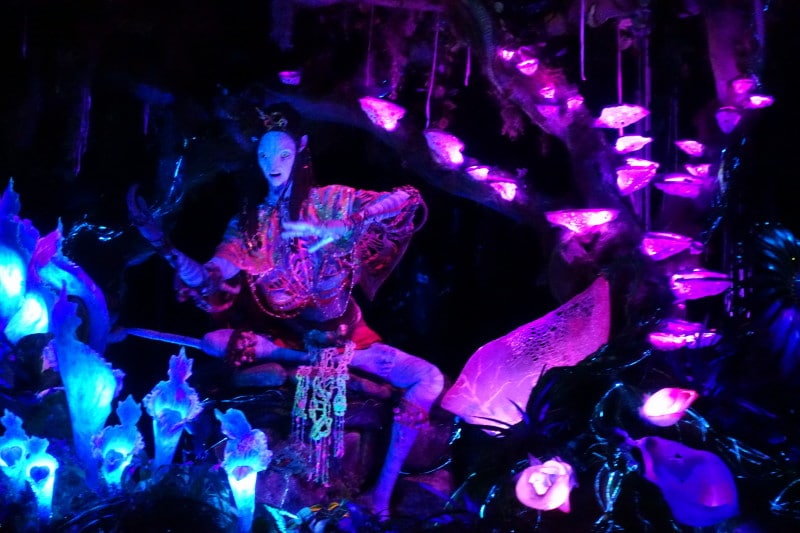 Here's what Disney World's website says about the ride:
"Glide down a gentle, mysterious river and feel a sense of wonder as the full beauty of Pandora reveals itself. Located within the Valley of Mo'ara, Na'vi River Journey offers explorers an experience that has to be seen—and heard—to be believed!
"As your expedition begins, climb aboard a reed boat and drift downstream. After coasting through a series of caves, and passing by exotic glowing plants and amazing creatures of the rainforest, you'll soon find yourself face-to-face with the Na'vi Shaman of Songs.
"The adventure comes to a conclusion as the Shaman demonstrates her deep connection to the life force of Pandora—and sends positive energy out into the forest through the power of her music!"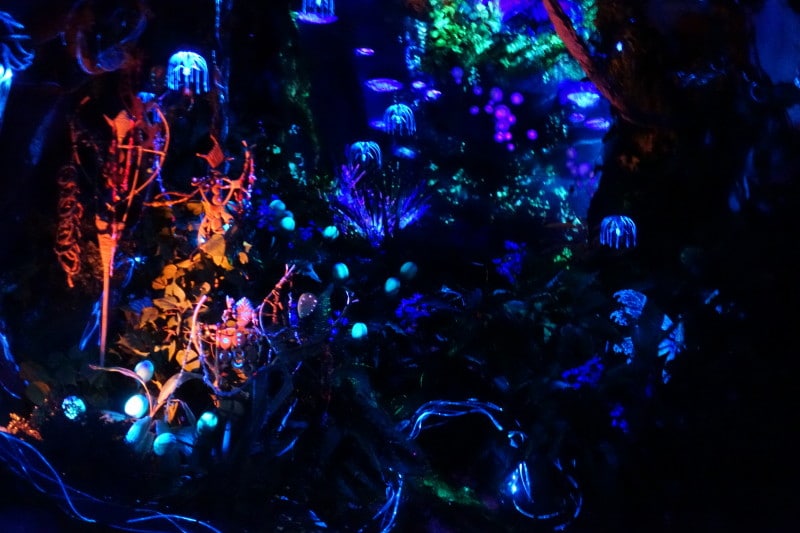 Disney's second paragraph is dead on; the accuracy of the first and third will vary by person.
The standby queue is uninteresting—although the FastPass+ return queue is lovely at night (I'll post photos of it after my July visit; the ones I took during my June trip were unusable even by my low standards).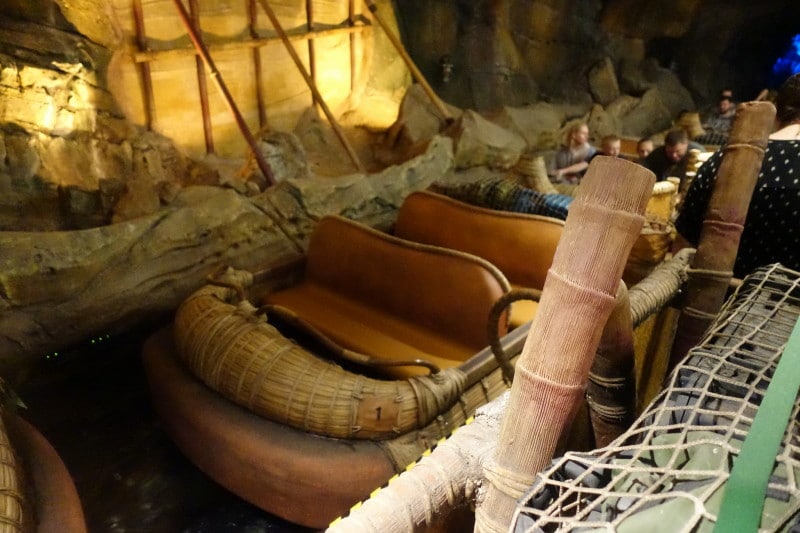 You board boats with two benches—holding in theory six…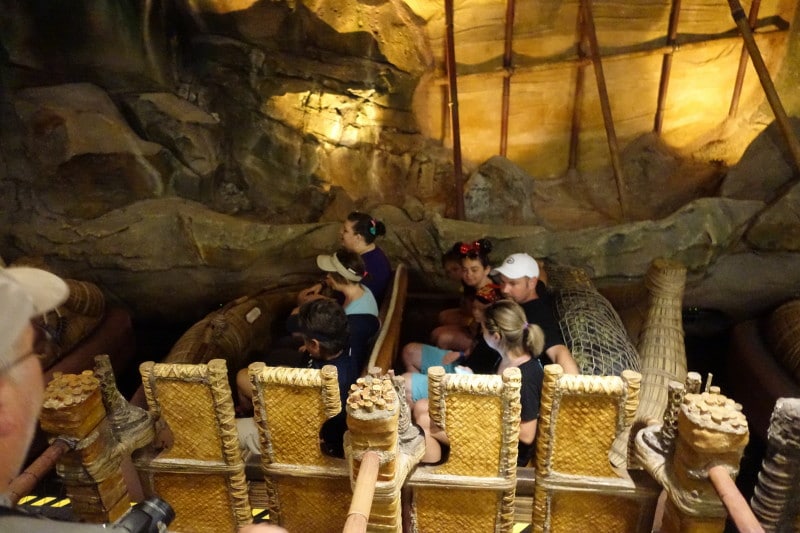 …although sharp eyes will see seven in this one.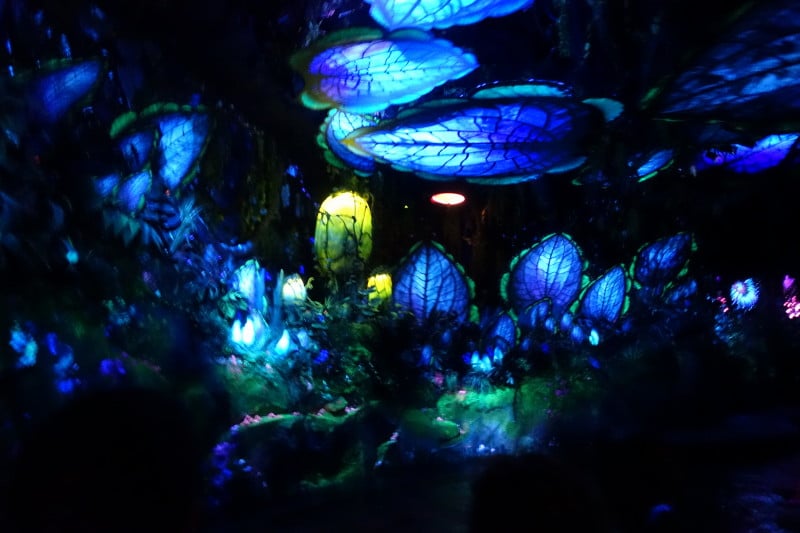 And then you are off.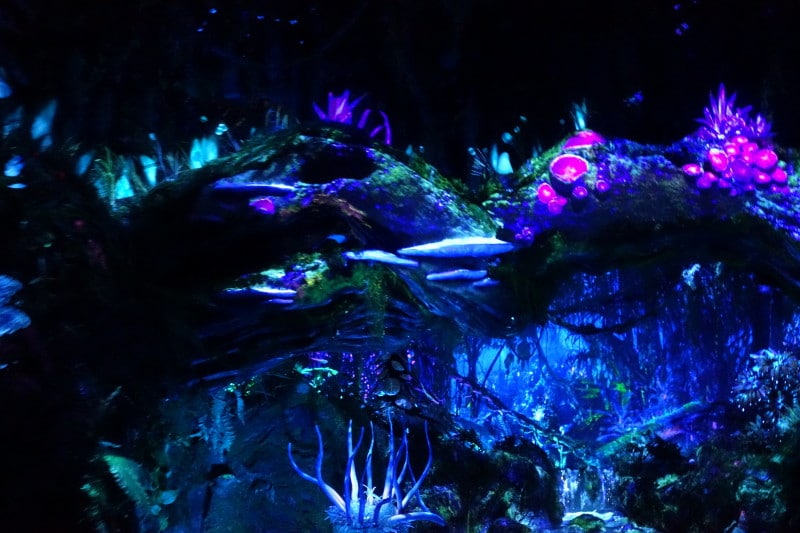 Especially for those who know and appreciate the film, Na'vi River Journey can work as a gentle, lovely and poetic tour through the distinctive plant and animal life of Pandora, picking up on many themes that are not so present in the land's other ride, Flight of Passage.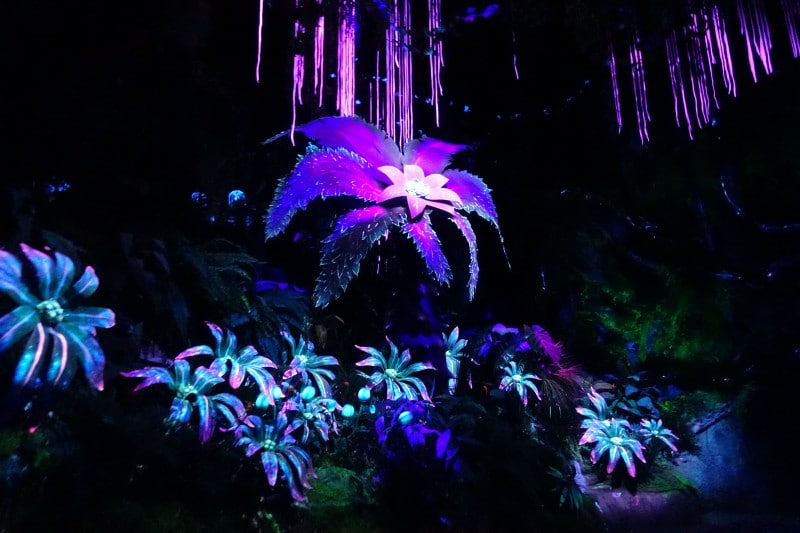 For those who don't know, don't remember, or don't care to remember the movie, reactions will be mixed, especially among youngsters.
Some will leave it finding it skippable. While the ride system sets a new standard for a dark boat ride, for many the great ride system will not be adequately matched by its content—kinda like how great music can be paired with weaker lyrics (think of the Beatle's "Paperback Writer").
Others will be delighted and intrigued by what they have seen and heard—and the music really grows on you from ride to ride, unlike the music of some other Disney boat attractions I could name.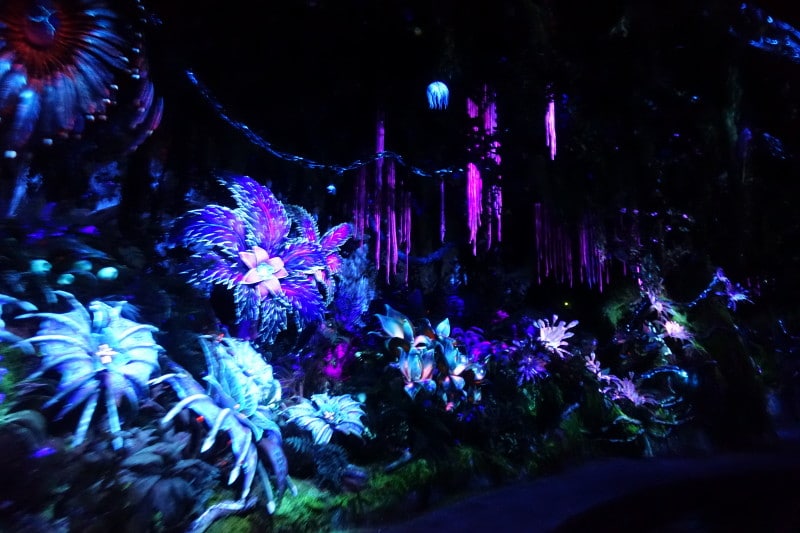 For those who don't know the movie, Na'vi River Journey at its best is like an excerpt from a poem—an excerpt that makes you eager to read the entire work.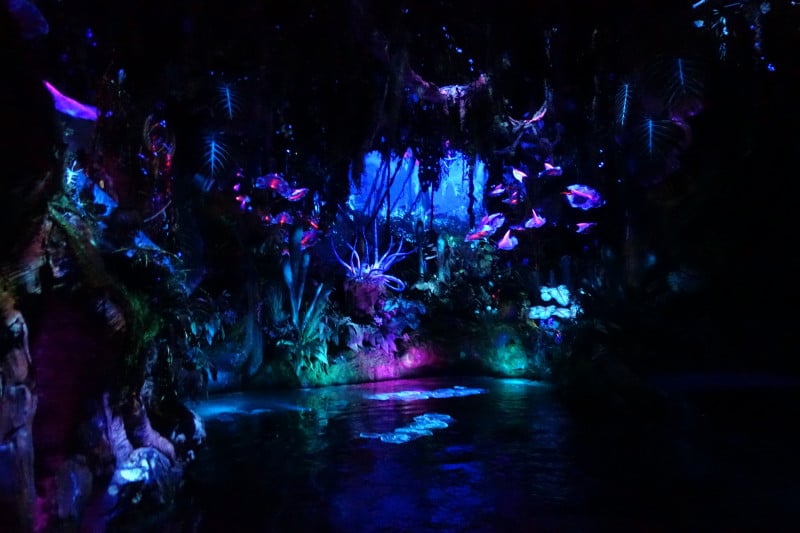 This potential intrigue is awfully hard to communicate—especially since my photos are principally of poorly-focused blueness.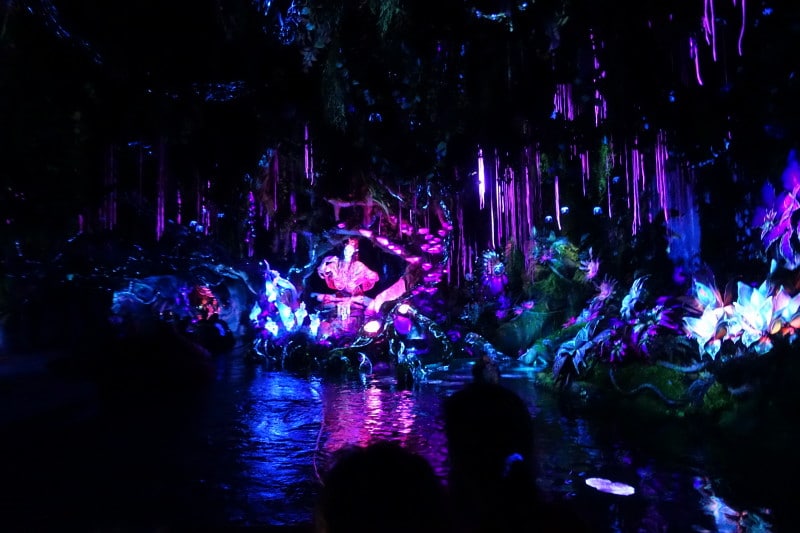 So by way of example, here's two excerpts from a couple of different poems. If either makes you want to read the entire poem it was taken from—well, then that's potentially the reaction you could have to Na'vi River Journey:
Excerpt 1
They flee from me that sometime did me seek
With naked foot, stalking in my chamber.
I have seen them gentle, tame, and meek,
That now are wild and do not remember
That sometime they put themself in danger
To take bread at my hand; and now they range,
Busily seeking with a continual change.
Excerpt 2
I have heard the mermaids singing, each to each.
I do not think that they will sing to me.
I have seen them riding seaward on the waves
Combing the white hair of the waves blown back
When the wind blows the water white and black.
We have lingered in the chambers of the sea
By sea-girls wreathed with seaweed red and brown
Till human voices wake us, and we drown.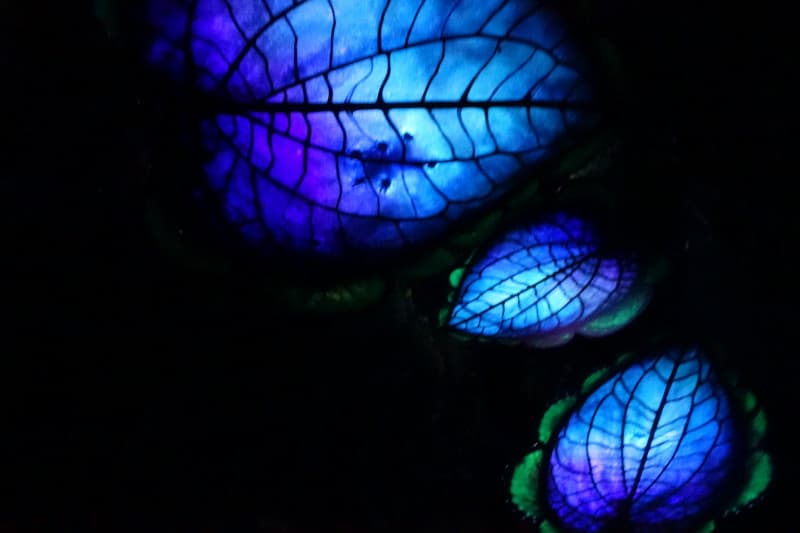 Lines for Na'vi River Journey have been quite long since it opened—though not nearly as long as those for the other ride that opened at the same time, Flight of Passage.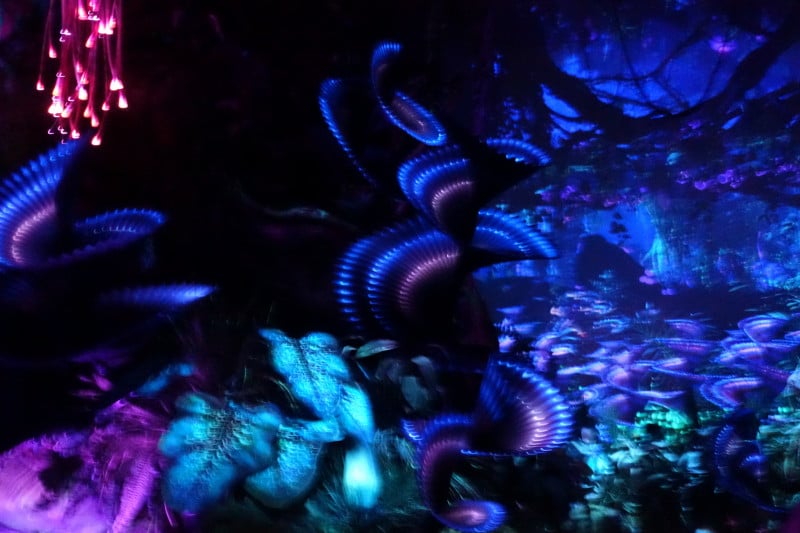 Because of the very real chance that some in your posse won't find it worth much of a wait, use FastPass+ to avoid the lines, or, even better, so you can save your FastPass+ for another ride, if you are eligible see it via Morning Extra Magic Hours.


Follow yourfirstvisit.net on Facebook or Twitter or Pinterest!!
RELATED STUFF