Picking Disney World Park Days
By Dave Shute
PICKING WHICH DAY TO SEE WHICH DISNEY WORLD PARK
The Disney World theme parks can be roughly predicted to have higher or lower crowds on certain days of the week compared to other days that week.
These predictions come from the combination of the overall patterns of visitation and the presence in the operating calendar of various "attractors" and "repellers"—of which the most significant are variations in operating hours and evening entertainment.
Note that by lower crowds, I don't mean "no crowds" or "inconsequential crowds." Low crowd periods, as used in this site and its crowd calendars, are low when compared to other times of the year with higher–often spectacularly higher–crowds.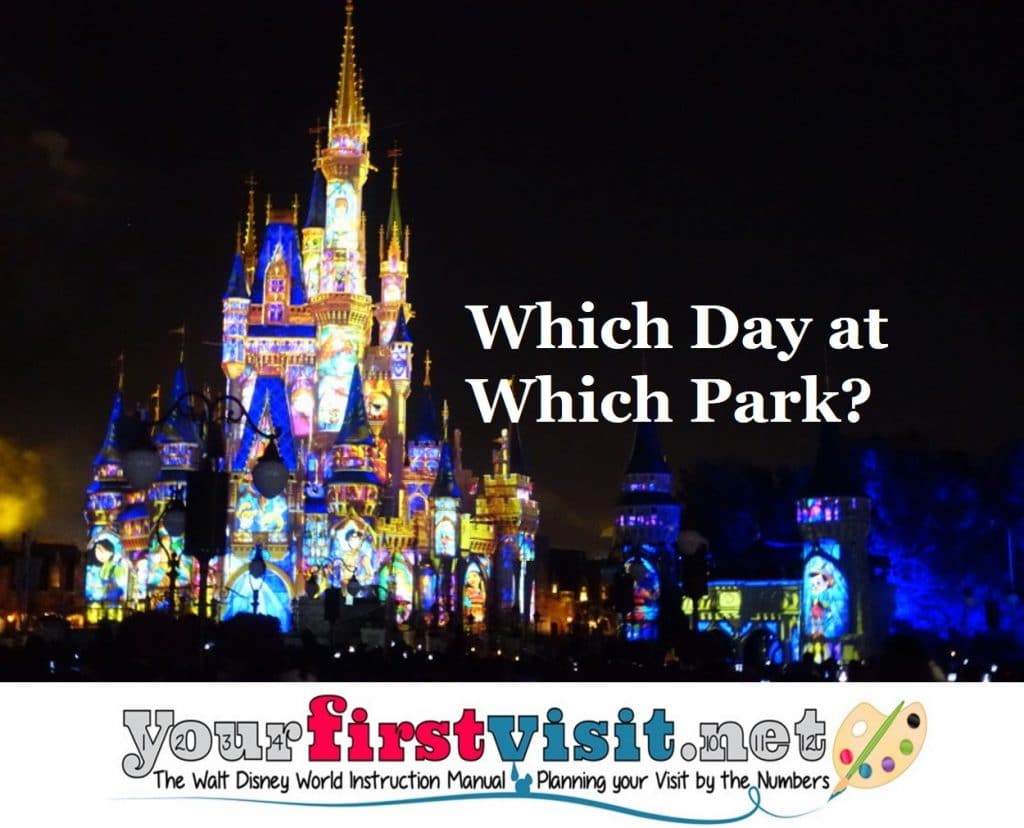 That does not necessarily mean that the parks will feel uncrowded compared to your expectations, as that depends on your expectations, because low does not equal empty. Not even close…
So "Low Crowds" does not necessarily mean lower than you think they will be, or a low as you wish they were; it means lower than the other choices you have.
And even on the quietest of days, if you arrive at 11a, have a poor plan, don't make good Genie+ or Individual Lighting Lane choices, and then target the more popular rides at that time, you will experience long waits. A good plan with well-chosen Genie+ and ILL, arrival at the parks well before they open, and a judicious approach to which rides you will visit first, will defeat the crowds almost every week of the year. You can find such plans in my itineraries.
But even so, there is usually some value to also making good choices on which park to visit which day, and this is particularly important during the "party season" which traditionally runs from later August through the first two-thirds of December–if it returns after COVID.
GOOD AND BAD DISNEY WORLD PARK DAYS MOST OF THE YEAR
Because both shorter and longer trips typically include weekends, weekends (and Mondays) are typically the times that see the most people in the Disney World parks. Operating hours are often extended over weekends, but not necessarily in proportion to demand, so crowds can be high even during low times of the year.
In the past, an added factor was "Extra Magic Hours"–a now defunct program. Extra Magic Hours used to attract to individual parks on the one or two days they offered them disproportionate crowds.
They have been replaced by "Early Entry," when for eligible guests every park is open at least half an hour early every day.  Since with Early Entry the draw is now the same at every park every day, it now has no additional effect on crowd patterns.
Traditionally, the most common pattern has visitors seeing Magic Kingdom first, and the Studios and Animal Kingdom last, and visitors on shorter, long-weekend style trips particularly focus on Magic Kingdom. While all the parks are busier on weekends, Magic Kingdom is thus particularly rough on weekends.
GOOD DISNEY WORLD PARK DAYS DURING THE PARTY SEASON
Note: the following assumes that the Halloween and Christmas parties come back after COVID.
During weeks with highly varied show schedules and/or operating hours, the parks can show real variation in crowding across the week.
This is particularly an issue many weeks in later August through much of December, when because of Mickey's Not-So-Scary Halloween Party and Mickey's Very Merry Christmas Party the Magic Kingdom often closes to the general public using regular tickets at 6p, with no fireworks available to the general public, multiple times a week.
As a result, people are both "repelled" by the 6p closings and lack of evening shows, reducing crowds those days, and "attracted" to the days when the park is both open late and showing fireworks…and those days can be mobbed. During the Halloween part of this period, Epcot's Food & Wine Festival will attract many locals to World Showcase on weekends and especially Friday and Saturday evenings, leading to (tipsy) crowds in World Showcase those nights.
The best way to handle these party season periods is to see the Magic Kingdom on days when it closes at 6p, and see its evening events on a different day, without having spent the earlier part of that day at MK except with a few select Genie+ or ILL.
THE JUDO OF DISNEY WORLD CROWDS
This last point is an example of how to think about crowds at Disney World.
Think about why you are drawn to Walt Disney World in general during a particular week, or to a specific park on a particular day, and whether your reasons are the same as those of the typical family with children.
If the reasons you have are also those of the typical family with children, then you will likely run into disproportionate crowds.
So as much as you can, do the opposite of the typical family–that's the judo.


Follow yourfirstvisit.net on Facebook or Twitter or Pinterest!!
RELATED STUFF