Press Kit for The easy Guide to Your First Walt Disney World Visit
By Dave Shute
OVERVIEW OF THE EASY GUIDE
From the renowned authors of the Number 1 bestselling, best-reviewed Disney World guidebook in history, The easy Guide to Your First Walt Disney World Visit 2015, released in November 2014, takes Disney World first-timers by the hand through all the key Disney World decisions—some that they probably didn't even know they had to make—in the simplest, most straightforward, and shortest way possible.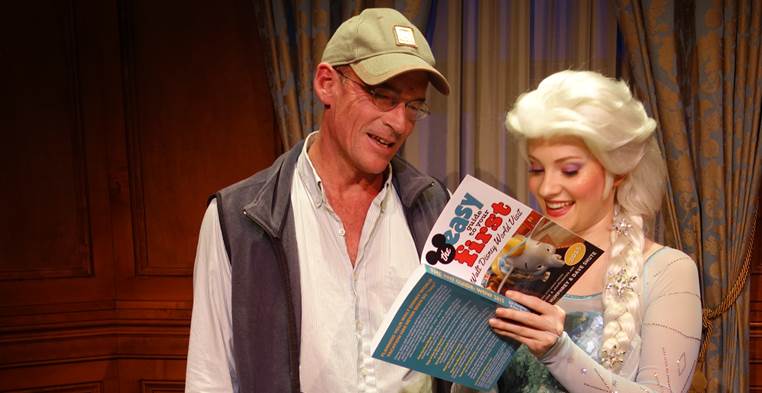 Co-authors Josh Humphrey and Dave Shute have unmatched experience with the Disney World rides, parks, restaurants, and hotels, and tremendous tested judgment from their years of helping more than ten million visitors on their websites yourfirstvisit.net and easyWDW.com.
Together, they've written the best Disney World guidebook ever—combining sound advice with easy, simple steps. Look at the reviews of the 2014 edition…there's more than a hundred, 95%+ five-star.
The easy Guide, published by Theme Park Press ("The Happiest Books on Earth"), is, on purpose, the shortest major Disney World guidebook available. It offers all the key guidance for designing a wonderful trip in less than 300 pages, with 11 point type–enormous compared to the type size in other leading guidebooks. It's really, really easy and fun to read and use.
For more on The easy Guide, see the reviews, author bios, and FAQ below, and also this. To contact the authors, email Dave at davidhobartyfv@gmail.com, or Josh at josh@easywdw.com. To request a review copy, see the right side of this page, or contact the authors.
REVIEWS OF THE EASY GUIDE
Reviews of the 2015 edition are beginning to come in on Amazon.
 ABOUT THE AUTHORS
Dave Shute, based in Rocky River, Ohio, is by day a strategist and problem solver for clients ranging from the Fortune 500 to local not-for-profits. At night and on weekends he writes yourfirstvisit.net, and, lately, Disney World guidebooks. All the time he's a husband, dad, son, and brother. He has a BA from the University of Chicago, and both an MA in English Literature and MBA from the University of Virginia, where he also completed the majority of work for a PhD in English Literature. He spent almost a decade as a strategy consultant at McKinsey & Co., Inc., and since then has largely operated as an independent strategy consultant. He founded yourfirstvisit.net more than six years ago—the first Disney World site aimed squarely at first-time visitors who may never return. He visits Disney World six to ten times a year, and in 2014 he stayed in his hundredth different Disney World hotel room. Contact him at davidhobartyfv@gmail.com
Orlando-based Josh Humphrey grew up in Seattle, Washington, the only city known to adequately prepare a person for Orlando's wet summers. He was fascinated by Disney theme parks long before his first visit to Disneyland at age eight. He started easyWDW.com in the spring of 2010 as an outlet to help visitors maximize their theme park experience with practical, hands-on advice. He lives just 15 minutes from Magic Kingdom's gates and records more than a hundred theme park visits every year, each with the express intent of uncovering ways to better enjoy everything the parks offer. In his spare time, he enjoys dressing his Duffy the Disney Bear in fabulous outfits, taking his dog to the park, and the occasional single malt scotch. Contact him at josh@easywdw.com.
FREQUENTLY ASKED QUESTIONS ABOUT THE EASY GUIDE
Tell us a little about The easy Guide.
The easy Guide to Your First Walt Disney World Visit is the only major guidebook designed for first time visitors to Walt Disney World.
It covers each key decision—some of which first timers didn't even know they need to make—in logical order, gives exact, expert advice on each choice, and then lays out the specifics and the pros and cons of other alternatives.
As a result, first timers can quickly and easily design a wonderful Disney World trip without having to read dozens of websites or 800 page guidebooks aimed at everyone.
They don't even have to read our whole book—Chapter 1 is both an introduction to the rest of the book and also a summary of our recommendations. That means readers can make a bunch of key decisions simply from Chapter 1!
What prompted you to write The easy Guide?
Bob McLain of Theme Park Press (ThemeParkPress.com, "The Happiest Books on Earth") emailed Dave, saying "there is no Disney World guidebook for first-timers, and your website is the best start at that book I've ever seen. Will you write it?"
Before even responding to Bob, Dave immediately reached out to Josh Humphrey, a friend from the Disney blogosphere and the author of easyWDW.com. Josh is the world leader on many critical topics such as daily crowds in each park and park touring plans, among many others. Josh has dined multiple times in all the restaurants, and Dave has stayed multiple times in all the rooms. Between us, we have unmatched Disney World experience and expertise.
Josh said yes, and Dave told Bob we'd do it!
What is your favorite thing in The easy Guide?
Our coverage of FastPass+. FastPass+ is the biggest change in how to plan a Disney World vacation since Epcot opened in 1982.
The easy Guide is the only Disney World guidebook written from scratch for FastPass+.
Unlike some other guidebooks, in The easy Guide FastPass+ isn't an afterthought added on top of already existing material; rather, optimizing a trip around FastPass+ was built into every key topic in The easy Guide from the first draft.
Why write a book when there is so much free information on the internet?
There's a lot of really good stuff on the internet, including our own sites :). But the nature of the web and of printed prose means that any good book has a tighter organization than any good website, has a more reliable, natural and logical flow of topics, has a more consistent treatment of its material, and is easier to use.
Moreover, you can scribble on it, dog-ear or fold over pages to remind you to return to them, cross out what you disagree with and scribble an exclamation point next to what you like, and circle key points. Try that on your iWhatever. It travels with you wherever you go. After all, you are neither a gadget nor an interface.
And frankly, a book by two Disney World experts, edited by a third, will just be more consistently reliable than an un-curated, unedited bunch of pages from different websites of really varying quality and reliability.
What was your biggest challenge during the writing process?
From the start we meant for this to be both the shortest and also the easiest to read Disney World guidebook. By "easiest to read" we mean both the clarity of our advice and also our honking big type. Look at the type sizes and number of pages of other major Disney World guidebooks and you'll see what we were trying to avoid. The Encyclopedia Britannica was not our working model!
We wanted to cover each topic in the minimum of number of words that could be done while still keeping the book wildly helpful.
But neither of us is known for brevity on our websites. Josh's pages can take a while to load, they are so long and image-filled, and while Dave's pages aren't quite so long, that's partly because he divides topics across multiple web pages. For example, resort reviews on yourfirstvisit.net start with a one page overview with 1,000 to 1,500 words, but are followed by 3 to 6 more web pages with thousands more words (nearing 10,000 words for the more complex resorts) and dozens more pictures. In The easy Guide, resort reviews are all sharpened to under a thousand words, and many are closer to 500 words.
So it was a challenge to write all of our material to be as short as it could be—but no shorter. As evidenced by the resort reviews, we were successful at this, coming in with fewer than 300 core pages in around 11 point type, while other leading guidebooks are 50% to 150% longer, even with their 7 or 8 point type!
How is the 2015 edition of The easy Guide different than the 2014 edition?
Well, first everything is updated. New prices, new crowd calendars, new discussions on when to go, updates to the ride reviews and touring plans based on closed and added rides and continuing developments in the best ways to use FastPass+. We also improved the readability of many of the tables and images.
The "where to stay" section saw not only updates—new prices, new queen bed offerings, new five person rooms, new hotels, new 60 day FastPass+ eligibility—but also a bit of expansion, as we now have more extensive material on the Disney Vacation Club options, and floor plans for every major standard room type, rather than only the example floor plans by price class we had in the 2014 edition.
We've also welcomed Jim Korkis, the dean of Disney historians, to our team. Jim has contributed a number of "Jim's Gems" to The easy Guide—fun and interesting bits of Disney World history about the resorts, the rides, and the dining venues. For more on Jim, see this, and for more on what's new, see this.
How will you keep it updated?
When we published our 2015 edition, The easy Guide immediately became the most up-to-date Disney World guidebook available. And it will continue to be so!
We will update our Kindle edition whenever major changes warrant (until we publish an all-new 2016 edition).
And unlike anyone else, we make the Kindle edition free to anyone who buys the paperback version. So our readers will never be more than a few weeks away from the most updated material that's out there. For more on updates, see this.
By the way, you don't need to own a Kindle to get and read Kindle books—Amazon offers apps and readers for pretty much any environment, from phones to laptops.
Would you do it again?
Sure—there's no two people better suited to write a Disney World guidebook for either first timers or many-timers than Dave and Josh.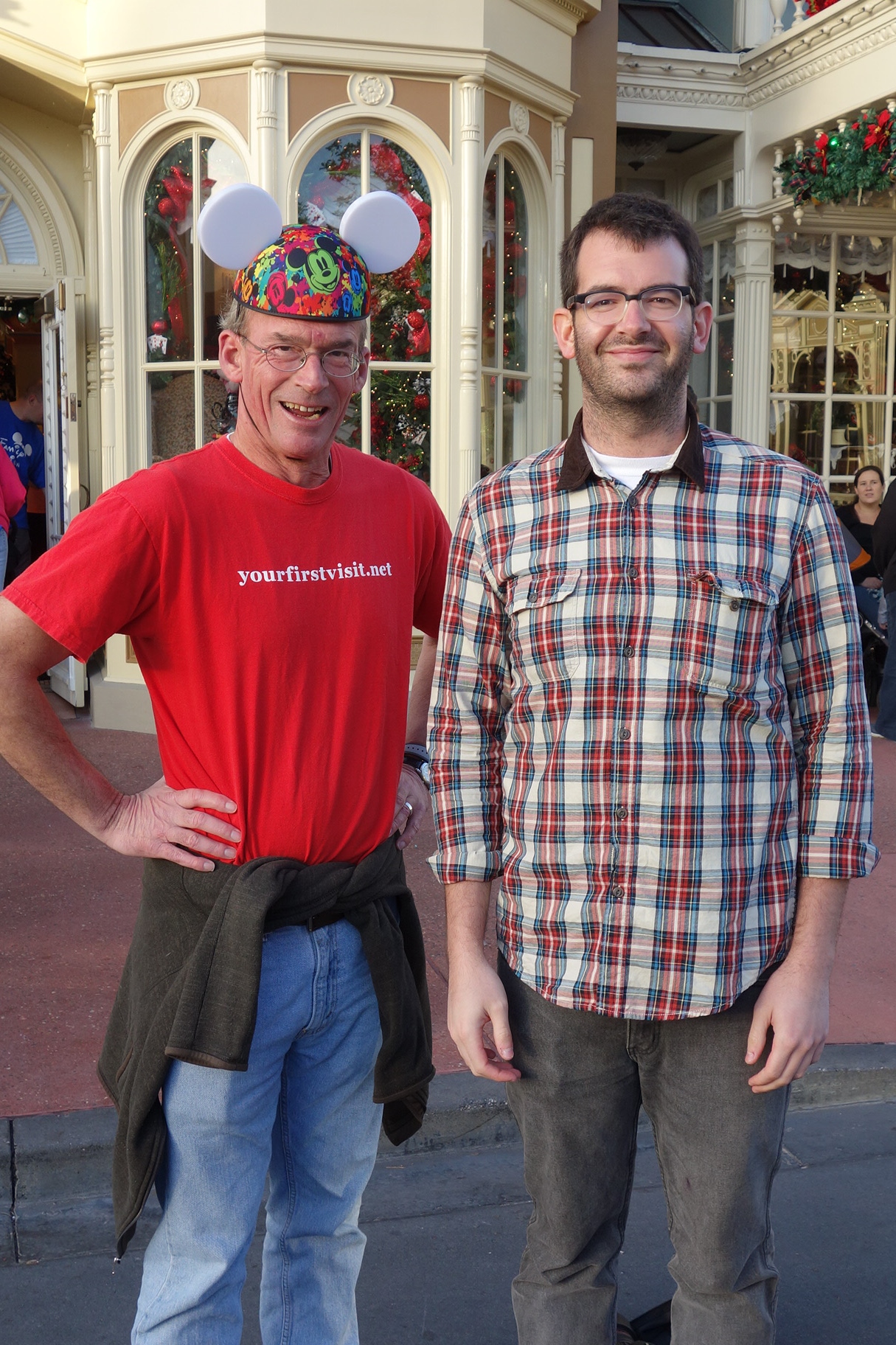 Follow yourfirstvisit.net on Facebook or Google+ or Twitter or Pinterest!!
RELATED STUFF