2013 Free Dining and MyMagic+: Inferences from Disney's Q1 2013 Earnings Call
By Dave Shute
MYMAGIC+ AND FREE DINING IN 2013 AT WALT DISNEY WORLD
On Tuesday, Disney released its Q1 (October-December 2012) earnings and discussed them with analysts on its earnings call.
There wasn't anything momentous in the earnings or the discussion, but a few tidbits, when combined with some recent Disney behaviors and my experiences at Disney World last week, lead me to two inferences ("inferences" being  a two dollar word for "guesses"):
We won't see a lot of free dining at Disney World in 2013
MyMagic+ as a way to pre-reserve attraction times and manage your day at Walt Disney World is a ways off.

Update 4/3

: For more on MyMagic+, see this.
FREE DINING IN 2013 AT WALT DISNEY WORLD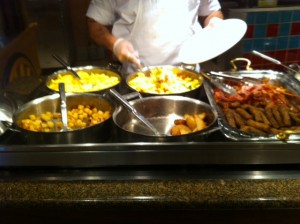 Disney World now has deals out covering well into June 2013, and–so far–none of them includes free dining.
This is in sharp contrast to the past few years, when free dining deals during the non-holiday weeks of this period were pretty constant.
But it is consistent with Disney's years-ago announced strategy of cutting back on discounts as the economy slowly recovers, a strategy made even more possible by New Fantasyland.
New Fantasyland, as senior execs made clear on yesterday's call, increases Disney's "pricing leverage"–that is, its ability to raise profits by increasing prices.  A reduction in discounts, of course, is the same as a price increase.
Free dining is a particularly good target for Disney to cut back on, as it's an expensive discount–compared to say 20% off Pop Century room rates–and complicated for Disney to account for and administer.
I'm surprised, frankly, that free dining's been so common for so long, and would not at all be surprised if we see hardly any free dining offered in the rest of 2013.  The "traditional" free dining period of late August and September may still be on offer–but even that is of course at Disney's discretion.
Now some–noting that Disney Tuesday said that Disney World attendance was "up just a hair in the quarter" may respond that Disney needs to discount more to build more volume.
But this would be an error of both fact and interpretation.
The factual point is that the combination of variation in Christmas break dates and in Disney's own fiscal quarter dates means that it had more high volume dates in the equivalent FY 2012 quarter than in FY 2013.
The first quarter in fiscal 2012 ran from October 1 through December 31, 2011 and included all the New Year's week high crowd dates but two–January 1 and 2 2012. The Christmas crowds in 2011 began December 17.
In fiscal 2013, the quarter ran from September 29 through December 29, and, given the patterning of Christmas breaks in 2012/2013, missed seven high crowd dates–December 30 through January 5. The Christmas crowds in 2012 began December 22–5 days later than 2011.
So the fiscal 13 quarter had 7 fewer high crowd dates (5 before the 22nd, and 2 after the 29th) than the comparable quarter in fiscal 12.  My back of the envelope math suggests this could easily have led to a 5-8% difference in attendance over the quarter.
(Note that these "missing" high crowd dates will show up in in Q2 FY13, as also will a week of Easter that in 2012 was in Q3, so FY 13 Q2 should show a significant volume growth compared to the same quarter in FY12, just on changed holiday and break patterns.)
On the interpretive side, the point is that (while the devil is in the details) for equal amounts of revenue, in general Disney is better off with higher prices and slightly lower crowds than it is with lower prices and higher crowds.
In the first instance it both makes more money and has higher guest satisfaction. In the second, because variable costs go up with higher crowds and, in general, guest satisfaction goes down with higher crowds, it may both perform less well economically and see lower satisfaction.
MYMAGIC+ IN 2013: NOT ANYTIME SOON?
In Tuesday's call, CEO Bob Iger was careful to note that he wouldn't be announcing a date for the MyMagic+ program–the new approach which (among other things) allows guests to reserve some attraction times from home months before they visit.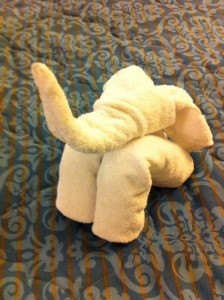 Speculation has been that MyMagic+ would go into limited launch this quarter.
After my experiences at Disney World last week, I'm not so sure…
I ran into rampant systems issues–from the new Disney website being down, to online check-in being down for days, to my resort's front desk system being down for a day, to a change in my room assignment breaking the system, with it insisting that I had already been issued a MyMagic+ wrist band–which aren't even available yet!
The only tech I could really count on during this visit was towel animals!
Now new systems always come with glitches, but this is a pretty worrisome level of operational instability.
Frankly, it's hard to imagine that Disney will go live with new tools before it can make current operations stable and reliable…and at least based on last week, there's a long way to go!
So I'd be surprised to see much more in the way of MyMagic+ capabilities rolled out soon…
Update 4/3: For more on MyMagic+, see this.
Follow yourfirstvisit.net on Facebook!
RELATED STUFF