The Correct Reaction to the Fastpass+ News: Chill Out
By Dave Shute
FASTPASS+ AND THE APOCALYPSE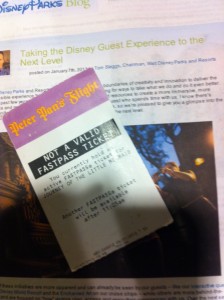 There's been a ton of reaction to Tom Stagg's Disney Parks Blog post on "MyMagic+" and "FastPass+" and to prior and subsequent press.
There's not much new in any of this, other than the beginning of rollout—February; the length of rollout—all year; and the order of rollout– starting with Walt Disney World resort hotel guests, probably BoardWalk Inn guests at first, with the program expanded slowly to others.
But oh my, there's been a lot of noise!
In general, any noise about this is good—I'll come back to that in a bit—but the general tone out there is that the new program will be either a cataclysm, or the best thing since the forward pass.
LET'S ALL STAY CALM…THERE'S NOT MUCH TO SEE HERE
Well maybe it will be one or the other, but I doubt it; it'll end up somewhere between, as do most human endeavors.
Moreover, there's some key facts that just aren't out yet, and some emergent behavior to observe that we're all just gonna have to wait for.
The key missing facts are
How many daily FastPasses will be available to all guests, and
How these will be divided between those reserved for those who book them ahead and those that are available to anyone on the day of visit, just like today.
The answer to these questions will make a huge difference to the overall guest satisfaction with the program, especially for those who don't, or don't want to, reserve their rides ahead of time. (See this for more.)
Stay calm on this point, since as the link notes, Disney World could be on the way toward daily FastPass capacity triple what it offers today…plenty for advance reservation users and "unplanned" users too!
The behavioral question is will the "schedule from home" system lead more people to get up early if the only time they can reserve Space Mountain is at 9.15a? And if so, does that mean the time-honored strategy of getting to the parks at rope drop to beat the crowds will no longer work so well?
Stay calm on this too…mostly because we won't know for a while, and in the meantime it's best to bet on human nature, and thus tens of thousands still sleeping in…
Much of the cataclysmic thinking about FASTPASS+ comes from either those with privacy concerns (who, if this remains an issue for them, will need to opt out) or experienced Disney World visitors who have an approach that works for them, and are worried that the new system will get in the way of something they understand and are happy with.
I have a lot of sympathy with this latter group–as I'm in it too!—but that's not what I've got my eye on.
Since I started thinking about this site, I've had one example family sharply in my mind's eye:
They've been in line for Peter Pan's ride for hours in the Magic Kingdom on an early July afternoon. They didn't know that July was a bad time to go, they didn't know that not sleeping in but rather hitting the park at opening was the best way to see Peter Pan without much of a wait, and they didn't know that FastPasses are free with their ticket, and so don't use them.
I want this family to have a great time, and FastPass+, if it lives up to its promise, can help them see great stuff without waiting so long…even on a July afternoon.
And that's the reason I like the noise. The more noise, the more likely this family will find out how best to do Walt Disney World—however the new best way to do it emerges to be!
Follow yourfirstvisit.net on Facebook!
RELATED STUFF