Review: The Fantasyland Expansion at the Magic Kingdom, So Far
By Dave Shute
NEW FANTASYLAND SO FAR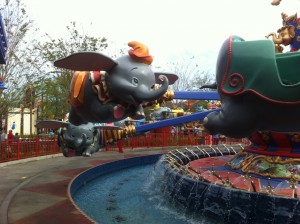 In 2012, two major parts of Disney World's Fantasyland Expansion opened: Storybook Circus, which opened bit by bit over the course of the year, and major parts of the Enchanted Forest, which opened formally in December.
Still coming are the Princess Fairytale Hall, expected to open in 2013, and the Seven Dwarfs Mine Train, whose opening date–never formally announced–seems to be possibly slipping to 2014.
New Fantasyland was much hyped, and so far is a bit of a disappointment–although the only fair grade is "incomplete."
The disappointment is partly that it doesn't live up to the hype. For all the hoopla, so far there's only two new attractions: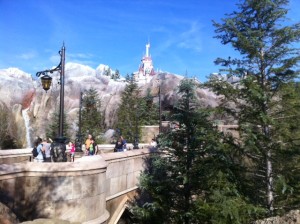 In totality, though, New Fantasyland is a nice achievement.
Besides the two new attractions, it includes two fine new restaurants, a fundamental and successful re-theming of the area that used to be Toontown Fair into a fun circus-themed area, and a doubling of the low-capacity Dumbo.
For first time visitors, New Fantasyland is almost entirely positive.
While Belle and Ariel have been well-represented at Disney's Hollywood Studios for years, they are now much more profoundly present at the Magic Kingdom where, as princesses, they fit quite well.
Each of the new dining options comes in at the top of its class–at a park where dining quality has been an issue for decades.
The totality of the additions will absorb thousands of people at busier times, relieving a bit congestion in other parts of the park.
For returning visitors, the grade comes closer to "incomplete."  
While there's much to be charmed by at what's been achieved so far, returning visitors will be more sensitive to the mismatch between hype and achievement, and there will be some who miss Snow White's Scary Adventures or Minnie's House.
But it'll be interesting to see if Princess Fairytale Hall is more like the wonderful Enchanted Tales with Belle than, say, like the so-so Ariel's Grotto, and of course the Seven Dwarfs Mine Train has great potential.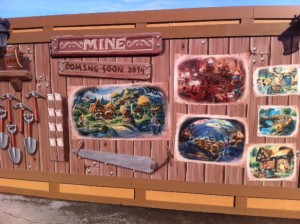 If Seven Dwarfs is at least a "D" Ticket ride–an experience on par with, for example, Mickey's Philharmagic–then New Fantasyland will end up being pretty special.
If it's another "C" Ticket like Under the Sea ~ Journey of the Little Mermaid, then this expansion–the largest in the Magic Kingdom's history–really will go down as a profoundly missed opportunity.
Follow yourfirstvisit.net on Facebook!
RELATED STUFF