Bounce-back Offer Hints at 2013 Free Dining Dates at Walt Disney World…and at Changes in Price Elasticity?
By Dave Shute
2013 FREE DISNEY WORLD DINING DATES?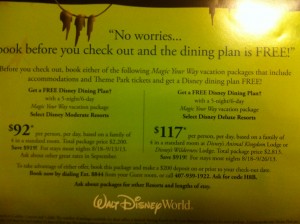 A "bounce back offer" is a deal offered to Disney World hotel guests that they can only take advantage of if they book it during their current stay.
As I write this, I'm in Disney World's All-Star Music Family Suites (review here!) and the offer in my room is for free dining beginning 8/18/2013.
However, there's a wrinkle: the end dates of the free dining offer vary depending on what resort type you reserve.
2013 FREE DINING AT THE DELUXES LASTS LONGER THAN AT THE MODERATES?
The end of the offer is noted (see the image above) as 9/13/2013 for moderates, and 9/26/2013 for Deluxes.
I can't recall a recent late summer free dining offer that had different end dates by resort type, so this is interesting in itself, and even more interesting if it truly is a guide to the general public 2013 late summer free dining offer.
The difference, though, does tie to some other differences between 2013 Disney World price seasons and its practices in prior years.
As noted here, the 2013 late summer/early fall value season at the value and moderate resorts ends two weeks earlier in 2013 than it had in prior years–on September 13, rather than the more typical September 26.
However, the late summer/early fall value season at the deluxes continues to run through September 26, as it would be expected to do based on prior years.
So the end dates of the offer tie to the now-different end dates of the value season.
So if this bounce back is in fact a predictor of the final general public 2013 free dining offer, then the last two weeks of September are going to be really expensive for those pursuing moderate resorts and (probably) value resorts compared to the same dates in 2012.
First, they are now in a more expensive price season (Fall instead of Value), and second, free dining–which can save a family of four on the order of $120-200 a day–may not be available to them those weeks.
WHY WOULD DISNEY SHORTEN FREE DINING AND RAISE PRICES IN THE SECOND HALF OF SEPTEMBER?
Keep in mind that while the price season changes for 2013 are set, the end dates of the 2013 general public free dining program are just an informed hypothesis.
But regardless, Disney has some reason for increasing effective prices at the values and the moderates the last two weeks of September 2013, and it's interesting to speculate why.
The first possibility is that Disney has reason to believe that people are in fact less sensitive to prices in this period than it had believed in the past.
Disney World sets its overall program of base hotel price seasons and accompanying discounts to maximize overall profits in both the short and long term.
The short-term issue is filling more beds in its hotels at the highest achievable price; the long term issue is not discounting so much that the perceived worth of the brand is harmed.
Over the course of the year, Disney World hotel prices go up and down.  Prices go down to draw more people into the hotels; prices go up to capture more value from people who have firmly decided they are going to be in a Walt Disney World resort hotel during those dates regardless.
(In technical terms, lower prices shape behavior in response to elastic demand, and higher prices take advantage of inelastic demand.)
Getting this right is important, as otherwise money gets left on the table. You can tell how important it is by one of the free books that Disney gave away last week at its 2012 Disney Analytics and Optimization Summit.
This summit was attended by 550 people, 400 of whom were Disney analytic and decision science staff, and many of the presenters were their peers.  It was kinda Disney talking to Disney in a way that few substantive public conferences are.  (See this for more thoughts from the Summit.)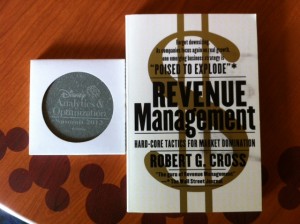 Conference attendees could get one of a dozen so books for free, and one of the books offered was Robert Cross's Revenue Management
… "Hard Core Tactics for Market Domination," as the cover says…
Why Disney might think demand is less elastic these two weeks I have no idea; this could even be an experiment to test to see if demand then is inelastic.
Another possibility is the Disney World has plans for these dates that it expects will intrinsically increase demand for them.
Possibilities that come to mind include lengthening the Epcot International Food and Wine Festival and opening it in mid-September, opening the Seven Dwarf Mine Train ride then, or both.
All speculation…but there is a business reason underneath all of this, somewhere!
And for some more recent speculation, see this.
Follow yourfirstvisit.net on Facebook!
RELATED STUFF