Disney World Crowds in 2012: Christmas/New Year's 2011-2012
By Dave Shute
In this post, I'm covering the Christmas-New Year's season 2011-2012.
(I've also posted on spring break crowds at Disney World here and summer 2012 crowds at Walt Disney World here.)
DISNEY WORLD CROWDS FROM MID-DECEMBER 2011 TO EARLY JANUARY 2012: THE PRINCIPLES
Disney World usually sees its highest crowds and prices of the year in the second half of December, in the week that includes Christmas, and the next week that includes New Year's Eve.
This is for a pretty basic reason: most kids are out of school these weeks.
However, not every school district has the same break schedule.
Not every kid gets two consecutive weeks (or more) off
And the days of the week that these holidays fall on matter
As a result of all this, I'm seeing the week beginning the 17th of December 2011 as an OK week, with crowds beginning to build in the middle of that week and lasting through the morning of 1/2/2012.
SCHOOL BREAKS AND DISNEY WORLD CROWDS
School breaks are ultimately determined by state/local factors.
Legal and union-negotiated holidays and breaks are the key drivers, community tradition about the length of breaks the next most important, and after that factors shaping the timing and length of winter school breaks range from targeted semester end dates to heating costs to the wish to limit scheduled breaks so that more snow days can be banked to the wish to limit short weeks.
There's three archetype districts:
Long breakers–districts that take at least 2 full weeks (and three weekends) off
Short breakers–districts that take off as close to only December 25 to January 1 as they can
Shorter breakers–districts that start with a December 24th to January 1 mindset, but are happy to extend the break if they reasonably can, especially to avoid one or two day school weeks before the 24th or after the 1st
For example, in a year (NOT 2011!) when Christmas is a Wednesday, New Years will also be a Wednesday.  Districts that traditionally take 2 weeks off will have it easy–they will mostly be off from the Monday before Christmas to the Friday after New Years.
Districts that take less time off will have a more complicated set of calendar calculations, but most will be off from Christmas itself through the Wednesday New Year's Day.
However, many districts with traditionally shorter breaks will look at the  two-day week before Christmas and the two-day week after New Years and simply decide that it costs little and gains much to take one or both of these weeks completely off.
As a result, the Wednesday Christmas, and the patterning of school breaks around it, will make it equally easy for families to head to Walt Disney World either week.
This results in high crowds at Disney World both the week of Christmas and the week of New Years.
The 2011-2012 holiday season is very different. Christmas 2011 is not during the work week, but rather on a Sunday (and thus so is New Year's Day 2012.)
Since almost all labor contracts require workday holidays for days that normally would be off that happen to fall on a weekend, what this means is that that typical  "short school break" will be the week after Christmas until the Monday after New Year's Day, and the typical "shorter break" will be Thursday the 22nd through Monday the 2nd.
These beginning and end dates don't create anything like the force to two full weeks that the Wednesday Christmas in the above example has.
As a result, in 2011 many fewer kids will have two week breaks, and the first part of the week of December 17th should be much better in terms of crowds than the usual "week before Christmas" is at Walt Disney World.
ACTUAL 2011-2012 CHRISTMAS SEASON SCHOOL BREAKS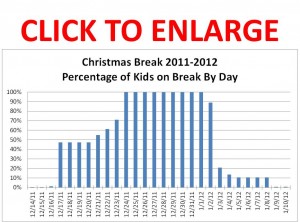 The chart to the right illuminates this.
It's based on data from a weighted sample including more than 125 of the largest relevant US public school districts.
(Click it to enlarge it; when it opens, click it again to enlarge it more.)
You can see that Saturday 12/17 begins the Christmas break season, but for less than half of kids. More kids start getting off beginning Wednesday 12/21, and by 12/24 pretty much everyone is off.
Breaks continue, essentially, through January 2, and then drop precipitously.
At the simplest level, what this means is that about half of kids can only go to Disney World the one week that includes both Christmas and New Years, and that half of kids can go either week.
Given this, if the half that can go either week is randomly distributed between the two possible weeks, then 3 times as many kids will be at Disney World the week between Christmas 2011 and New Years 2012 than the prior week.
(I.E. 100% of half the kids plus 50% of the other half of kids yields 75% of kids, and leaves 25% of kids–and 75% is 3x 25%.)
Of course it's not quite that simple, because of the build beginning the 21st.
So what I expect is to see the week of the 17th to begin quite slowly compared to comparable incredibly busy weeks in prior years, and then to build to very high levels beginning the 22nd.
Worth noting is that the holiday price season begins in 2011 on Friday the 23rd and ends in 2012 on Sunday the 1st.
Price seasons aren't crowd calendars–they are more subtle than that–but certainly if Disney expected hordes beginning 12/17 prices would go up then, not the 23rd.
I expect crowds to remain high through the morning of January 2nd 2012, given that almost 90% of kids are off that day, and then drop the rest of the first week of January to typical January lows until crowds begin building again late in the week for the Marathon weekend.
RELATED STUFF