Personal Favorites: The Disney Vacation Club Resorts
By Dave Shute
THE PERSONAL FAVORITES SERIES
This post is one in a series about personal favorites. See lower on the page for more about this series.
This site's ranking of Disney Vacation Club resorts for first time visitors puts the Villas at Disney's Wilderness Lodge first,  the Treehouse Villas at  Saratoga Springs last, and Disney's Old Key West Resort near to last.
However, Disney's Old Key West Resort is my personal favorite among the DVC resorts, and the Treehouse Villas my next favorite.
Why?
First, Disney's Old Key West Resort is the most spacious of the DVC resorts–and this one point would be enough to make it a favorite.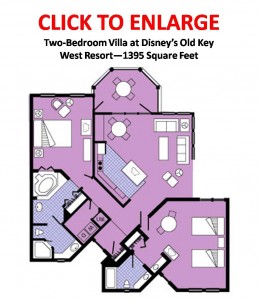 Old Key West was the first of the DVC resorts.
At the time, Disney did not quite know if it was building hotel rooms or vacation homes.
As a result, Old Key West is a bit of both, and is the most livable of all the DVC resorts.
Specifically, it has much more living space than any other DVC alternative–not just in the living room, but also on the porch and in the second bedroom–the one with the two queen beds.
The space in the living room is usable even when the sofa bed is opened–not true of many DVC resorts built since Old Key West opened.
The table on the porch fits four easily, and six in a pinch.  Most DVC resorts have narrow balconies seating two.
The second bedroom is the largest such at any DVC resort.
When I am staying in a DVC resort, it's usually because I am looking for the extra space compared to a regular hotel room–and Old Key West has it in spades!
Second, while Disney's Old Key West Resort is inconvenient for first-time visitors, it's very convenient for me.
I always rent a car, so the problems with the bus system and distance from some of the theme parks don't matter much to me.
Moreover, if I'm not going to Disney World, I'm going north, and Old Key West is one of the more convenient resorts for going north.
When at Disney World, I shop on Apopka-Vineland Road, and I work on this website at the Barnes and Noble and the Starbucks on Sand Lake Road…and I sneak into Harry Potter as well.
Old Key West is well located for all of these.
Third, I'm cheap.
Old Key West is pretty much always the lowest-priced DVC resort, and can often be had for a great deal using my passholder discount.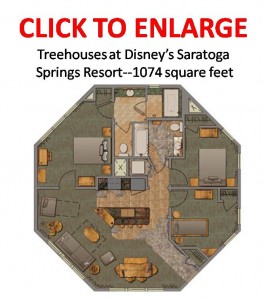 I also love the Treehouse Villas.
While not as spacious as Old Key West, its living area is quite usable, and like Old Key West is has a very large outdoor space.
(The outdoor space is not shown in the floorplan, but is an uncovered deck with a table that seats 6.)
If I am traveling with both of my sons, I prefer the Treehouse Villas to Old Key West, because it has an extra bedroom at about the same price.
The advice on this site—when to go, where to stay, what to do, etc.–is aimed at the typical family visiting Walt Disney World for the first time, unsure if they will ever return.
It is based not on personal favorites or my own taste, but rather on a combination of facts, analysis, inference and judgment about what would be best for such a family.
My personal favorites can be quite different from my advice for these families–particularly because I'm older and hence traveling with twenty-year-olds, not little kids; have been to Disney World more than thirty times; and know I'll be coming back!
I thought at least some might be interested to hear about some favorites…if for no other reason than so that they can argue, using the comment form below!
MORE ON WHERE TO STAY AT DISNEY WORLD
blank
blank
blank
blank
blank
blank
blank
Home  Donate  Sitemap  FAQ  Travel Agents
RELATED STUFF