Tuesday: Walt Disney World Summer Itinerary v2
By Dave Shute
TUESDAY AGENDA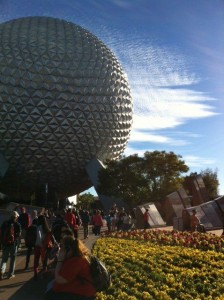 Today you will complete Epcot, with an afternoon break at your hotel.
As a Walt Disney World Resort hotel guest, you can stay at Epcot until 11p as part of Disney's Extra Magic Hours program
FIRST THINGS
Art of Animation guests need to complete their breakfast in their room and be at their bus stop by 7:20.
Polynesian guests need to complete breakfast in their room, walk over to TTC, and be on the Epcot monorail platform by 7:40
AT THE PARK: MORNING
Be at Epcot by 8:00
Enter the turnstiles when the park opens at about 8.45, grab a map and Times Schedule, and follow the cast members to Soarin
Fastpass Soarin, then walk across the park to Test Track and ride it
Go into Innoventions East and check out The Sum of All Thrills.  If it looks like fun, ride it
Cross the park back to the area where you got your Soarin fastpass, turn right, and find The Seas with Nemo and Friends Pavilion. There see the Nemo ride and Turtle Talk with Crush. Then check out the exhibitions in the main aquarium, and enjoy these as much as your family wishes, but keep an eye on your Soarin return window and be sure to make it
Besides using your Soarin fastpass, in the Land Pavilion consider seeing Living with the Land if your family has an interest in history, farming, gardening, or agricultural tech.  Consider seeing The Circle of Life if your family members are committed environmentalists, huge Lion King fans, and/or skilled ironists.  If the return times work, fastpass Soarin again if you wish
If you are ready for lunch, have it now, as you will be eating lunch in this building, in the Sunshine Seasons Food Fair (counter credit) on the same level as Soarin. If not, continue with the steps below and return for lunch when you are ready
Most families find both current rides in the Imagination Pavilion next door to be skippable. If you are interested and have time, see in this pavilion Captain EO and Journey Into Imagination with Figment
Return to the Test Track side of the park and see the "green" side of Mission: Space (if you love it, and are not subject to motion sickness, you can come back to the much wilder "orange" side tonight) and consider Ellen's Universe of Energy.  Universe of Energy is a loooong (~40 minutes) ride mostly about energy, dinosaurs, and the TV show Jeopardy, somewhat out of date.  I'd like it more if Dory was the star, rather than Ellen DeGeneres
You have now (almost) completed what you must do in the morning and early afternoon. You can begin heading back to your hotel now–seeing Spaceship Earth on your way out–or go on to the World Showcase to see anything you've missed
If you do go to World Showcase, and the kids are bored by it, check out Agent P's World Showcase Adventure.
Ride Spaceship Earth on your way out, and return to your hotel and goof off
AT THE PARK: EVENING
Be back at Epcot by 5p—Art of Animation guests need to be at their bus stop by 4:20; Polynesian guests at the Epcot monorail stop at TTC by 4:40
Make your way to Mexico and your 5:30 dinner reservations at San Angel Inn (table credit)
After dinner, finish visiting the World Showcase
Over the course of the evening, get the list of rides and restaurants that will remain open late
At 8:30, find a spot to watch Illuminations—given where you likely will be, the bridge near the International Gateway is as good as any
At 9, watch Illuminations
If you have not already seen the American Adventure, see it now
Stop in Boulangerie Patisserie in France for a snack (cash).
Decide based on the list of what is open what rides to see again. Families often split up to do this.
When you are ready, return to your hotel by the means you used to get to Epcot
Note: Bring The Comprehensive Guide to Rides and Rides that Might be Skipped in case your day gets to be too intense!
Tomorrow you finish visiting the Animal Kingdom, and have the afternoon off. In the evening you head to Downtown Disney.
You need to know whether the Animal Kingdom has morning Extra Magic Hours tomorrow to know by when you need to be at your bus stop, so check with your papers or your resort concierge desk to make sure.
LINKS FOR THIS ITINERARY
WALT DISNEY WORLD ITINERARY LINKS
Follow yourfirstvisit.net on Facebook!