Updated Plans for Disney's Hollywood Studios
By Dave Shute
NEW FASTPASS+ TIERS FEBRUARY 19TH AT DISNEY'S HOLLYWOOD STUDIOS
As of February 19th, FastPass+ availability and tiering will change at Disney's Hollywood Studios, and may shortly change again with the opening of Mickey and Minnie's Runaway Railway on March 4th.
At the moment, on February 19th, Tier 1 will include Millennium Falcon: Smugglers Run and Slinky Dog Dash. I expect the Runaway Railway to join Tier 1 at or shortly after its opening. Guest may pre-book, per day, only one of these two/three rides.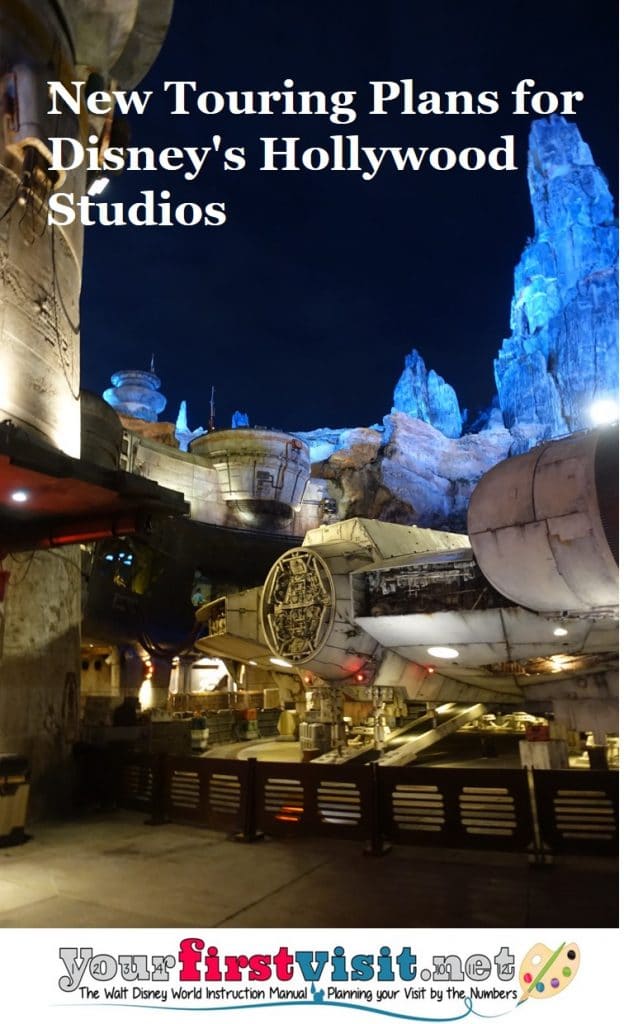 Tier 2 FastPass+ includes twelve more attractions, of which the highest priorities are Rock 'n' Roller Coaster, Toy Story Mania, and Tower of Terror. The next highest priorities will be Star Tours, the Frozen Sing Along, and for those who care to ride it, Alien Swirling Saucers. Guests may pre-book per day two or three of these twelve Tier 2 rides (two if they've booked a Tier 1).
Meanwhile, the other new ride at the Studios, Rise of the Resistance, does not have either FastPass+ or standby-line availability. Guests in the park have the opportunity to sign up for a "Boarding Group" via the My Disney Experience App as soon as the park hits its official opening time.
UPDATED TOURING PLANS AND FASTPASS+ FOR DISNEY'S HOLLYWOOD STUDIOS
Below are some thought on how to adapt the two Hollywood Studios days in my itinerary. I will continue to revise these as Tiers or other stuff changes.
The basic strategy is, if you can
To book a Tier 1 for each of the two days in the itinerary
To each day arrive an hour before opening, and
To see any Tier 1s you were unable to book right at park opening.
This will work when there are only two Tier 1 rides available, even if you can't pre-book either, and will also work when there are three Tier 1s, so long as you can pre-book at least one of them.
If you can, on Day One book Smuggler's Run as your Tier 1, and Toy Story Mania (early in the morning) and Star Tours as your Tier 2s.
Then, when you are let into the park, which will be before official open, head towards a Tier 1 you could not book (if any), and if you've been able to book both or none, head towards Toy Story Land. Look for cast members on the way to Toy Story Land with iPads, have the app open to the "Book a Touring Group" options, and at park open walk towards the cast member while trying to get a Boarding Group for Rise of the Resistance on the app. If you have trouble, get help from the cast member you've so wisely stalked.
See Slinky Dog, ride Alien Swirling Saucers, see Toy Story Mania using your FastPass+, then plan the rest of the day based on your Boarding Group, your Tier 1 return, and the fact that you will wish to return in the evening for either Fantasmic or the Star Wars evening fireworks and projection show (you'll see the other on Day two). If you have pre-booked Slinky Dog Dash for Day Two, you can either keep that or swap it out for another Tier 2 ride on Day Two, depending on how much you enjoyed it.
You do Rise of the Resistance on Day One so that if there are any problems with the ride (or you want to re-ride it) you can do it on Day Two. You book Smugglers Run as your Tier 1 for Day 1 so that when you are trying to connect for your Boarding Group, you are in a possibly less congested area of the park than you would be if you were near Galaxy's Edge.
For Day Two, pre-book another Tier One if you can, and as your Tier 2s book Rock 'n' Roller Coaster and Tower of Terror, framed around the hour of your Tier 1.
As on Day 1, arrive well before opening, enter the park as soon as you are allowed to, and when the park officially opens book your Ride of the Resistance Boarding Group while heading to any Tier 1s you don't yet have booked, you want to repeat from yesterday.
If all the Tier 1s you need are covered from either your first day in the Studios or FastPass+ today, then you could at open instead head to Rock 'n' Roller, then, if waits aren't too long, Tower of Terror. This will let you if you wish swap your Tier 2 FastPass+ for these for other Tier 2 shows that you may have missed on Day One, such as the Frozen Sing Along, Beauty and the Beast, or Indiana Jones.
The rest of Day Two, work to see what you've missed in around your FastPass+, and return in the evening for whatever evening show you did not see on Day 1.
(For a one day itinerary, see this post from Josh.
IF THERE ARE THREE TIER 1 RIDES AND YOU CAN'T PRE-BOOK ANY
See two of them at park open, one each day, and get in line for the third a minute or two before park close. Depending on show and park schedules, this may force you to miss one of the evening shows.
IF MICKEY AND MINNIE'S RUNAWAY RAILWAY DOES NOT OFFER FASTPASS+
As a dedicated Bayesian forecaster, I expect Mickey and Minnie's Runaway Railway to open with Tier 1 FastPass+. If instead its opens with Boarding Groups, sign up for a boarding group for it first thing on Day 2. If it opens with standby access only, then see it either first thing either day, or get in line for it a few minutes before park close.

Follow yourfirstvisit.net on Facebook or Twitter or Pinterest!!
RELATED STUFF