Review: The Fuentes del Morro Pool at Disney's Caribbean Beach Resort
By Dave Shute
(For the first page of this review of Disney's Caribbean Beach Resort, see this.)
THE MAIN FUENTES DEL MORRO POOL AT DISNEY'S CARIBBEAN BEACH RESORT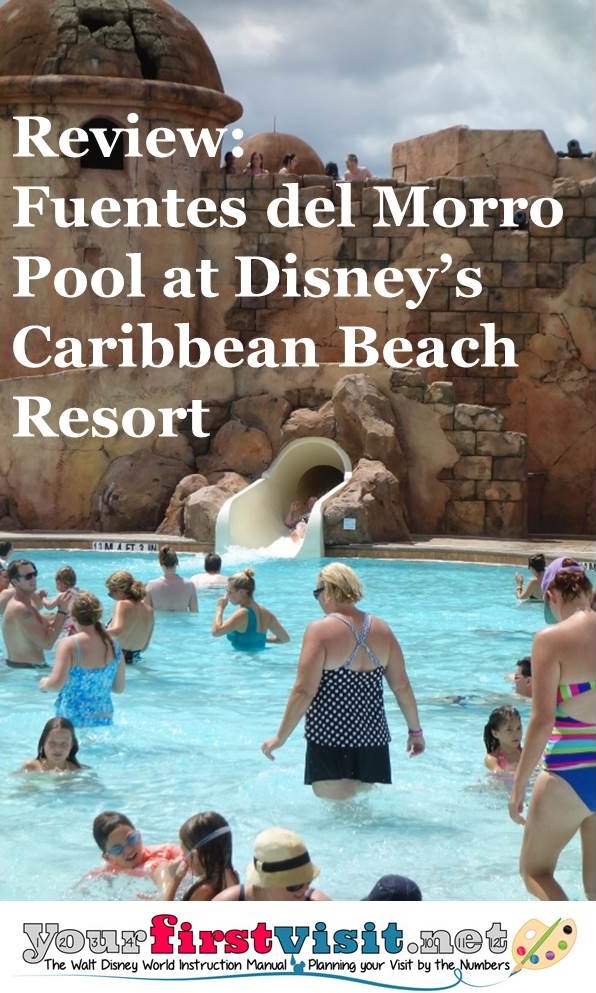 The main Fuentes del Morro pool at Disney's Caribbean Beach Resort is the best pool among the Disney World moderates resorts–only the main pool at Disney's Coronado Springs Resort comes close.
Here's what Disney says about it on its website:
"Make a splash at this zero-entry pirate's paradise, themed like a colonial Spanish fortress. Swashbuckling adventurers can zip by on one of 2 waterslides—including one measuring 102 feet long—and feel the spray of man-of-war-cannons. Little ones can cavort at the shipwreck play area, complete with mini slides, a crow's nest and a barrel of laughs that dispenses a drenching downpour.
Two 12-person spa pools provide relaxation after a long day on the high seas, as do tropical drinks from the nearby Banana Cabana pool bar."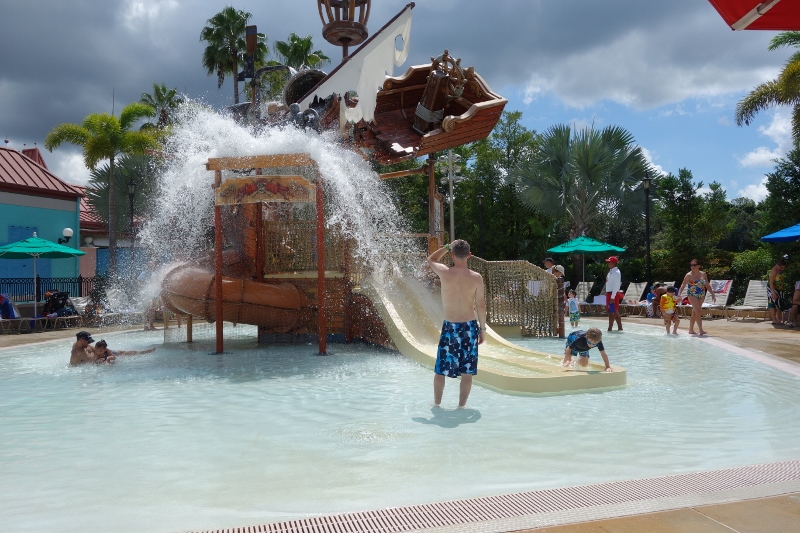 The pool is distinguished by the best theming among the moderates, the best kids play area (see the image), great nearness to the food court, and what is in often in effect an adults only area (not really, but there's an obscure spot away from the main pool that has many fewer kids.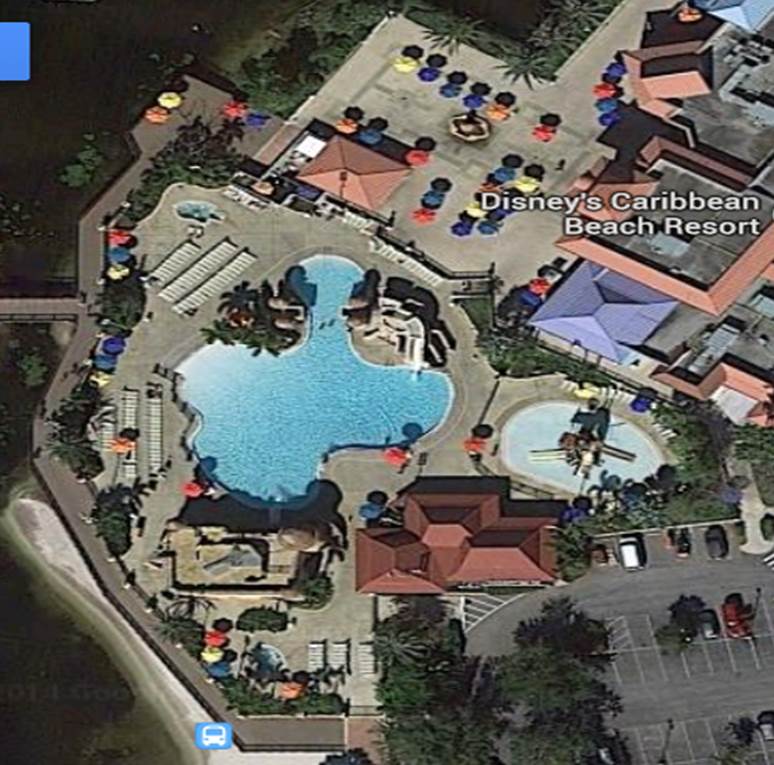 The pool bar is at the top of the image. Below it is the main pool itself and part of its Spanish Fort theming. The kids play area is on the right, and hidden beyond service buildings at the bottom you'll find another set of lounge chairs and a hot tub–this is the quasi-adult area.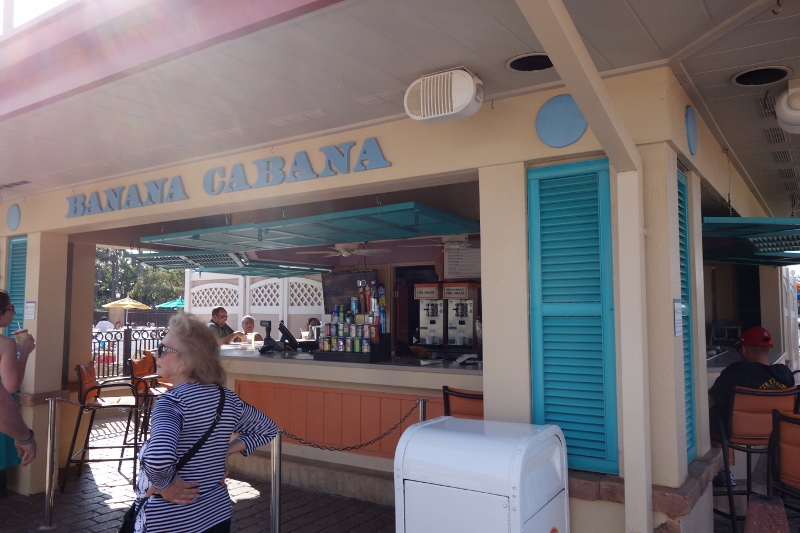 There are several entrances to the fenced off pool, but most will enter from near the pool bar.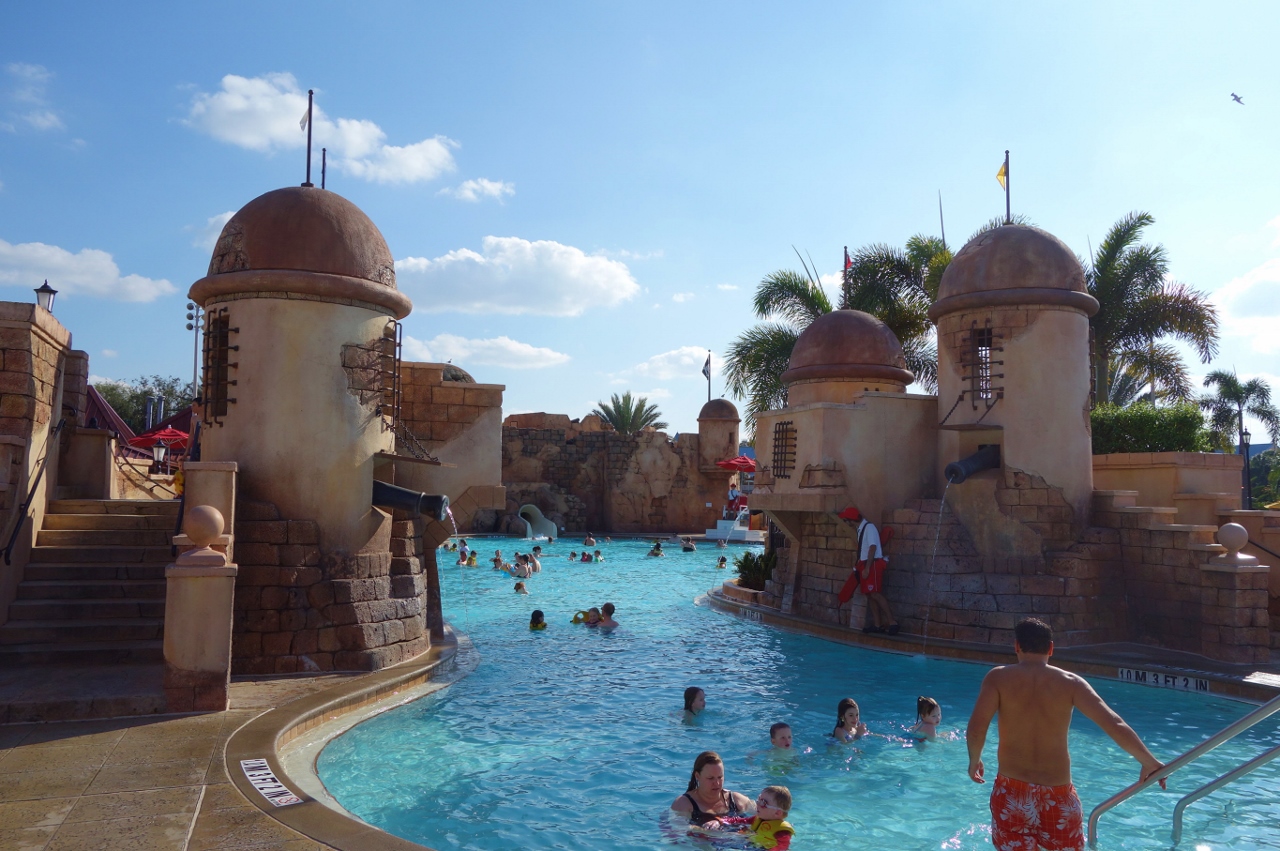 The first thing you'll see is paired fort buildings "defending" the "channel" into the pool.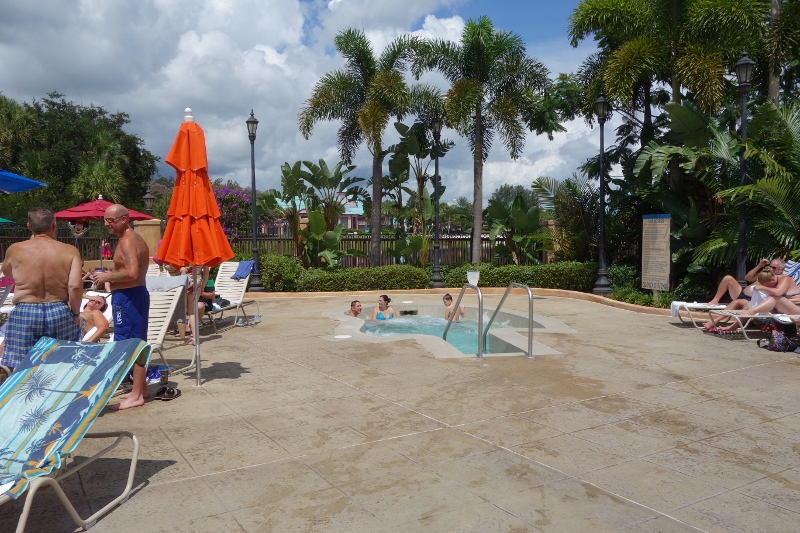 To the right is one of two hot tubs…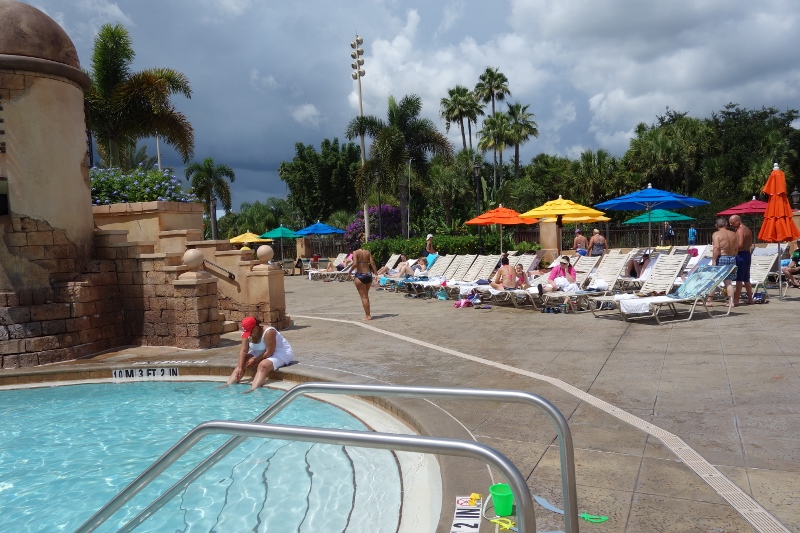 …and most of the lounge chairs–there are not nearly enough lounge chairs for all the people who want to go to this pool.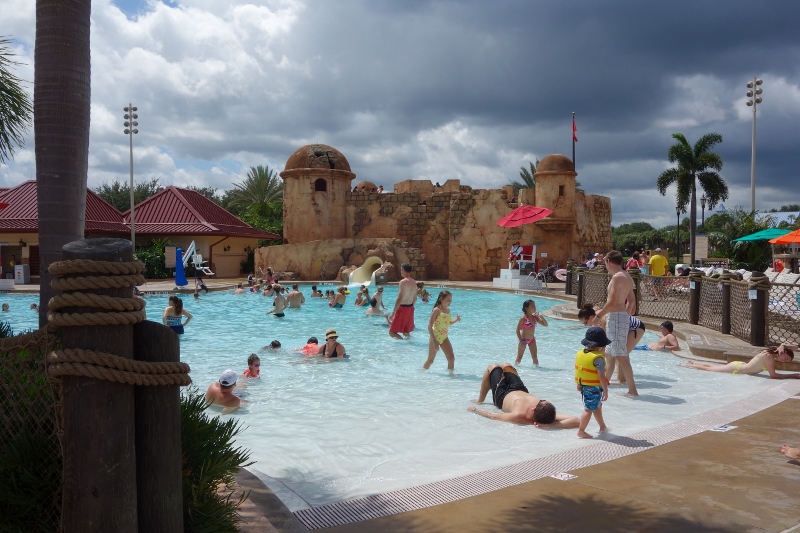 Part of the pool has a zero entry area.
There's two water slides here, one more than a hundred feet long–you can see the end of it in the background of the image above.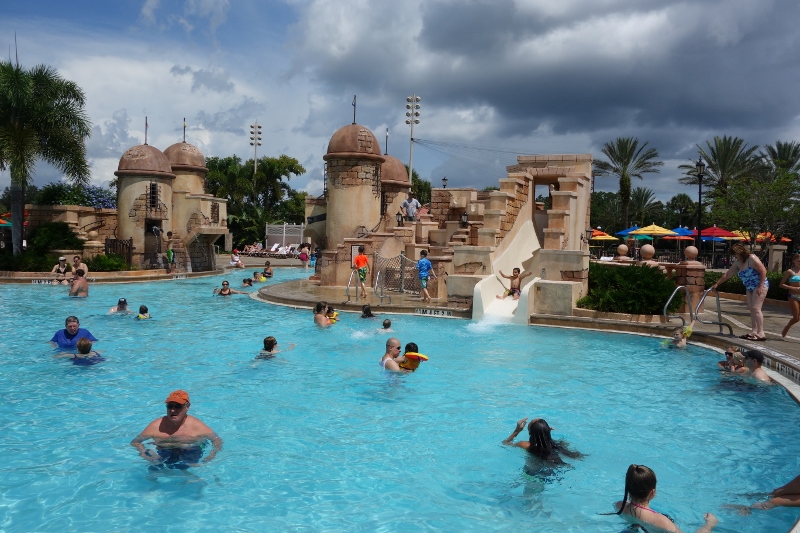 Here's another view of the pool and of the shorter waterslide.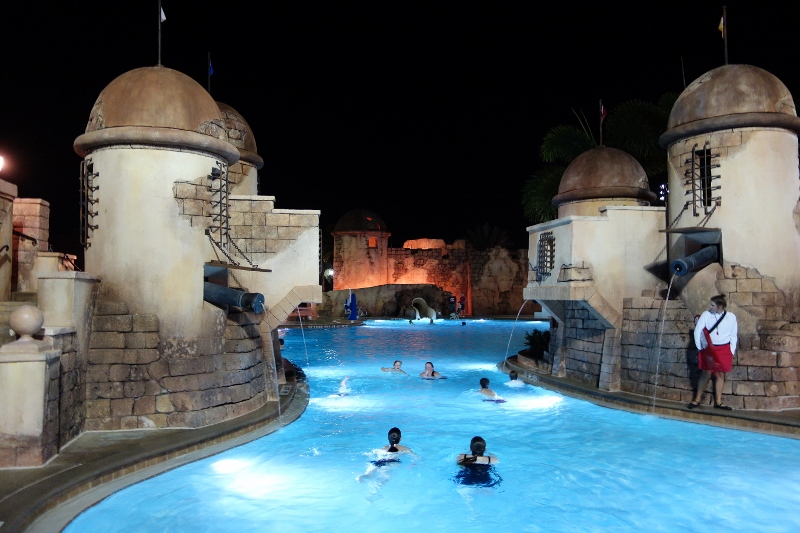 The pool at night.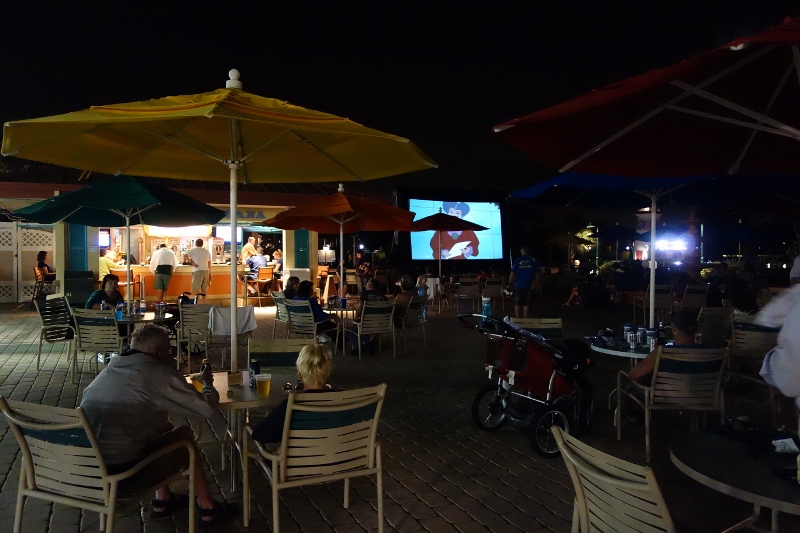 Movies are shown in the seating area near the pool bar in the evening.
THE VILLAGES OF DISNEY'S CARIBBEAN BEACH RESORT
This review continues here.
PAGES:  Previous  |  1  |  2  |  3  |  4  |  5  |  6  |  7  |  Next


Follow yourfirstvisit.net on Facebook or Google+ or Twitter or Pinterest!!
RELATED STUFF