April 2015 at Walt Disney World
By Dave Shute
OVERVIEW: APRIL 2015 AT DISNEY WORLD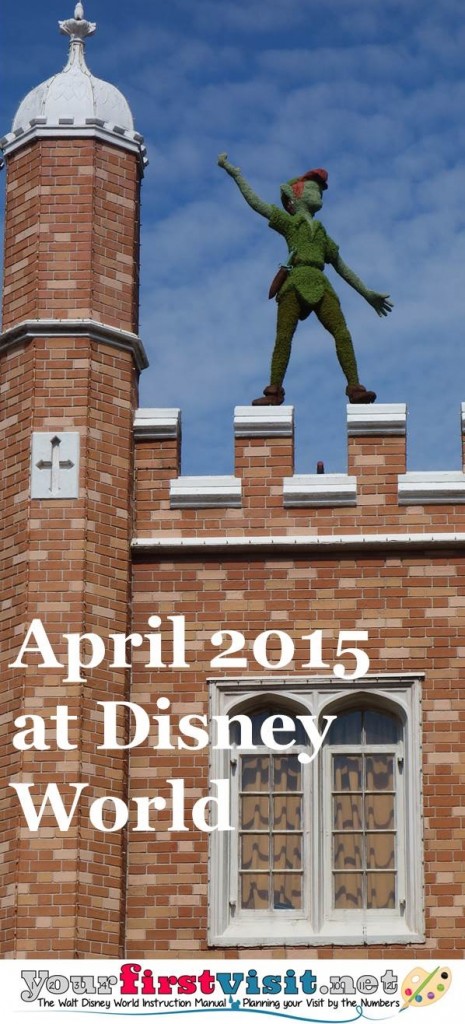 This page reviews April 2015 Walt Disney World crowds, prices, deals and discounts, weather, and operating hours; adds a few other notes; and ends with week by week summaries.
Unless Easter is very late, the weeks before and after Easter are terrible times to go to Walt Disney World, with the highest prices and crowds outside of the week between Christmas and New Years. The period beginning a week after Easter, however, is a great time to go.
APRIL 2015 CROWDS AT WALT DISNEY WORLD
Massive numbers of kids are on break the week beginning March 28, 2015 and even more the week after. I rank the week of the 28th 10/higher crowds and the week beginning April 4 as 11/highest crowds.
Crowds then diminish the rest of the month, as except for a few northeastern districts the spring break season is over.  I rank the weeks of the 11th and 18th as 4/low-plus crowds and the week of April 25th as 3/low crowds.
See this for more on 2015 crowds at Disney World.
APRIL 2015 PRICES AT WALT DISNEY WORLD
On March 29 prices hit 75% higher than the lowest of the year at the values, and 45% higher at the moderates and deluxes.
On April 12, they drop to 16% higher at the deluxes,  20% higher at the moderates, and 25% higher at the values.  They stay at this level through late May.
See this for more on 2015 resort hotel prices at Walt Disney World.
APRIL 2015 DEALS AND DISCOUNTS AT WALT DISNEY WORLD
Deals are available for April 2015. See this for more.
APRIL 2015 WEATHER AT WALT DISNEY WORLD
April weather completes the shift from the variable and cooler temperatures of winter to the warmer and more consistent temperatures of spring.
For example, at the beginning of April, 60% of the time the daily high will be between 72 and 87.  By the beginning of May, 60% of the time the daily high will be between 80 and 90.
All in, April weather is as good as it gets at Walt Disney World.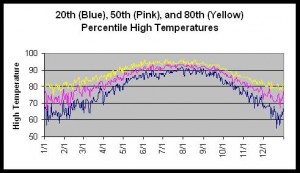 Click the image, or go to Weather and When to Go to Disney World, for more on temperatures.
APRIL 2015 SPECIAL EVENTS
The Epcot International Flower and Garden Festival continues throughout April.
APRIL 2015 OPERATING HOURS AT WALT DISNEY WORLD
Park operating hours vary by the day, and sometimes change without notice. It is rare for hours to be shorter than Disney has publicized, but Disney may lengthen them in response to unanticipated crowds.
The best way to keep up with operating hours is to check Disney's official calendars, usually available six months in advance.
These calendars can be found by clicking the following links:
WEEK BY WEEK COMMENTS FOR APRIL 2015 AT WALT DISNEY WORLD BY ARRIVAL DATE
The week rankings that follow below are from 2015 weeks to visit, ranked in order, and are designed for first-time visitors who do not know whether or not they will return.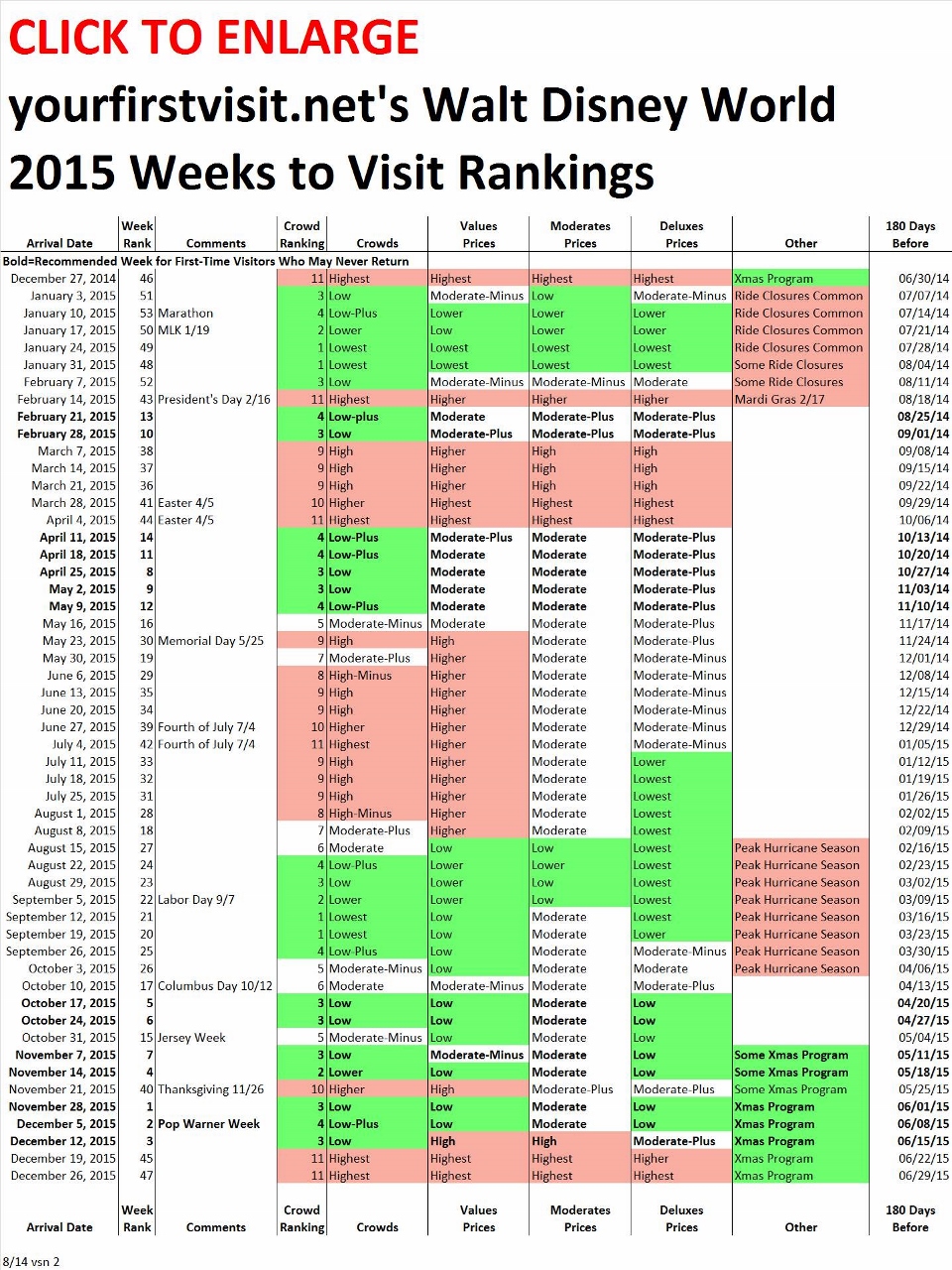 Click the image for a calendar view of 2015 weeks (when open, keep clicking to enlarge.)
MORE ON WHEN TO GO TO WALT DISNEY WORLD
Want a second opinion?  Then check out my book lol.
Follow yourfirstvisit.net on Facebook or Google+ or Twitter or Pinterest!!
RELATED STUFF