Disney World Lower Crowd Itinerary
By Dave Shute
Below is my FastPass+ based Disney World itinerary for lower crowd weeks.
Updated in August 2017, it includes guidance for the new Avatar: World of Pandora at Disney's Animal Kingdom, and is adapted to the closure of Ellen's Energy Adventure, the Great Movie Ride, and the shift of the Festival of Fantasy Parade to 2pm.  On its first Animal Kingdom day, it uses a Rivers of Light Dining Package to save a FastPass+. Note that this package is available sometimes only 3-4 months ahead, rather than the 180 days ahead that most dining is available.
It is designed for lower-crowd weeks and does not work all dates after than.  Check your week here.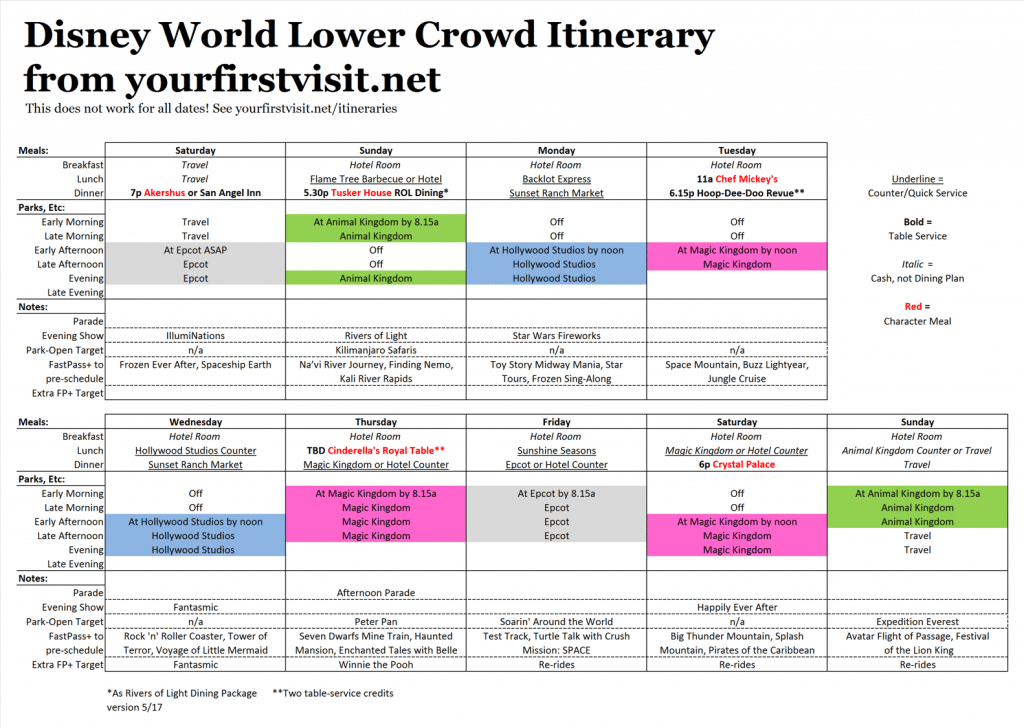 As always on this site, click the image to enlarge it.
The recommended dining and FastPass+ that make it work are in its To-Do List, so you can book them at the appropriate 180 day window for dining (although, so far, Rivers of Light dining has been opening up just a couple of months ahead) and 60 day window for FastPass+ sign-ups. Daily agendas are in the links:


Follow yourfirstvisit.net on Facebook or Twitter or Pinterest!!
RELATED STUFF