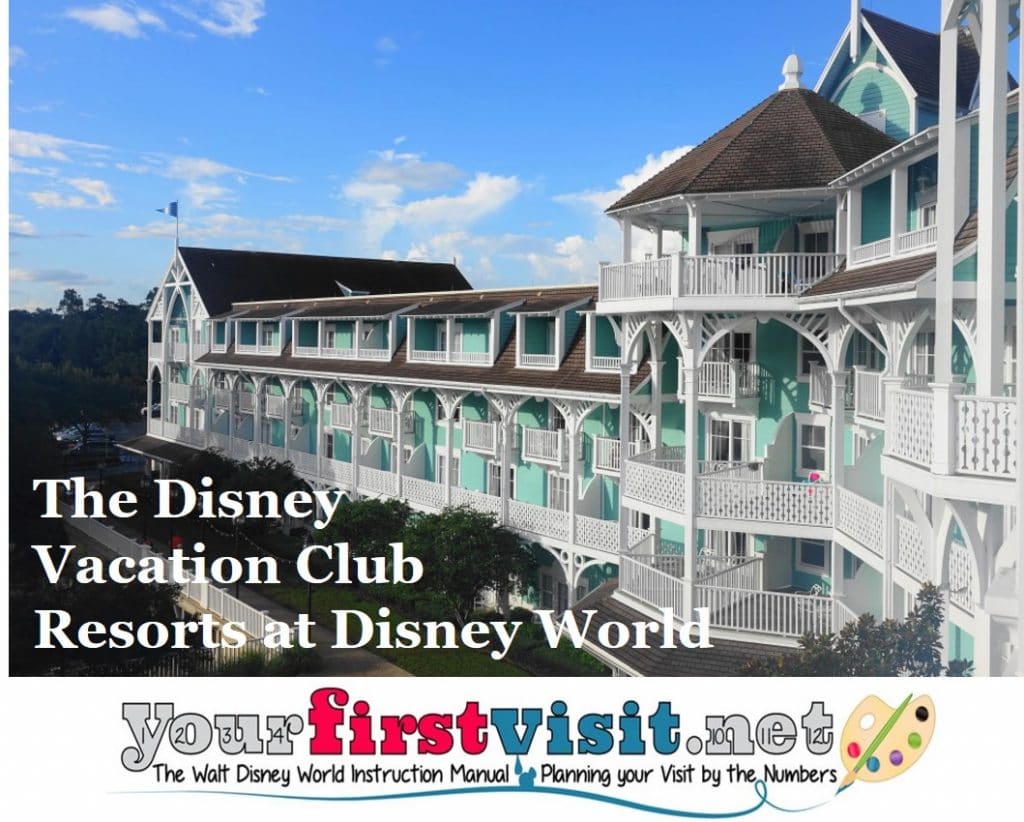 OVERVIEW: THE DISNEY VACATION CLUB RESORTS
Note: guests in Disney Vacation Club Resorts/Deluxe Villas are eligible for Disney World's Early Entry program, for early access to its paid individual system for access to certain rides, and for its Extended Evening Hours.
The Disney Vacation Club ("DVC") Resorts (also known as "Deluxe Villas") at Walt Disney World are time-share-like resorts. These resorts are available not only to DVC members, but also to everyone else.
You book them just like any other Disney World offering, through the regular Walt Disney World website (on its general public website, Disney World refers to these as "Deluxe Villas"), or the resort reservations phone number at 407-939-7675.
These accommodations can also be reserved (usually at a substantial cost savings, but with potentially difficult cancellation terms) by privately renting "points" from Disney Vacation Club members.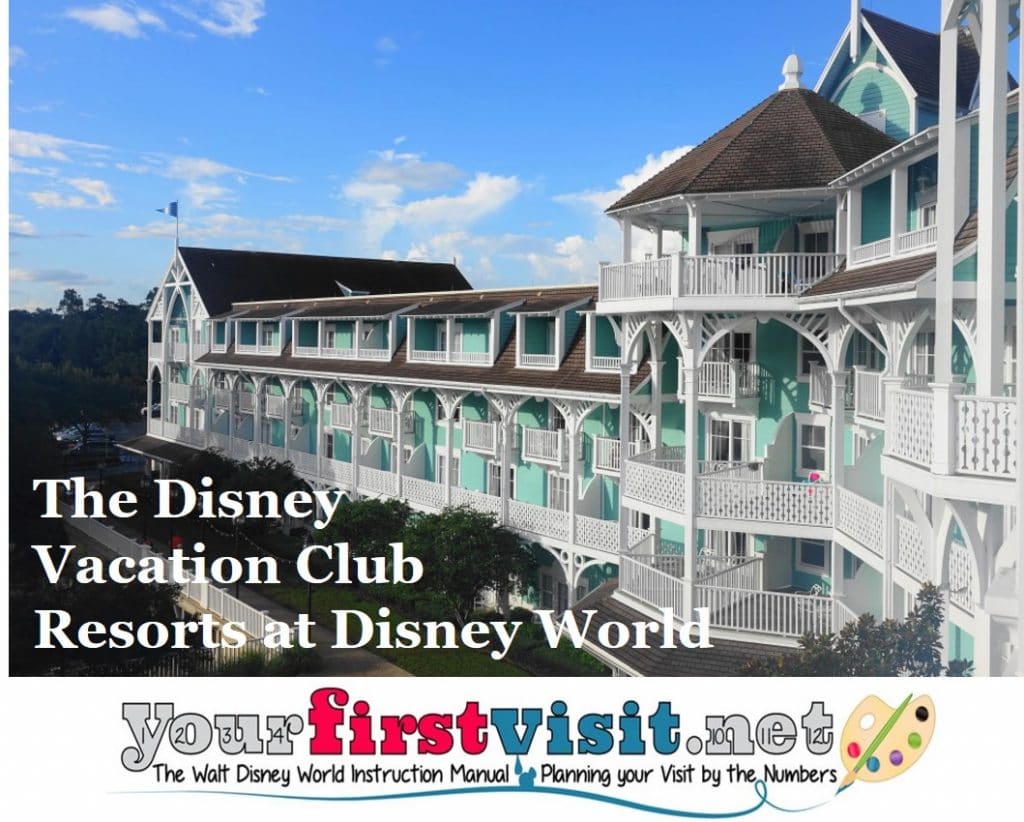 THE DISNEY VACATION CLUB RESORTS
The Disney World Disney Vacation Club Resorts include nine paired with regular Disney World deluxe resorts, and three standalone resorts.
The paired resorts are the Boulder Ridge and Copper Creek Villas at the Wilderness lodge, Bay Lake Tower at the Contemporary Resort, the Jambo House and Kidani Village Villas at the Animal Kingdom Lodge, the Beach Club Villas, the Boardwalk Villas, The Villas at Disney's Grand Floridian Resort and Spa, and the Polynesian Villas and Bungalows.
Each is paired with the regular resort of similar name, sharing services, restaurants, pools, transportation, etc., and having (mostly) the same convenience and kid appeal as the regular resort.
The three stand-alone resorts are Disney's Riviera Resort, Disney's Old Key West Resort, and Disney's Saratoga Springs Resort and Spa.
Because the two sets of options at the Wilderness Lodge, Animal Kingdom Lodge and Saratoga Springs are so different, for review purposes I count thirteen options among the Disney Vacation Club resorts at Walt Disney World.
The overall ranking among them for first time family visitors is as follows:
There's variability within these overall rankings by room type–I cover the basics below, but click the links above for detailed reviews that will tell you exactly what's what.
DVC RESORT ROOM OPTIONS: STUDIOS THROUGH GRAND VILLAS, AND MORE
Four types of accommodations are typically available in the Disney Vacation Club Resorts:
Studios, about the size of a typical deluxe room, or one "bay," sleeping four or five
One Bedroom Villas, with two bays, sleeping four or five
Two Bedroom Villas, with three bays, sleeping eight to ten
Grand Villas, with six bays, sleeping twelve
Except for the studios, what's distinctive about the accommodations in these DVC resorts is the extra space and full kitchens—neither of which will be used much during a first visit, but which can be quite comfortable and convenient for returning visitor.
For most first-time family visitors, the DVC resorts are worth considering only under a few circumstances:
Families looking for a Studio, with similar size and costs of a deluxe room, because they value the couch, microwave and toaster they typically offer
Large families, especially those aimed at a deluxe property, who are not willing to bet on actually getting connecting rooms. (You can request connecting rooms at Disney World, but getting them is not in many cases guaranteed.) Villas which can sleep 8, 9, 10, and 12 people are available.
Smaller families looking to spread out into a One or Two-Bedroom Villa, despite the higher price.
Families aimed at a deluxe hotel, but who can only pull it off through the cost savings of renting DVC points.
Families who have targeted a resort which is paired with a DVC property, find it is sold out, but can get into the DVC resort.
People who already are DVC owners.
STUDIOS AT THE DISNEY VACATION CLUB RESORTS
Studios add to the routine amenities of a deluxe room a microwave and toaster, and commonly sleep four in a queen and a fold out-sofa. However, Old Key West Studios have two queens. Studios in Bay Lake Tower at Disney's Contemporary Resort officially sleep four, but I wouldn't try four–the room is too cramped when the fold-out couch is opened. A family of three, with one person can sleep on the couch cushions (54 inches of space), will fit Bay Lake Tower better.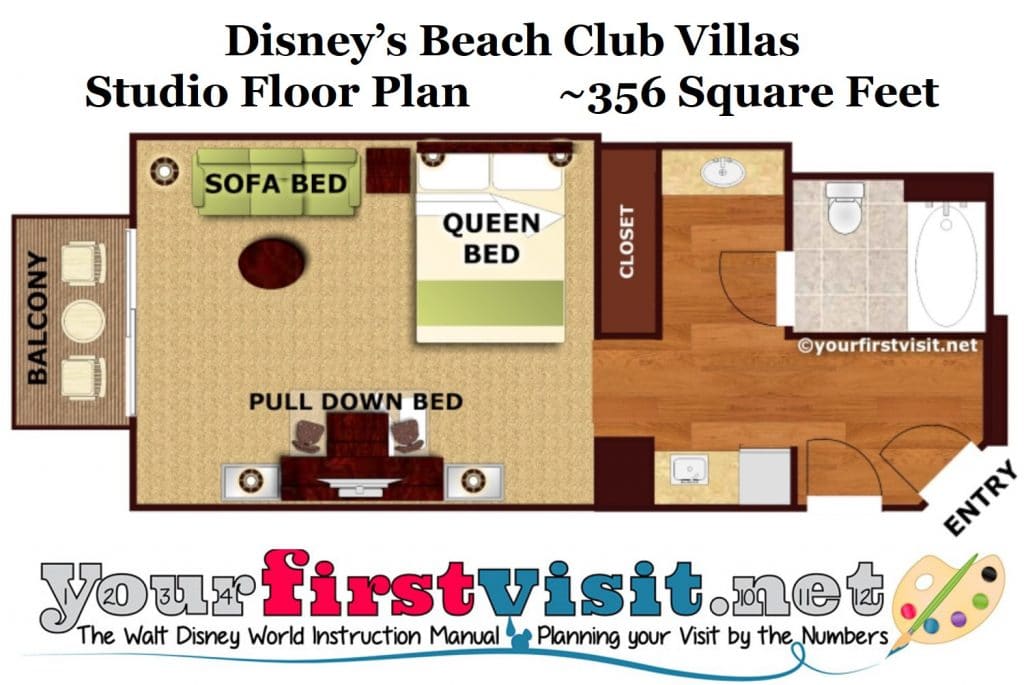 Studios that sleep five are available in the Boulder Ridge Villas at the Wilderness Lodge, the Polynesian, the BoardWalk Villas, Disney's Riviera Resort, the Villas at the Grand Floridian, and the Beach Club Villas. The third sleeping spot is a short fold-down murphy bed that's 72ish inches long and sleeps shorter than that.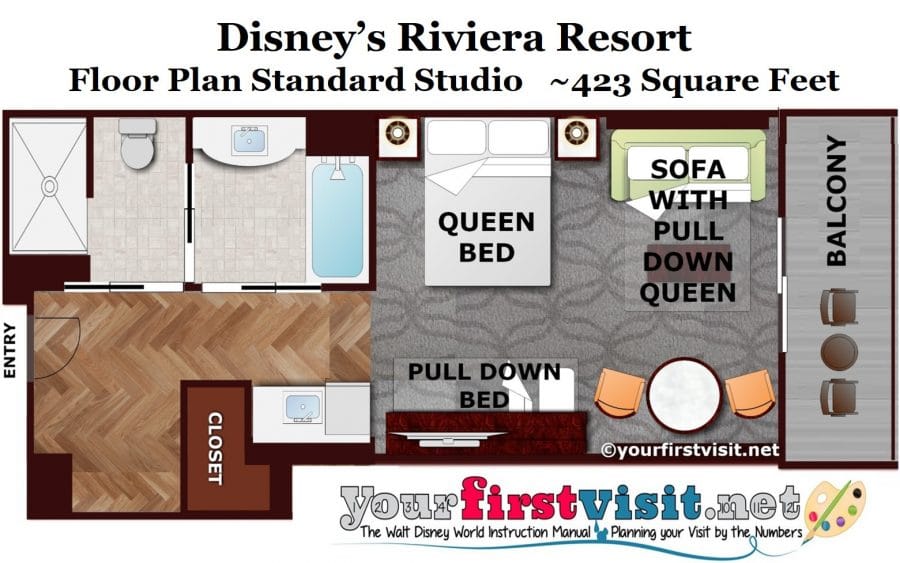 All Studios except those at the Polynesian have one divided bath, with those at Disney's Riviera Resort and the Villas at the Grand Floridian particularly well laid out. Polynesian Studios have one full bath, and a second bath space with sink and shower.
ONE BEDROOM VILLAS AT THE DISNEY VACATION CLUB RESORTS
One Bedroom Villas sleep four or five, depending on the resort.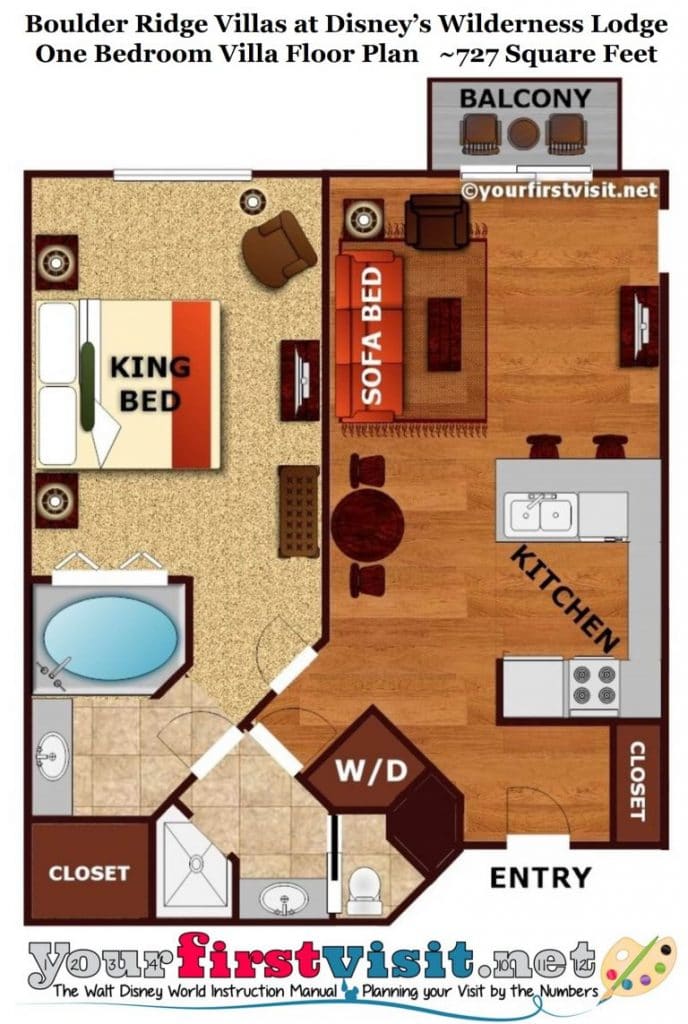 They have a king bed bedroom that sleeps two and also a combined full kitchen, dining, and living space that typically sleeps two on a fold-out couch. Old Key West, Bay Lake Tower, and the Villas at the Animal Kingdom Lodge (at Jambo House and Kidani Village) add a third sleeping spot to this area with a fold-out chair; at Riviera and the Villas at the Grand Floridian, this space gets a third spot from a fold-down murphy bed.
All One Bedroom Villas except those at Kidani Village and Bay Lake Tower have a single large divided bath; at those two, there's a small full bath in the living/dining/kitchen area and another larger one in the king bedroom.
TWO BEDROOM VILLAS AT THE DISNEY VACATION CLUB RESORTS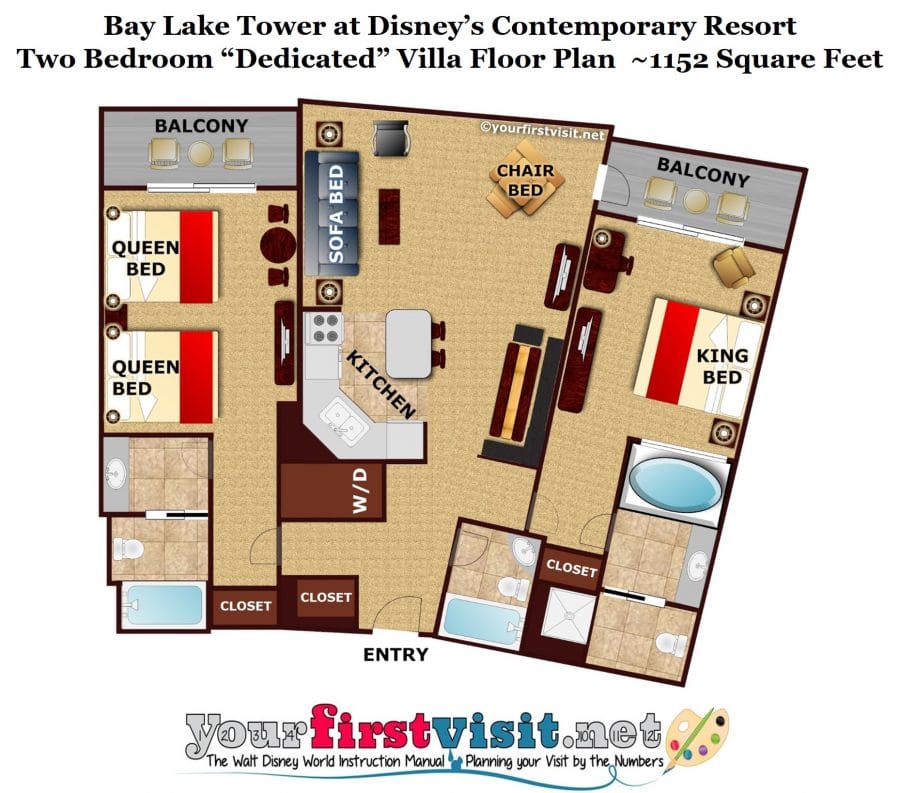 Two Bedroom Villas come in two flavors:
One type simply combines a Studio and a One Bedroom through a connecting door, and is known as a "lock-off." These lock-off Two Bedroom Villas combine the capacity and merits of the spaces that make them up. Many sleep eight, but those that combine five-person spaces will sleep nine or, at the Grand Floridian and Riviera, ten.
A second type, designed as a Two Bedroom Villa from the start, is called in the jargon a "dedicated" villa, sleeps eight or nine, and will have minor variations in the second bedroom compared to a Studio, typically losing the kitchenette, swapping the fold- out couch of the Studio for another regular queen bed, and getting a bigger or a second closet instead of an exit to the corridor. At the Grand Floridian and Riviera, such villas also lose the fold-down bed in the second bedroom and sleep nine.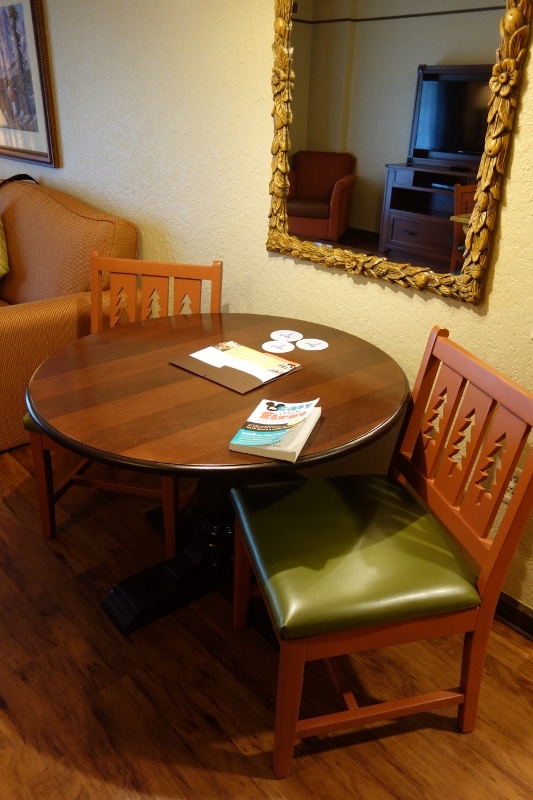 Two Bedroom Villas don't really have the living or dining space to support the eight to ten people they will hold—a problem particularly acute at the Beach Club Villas, Saratoga Springs, Boulder Ridge Villas at the Wilderness Lodge, and BoardWalk Villas. See the dining area in One and Two Bedroom Villas at Boulder Ridge above. (To be fair, in resorts with such a small table, typically there is also a two person breakfast bar.)
Chairs can be moved around to add seats in these smaller spaces, but larger groups will find the Two Bedroom Villas at Riviera, Old Key West, the Villas at Disney's Grand Floridian, Kidani Village, and Bay Lake Tower much more livable.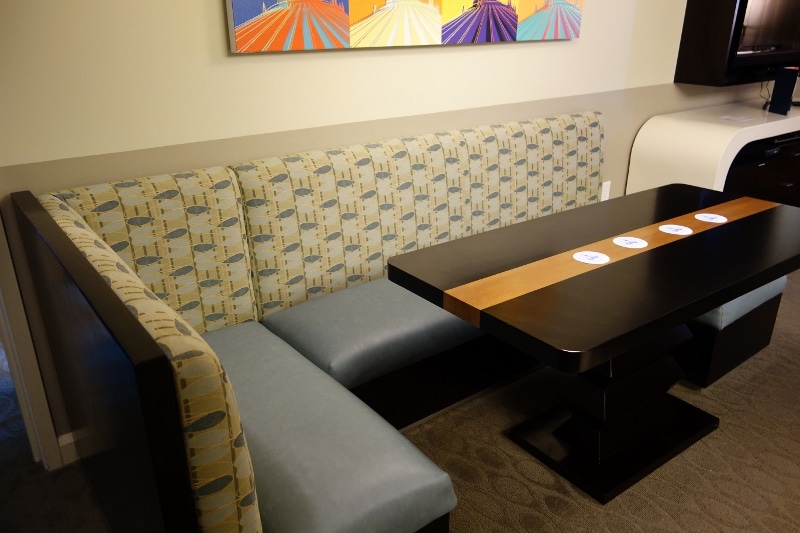 Above is the dining area in One and Two Bedroom Villas at Bay Lake Tower.
GRAND VILLAS AT THE DISNEY VACATION CLUB RESORTS
Grand Villas, available at all the Disney Vacation Club resorts except the Beach Club Villas, Boulder Ridge, and the Polynesian Villas and Bungalows, sleep 12 in a king room, in two more bedrooms with two beds each, and one or more sofa beds. They typically have around twice the living/dining/kitchen space of Two Bedroom Villas–with ~three times as much at Copper Creek and Riviera.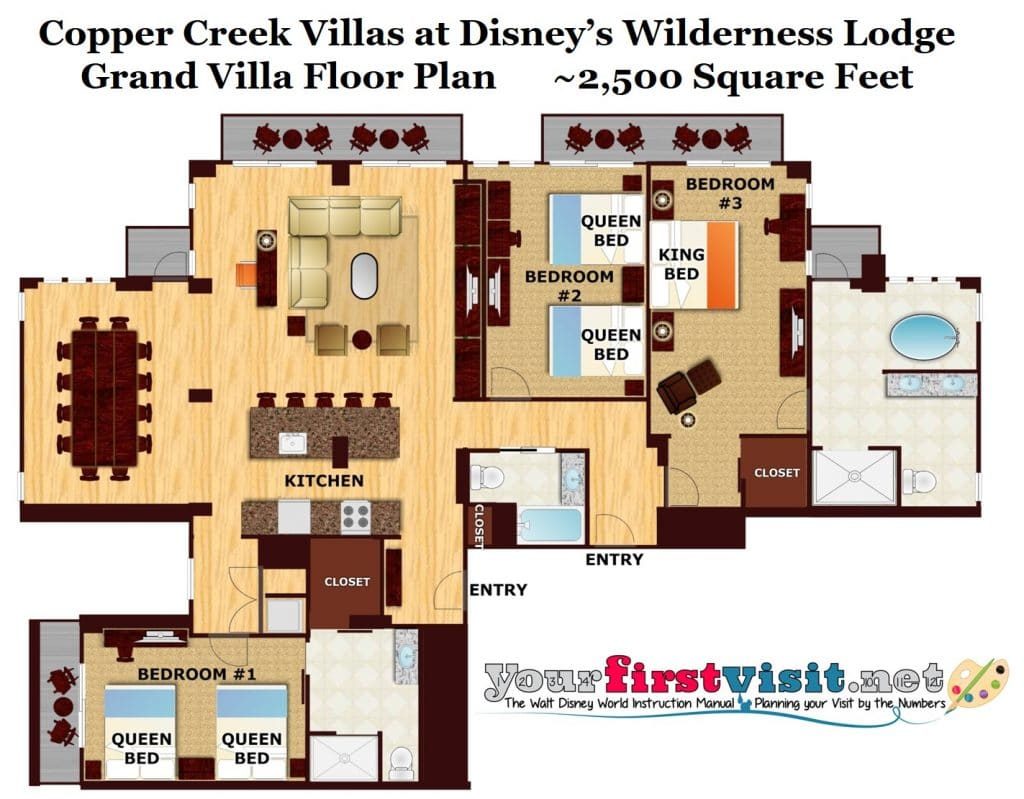 There's more variation among the Grand Villas than in any other DVC accommodations, so for more on these huge spaces that can go for more than $2,000 a night, see the links near the top of the page.
OTHER SPACES AT THE DISNEY VACATION CLUB RESORTS
There are a few other rarer room types:
Bungalows at the Polynesian and Lakeside Cabins at Copper Creek sleep eight and are unlike any other DVC two-bedroom spaces, but also very expensive. (Note that the Polynesian has only Studios and Bungalows—no One or Two Bedroom or Grand Villas. A new building at the POly that will open in a few years will likely have other villa types as well.)
The Treehouse Villas in a part of Saratoga Springs sleep eight in three bedrooms, for a price only a little more than a Two Bedroom Villa there—but one of the bedrooms includes only two shortish bunk beds (66 inches).
"Tower Studios" in Riviera sleep only two, in a queen that folds down from the wall.
The long-time travel agent partners of this site, Destinations in Florida can book you at a Disney Vacation Club resort or anywhere else at Disney World.  Contact them using the form below!

Follow yourfirstvisit.net on Facebook or Twitter or Pinterest!!</p