Photo Tour of a Standard Casitas, Ranchos, or Cabanas Room at Disney's Coronado Springs Resort
By Dave Shute
(For the first page of this review of Disney's Coronado Springs Resort, see this.)
Disney's Coronado Springs Resort has two standard room types. One, found only in Gran Destino Tower, is covered here. The material on this page covers the other standard room type, which you will find in the other three accomodations areas at Coronado Springs–the Casitas, Ranchos, and Cabanas.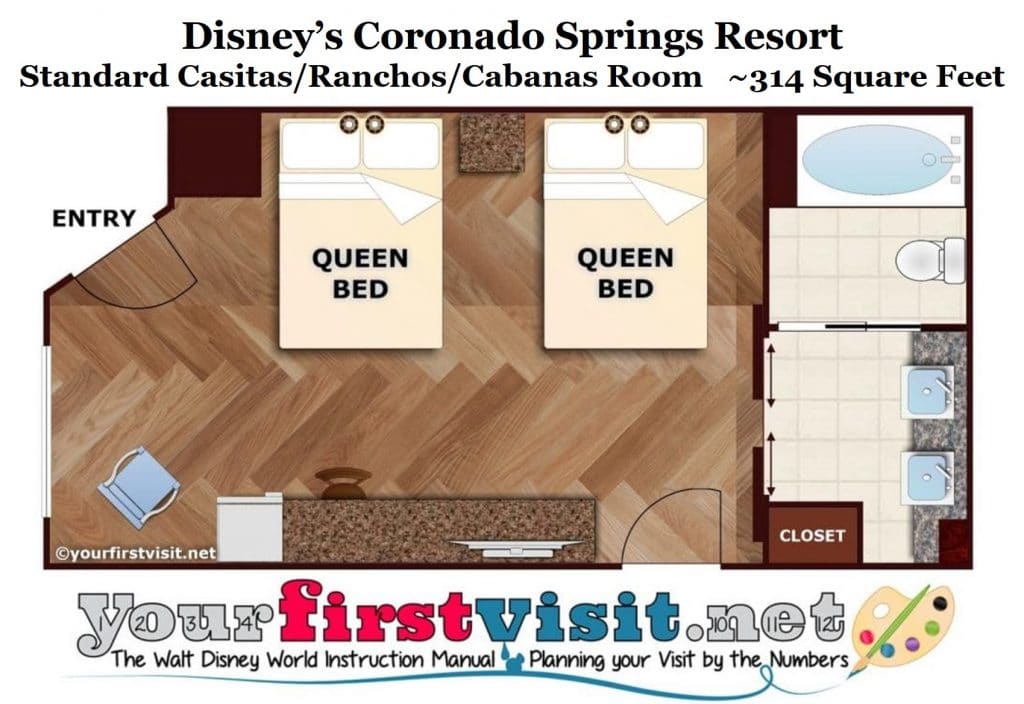 Coronado Springs completed a room refurb project in its Casitas, Ranchos, and Cabanas areas in the fall of 2018. The main differences in the refurbed rooms compared to what was offered in these areas before:
Double rather than single sinks
More Disney theming
The addition of an easy chair
Wooden rather than carpeted floors
Higher beds, with storage underneath
Bigger TVs and many, many more power points
More structured storage, especially in the old closet area
Many rooms with showers instead of tub/shower combos, and where tub/shower combos still exist, the shower curtain is now sliding glass, rather than fabric
The rooms continue to be largely similar to those in the other Disney World moderate resorts, but with a few key differences related to the importance of the convention and meetings market at Coronado Springs–specifically, a desk instead of a table and two chairs, and a dresser optimized for two convention-goers.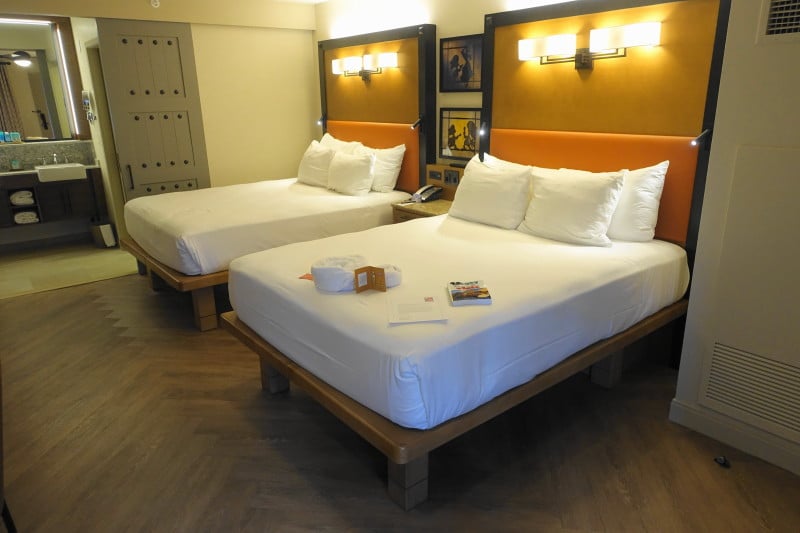 As you enter the room, on one side you'll find a pair of queen beds.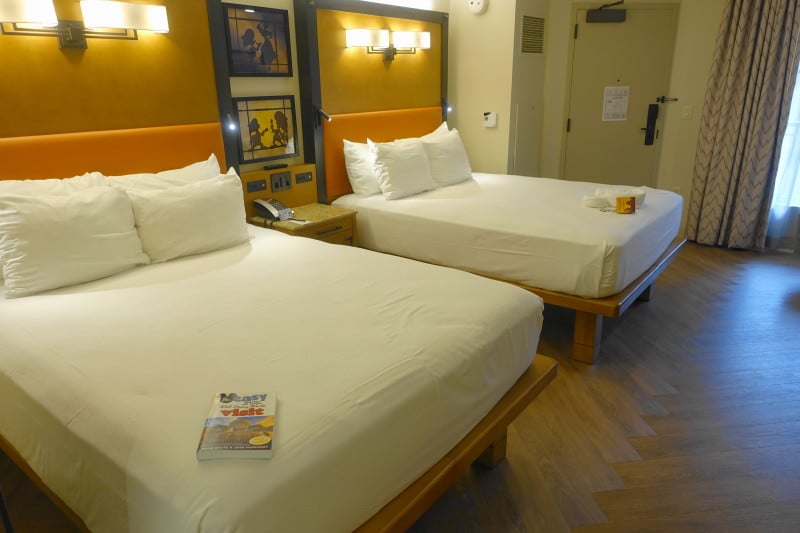 The bed side from the back.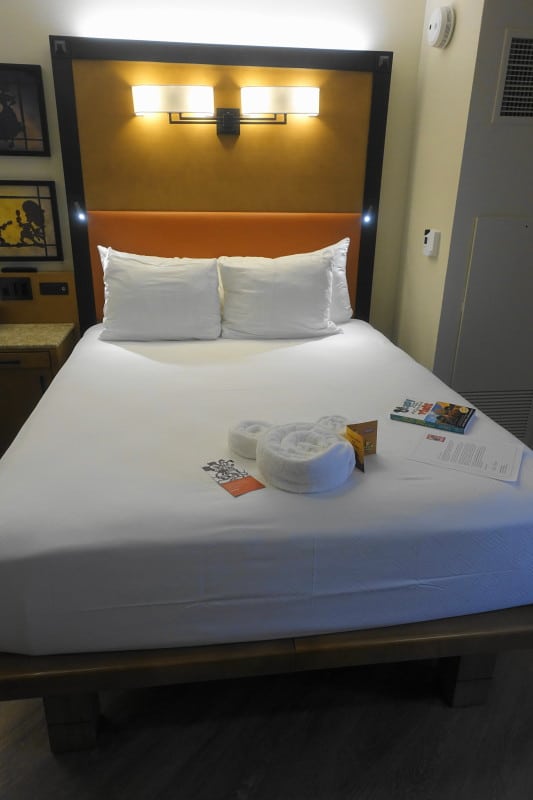 A closer view of one of the queens.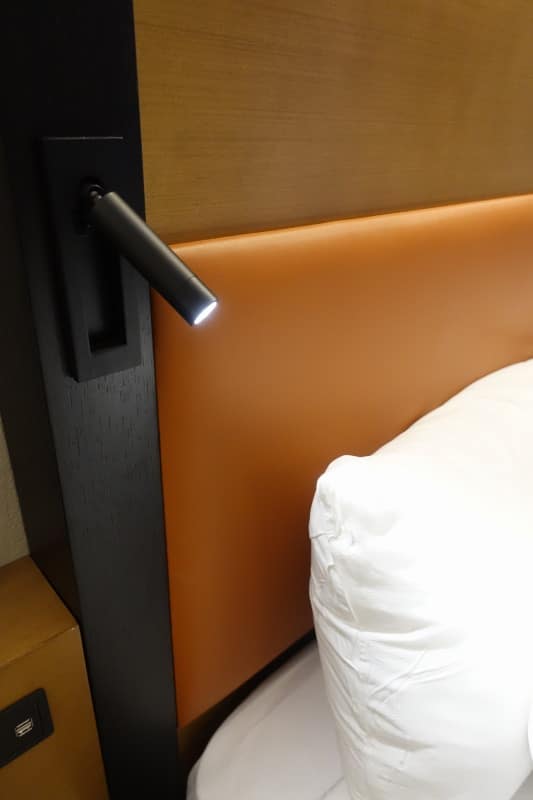 Besides the lights over the beds you can see, there's four of these pencil reading lights–one on each side of each bed.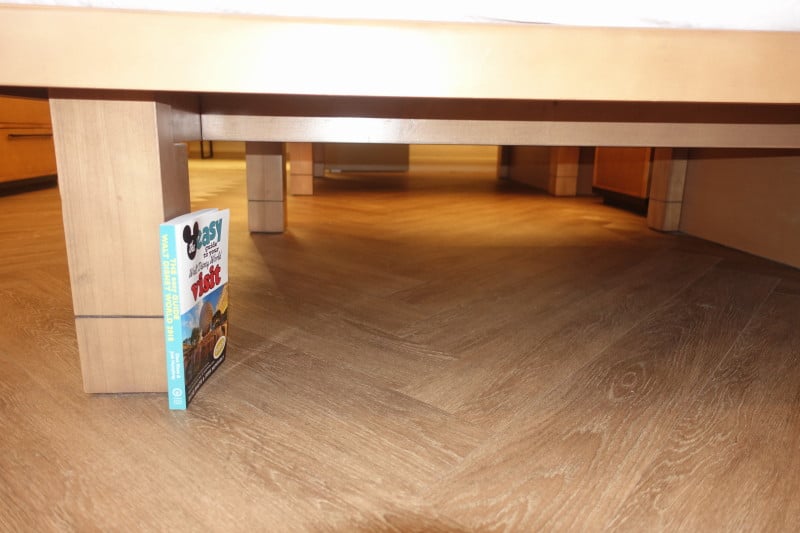 As has become common in recent Disney World refurbs, the beds are a single mattress on a platform, and are about 30 inches high.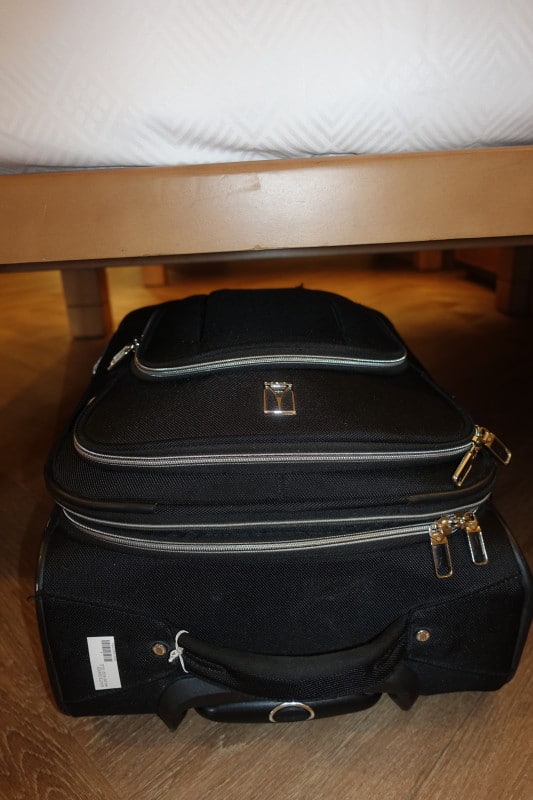 Open underneath, there's now room for you to stick your luggage under the beds–there's about 14.5 inches of clearance.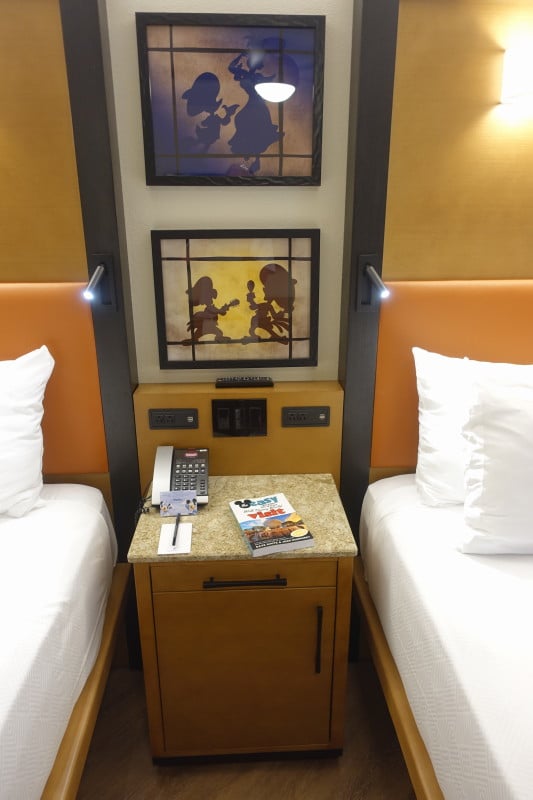 Between the two beds is a bedside table. Note the Three Caballeros-inspired art above.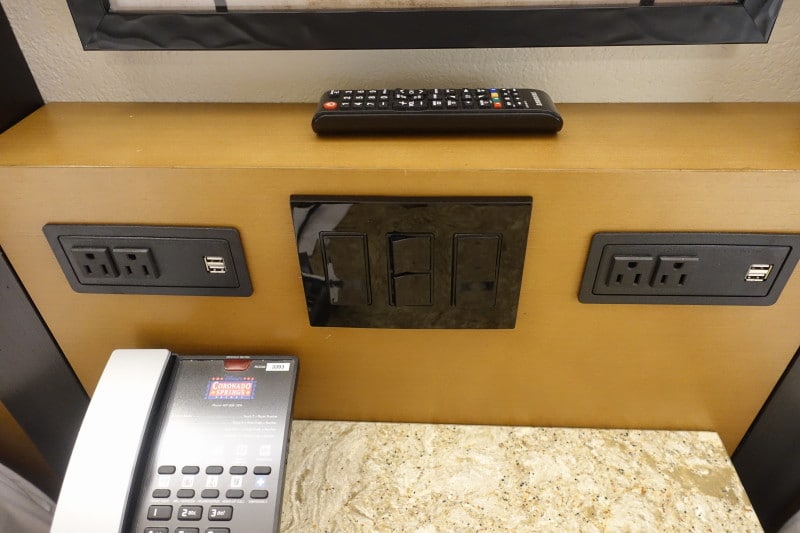 There's multiple power points on either side of this table…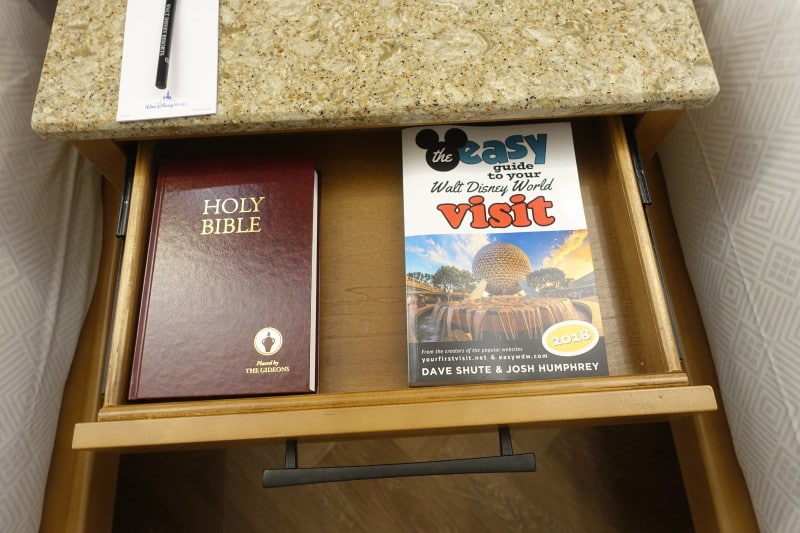 …and a drawer, small but big enough for your important books.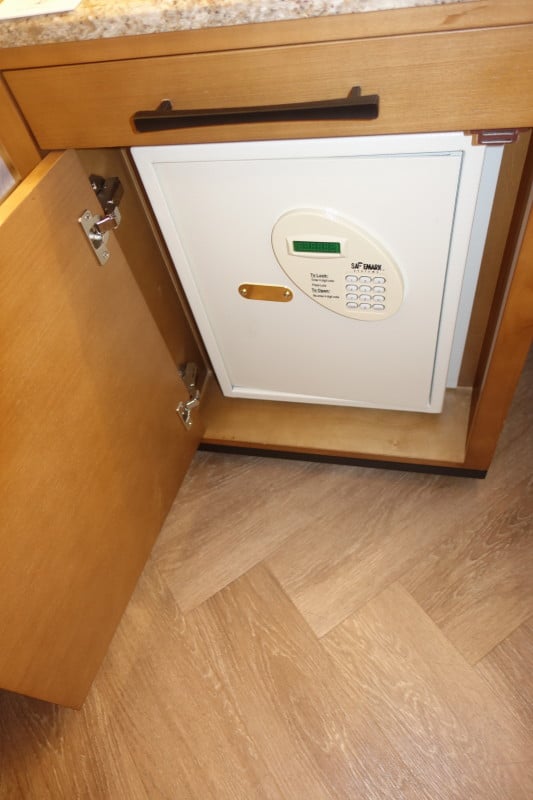 Inside the table you'll find a safe.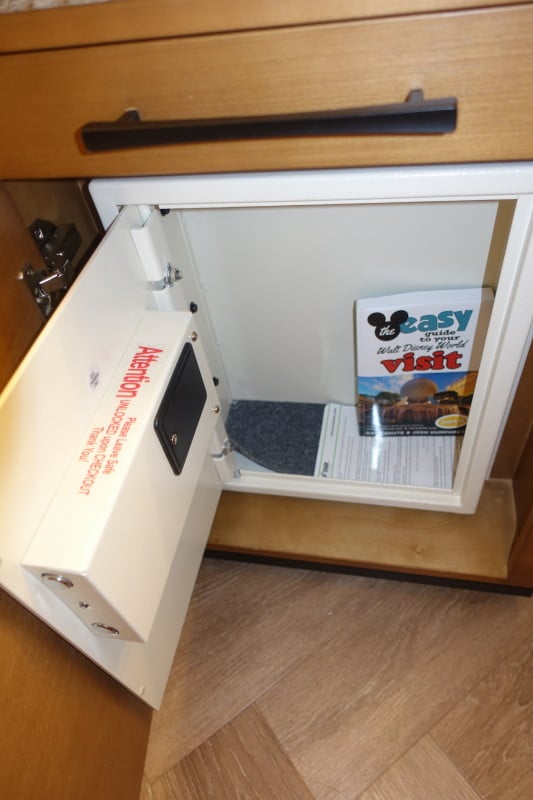 It's as large a safe as I've seen in a Disney World room, likely so it can hold to hold the valuables of two conventioneers.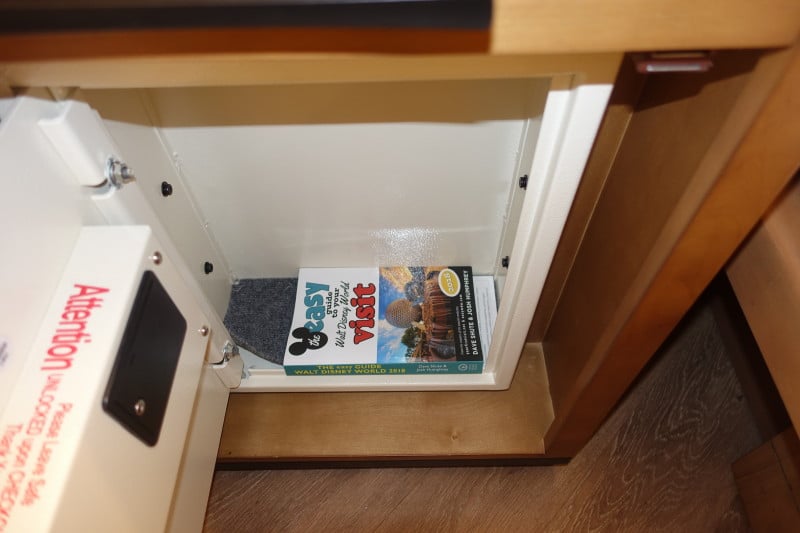 To give you a sense of its size, my book is six by nine inches.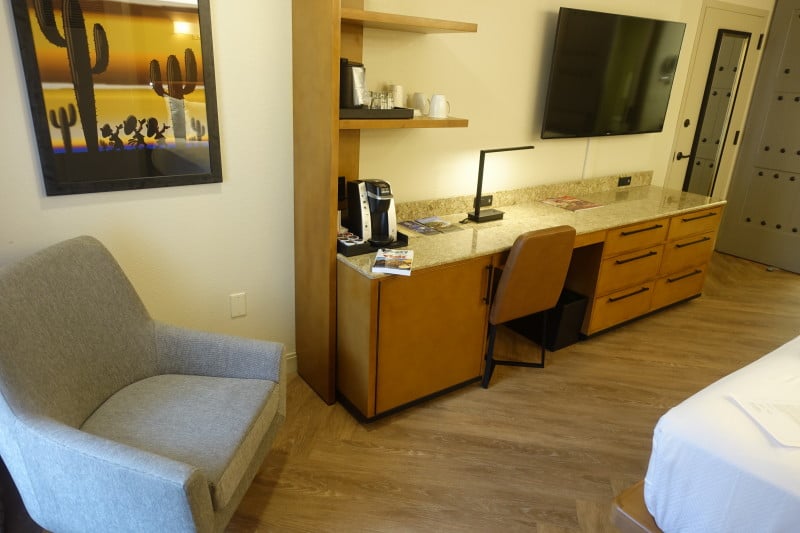 The other side of the room is dominated by an easy chair and a long mini-fridge/desk/dresser combo.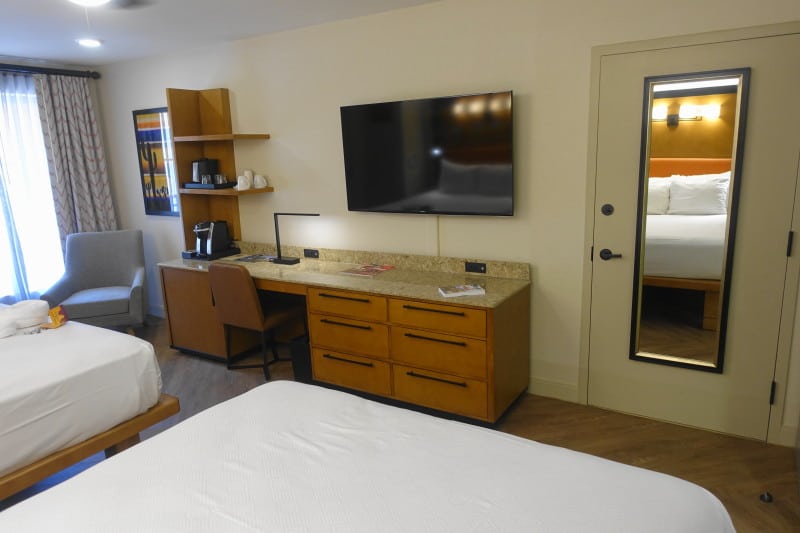 This side of the room from the back.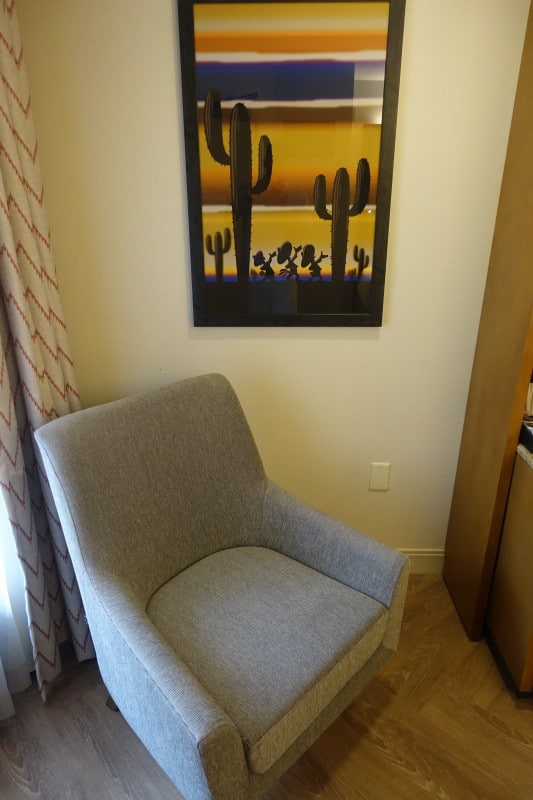 The easy chair by the window is new in this refurb, replacing a couple of small ottomans, and makes the room more comfortable for conventioneers or families. Note more Three Caballeros art.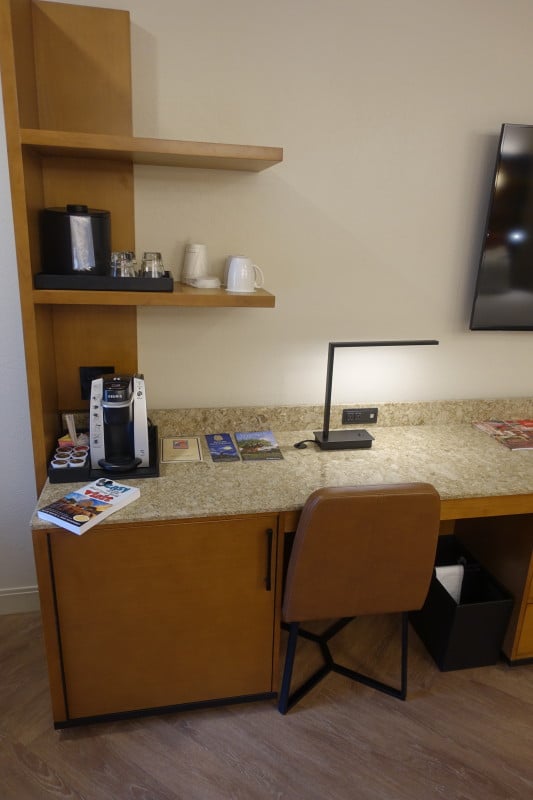 Next to it is the first part of the long object…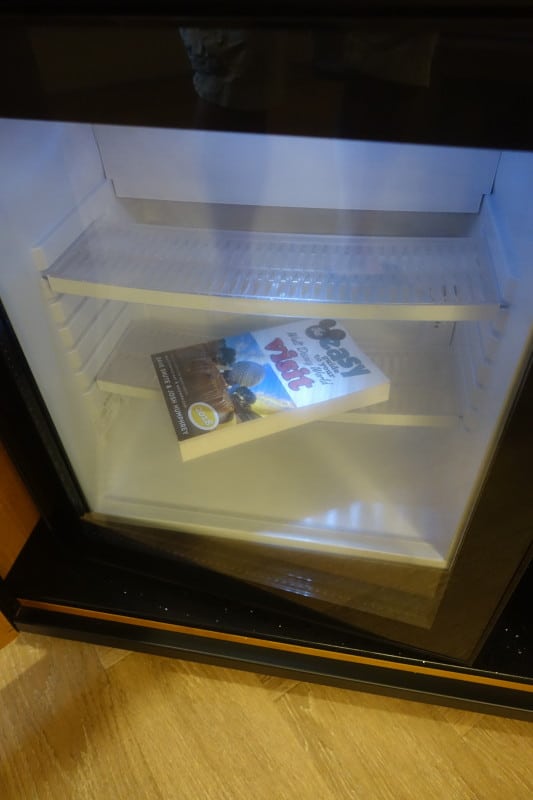 …with a glass-doored mini-fridge below…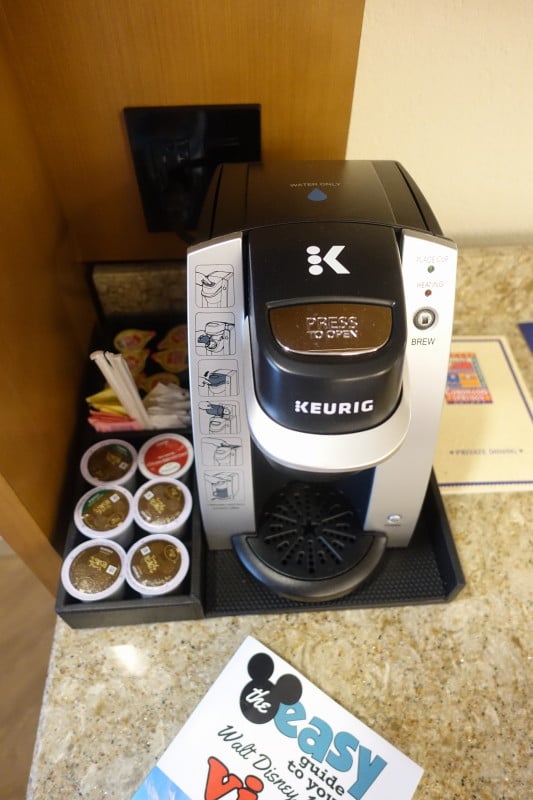 …and a coffee service above.
Next is the desk area with a task lamp and set of power points.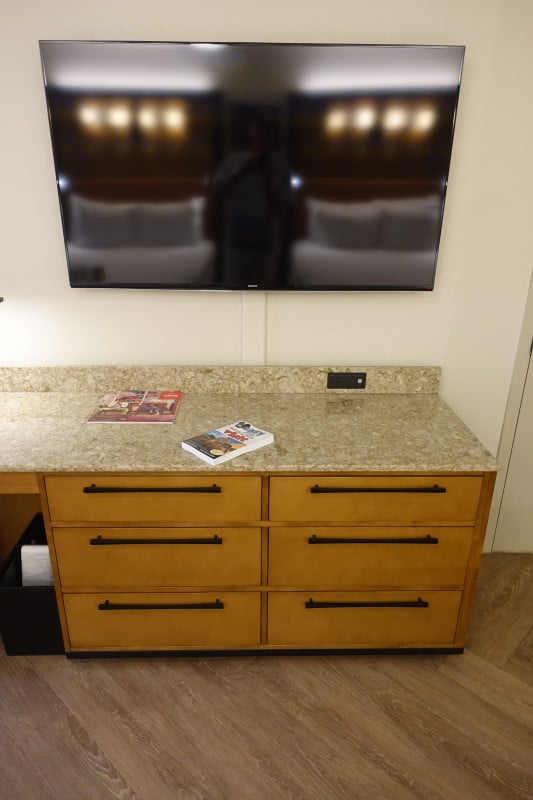 Next is the dresser with a 54 inch TV above and another set of power points in between at the right.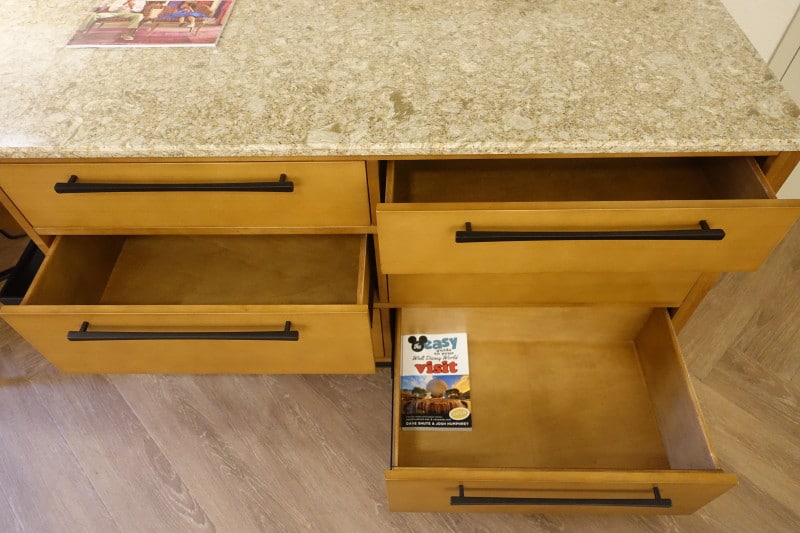 The six drawers of the dresser will easily fit the two conventioneers or family of four that these rooms can hold.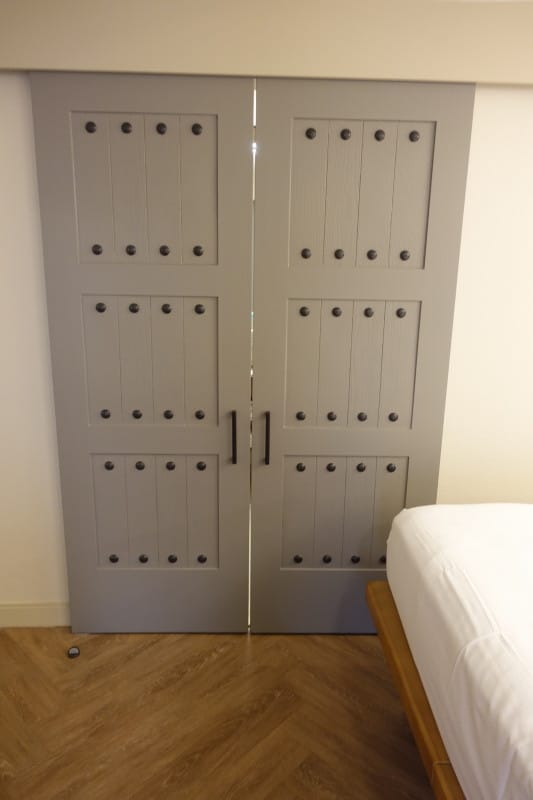 The divided bath is in the back of the room, separated from it by a pair of sliding doors.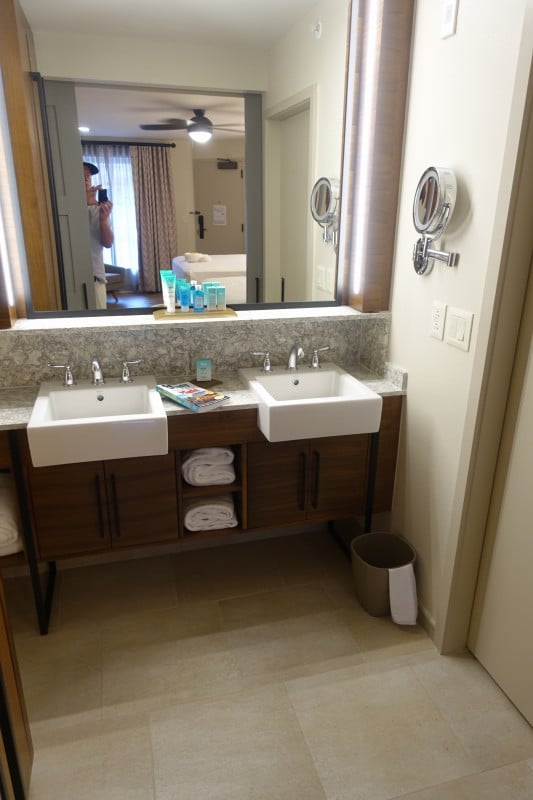 The sinks are just behind these doors. Note the makeup mirror, new with this refurb.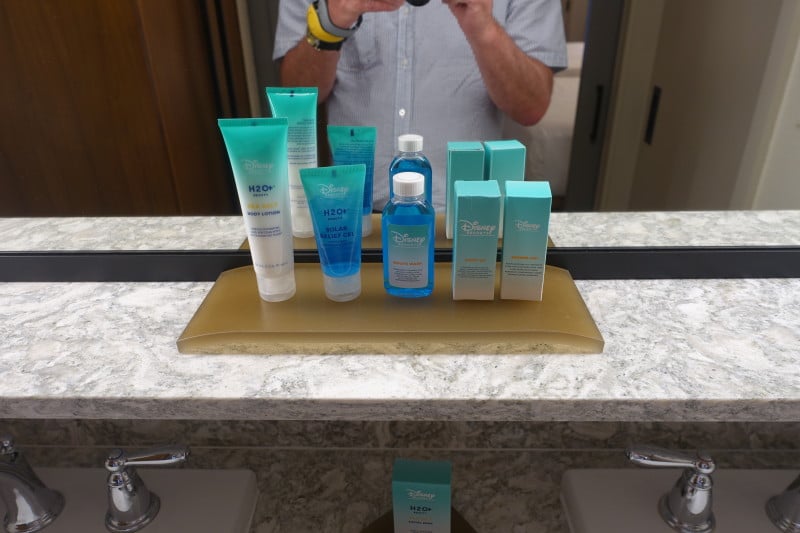 There's an extensive set of toiletries, including sunburn relief gel, a shower cap, and a sewing kit–more than you'll find at other moderates, or most deluxes–suited to the demands of business travelers.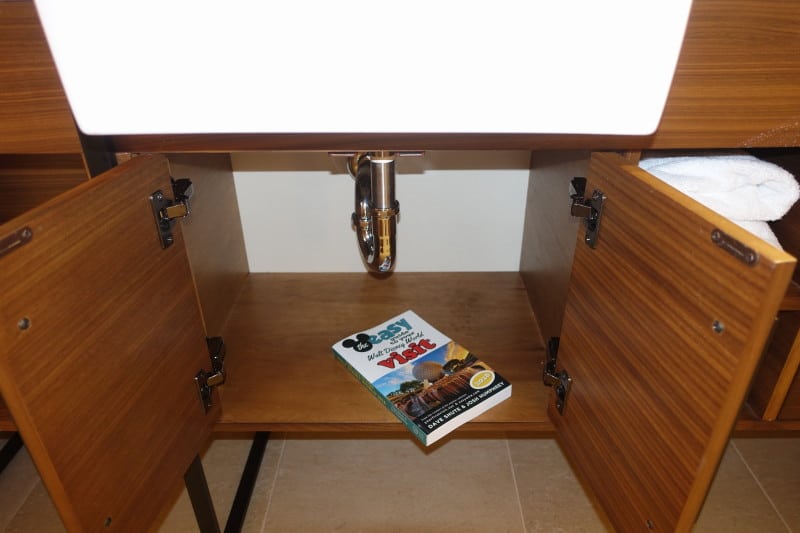 There's some storage below the sinks…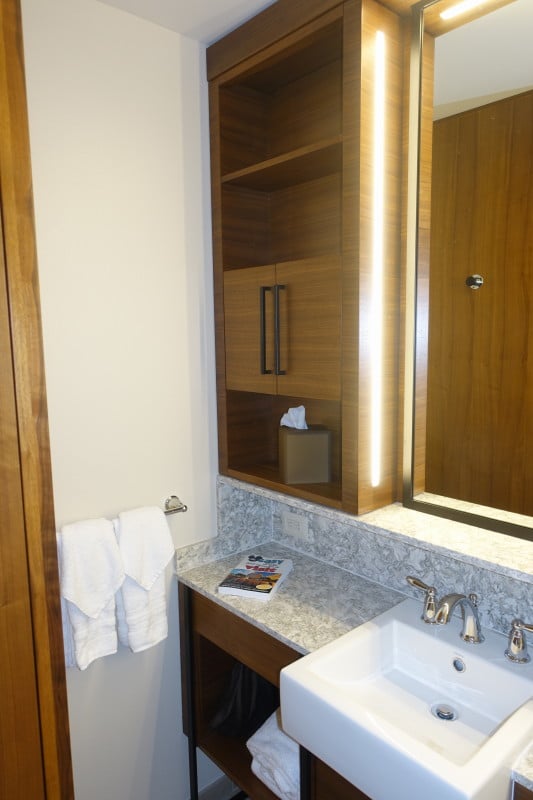 …and also at the back of the sink area.
The formerly open closet area is now enclosed.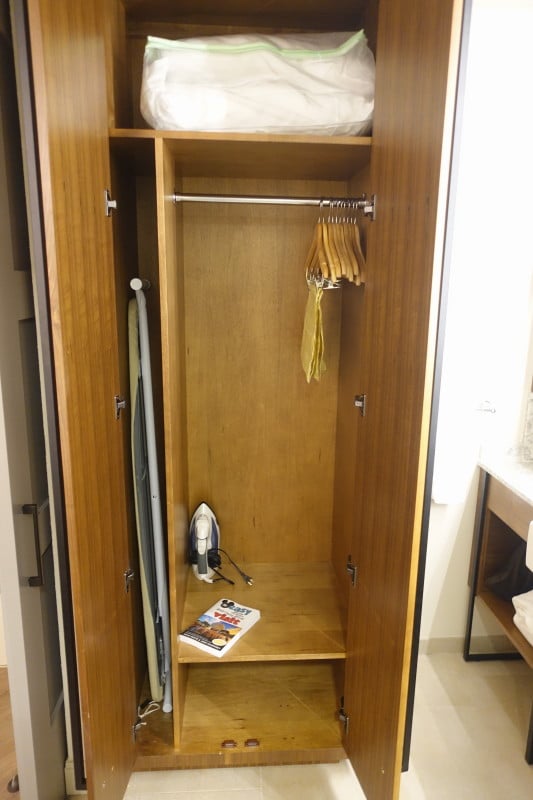 Inside the closet you'll find the iron and ironing board.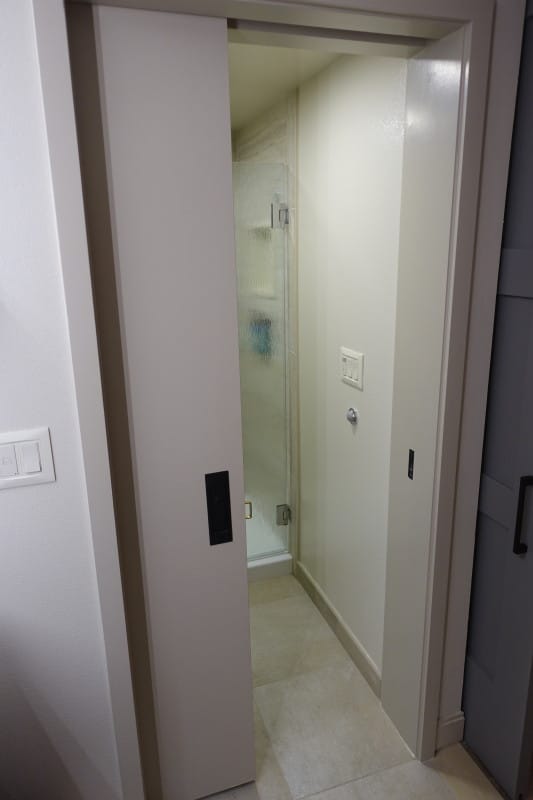 The rest of the bath is enclosed behind a pocket door.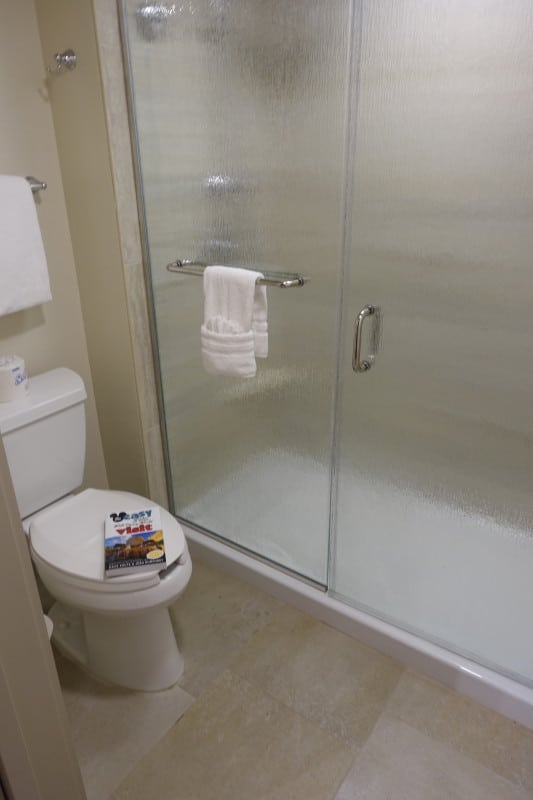 It features either a shower, or (as I learned on Mario's terrific Coronado Springs Facebook group–also see his site and forum), a shower/tub combo with sliding glass doors. If a tub is important to you, Mario says to request one.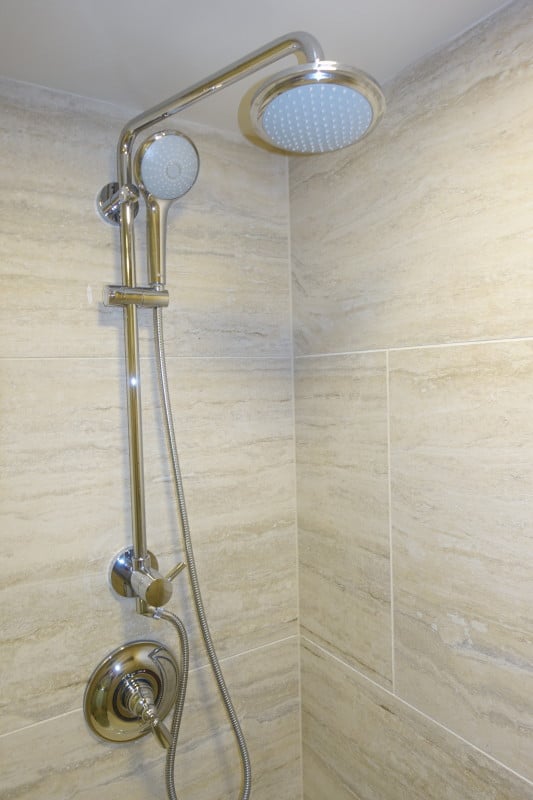 Either way you'll get a rainfall showerhead and in addition a hand-held head.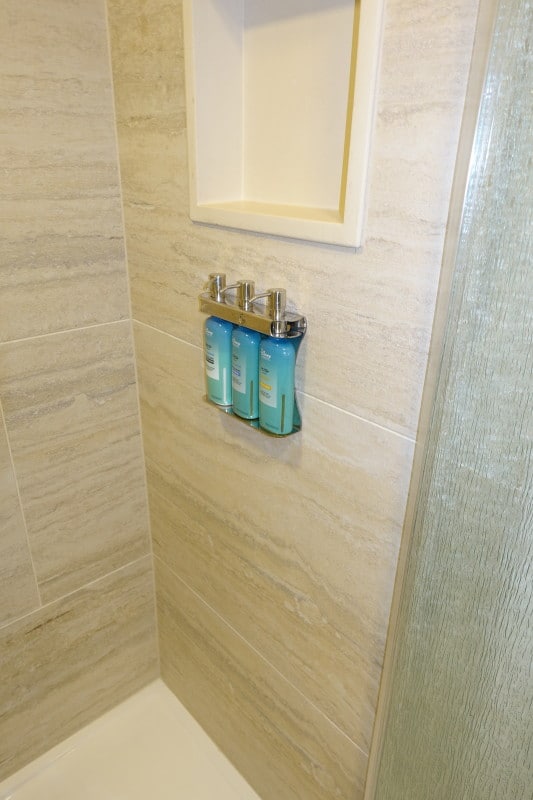 As is becoming common in hotels at Disney World and elsewhere, shampoo, conditioner and body wash is available in large wall-mounted bottles.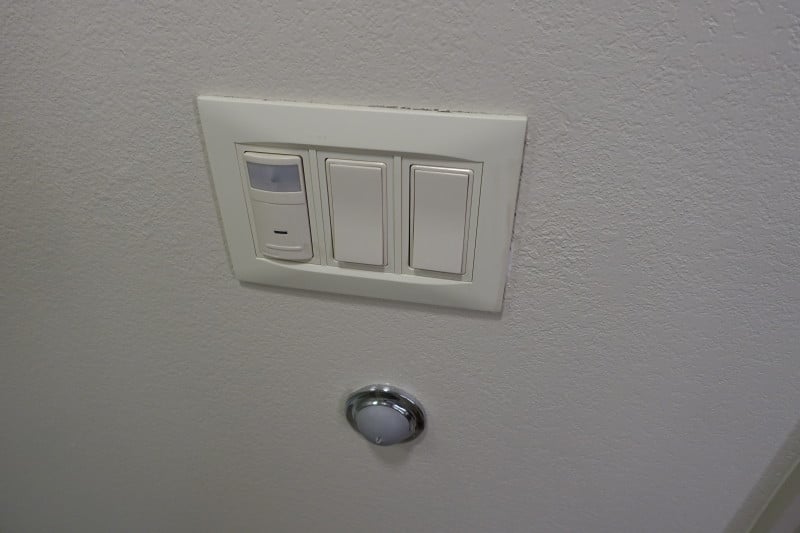 A motion-sensitive fan is in this part of the bath, and because it is loud and seems to never shut off, it may drive you mad until you realize that you can turn it off by tapping on the left-most of the three controls in this area.
In general this refurb is a positive step. Some will object to the lost carpet, and others to the shower or the glass doors in the tub. But the added sink, added easy chair, bigger TV, plethora of power points, re-structured closet, and other additions are all positives for both business and family visitors.  And the Three Caballeros art adds a bit of Disney theming to a space that in its prior life did not have any.
This review continues here!
TOPICS IN THIS REVIEW OF DISNEY'S CORONADO SPRINGS RESORT
OTHER KEY PAGES FOR WHERE TO STAY AT DISNEY WORLD


Follow yourfirstvisit.net on Facebook or Twitter or Pinterest!!
RELATED STUFF