Dining at Disney's Coronado Springs Resort
By Dave Shute
(For the first page of this review of Disney's Coronado Springs Resort, see this.)
DINING AT DISNEY'S CORONADO SPRINGS RESORT
Disney's Coronado Springs Resort has a wider range of dining options than any other Disney World moderate resort, with more to come, perhaps as soon as early 2019.
It has in its El Centro area two table service venues, a counter-service option, and a grab and go coffee shop.  Uniquely for a moderate, hot food is available at the main pool and it has a more extensive room-service menu than any other moderate. There are also three bars.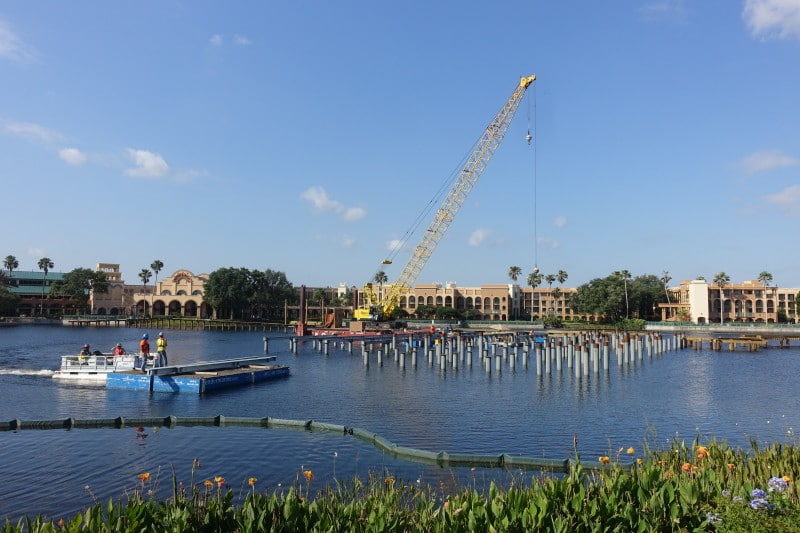 Coming in 2019 are two more venues–a rooftop restaurant and lounge on top of the 15 story tower that's being built between El Centro and the Cabanas, and an over-the water bar and grill whose construction status as of late April 2018 is shown above.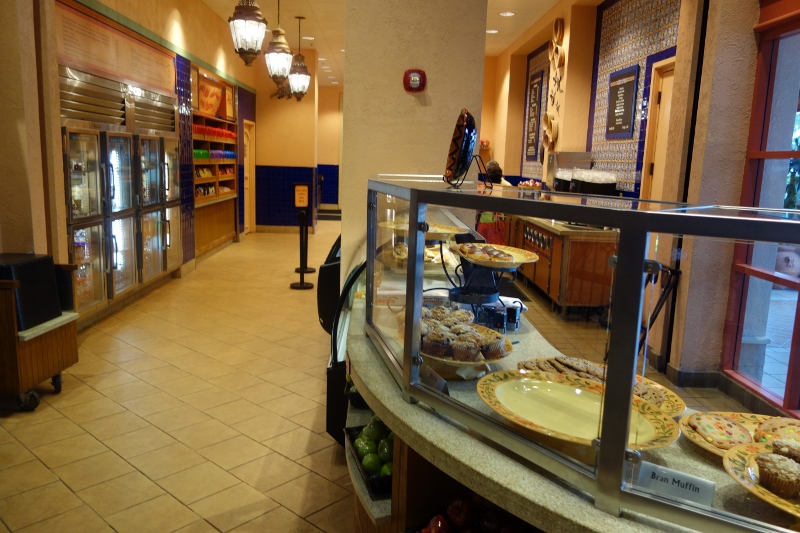 In El Centro you'll find a grab and go food shop…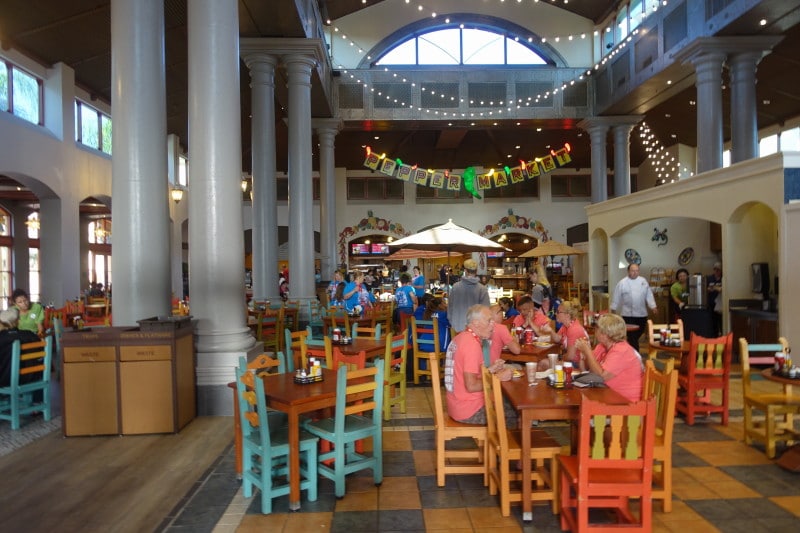 …and Pepper Market, the "quick service" meal offering.
Pepper Market, for those who have been to Coronado Springs before but not for a while, has changed quite a bit.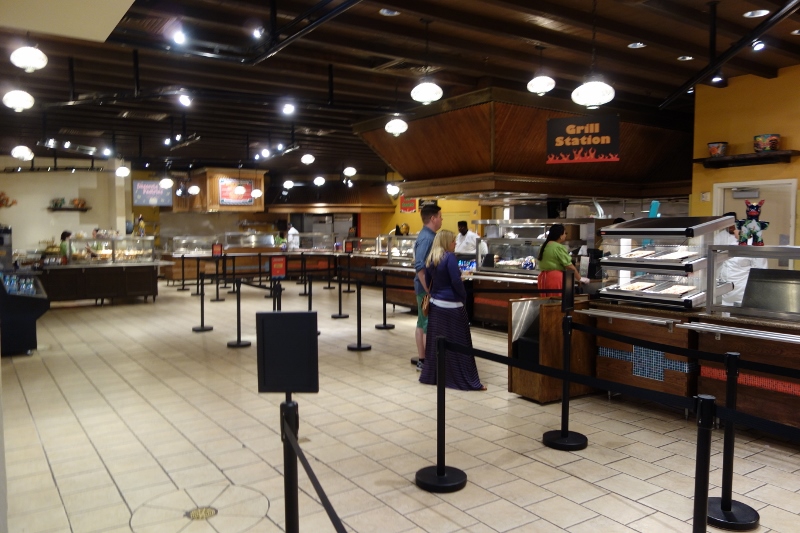 The food stations used to be overly complicated, but fresh and interesting, making Pepper Market then the best food court among the moderates, though admittedly convoluted.  Now it is much more like any other Disney World food court, with a bit of an added garnish of southwestern offerings and flavors.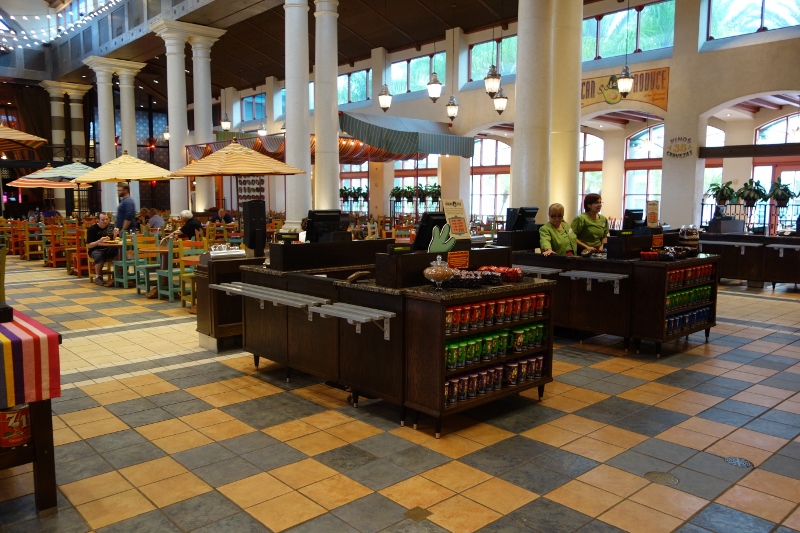 Checkout and payment used to have a mystifying multi-step approach that garnered the envy of former Warsaw Pact customer service staff, but now is utterly simple. Pepper Market is now comparable to other moderate quick service offerings, a loss on the food front but a gain on the service and simplicity dimension.
The Pepper Market menu is here.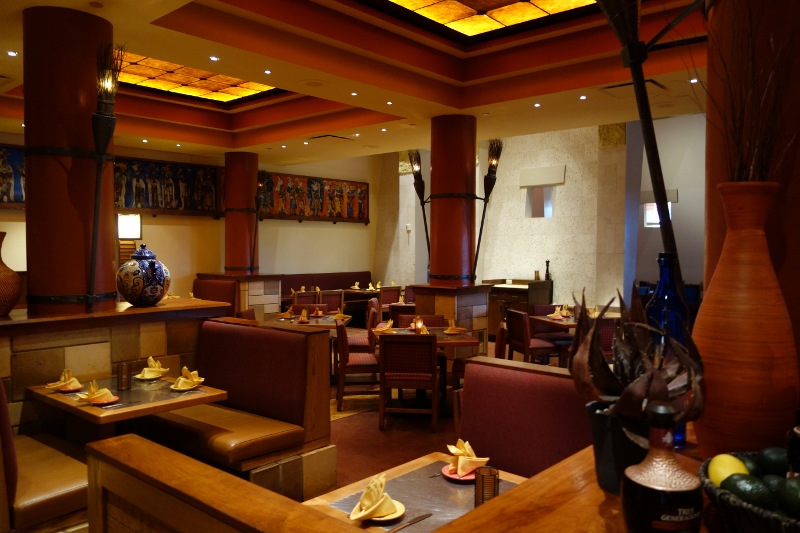 There are two table service offerings at Coronado Springs.  Best known is the Maya Grill.
The Maya Grill review from The easy Guide to Your Walt Disney World Visit 2018: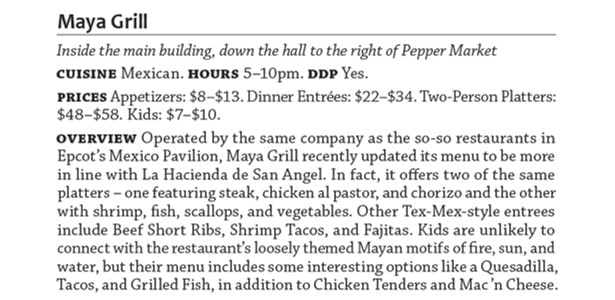 The Maya Grill menu is here.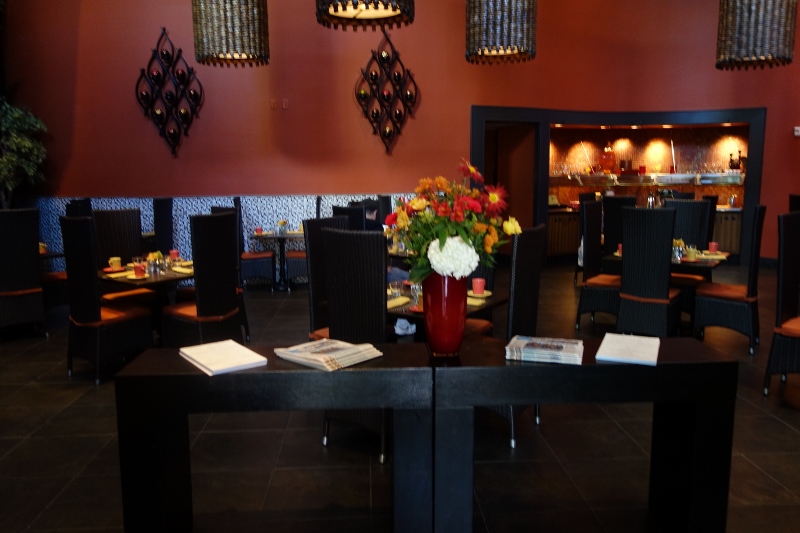 Also available is a small breakfast/lunch table service offering, Las Ventanas. Between Rix and the Convention Center, it offers some variety to daytime dining at Coronado Springs.
The Las Ventanas review from The easy Guide to Your Walt Disney World Visit 2018.
The menu for Las Ventanas is here.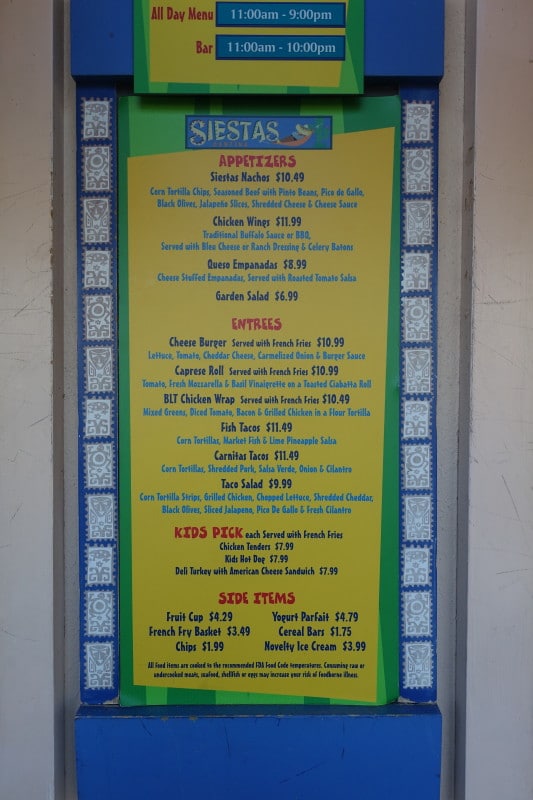 The main pool bar, Siestas Cantina, is unique among the moderates in offering a hot menu.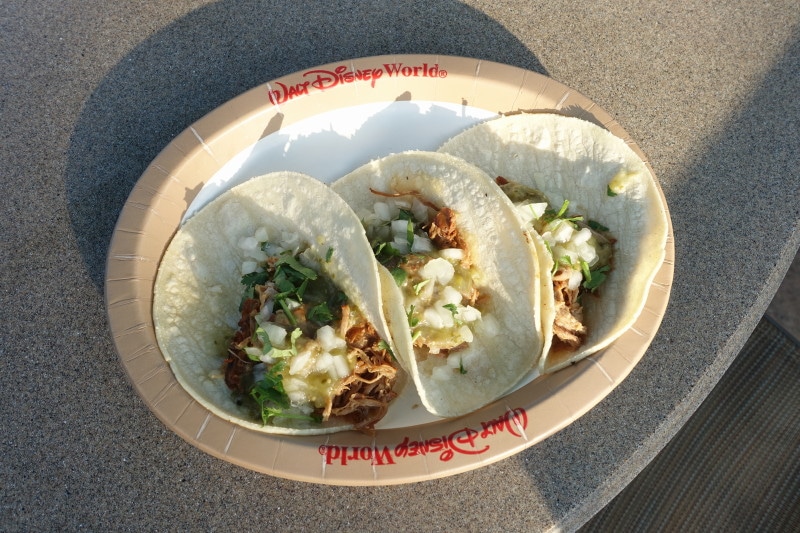 One of my lunches-Carnitas Tacos–from Siestas Cantina.
A perhaps more legible version of the menu is here.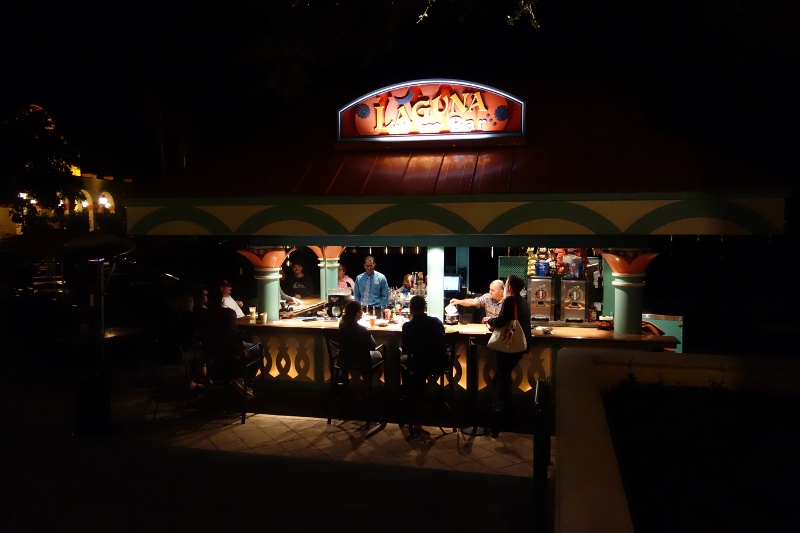 On the lake side of El Centro, you'll find the Laguna Bar–because of its setting, the best bar among the moderates.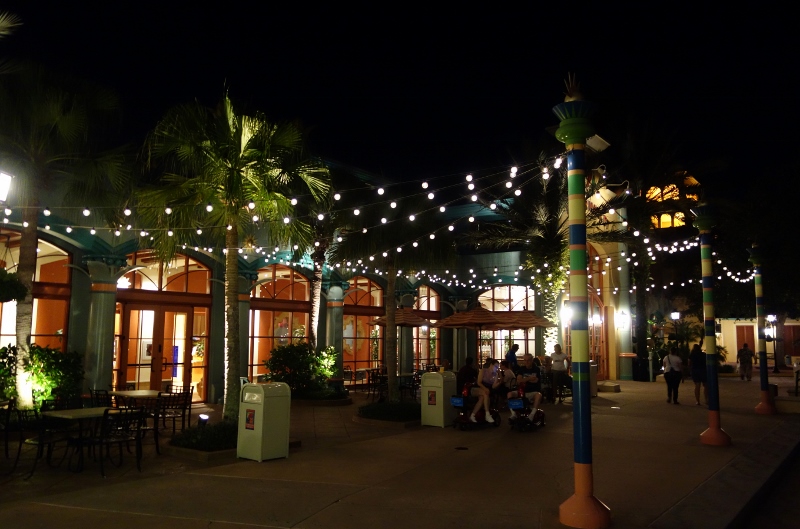 Also here is lots of other outdoor seating.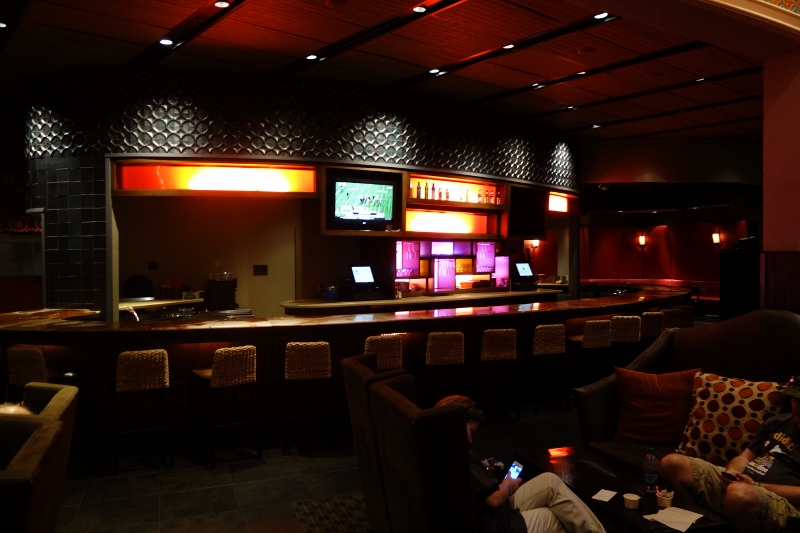 Inside the main building you'll find a third bar, the Rix Lounge.
Although the other moderates have caught up a lot the last few years, Coronado Springs still offers the best room service menu among them.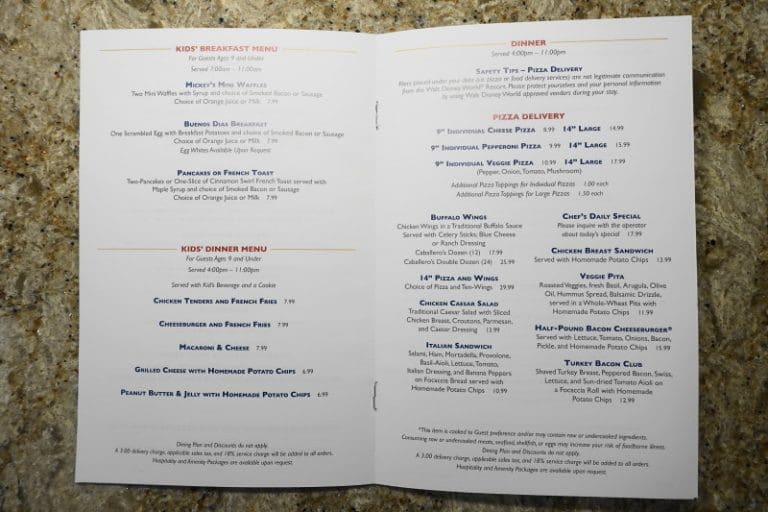 A larger version of the dinner side: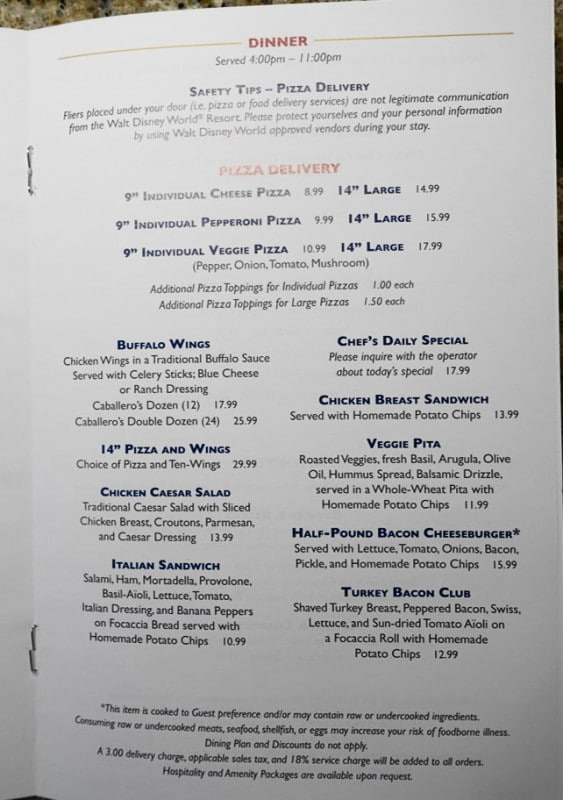 This review continues here!
TOPICS IN THIS REVIEW OF DISNEY'S CORONADO SPRINGS RESORT


Follow yourfirstvisit.net on Facebook or Twitter or Pinterest!!
RELATED STUFF