Disney World Itinerary for the Extra Extra Magic Hours Period
By Dave Shute
Below is my recommended  FastPass+ based Disney World itinerary for arrival dates from 8/31/2019 through 10/26/2019.
This period at Disney World follows the partial opening of Star Wars: Galaxy's Edge at Disney's Hollywood Studios on 8/29, and incorporates the unprecedented daily Extra Magic Hours from 6-9a at the Studios from 9/1 through 11/2, from 7-8a at Magic Kingdom and Animal Kingdom from 8/29 through 11/2, and early park openings (at 8a) at the latter two parks the same dates.
Because nobody likes to get up that early, it incorporates arriving for the early Extra Extra Magic Hours only once for each of the three affected parks, although it has optional early arrivals on other days.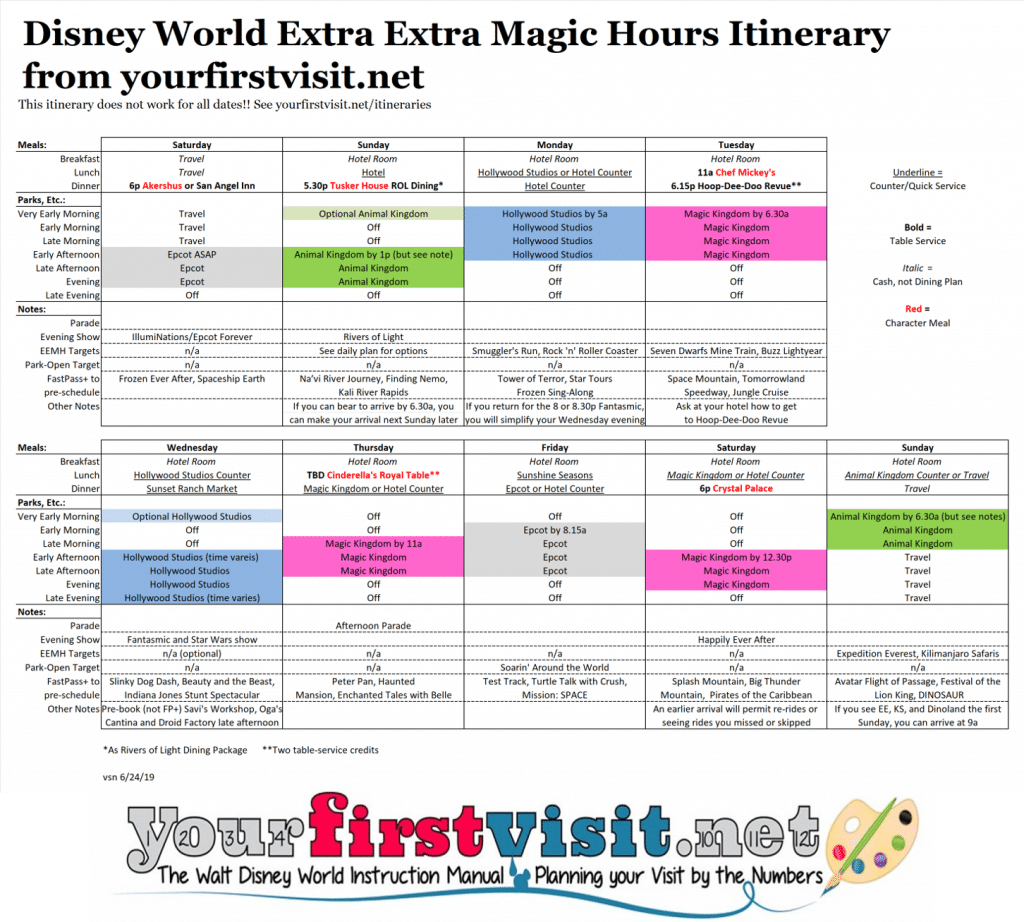 There is no great way to see Disney World during this period, and especially Disney's Hollywood Studios, other than using at least some morning Extra Magic Hours.  That means this itinerary works only for those who are eligible for Extra Magic Hours.  All the hotels on this page have Extra Magic Hours privileges.
(For those who can't or won't book an EMH eligible hotel, or who are eligible but aren't willing to get up that early, I have suggestions for Magic Kingdom here and Animal Kingdom here.  I'll come up with something for Hollywood Studios soon, but it will not be very good.  Your best bet especially for the Studios is to book an EMH eligible hotel and arrive before the EMH start at 6a.)
On its first Animal Kingdom day, it uses a Rivers of Light Dining Package to save a FastPass+. Note that this package is available sometimes only 3-4 months ahead, rather than the 180 days ahead that most dining is available.
This itinerary works only during this September and October 2019 period, and some dates that it mostly works it may need some little adjustments. Check your week here.
Note that all the dining in it is the same as that in my Higher Crowd Itinerary, so that if you have already booked dining based on that, you are set!
The recommended dining reservations and FastPass+ that make it work are in the To-Do List.
Daily agendas are in the links:

Follow yourfirstvisit.net on Facebook or Twitter or Pinterest!!
RELATED STUFF