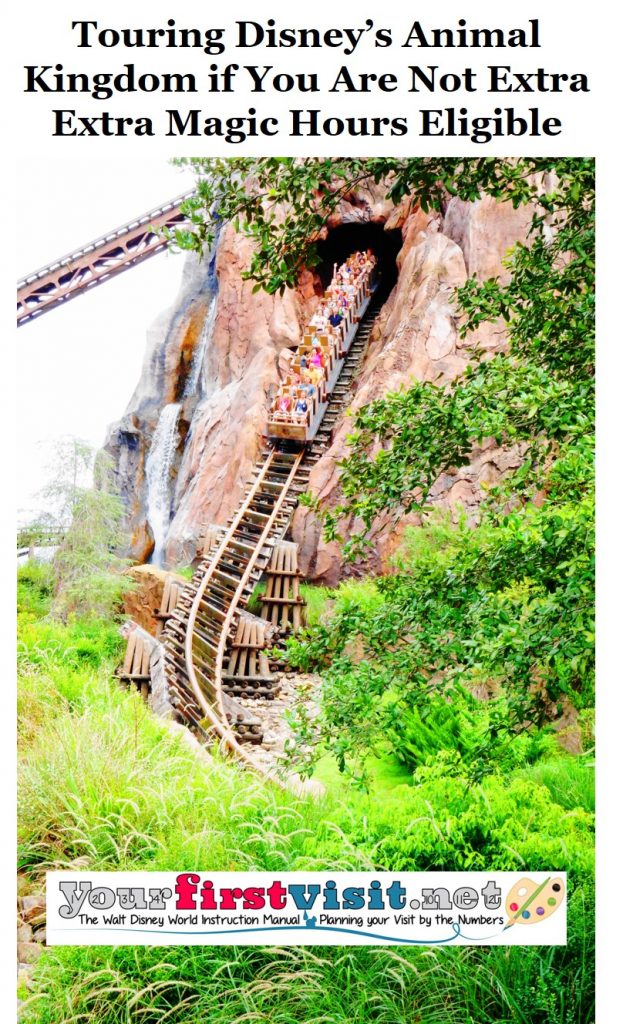 ANIMAL KINGDOM ROPE DROP DURING EXTRA EXTRA MAGIC HOURS
After the partial opening of Star Wars: Galaxy's Edge, Disney's Animal Kingdom (and also Magic Kingdom) will have daily Extra Magic Hours from 7a-8a for more than 2 months—from August 29, 2019 until (at least as announced so far) November 2.
This somewhat simplifies planning Animal Kingdom visits during this period, as it makes the presence or absence of morning extra magic hours a non-issue.
But for those not eligible for Extra Magic Hours (all the hotels whose guests are eligible are here), what to do?
Below I have some suggestions on how to approach Animal Kingdom if you are not eligible for Extra Magic Hours.
TOURING ANIMAL KINGDOM AT ROPE DROP
For any given crowd level, Extra Magic Hours that begin at 7a are more sparsely attended than those that begin at 8a. What this means—ignoring until the next paragraph one possible exception—is that the park will be not as filled at the 8a rope drop as it would be at a 9a rope drop after an 8a EMH.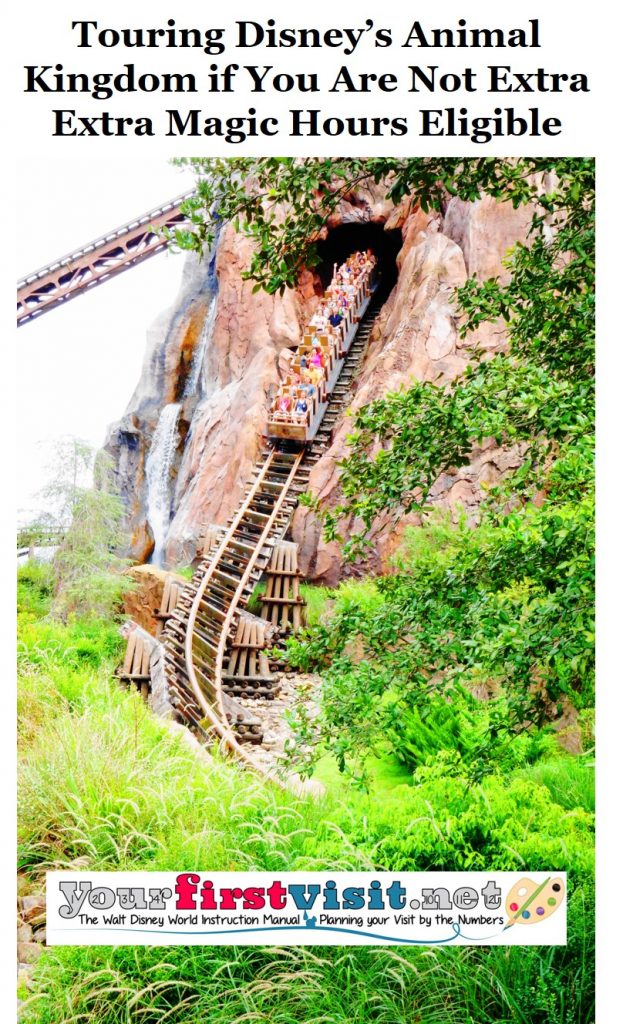 The exception would be if folks targeting the even earlier 6a EMH at HS, but arriving closer to 6a than 5a, balked once they discovered long lines to even enter that park, and shifted their plans to Animal Kingdom instead. This is possible, but not in any reasonable sense predictable.
At Disney's Animal Kingdom, Pandora–and particularly Flight of Passage– still dominates EMH traffic, even almost two years after it opened. EMH guests who don't go there will likely go to either Expedition Everest or Kilimanjaro Safaris; this is also where folk who go to Pandora first will likely go after Pandora.
To be in the safe side, the right pre-booked FastPass+ targets should be one of the Pandora rides (Flight of Passage if you can get it; Na'vi River Journey is more likely), Expedition Everest, and Kilimanjaro Safaris. Set Everest for early morning–e.g. 9a-10a, Kilimanjaro for the next hour, and your Pandora FastPass+ for early afternoon.
Start your day with the three attractions in Dinoland, and make your way through the attractions and shows in Asia, Africa, Pandora, and Discovery Island over the course of the day.  You likely will need to do some backtracking to fit in some of the shows.
There's a couple of sensible ways to see whichever of the two Pandora rides you can't get a FastPass+ for:
Get in its standby line just minutes before park close. While the posted wait will be quite long, that is mean to deter further folk from joining the line. Your actual wait will be much shorter
Get in its standby line in mid-afternoon when you've seen a lot already and most other lines are long too.
The worst thing you can do is to get in a long stand-by line early in the morning. Doing this will keep you from seeing other rides when their lines are short, and by the time you get off the ride, there won't be many remaining high-priority rides with short lines.


Follow yourfirstvisit.net on Facebook or Twitter or Pinterest!!