Arriving at Magic Kingdom After Extra Extra Magic Hours
By Dave Shute
MAGIC KINGDOM ROPE DROP DURING EXTRA EXTRA MAGIC HOURS
After the partial opening of Star Wars: Galaxy's Edge, Magic Kingdom (and also Disney's Animal Kingdom) will have daily Extra Magic Hours from 7a-8a for more than 2 months—from August 29, 2019 until (at least as announced so far) November 2.
This somewhat simplifies Magic Kingdom visits during this period, as it makes the presence or absence of morning extra magic hours a non issue (the differences between days with early versus late closes remain critical to planning).
But for those not eligible for Extra Magic Hours (all the hotels whose guests are eligible are here), what to do?
Below I have some suggestions on how to approach Magic Kingdom if you are not eligible for Extra Magic Hours.
TOURING MAGIC KINGDOM AT ROPE DROP
For any given crowd level, Extra Magic Hours that begin at 7a are more sparsely attended than those that begin at 8a. What this means—ignoring until the next paragraph one possible exception—is that the park will be not as filled at the 8a rope drop as it would be at a 9a rope drop after an 8a EMH.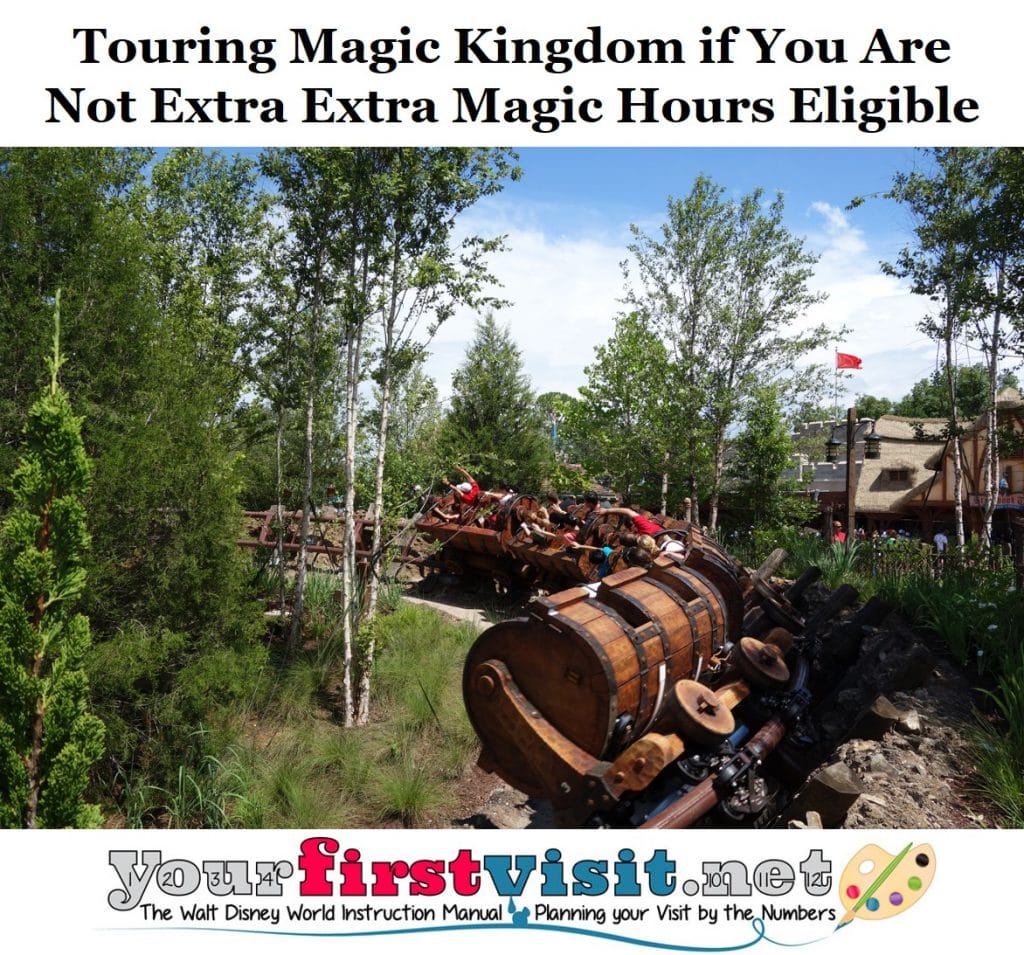 The exception would be if folks targeting the even earlier 6a EMH at HS, but arriving closer to 6a than 5a, balked once they discovered long lines to even enter that park, and shifted their plans to MK instead. This is possible, but not in any reasonable sense predictable.
Magic Kingdom morning EMH happens only in Tomorrowland and Fantasyland, so there is a reasonable likelihood that if you are near the head of the line for rope drop, you will be able to simply walk on to one or two of Pirates of the Caribbean, Jungle Cruise, Splash Mountain, Big Thunder Mountain, and Haunted Mansion.
In general, you want to target first the rides with the shortest total duration that are also furthest from Fantasyland and Tomorrowland. That puts you ahead of the EMH crowd, and gives you the chance to hop on a second ride before enough time has passed for lines to build. The ride that best meets these criteria is Big Thunder Mountain, and Haunted Mansion is the one most likely to see a Fantasyland spillover.
So plan on seeing Pirates of the Caribbean, Jungle Cruise, Splash Mountain, and Big Thunder Mountain at rope drop two each day over two days, and to save your pre-booked FastPass+ largely for Fantasyland and Tomorrowland, with your key FastPass+ targets being Seven Dwarfs Mine Train, Peter Pan, Space Mountain, Enchanted Tales with Belle, Buzz Lightyear, and because of the possible spillover, Haunted Mansion.
So over a two day visit without EMH:
On one day, pre-book FastPass+ for Haunted Mansion, Space Mountain, and Buzz Lightyear for the early afternoon (leaving a hole for the 2p parade), be at the park well before 8a, and start after rope drop at Big Thunder, then do Splash (a time sink, but any other plan requires either a scarce FastPass+ or needless backtracking. See what we call in our book the "anytime" attractions in Frontierland and Liberty Square (e.g. the Country Bears, Tom Sawyer Island, the Liberty Belle riverboat, the Hall of Presidents), then use your FastPass+ for the Haunted Mansion and the two Tomorrowland rides, Space Mountain and Buzz Lightyear. Then check for fourth and following FastPass+ in Fantasyland, and meanwhile see the "anytime" rides in Tomorrowland (Carousel of Progress, PeopleMover) while fitting in the afternoon parade, which is at 2p this time of year.
On another day, pre-book Seven Dwarfs Mine Train, Peter Pan, and Enchanted Tales with Belle beginning late morning afternoon, be at the park well before 8a, and start after rope drop at Jungle Cruise, then see Pirates of the Caribbean. See the "anytime" attractions in Adventureland (Magic Carpets of Aladdin, the Enchanted Tiki Room, Swiss Family Robinson) then make your way via the route between the Tangled bathrooms and Peter Pan to Fantasyland. Fit lower-wait attractions (which, depending on the ebb and flow of crowds, might include the it's a small world, the Carrousel, the Mad Tea Party, Winnie the Pooh, Dumbo, and Under the Sea) around your FastPass+, and once you have tapped in for your third, look for more FastPass+.
At least one of these two days ideally will be a day that MK closes at 6p, so that you will encounter lower crowds all day long. This will work best on your Fantasyland day (the second one listed above).
If you do not have a park hopper, have the Tomorrowland day be a day that MK is open late, so that you can see the evenings shows as well. Consider leaving the park for a nap, and then returning for the fireworks, as otherwise your day will be unreasonably long.
TOURING MAGIC KINGDOM FROM ROPE DROP WITH A PARK HOPPER
If you do have a hopper, try to arrange your date so that both principal Magic Kingdom days are days it closes early, and then to hop over to the evening shows on another day.
TOURING MAGIC KINGDOM WITH ONE ROPE DROP AND ONE LATE ARRIVAL
If you want to try to arrive later than rope drop one day, the best play is to move Splash Mountain and Big Thunder Mountain to the pre-booked FastPass+ list, replacing Buzz Lightyear and Haunted Mansion.
You would hope to get on these last two via checking for extra FastPass+ after you've tapped into your third.
WHAT IF YOU CAN'T GET A FASTPASS+ FOR SEVEN DWARFS MINE TRAIN?
If you can't get a pre-booked FastPass+ for Seven Dwarfs Mine Train, then you have a couple of sensible options
Get in its standby line just minutes before park close. While the posted wait will be quite long, that is mean to deter further folk from joining the line. Your actual wait will be much shorter
Get in its standby line in mid-afternoon when you've seen a lot already and most other lines are long too.
The worst thing you can do is to get in a long stand-by line early in the morning. Doing this will keep you from seeing other rides when their lines are short, and by the time you get off the ride, there won't be  many remaining high-priority rides with short lines.


Follow yourfirstvisit.net on Facebook or Twitter or Pinterest!!
RELATED STUFF