Introducing Kelly B!
By Dave Shute
Those of you who pay attention to the comments on this site or on my Facebook page will recognize the name of frequent commenter "Kelly B."
Kelly is a travel agent with Destinations in Florida, and was hand-picked to specialize in helping readers of yourfirstvisit.net several years ago.
She can help at 980-429-4499 or kellyb@destinationsinflorida.com, or fill in the form below.
I asked Kelly to introduce herself—and here she is!
INTRODUCING KELLY B.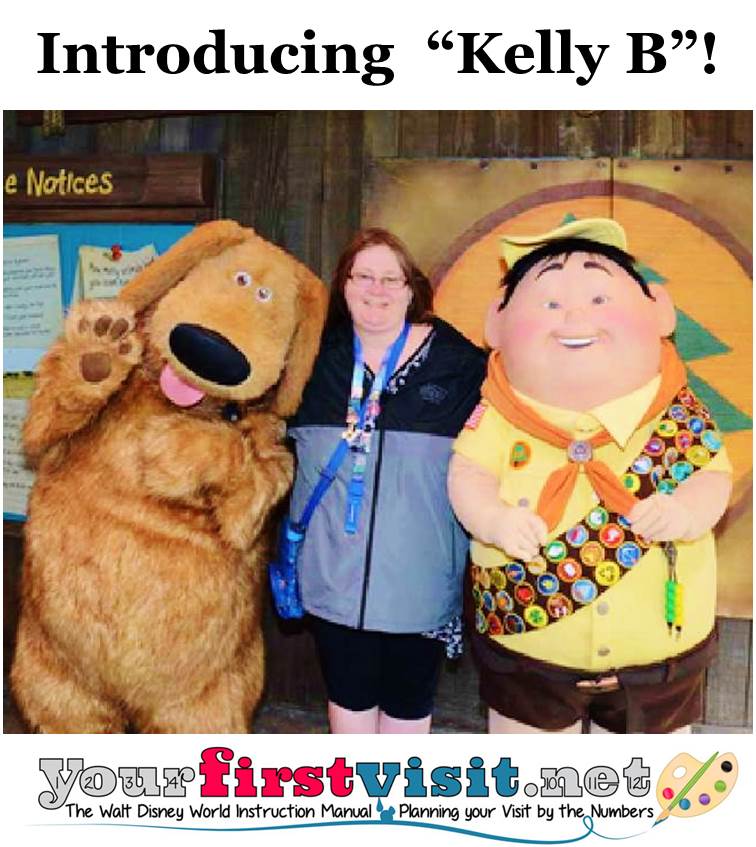 By Kelly B.
Hi I'm Kelly B, the official Destinations in Florida Travel Agent for yourfirstvisit.net.
Travel has always been a part of my life. Family vacations during my childhood created snapshots in my memory.
One of my first memories is being perched on my daddy's shoulders to see the fireworks in the Magic Kingdom. It's the moment my love for all things Disney began.
As an adult my travels take me all across North America. I've lived in 9 states and visited over 25 others.
But a permanent tag with "Destination: Walt Disney World" hangs from my luggage. No matter what, my heart always returns there. And now as a mother of 3, I've not only watched my children enjoy the magic of Disney from infants through their teenage years, but I've been able to continue to experience Disney and all of its magic.
It was a dream come true when I was asked to become an agent with Destinations In Florida. As a travel agent I'm able to combine my love of travel, my fondness of planning and organizing, and my heart towards helping others, all into one.
In addition to the knowledge I've gained from my own travel experiences, I continue to do specialized training in the travel field. I'm a graduate of the Disney College of Knowledge. I've also earned certification as a Universal Specialist, SeaWorld Parks Specialist, Orlando Travel Expert and Royal Caribbean Cruise University of WOW – Expert Level.
If you need help planning your next vacation please contact me at 980-429-4499 or kellyb@destinationsinflorida.com.
As your personal Disney World expert, when you book with me, I am able to provide you with our agency's many valuable service including:
Free Itinerary Planning (valued at $149)
Free Mouse Perks – Tips, Updates, and Fun Freebies (valued at $299)
Free Dining Services – Dining suggestions and reservation planning (valued at $69)
Free Future Discount Search – Ongoing searching for future discount to apply to your vacation
Give Kids The World – Our agency is proud to support one of Orlando's local organizations called Give Kids the World. This organization is a 70 acre storybook village in Kissimmee where children with life-threatening illnesses are treated to a cost-free fantasy vacation. For every package booked with our agency, a donation goes to Give Kids the World. Thank you for helping support this wonderful organization.
And if you tell me "Dave sent you," then for qualifying vacations I'll even send you a free copy of The easy Guide to Your Walt Disney World Visit!
I look forward to helping you create the magical vacation of your dreams.
* * * * *
Thanks Kelly!
I get great feedback about Kelly, and she's been such a help to many readers of this site. If you book your Disney World trip through her, you get her great help, plus the benefits noted above.
Much more important, Destinations in Florida then shares a bit of the commission they get from Disney World back with me, which I then use to take trips to keep the site updated!
So use Kelly for your next trip, and we'll all be better off!
She's at 980-429-4499 or kellyb@destinationsinflorida.com.
Follow yourfirstvisit.net on Facebook or Google+ or Twitter or Pinterest!!
RELATED STUFF