Disney World Crowds in 2020
By Dave Shute
2020 CROWDS AT WALT DISNEY WORLD
The chart lower on the page shows my forecasts for 2020 crowds by week at Walt Disney World.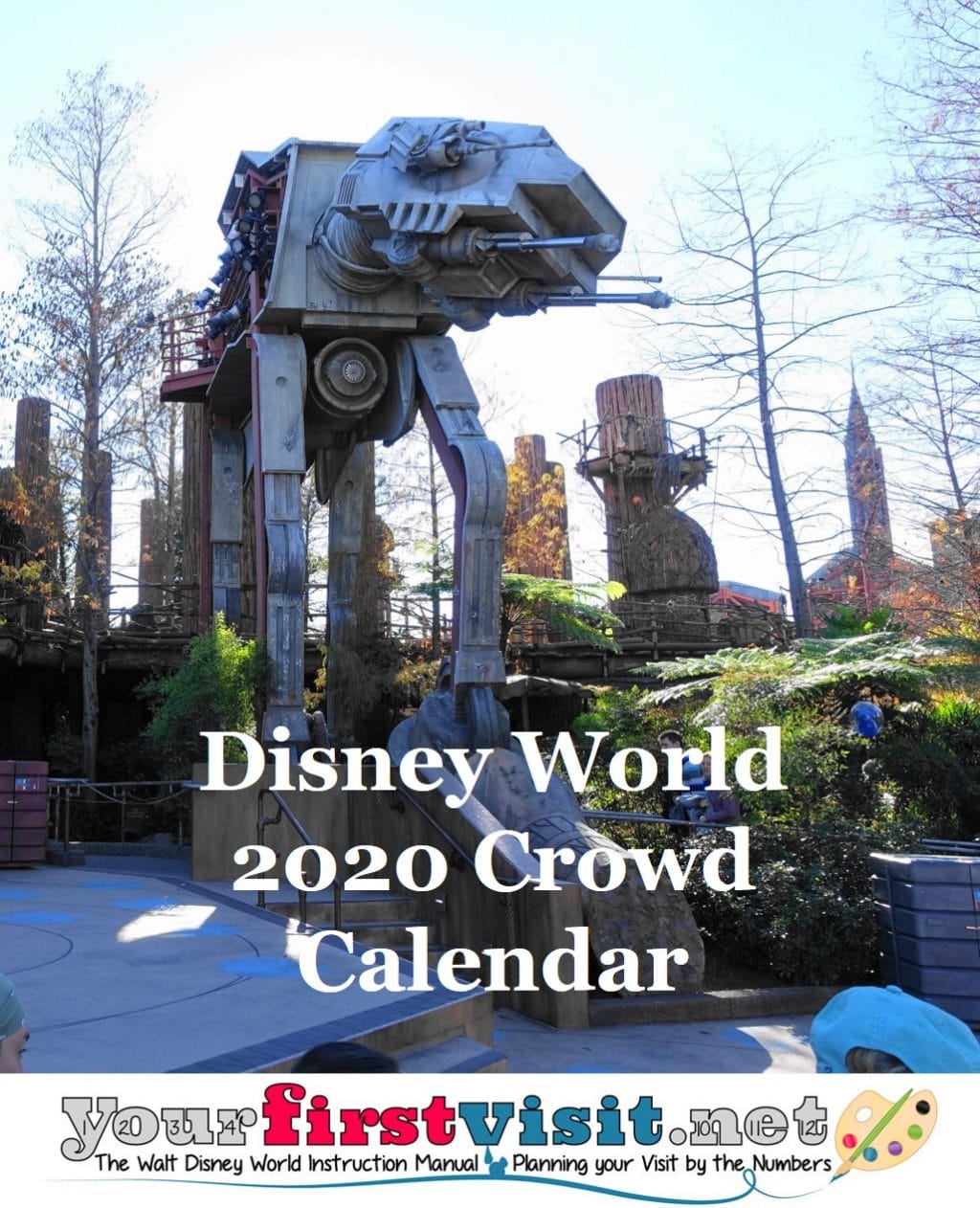 2020 will be an interesting year at Disney World, with the new land Galaxy's Edge dominating the news early in the year, but after that other new rides opening, and Disney World beginning its 50th anniversary celebration later in the year.
More on 2020 at Walt Disney World is here.

THE 2020 DISNEY WORLD CROWD CALENDAR
Dates in the Disney World Crowd Calendar are the beginning of the week, and the forecast covers the recommended Saturday-Sunday 9 day stays from that beginning.
Crowd levels are ranked by week from 1-11 in the following way:
1: Lowest of the year
2: Lower
3: Low
4: Low-plus
5: Moderate-minus
6: Moderate
7: Moderate-plus
8: High-minus
9: High
10: Higher
11: Highest

HOW TO INTERPRET THE 2020 DISNEY WORLD CROWD CALENDAR
Dates are the beginning of the week.
As is the case in almost every good Disney World crowd calendar, the forecasts are about wait times on rides–not about how crowded the areas outside the rides might be.
The "low crowd" weeks–those colored green, and rated 1-4–represent the only crowd levels a family visiting for the first time, and unsure if it will ever return, should consider.
However, lower crowds, especially lowest crowds, do not always mean a better week. The lowest weeks are often best avoided by first timers who may never return because they are in the peak hurricane or the ride closure seasons.
The "moderate crowd" weeks–those in black and rated 5-7–have crowd levels I would not particularly recommend to first time visitors, though the crowds can be managed with good plans. However, I'd go during such weeks myself with no hesitation, and think these levels are totally OK for returning visitors who don't need to see everything and already know how to work Walt Disney World.
The "high crowd" weeks–those in red, rated 8-11–should be avoided by everyone. They aren't, which is why they are so high.
MY DISNEY WORLD CROWD CALENDAR GOES UP TO "11"
The influence of the Unofficial Guide  and TouringPlans.com has led almost all Disney World crowd calendars to top out at 10.
However, I've always thought that the really nastiest weeks of the year deserved an 11 for emphasis.
So, in homage to Spinal Tap, I assigned 11 to "highest."


Follow yourfirstvisit.net on Facebook or Twitter or Pinterest!!
RELATED STUFF