yourfirstvisit.net to those on a once in a lifetime trip to Walt Disney World: Delay, for now
By Dave Shute
FIRST TIMERS WHO MAY NEVER RETURN SHOULD AVOID WALT DISNEY WORLD, FOR NOW
I built this site with a particular audience in mind: first time visitors to Walt Disney World, and in particular first time visitors to Walt Disney World who might never be able to return.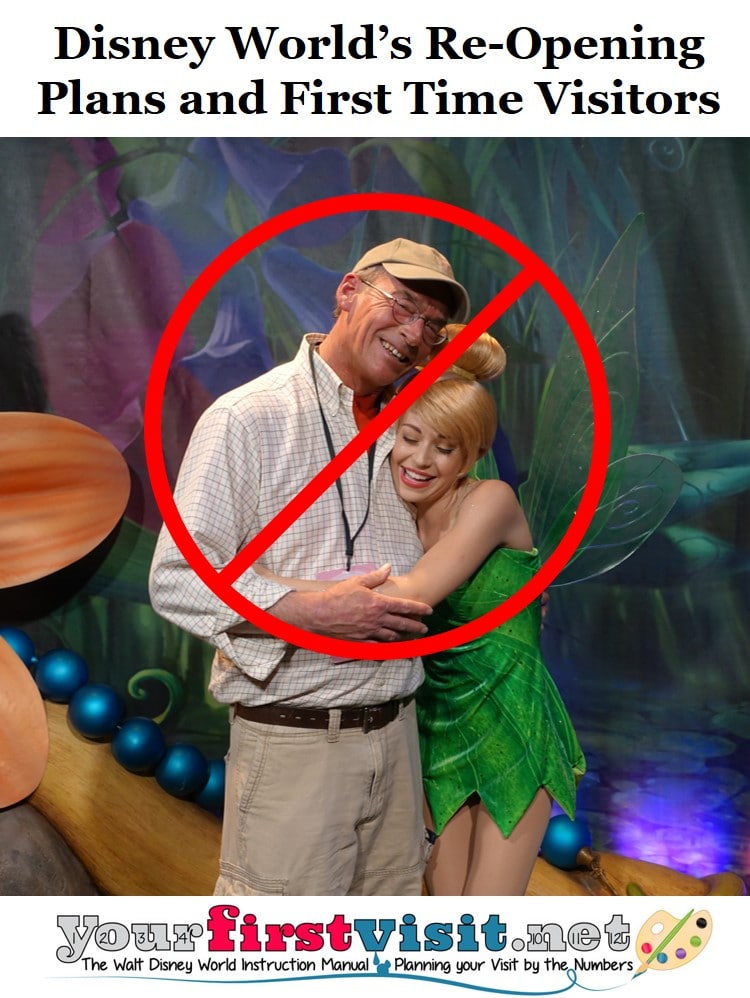 Disney World has announced a limited, staggered, partial and complicated re-opening to guests beginning in July. Given both the limitations and complexities that I see, I can't recommend that first timers go to Walt Disney World for a once in a lifetime trip until the experience promises to be much better.
I don't know when that will be.
Returning visitors who know what they are getting into, know what they will be missing, know how to navigate Disney World, are willing to comply with its requirements, and are willing to waive liability and otherwise accept the consequences of their choice to be in Disney World can, I think, still have fun.
DISNEY WORLD RE-OPENING PLANS
The Disney World theme parks will begin re-opening in July, the Animal Kingdom and Magic Kingdom on July 11 and Disney's Hollywood Studios and Epcot on July 15. Right now, there is no opening date for the water parks.
The Disney Vacation Club Resorts and Fort Wilderness Resort will re-open on June 22. Right now, there is no re-opening date for the rest of the resort hotels. I suspect that Disney has plans regarding the other resort hotels, but does not yet know if it can staff to its plans.
Many have speculated that given capacity limits in the parks, some resorts will remain closed to lower total resort operating costs. I suspect that instead we will see many resorts partially open, as social distancing—especially in the pools, dining venues, lobby, bus stops etc.—will be easier in many partially-opened resorts than in fewer fully-opened resorts.
OPERATING HOURS
The parks as of now are scheduled with staggered openings and closes—presumably to lessen the demands on the transportation system
Animal Kingdom: 8a-6p
Magic Kingdom: 9a-7p
Hollywood Studios: 10a-8p
Epcot: 11a-9p
This of course also has the effect of greatly shortening operating hours—compared to mid-July last summer, each park is open 2-3 hours less per day—in effect removing an entire park out of capacity.
All Extra Magic Hours have been cancelled.
ATTRACTIONS THAT WILL BE AVAILABLE
The parks will re-open with no parades, no evening spectaculars, and no character meet and greets. Some of these possibly will return fairly soon, based on what we've seen in Shanghai.
It is unclear how many individual other attractions will be re-opening when the parks re-open. The balance among whether an attraction is open or not likely will be a factor of
How many cast members are willing to return to work (pre-existing conditions and/or age factors may make a return to a high-people-exposure environment unwise for some full and part time staff, and staffing from Disney's College program is currently absent). This affects Disney's overall ability to staff its property
The operating costs of an individual attraction, and
The extent to which an attraction draws people away from congregating elsewhere.
I am most concerned about the indoor theater-style shows, which a little math will tell you that with every other row closed, and six feet between parties in open rows, will be lucky to serve around 25% of capacity.
DINING
All restaurant reservations and FastPass+ reservations have been cancelled. FastPass+ is not expected to come back soon, as the capacity of its queues is likely to be used for social distancing.
Restaurant reservations will likely re-open once Disney has a better sense of when resort dining will re-open, how many people it will allow on property, and what each venue's practical capacity after social distancing is. The window for reservations will then shift to 60 days from the current 180 days.
All dining plans have been cancelled, and will not be available for some time.
OTHER COMPLEXITIES TO THE REOPENING
All folks intending to enter a park must sign up separately for a reservation for that park. (This is in addition to whatever one's tickets might say about dates; no further details are yet available.) It is unclear right now how many people will be allowed into the parks each day, either initially or as experience builds.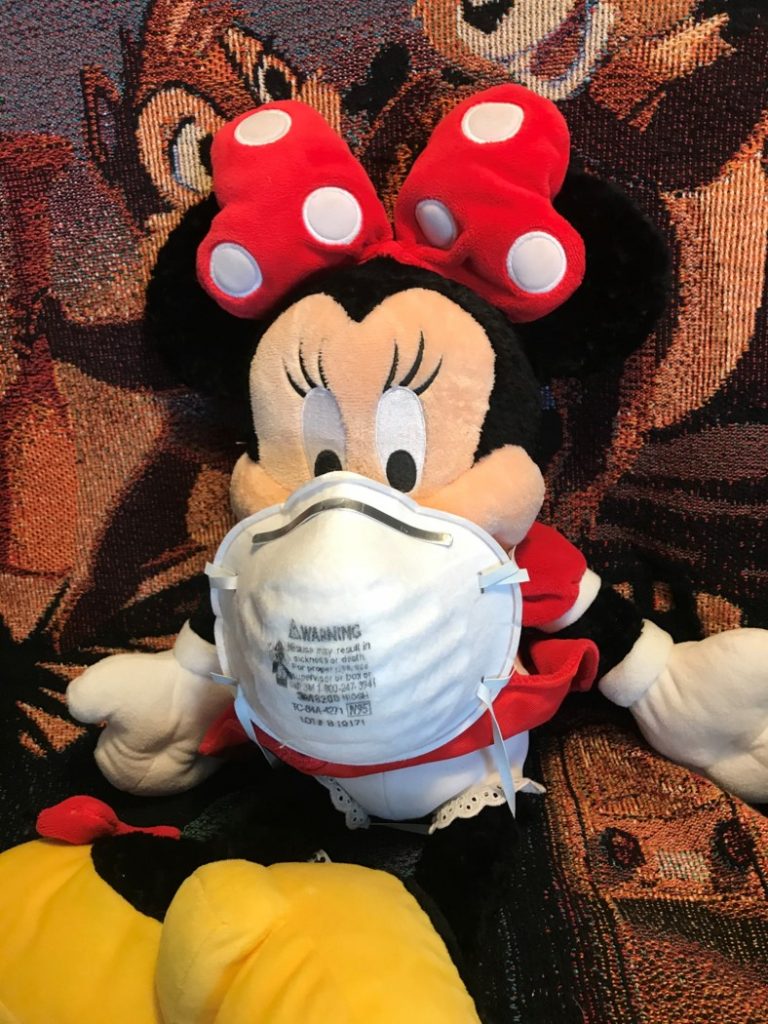 All entering a park two years old or older will be required to wear masks, and masks will be required in the resort hotels except when one is in one's room (the normal exceptions for eating and drinking will be present—it is unclear if there will be exceptions for being in a pool).
Given Disney's agreements with its unions re requiring masks of guests, its obligation to its staff to provide a safe environment for them, and the liability issues it can face on these matters, I expect it to be much firmer in enforcing the mask requirements on its guests than many other do. I don't see the mask requirement going away until either the science on the efficacy of cloth face coverings in protecting others (in particular, protecting cast members) changes its balance of findings, or the infectious environment changes.
Disney World is currently accepting no new ticket or hotel bookings other than for DVC point holders in its DVC resorts. Once it has a firm view (e.g. from knowing how many cast members can return) of its starting capacity, and has seen a full wave of cancellations related to for example the mask requirements, shorter and staggered park hours, the known experiences that will not be available when the parks first re-open, it will know—at least in the short term—whether it needs to cancel existing reservations, or can instead re-open to new reservations.


Follow yourfirstvisit.net on Facebook or Twitter or Pinterest!!
RELATED STUFF