Walt Disney World in 2020
By Dave Shute
DISNEY WORLD IN 2020
Usually on pages like this on this site I focus just on choices within a year. But—barring a recession—for those making plans, it's important to note how Disney World in 2020 will stack up versus both 2019 and later years.
What we have coming up is the completion of the re-imagination of Hollywood Studios and its 30th anniversary in 2019, another ride opening at the Studios and the first major fruits of the re-imagining of Epcot in 2020, Disney World's 50th anniversary likely kicking off in 2021 and extending into early 2023, and Epcot's 40th anniversary being celebrated in 2022.
As a result, I expect
In 2019, Disney's Hollywood Studios to be slammed late in the year, after two new major attractions ("E"-Tickets) open
In 2020, something on the order of 2-4 million extra guests from the attractions at the Studios and, perhaps, new attractions at Epcot
In 2021 and especially 2022, something on the order of 6-10 million extra guests from Star Wars, the anniversaries and additional new attractions, including four new E-ticket rises that will open at the Studios, Epcot and Magic Kingdom in 2020, 2021, and/or 2022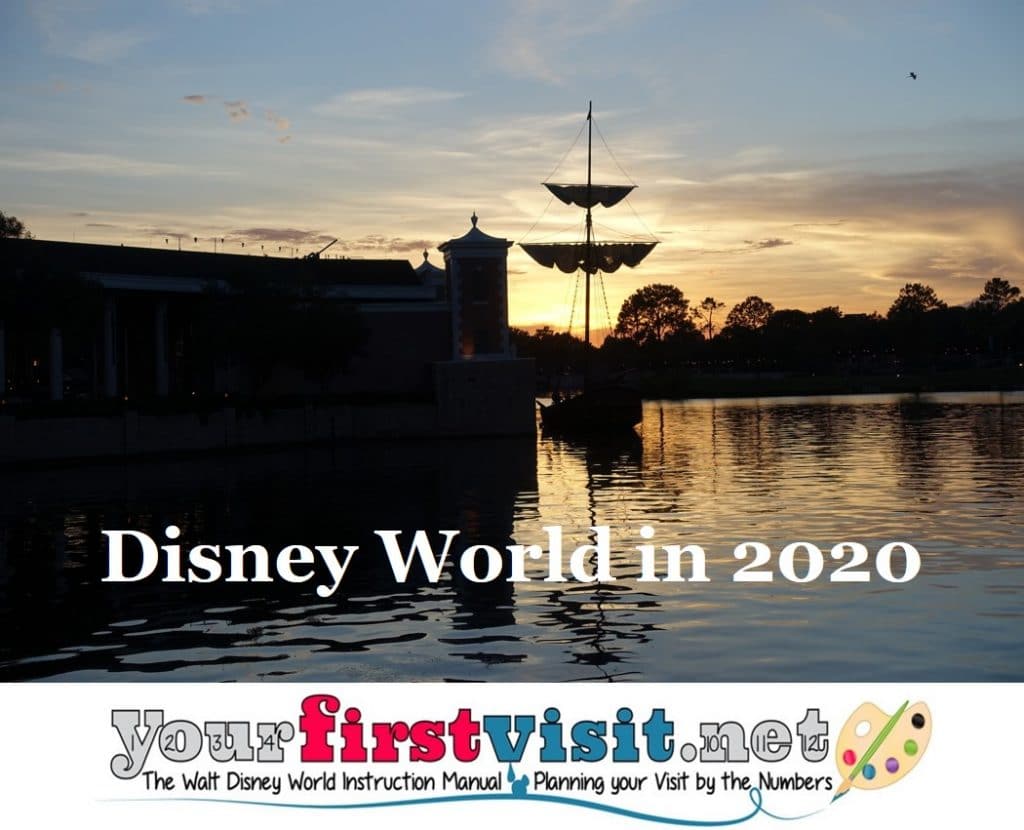 So 2020 at Disney World, while it will be rough, will be better than the next two years, for which I am forecasting eventually as many as 30,000 more guests a day than we saw in 2018. That's the equivalent of a whole new park's worth of guests…without a whole new park having opened.
Let me explain a bit how I get there, and then return to 2020 at Disney World.
WHAT'S NEW AT DISNEY WORLD IN 2019
Late in the year and the new land Star Wars: Galaxy's Edge, with two "E"-ticket rides, Millennium Falcon: Smugglers Run, and Star Wars: Rise of the Resistance, will open at Disney's Hollywood Studios, completing the transformation it began in 2018 with Toy Story Land. Based on other recent openings, I expect this to add something like the equivalent of 2-4 million new guests a year. The new E-ticket ride Mickey and Minnie's Runaway Railway has been delayed to 2020.
IllumiNations at Epcot will end in the early fall, and be replaced with a temporary show while construction happens in World Showcase and the World Showcase Lagoon to support an all-new permanent show. Epcot will also see some other minor additions and upgrades.
The Disney Skyliner, principally a transportation system, but also a bit of an attraction and a kinetic addition, will open in the second half of the year. It will connect Epcot and Disney's Hollywood Studios with the hotels Caribbean Beach, Pop Century, Art of Animation, and the new Disney Riviera Resort.
The equivalent in capacity of about 1,000 new hotel rooms will open, in a new tower at Coronado Springs and at Riviera. Some rooms will be closed for refurb at the Animal Kingdom Lodge, the All-Stars, Port Orleans Riverside, and Old Key West. Other room refurbs—especially at the Magic Kingdom resorts—are possible.
WHAT'S NEW AT DISNEY WORLD IN 2020
Mickey and Minnie's Runaway Railway will open at Disney's Hollywood Studios in the spring of 2020. Epcot will see a new permanent nighttime show, and its new E-ticket Ratatouille attraction, Remy's Ratatouille Adventure, may open as early as spring 2020. Epcot's other new E-ticket attraction, based on Guardians of the Galaxy, may open as early as late 2020, although the first half of 2021 may be more likely. Further major changes to Epcot to complete its transformation—especially to the park entrance and inner core of Future World—are being discussed, but specifics have not been announced and there's no good rumors on timing.
A new Star Wars-themed hotel may open outside of Disney's Hollywood Studios as early as 2020, as may a third hotel in the Swan/Dolphin complex, the Cove. 2021 may be more likely for these.
The value resorts should complete their room refurb wave. I'd expect the Magic Kingdom resorts to do so as well, so that they are all re-done (and thus available to sell) before the 50th anniversary celebration. Saratoga Springs will begin a refurb.
WHAT'S NEW AT DISNEY WORLD IN 2021
Disney World's 50th anniversary celebration will begin later in the year.
A new E-ticket ride at Magic Kingdom, TRON Lightyear Power Run, will most likely open in the first half of 2021, although late 2020 is still not impossible. I would also not be surprised to see a new evening parade at Magic Kingdom in 2021, although this is just a guess, or more properly a hope.
We may also see a re-launch of the Animal Kingdoms' Rivers of Light in 2021.
WHAT'S NEW AT DISNEY WORLD IN 2022
Disney World's 50th anniversary celebration will continue all year. Based on what happened to attendance during its 25th anniversary, I expect this to add 15-20% to attendance compared to 2020, or another 4 to 8 million people. Adding this and the Hollywood Studios effects together, and picking a nice round number, I get about six to ten million more folk than in 2018.
Epcot's 40th anniversary may kick off in late 2021 or early 2022.
The transformation of Epcot may continue with changes to its entrance and Future World. A new hotel may emerge at Epcot, as well as a new country in World Showcase.
The new resort "Reflections," between the Wilderness Lodge and Fort Wilderness, will likely open in 2022. Disney is being vague—perhaps purposely cagey—on the theming of this resort, and the early imagery is nondescript, but I am kinda thinking that Prairie School theming would be an interesting concept here…
DISNEY WORLD TICKET PRICING IN 2020
Expect higher than average ticket price increases in 2020 as Disney World extracts value from its Pandora, Toy Story, Star Wars and other investments.
Disney World also has a new-in-2018 ticket pricing model where you pay higher ticket prices for more attractive dates. These prices have already gone up once, and the  range of lowest to highest prices in 2019 is high enough over the Christmas holiday to drive people to different dates. In 2020, this range likely will be wider, giving folks a stronger incentive to avoid dates that are typically easier to visit because of kids' vacation schedules, and shift to traditionally slower dates instead.
DISNEY WORLD RESORT PRICING AND DEALS IN 2020
Disney World uses a combination of complicated and changing room pricing, and, on top of that, deals, to keep its resort hotel occupancy very high. Typically, rooms are more expensive—sometimes much more—during the more attractive times to go to Disney World. While deals have been technically available for most times of the year (you'll find current Disney World deals here), the number and types of rooms available has gotten more and more restrictive over the past few years. I expect this trend of less-available deals to be even more true in 2020 because of the appeal of Galaxy's Edge.
Deals often emerge after the best time to book your Disney World vacation. The simplest way to handle getting your deals is to make your initial booking through a travel agent, who will then–if a deal comes out for your dates–move heaven and earth to try to get you in to it.
I recommend Kelly B., who has been the travel agent partner of this site for years. To book your vacation through her, contact her using the form at the end of this page.
DISNEY WORLD CROWDS IN 2020
The major question for 2020 crowds at Disney World is the continuing impact of Star Wars: Galaxy's Edge on the parks after its late 2019 opening. Based on what Universal saw with Harry Potter, I expect the new land to be just slammed with crowds, with some spill-over effect into the rest of the Studios.  However, based on what happened at Universal I don't necessarily see a broad increase in crowds in all the other parks from the Star Wars fans. I have more on Star Wars: Galaxy's Edge crowds here.
Early January 2020 will be slammed through the 4th, but better after then, with the Martin Luther King weekend being the worst later dates in the month,
Presidents Day, February 17 in 2020, is in the middle of its possible range. The week that includes Presidents Day will be bad as usual. (Tons of kids in the northeast have the whole week off.) Crowds for this week actually begin the Thursday before.
Mardi Gras in 2020 is February 25.  A few southern school districts have it off as a single or multi-day holiday. The impact of Mardi Gras-related visitors on Disney World is vastly overrated, so don't worry about it. (People mix up the effects from it and the effects of President's day breaks–five out of the last eight years have seen the week of Mardi Gras also influenced by crowds from President's Day breaks.)
Easter in 2020 will be late in its possible range, on April 12. As a result, later March, while not good, will be better than in years with an earlier Easter, and there will be fewer good late April weeks.
Summer 2020 crowds are a bit up in the air.  They have been down the last few years, but I expect that the draw of Star Wars: Galaxy's Edge, Mickey and Minnie's Runaway Railway, and possibly the new Ratatouille ride in Epcot (which may be open by then) to bring us back to pretty profound summer crowds.
Thanksgiving, November 26, is nearly as late as it can be in 2020, giving more good early November dates but fewer good late November ones.
Christmas is on a Friday in 2020.  That means almost all schools that take two weeks off for Christmas will begin their breaks on Saturday December 19, 2020, and be off through Sunday January 3, 2021. Schools with shorter breaks will largely be out Thursday December 24 through January 3. As a result, the period from Christmas through January 2, 2021 will be especially crazy.
See the links for more on 2020 at Walt Disney World:
Expect hotel rooms–and perhaps even tickets, in a new twist–to be harder to book in 2020 than they have been for years.  You can book a hotel up to 499 days before your planned check-in.
The long-time travel agent partner of this site, Kelly, can book your vacation for you.  Contact her using the form below.


Follow yourfirstvisit.net on Facebook or Twitter or Pinterest!!
RELATED STUFF