Winter Ride Closures at Walt Disney World
By Dave Shute
RIDES CLOSED FOR MAINTENANCE AND REHAB AT WALT DISNEY WORLD
Walt Disney World rides and attractions can be closed for maintenance, rehab, or replacement at any time.
The way I keep up with this is to check the "Refurbishments and Attraction Closures" part of the weekly Walt Disney World Resort Update section of MousePlanet.com.
That said, the most common time for attraction closures is January and early February.  For this reason, this site suggests that first time visitors who are unsure whether or not they will ever return should avoid this period.
Why go during a period when some of the best of Walt Disney World may not be available?
For the currently known 2016 winter closures at Disney World, see this.
However, I've seen some claims that "only Splash Mountain is closed" during this period, so I went back and analyzed ride closures over the last five years to double check the facts.
The results of this analysis are presented below.
WINTER RIDE CLOSURES AT WALT DISNEY WORLD
Over the past five years, an average of three rides are closed in January at Walt Disney World.  (This figure excludes rides closed for massive rehabs—e.g. a nine month do-over.)
The average number of closures drops sharply as mid-February and the President's Day Weekend approaches, and continues to drop into March.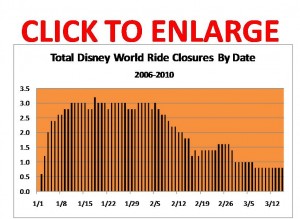 See the chart for daily averages (click it to enlarge it.)
Splash Mountain is indeed the most common ride to be closed in this period–it has been closed each of the last five years, for at least five days, and for an average of almost 30 days.
Other attractions closed more than once during the period include Test Track, Buzz Lightyear, the Backlot Tour, and the Liberty Belle riverboat. Other significant attractions closed at least once in winter include Rock N' Roller Coaster, Kali River Rapids, and Indiana Jones.
There's not much on this list I'd want to miss…so the advice to first time visitors who may not be able to return remains the same–avoid January and early February!
This advice is reflected in this site's 2016 weeks to visit, ranked in order.



Follow yourfirstvisit.net on Facebook or Google+ or Twitter or Pinterest!!
RELATED STUFF