The Holiday Season at Disney's Hollywood Studios
By Dave Shute
For 2018, most of last year's holiday additions to Disney's Hollywood Studios are back, the holiday projections at Tower of Terror have been tightened and plussed, and the new-in-June-2018 Toy Story Land makes a strong Christmas statement (although the minor additions to it for the holidays do not).
So what we now have in this park is
General holiday decorations
Holiday projections on the Hollywood Tower Hotel (site of the Tower of Terror)
A Christmas Tree and substantial decorations in the Echo Lake area.
Toy Story Land, augmented by some minor plussing
The Jingle Bell, Jingle BAM! show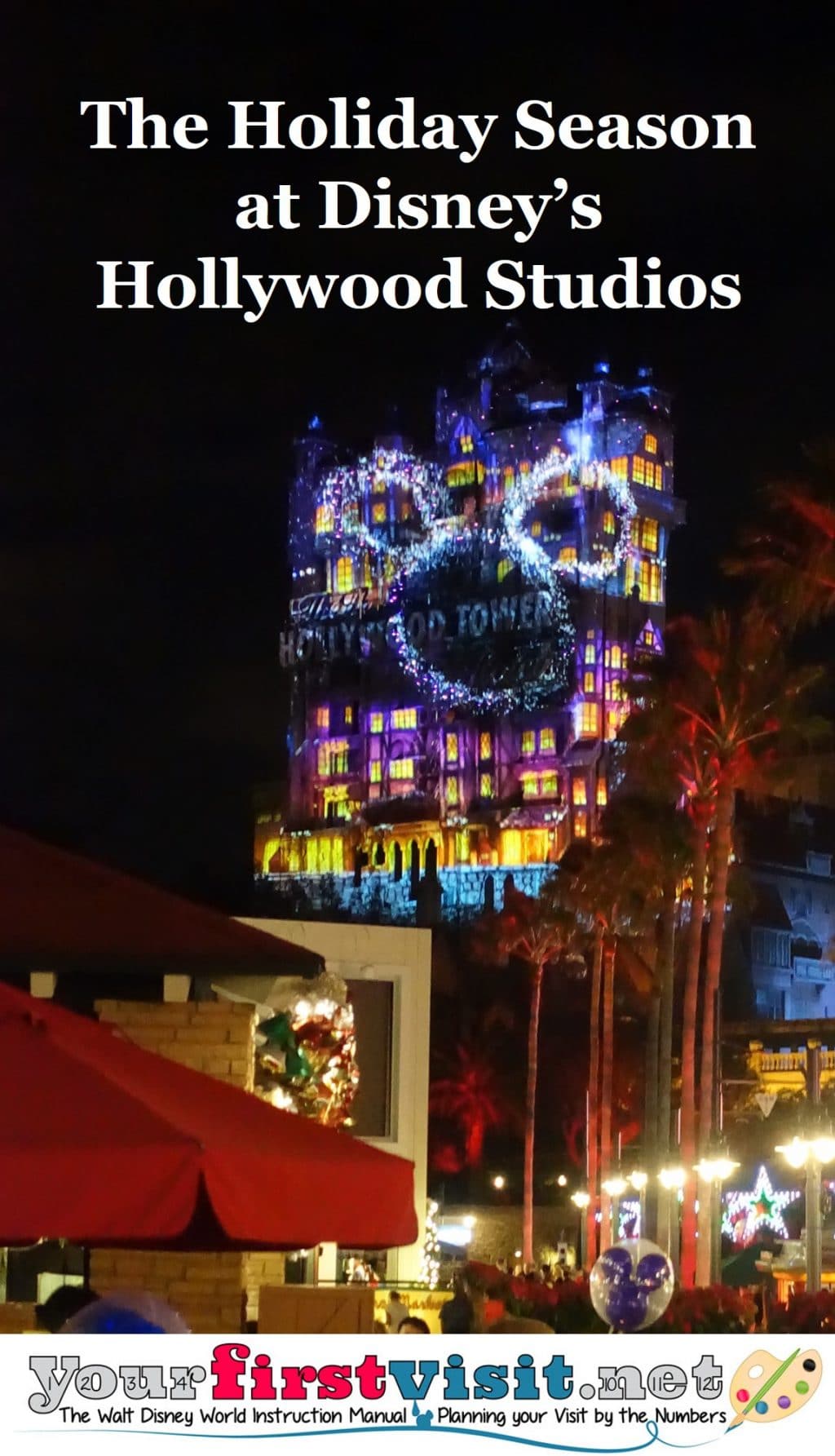 The total effect is to make Disney's Hollywood Studios the most "Christmassy" of the parks other than Magic Kingdom, and if you subtract the extra charge items of Mickey's Very Merry Christmas Party at Magic Kingdom, the Studios is actually the most rewarding park to fans of Christmas.
GENERAL HOLIDAY DECORATIONS IN THE PARK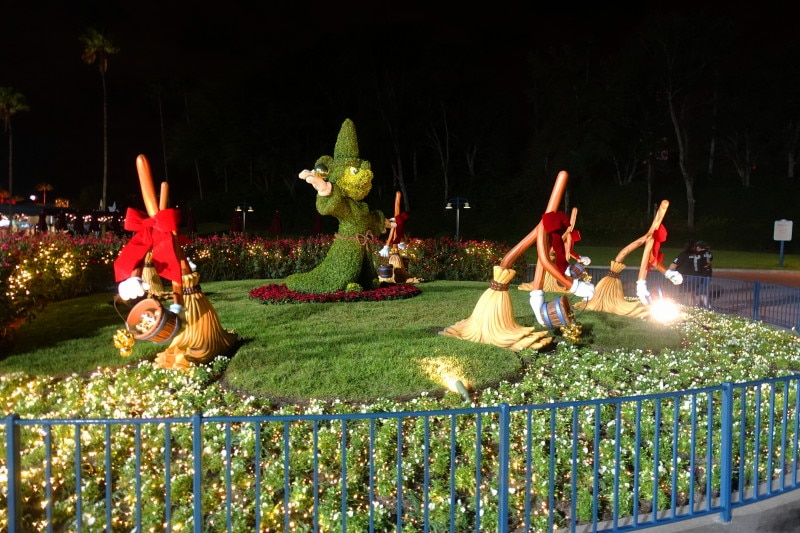 You'll find holiday decorations throughout Disney's Hollywood Studios, including just outside the park, where bows decorate the Fantasia brooms…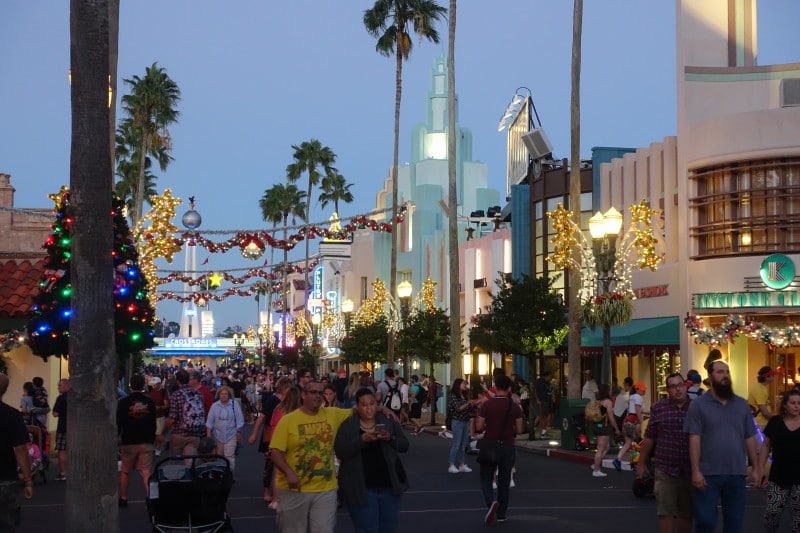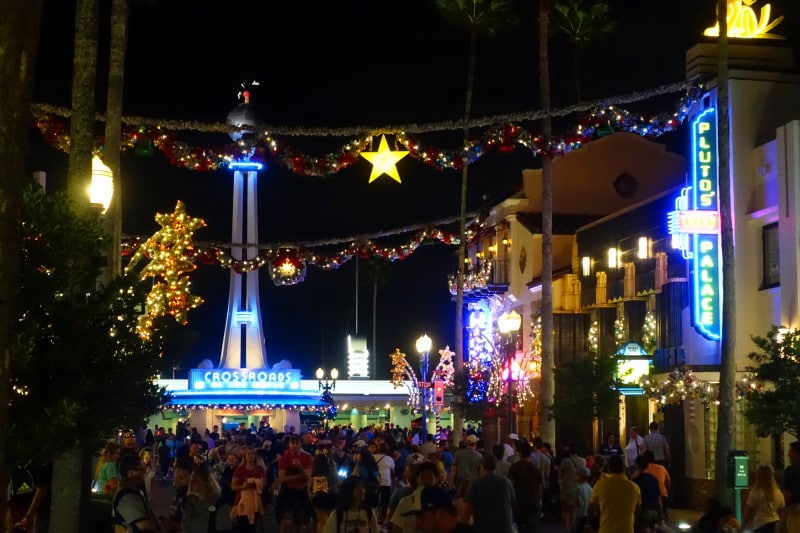 …and along Hollywood Boulevard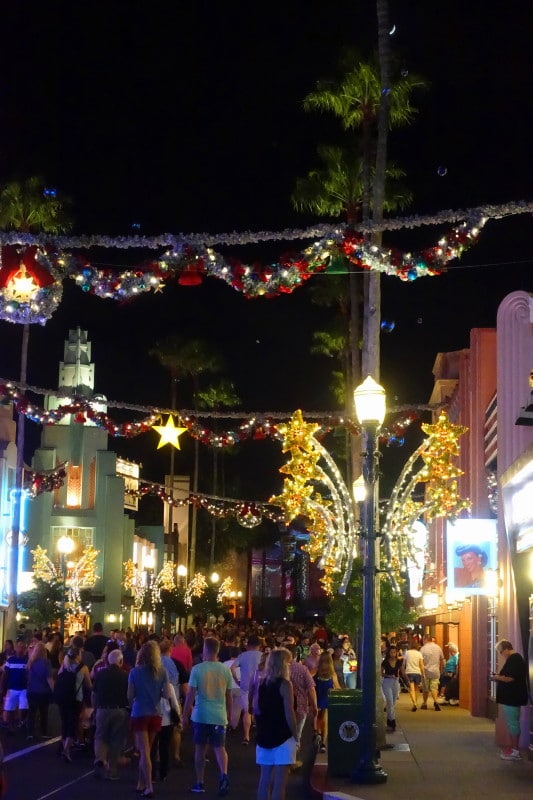 HOLIDAY PROJECTIONS ON THE HOLLYWOOD TOWER HOTEL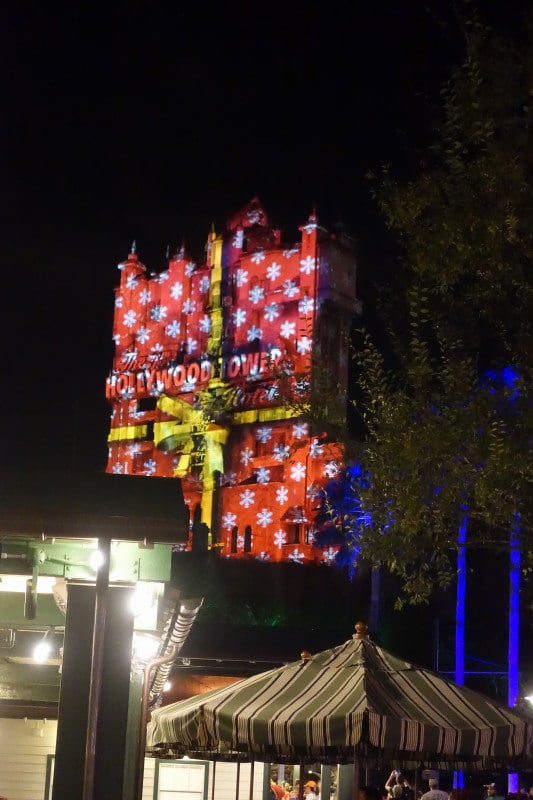 The Hollywood Tower Hotel, best known until most of the year for screaming elevator riders, last year had four sets of holiday projections added to its facade.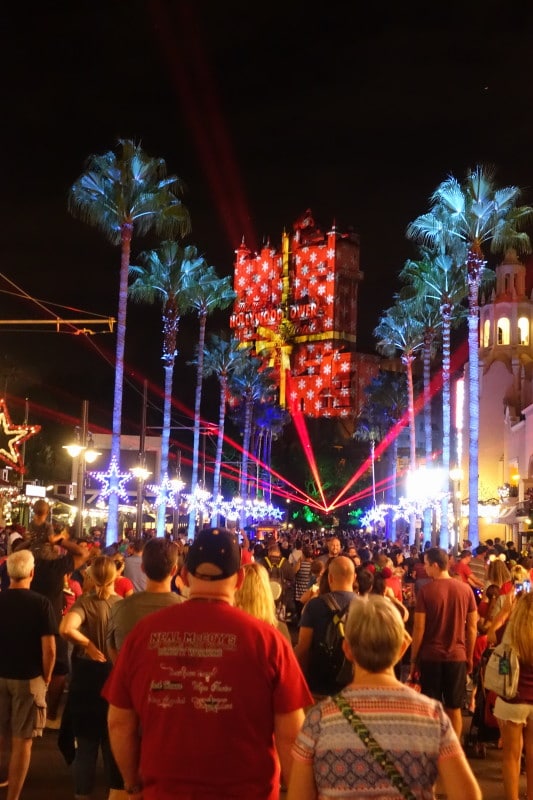 This year the projections return, add lasers, and see the interval between projections shortened. The tightened pacing makes the sequence of four now work better as a show, rather than as background entertainment. And the lasers add visual appeal, kinetics, and panache.
While there is not much to the projections, when combined with other holiday decorations on Sunset Boulevard, they really amp up the holiday feel of this section of the park.
The entire effort is called Sunset Seasons Greetings, and highlights…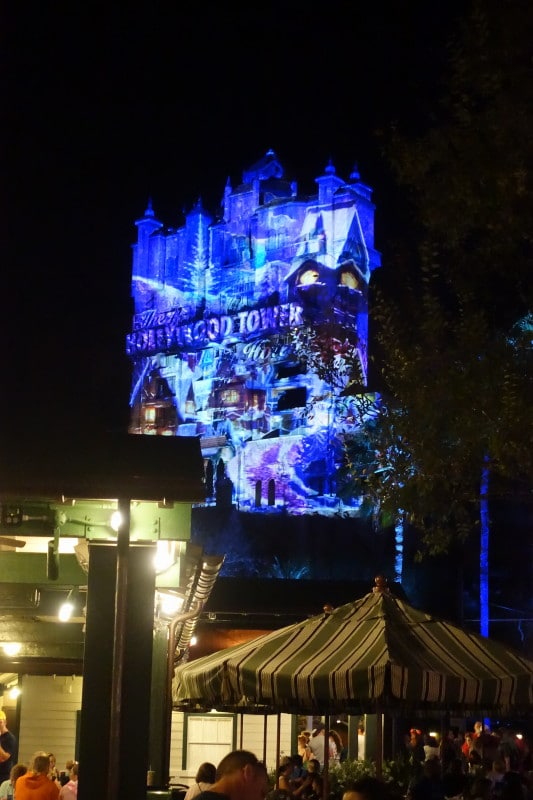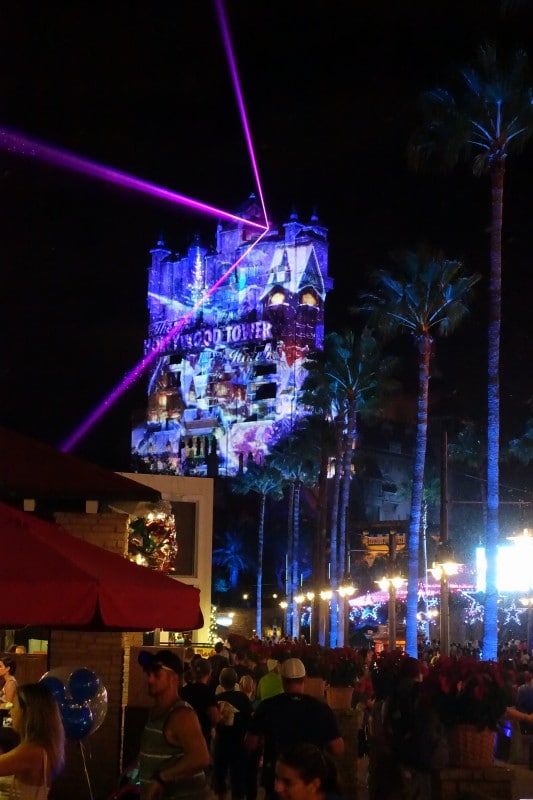 …Frozen…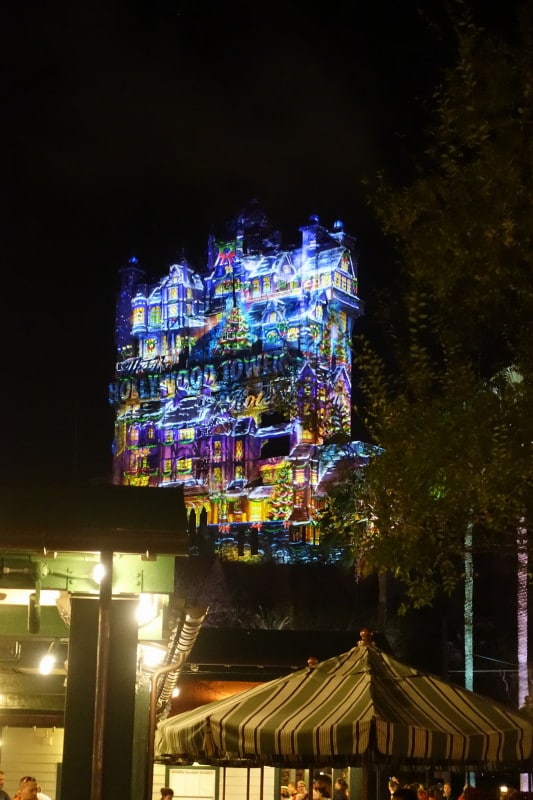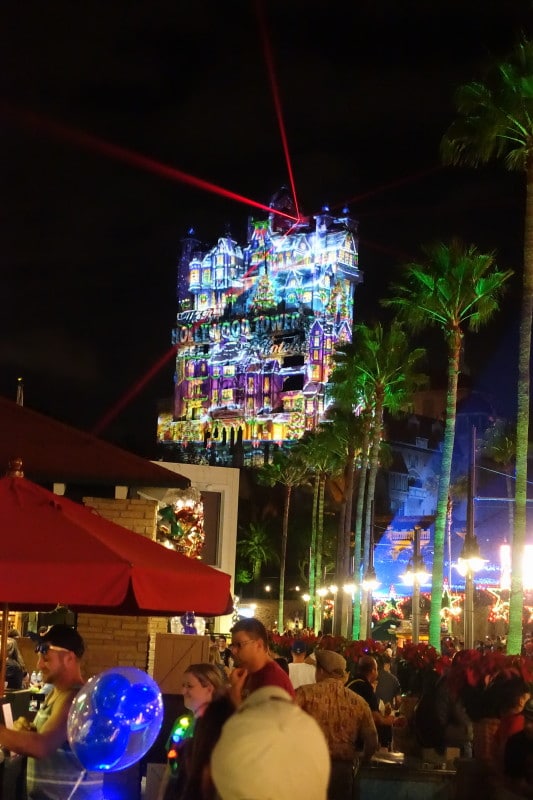 …Mickey's Christmas Carol…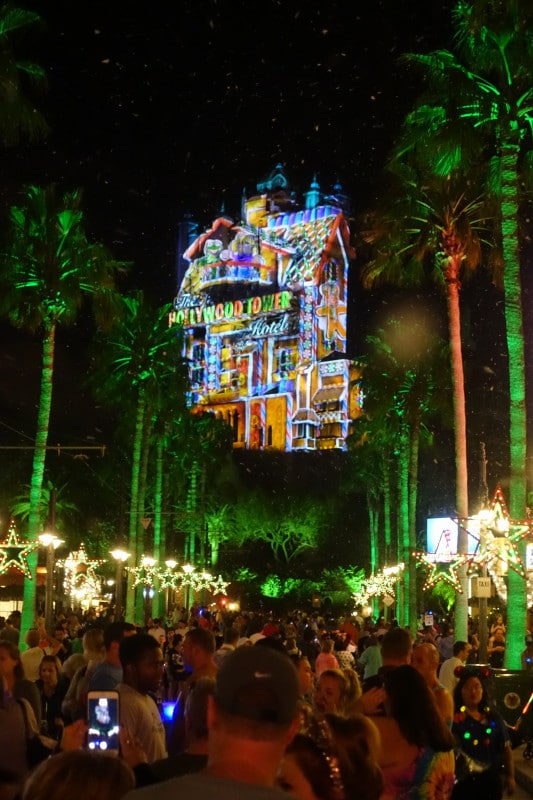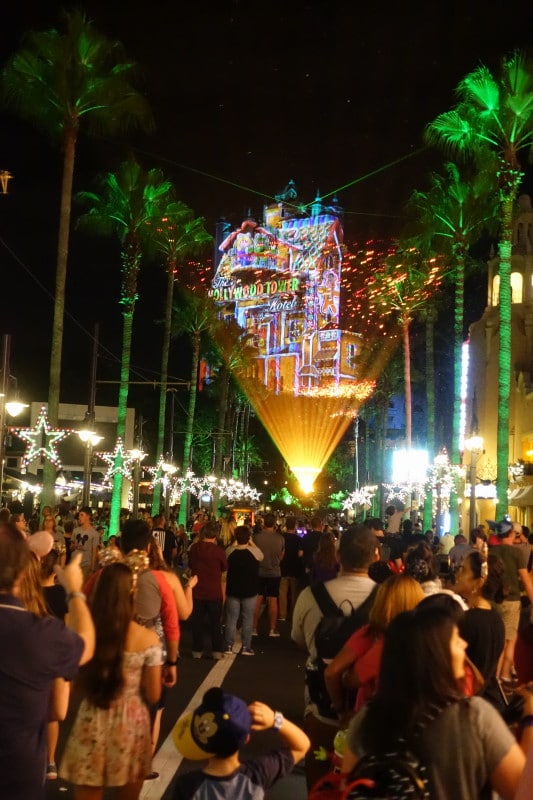 …the Muppets…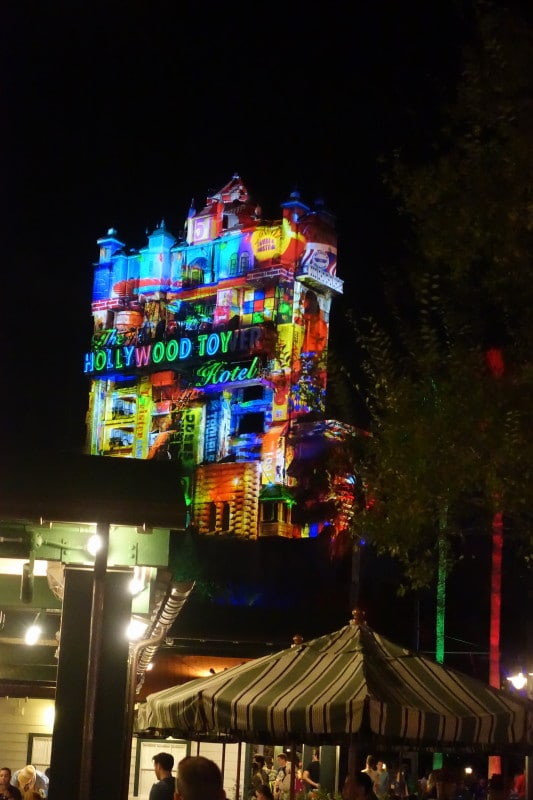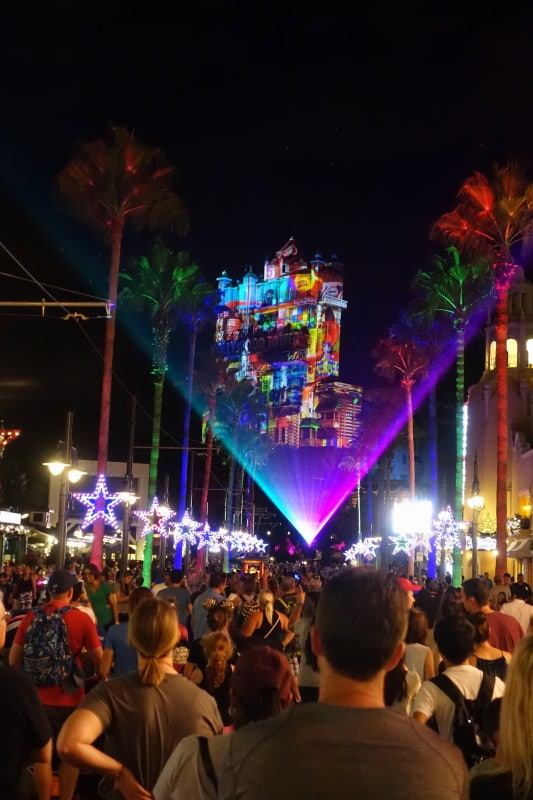 …and Toy Story.
There's not much to these–nothing like the action and subtlety of Tree of Life Awakenings at the Animal Kingdom, for example–but together with the other holiday decorations on Sunset Boulevard (and snow!), the overall impact is to turn this into a much more festive area of the park.
My co-author Josh has even more–and much better!–images on his site easyWDW.com here.
THE CHRISTMAS TREE AND DECORATIONS IN THE ECHO LAKE AREA
Hollywood Boulevard has always been delightfully decorated, but now so is the Echo Lake area.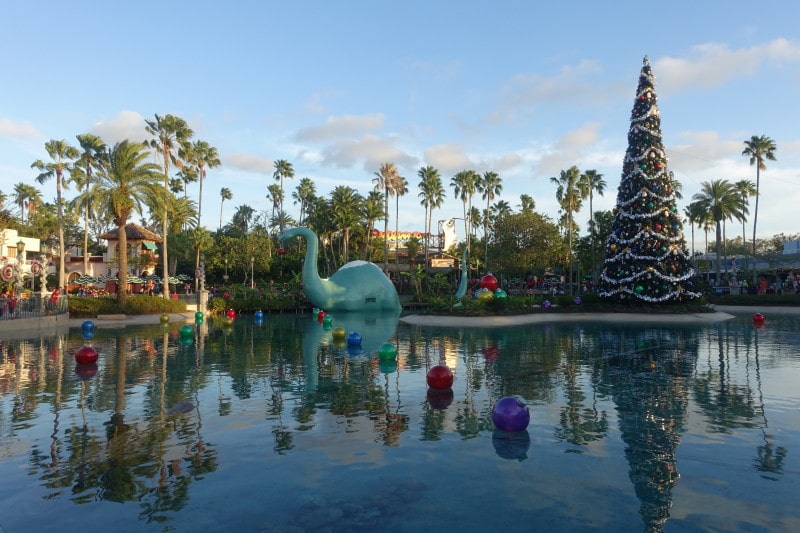 The most notable addition is the Christmas Tree, which used to be outside the park…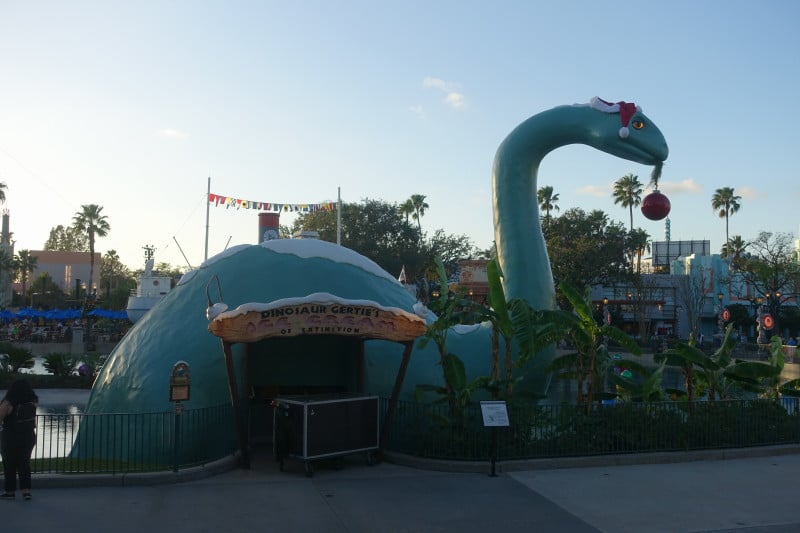 …but Gertie now has a bit of holiday decor as well–snow and a Santa hat.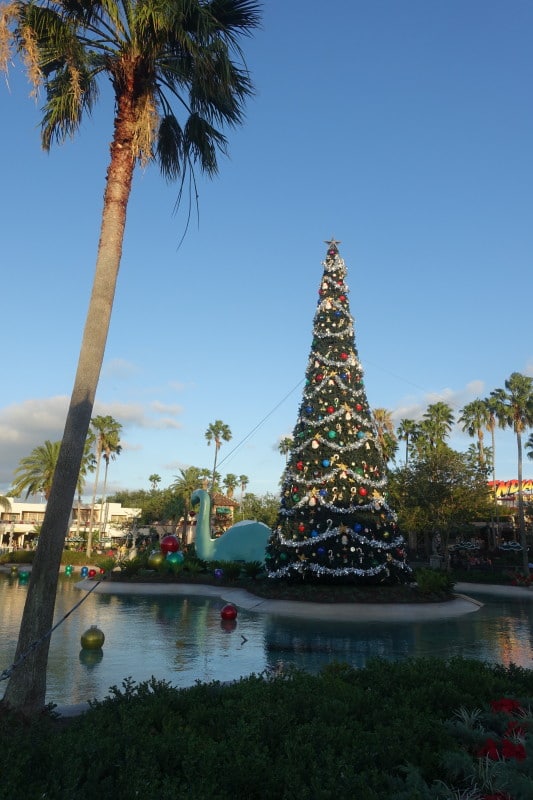 A closer view of the tree…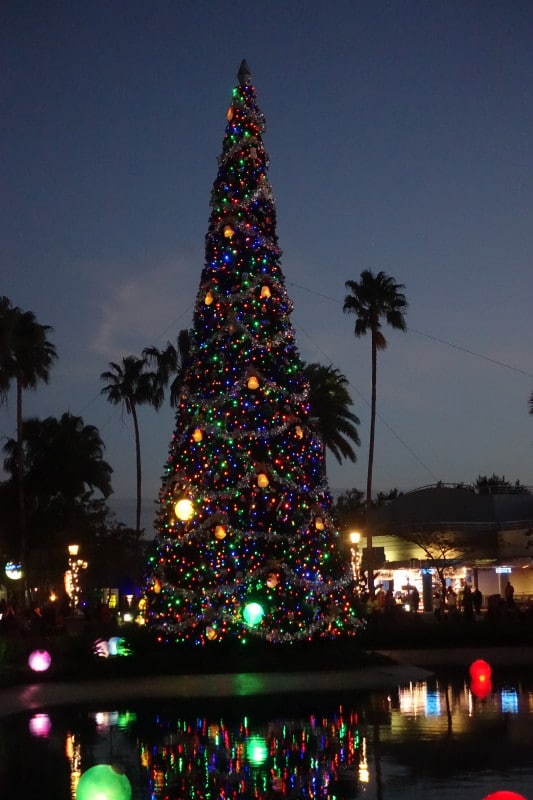 …and the tree after dark.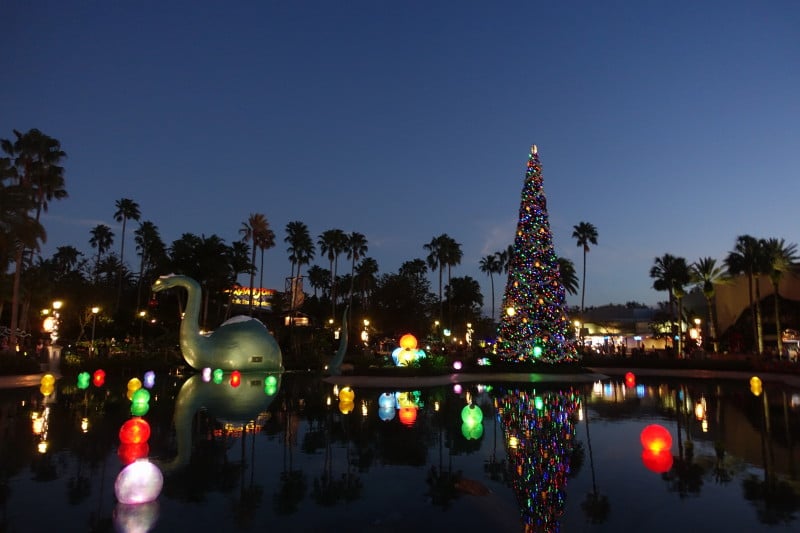 Echo Lake after dark.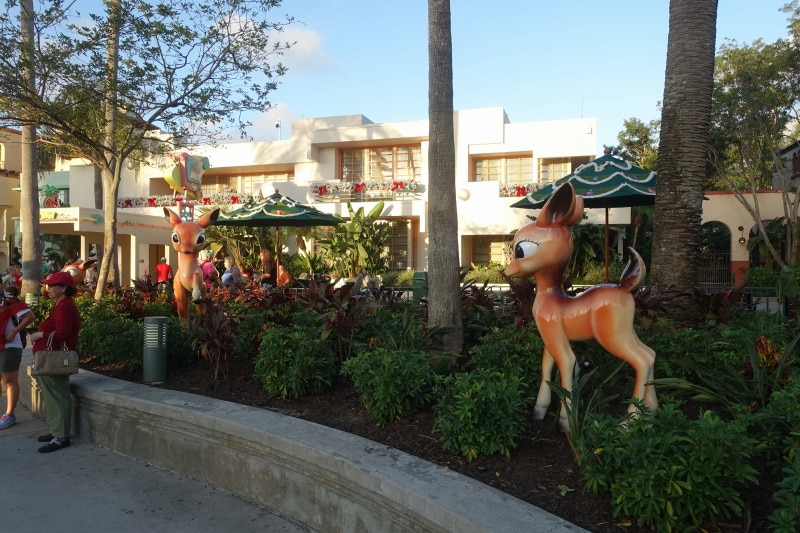 On the Gertie side of Echo Lake you'll find these decorations…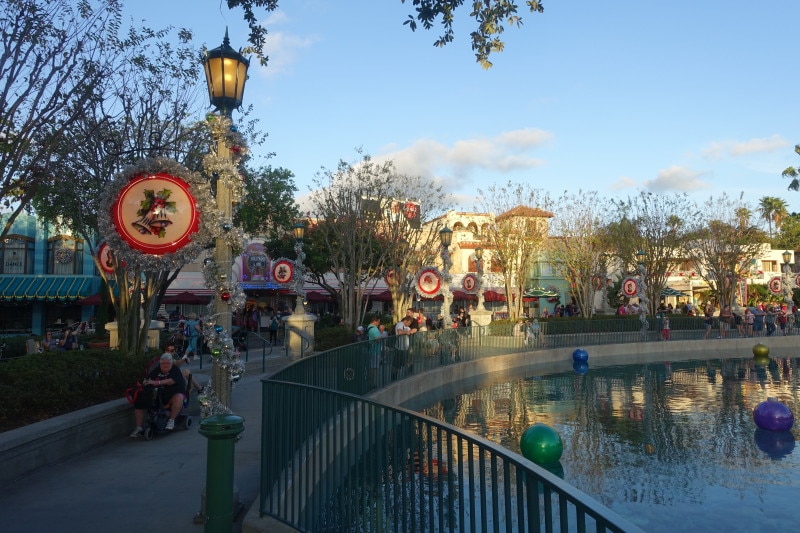 …and further counter-clockwise around Echo Lake, near Hollywood and Vine, these.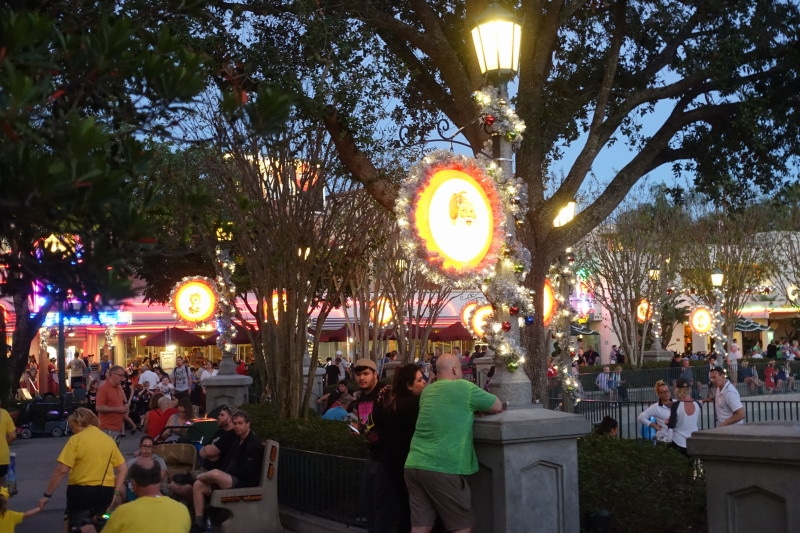 The same later in the evening.
Until now, Echo Lake has been a bit of a pass-through-without noticing area for me, kinda like (but not so dull as) Commissary Lane.  Gertie has historical importance, and the lake itself is cute and some find it to part of an enormous hidden Mickey.  But really, yawn.
The holiday decorations add a focal point and a coherent atmosphere that's been missing here until now. You will still largely pass by the lake on your way to something else, but now it's a delightful walk.
TOY STORY LAND AND ITS HOLIDAY ADDITIONS
The new this summer Toy Story Land (details here) has had a few minor Christmas additions.  While there's not too much to the new stuff, the key point about Toy Story Land is that it is always entirely Christmas themed–and especially after dark.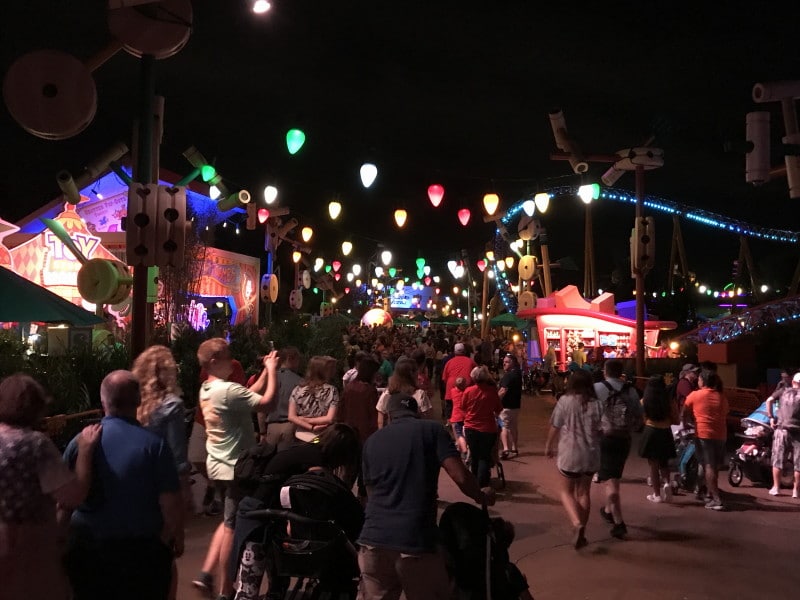 After all, the main lighting concept of Toy Story Land is Christmas tree lights, and the land itself is filled with toys. What more could you do to suffuse the area with Christmas?
The answer is not much, which is exactly what Disney did.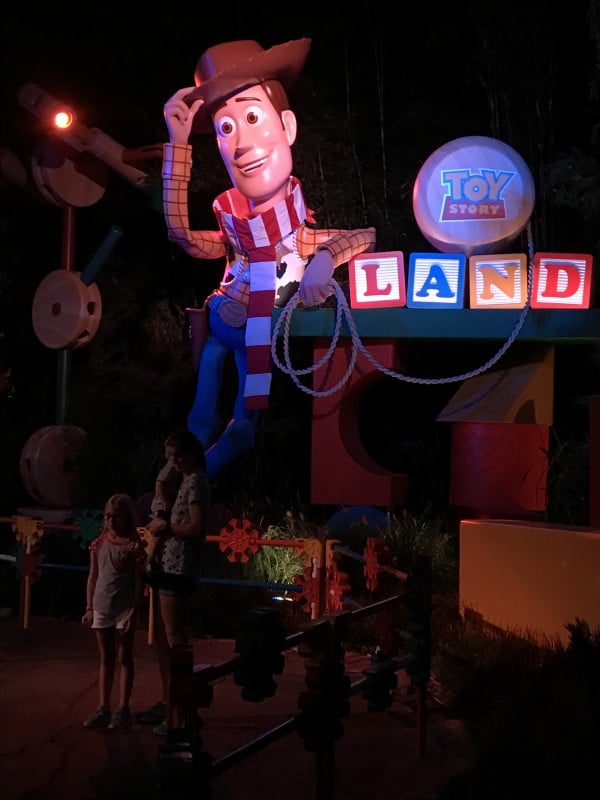 You'll find Woody with a holiday scarf…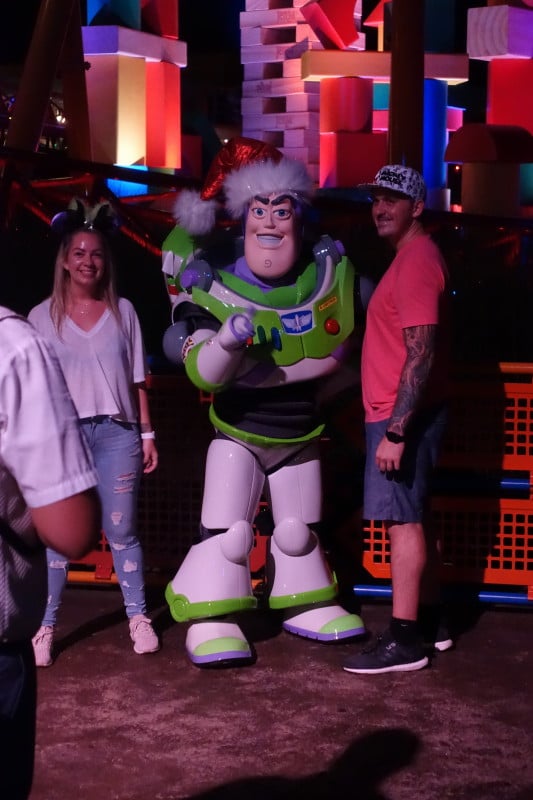 …Buzz Lightyear with a Santa hat…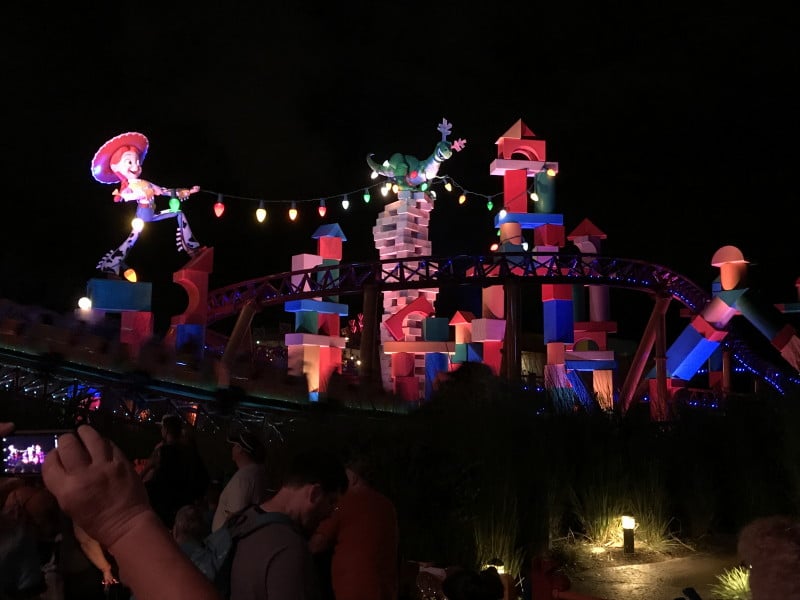 …antlers on Rex above Slinky Dog Dash…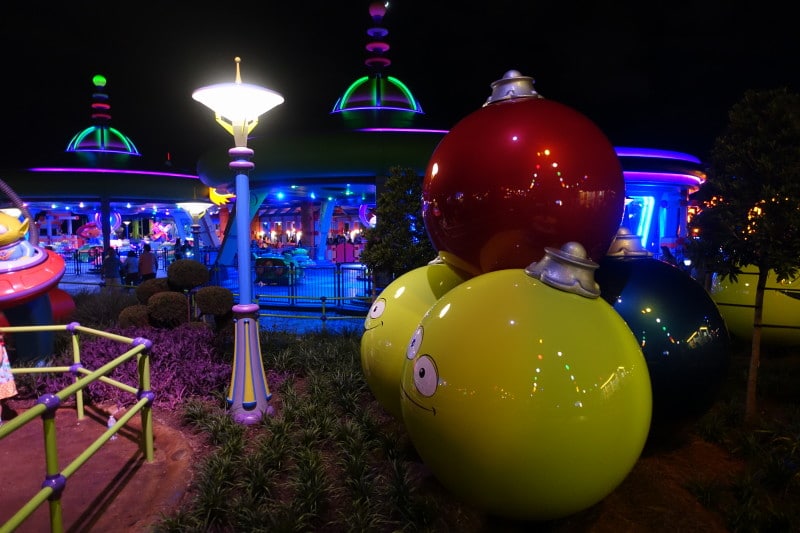 …some Christmas ornaments near Alien Swirling Saucers…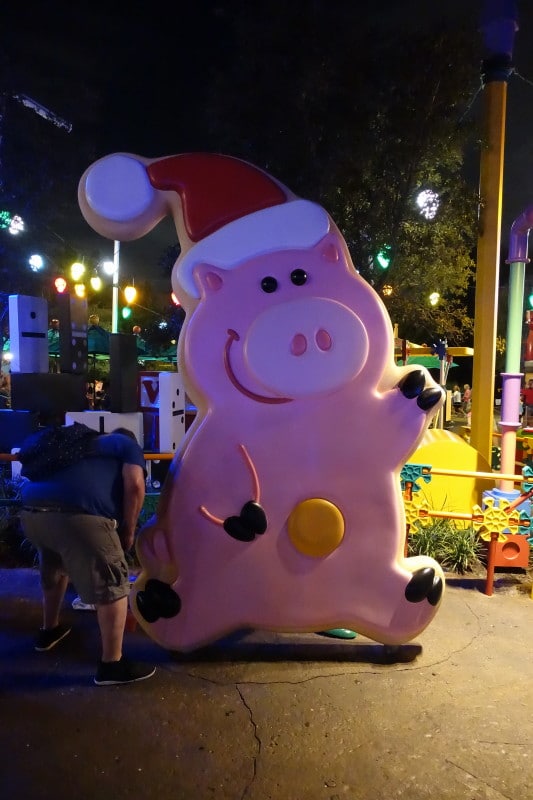 …and a Christmas cookie outside the Andy's Lunch Box.
There's a few more items but in general as noted it's not much. That said, Toy Story Land with its Christmas lights and toys is already very Christmassy, especially at night.
JINGLE BELL, JINGLE BAM!
Jingle Bell, Jingle BAM debuted at the Studios in 2016. Largely a projection show on the Grauman's Chinese Theater facade, it's not a tour de force, but is fun and clever.  It's framed around the crew from Prep & Landing, but adds a million Disney animations and require no real knowledge of the framing show.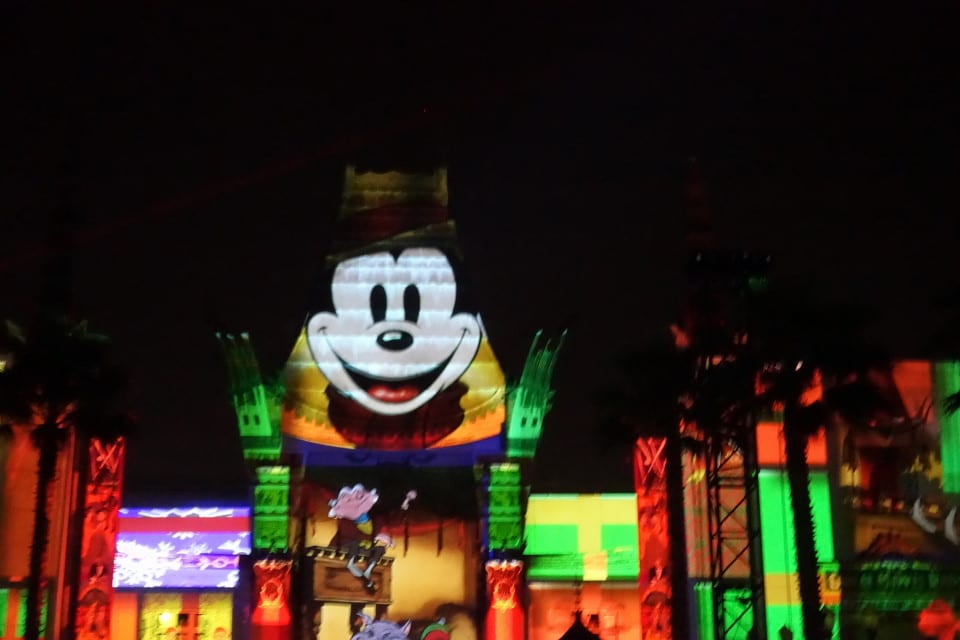 I cover Jingle Bell, Jingle BAM! in detail here, and my co-author Josh covers the somewhat disappointing dessert party associated with it on easyWDW.com here.
The Echo Lake and Sunset Boulevard decorations profoundly strengthen how well Disney's Hollywood Studios celebrate the holidays, and Toy Story Land is always fun–especially after dark.  Don't miss them!


Follow yourfirstvisit.net on Facebook or Twitter or Pinterest!!
RELATED STUFF