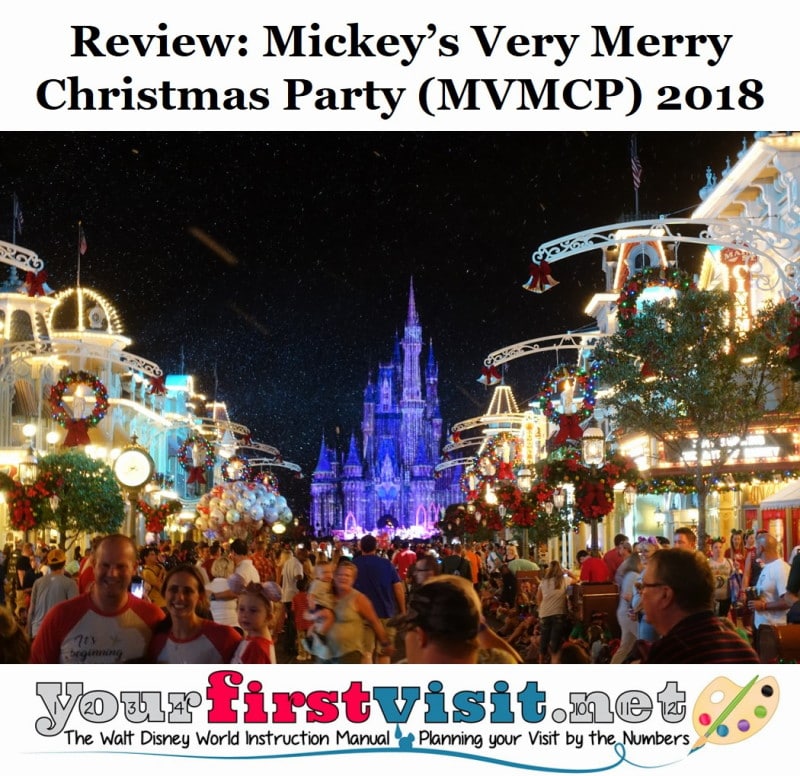 MICKEY'S VERY MERRY CHRISTMAS PARTY: A REVIEW
Mickey's Very Merry Christmas Party ("MVMCP") is a special event that takes place during the Christmas season at Walt Disney World.
It requires its own ticket, which is entirely separate from regular Disney World tickets and is only shown on certain nights from early November through the first two thirds of December.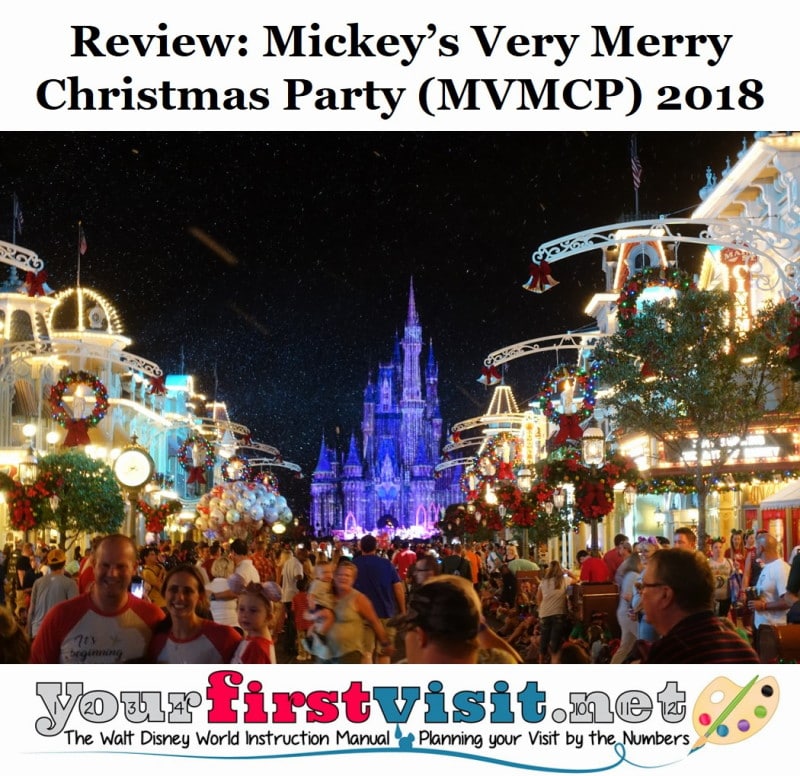 (For more on MVMCP tickets and show nights, see this.)
Even though it is expensive (tickets for a family of four will cost $400 or more) it's been part of this site's Basic December Itinerary since the site opened, for a couple of reasons:
Going to it lets people save a lot of time. 
Disney limits the amount of tickets it sells to each show of MVMCP.  As a result, waits for the rides are low–most typically 10 minutes, although you'll find longer waits at Seven Dwarfs Mine Train, Peter Pan, and Jingle Cruise.  Going to it and seeing some really popular rides with hardly a wait saves a ton of time that can instead be spent sleeping in or at the pool.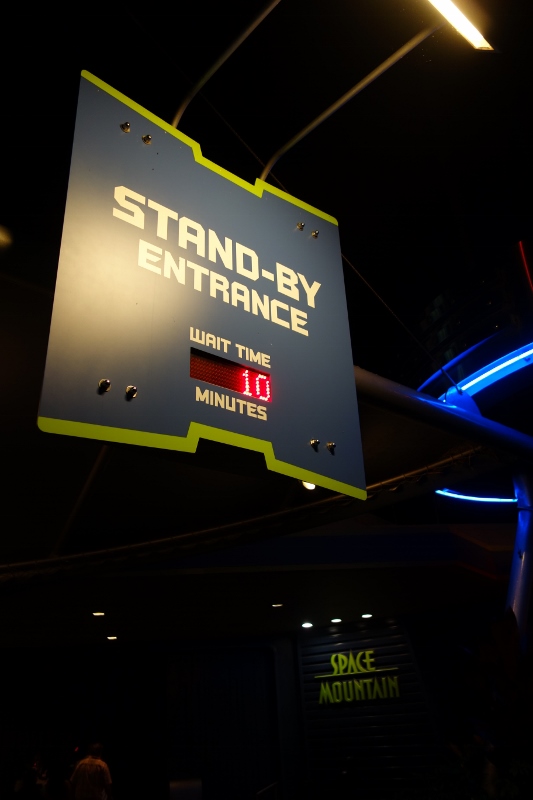 For example, above is the Space Mountain wait at a little after 9p.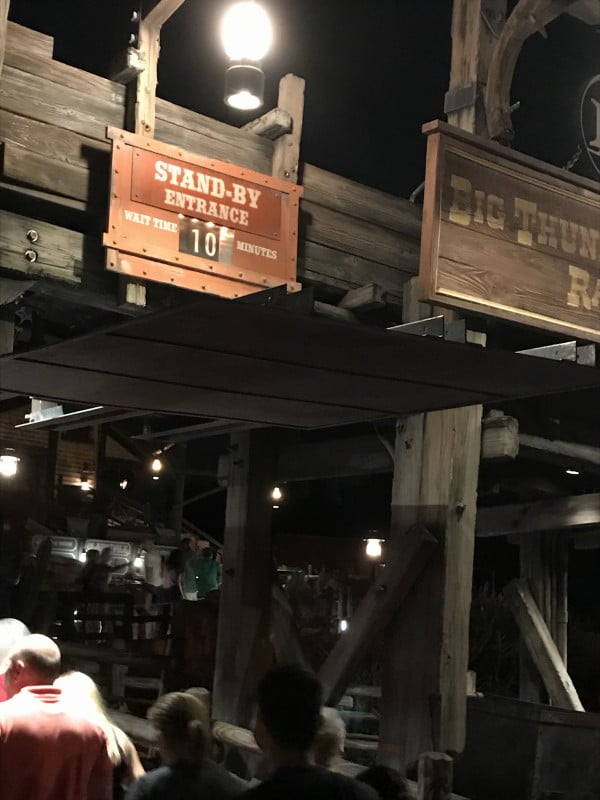 Big Thunder around 8p.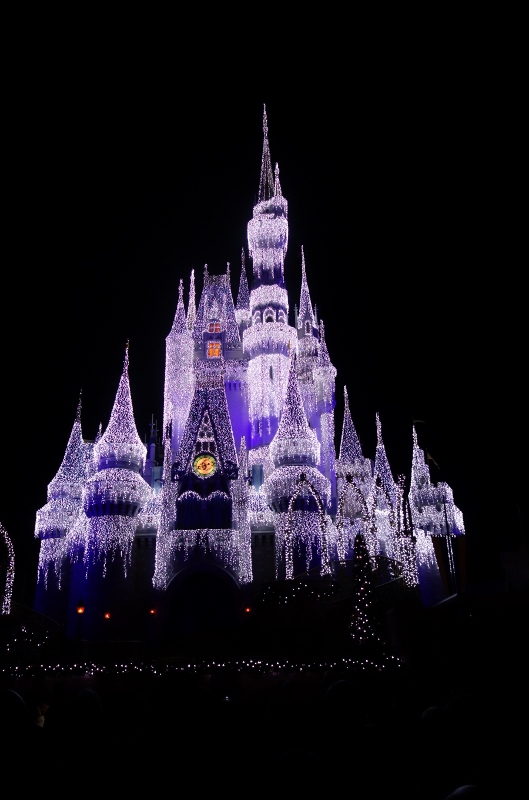 Going to it guarantees seeing an evening parade and fireworks. 
The regular evening parade at the Magic Kingdom is now gone, and at the time of year the Basic Itinerary covers, the fireworks at the Magic Kingdom may happen just a couple of times a week on non-MVMCP nights.  Going to MVMCP guarantees your family will have the opportunity to see an evening parade and fireworks.
Moreover, the parade and fireworks are unique. The fireworks are tied with those of the Halloween party as best of the year, and the parade has a fun Christmas theme!
I recommend people go to Walt Disney World in the early part of the Christmas season…so how can I not send them to this show?
It's silly and fun!
In November 2018 I had a chance to see it again, on Friday the 8th, my twelfth visit to this party. The rest of this entry is the review of that visit. (Note that some of the photos are from my earlier visits, where they turned out better than those I took that night…)
MICKEY'S VERY MERRY CHRISTMAS PARTY
There's a couple of components to MVMCP.
Noted already are the parade and fireworks, both in special Christmas versions.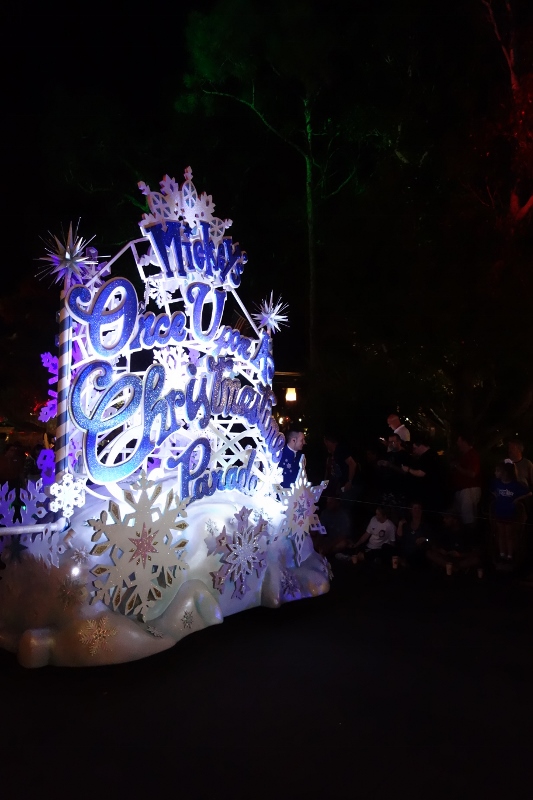 The parade, called Mickey's Once Upon a Christmastime Parade, happens twice each night, at 8.30 and 11p.
I strongly suggest you avoid the first parade.  Instead, go on rides until about 30 minutes before the fireworks, and watch them and then watch the second parade–crowds for the second parade will be much lower.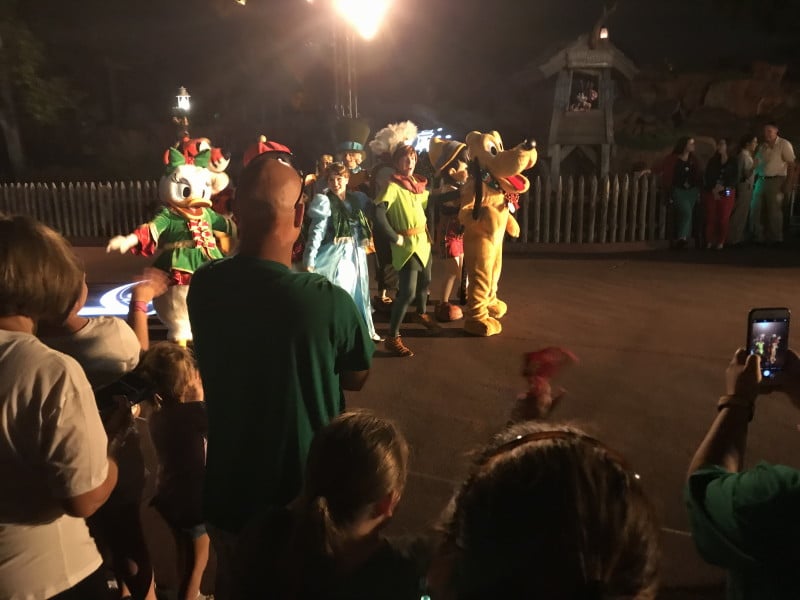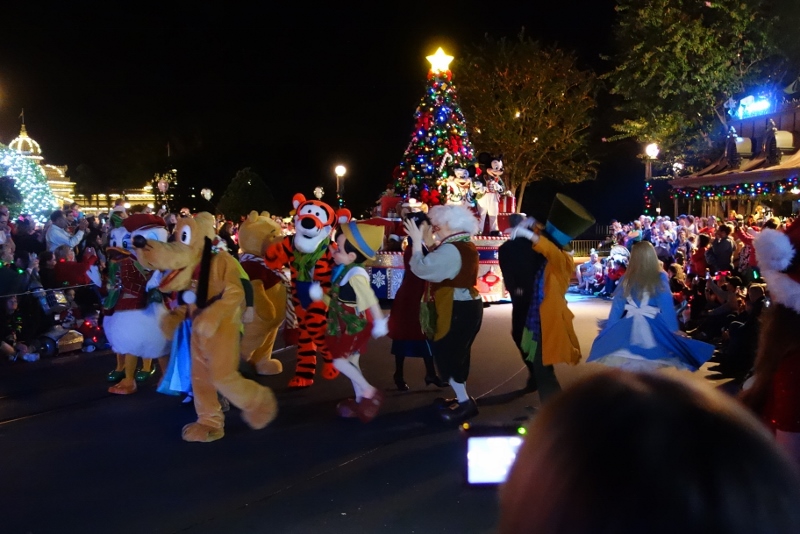 The parade begins with a bunch of characters…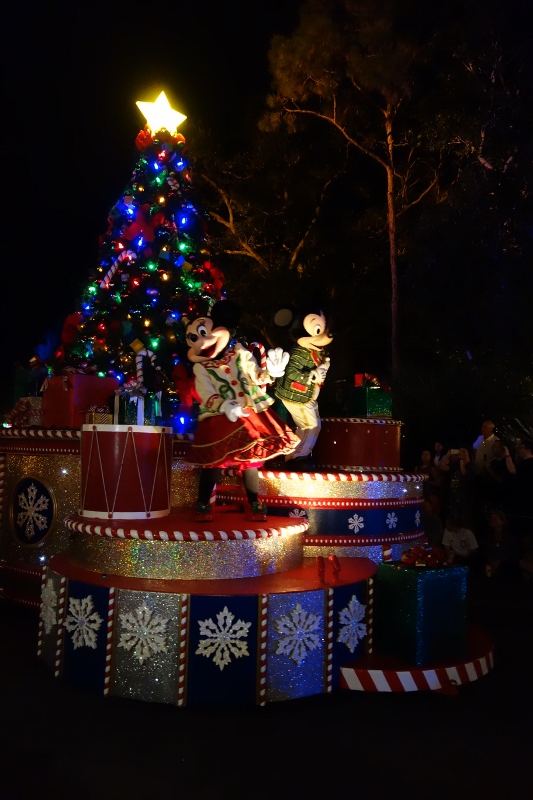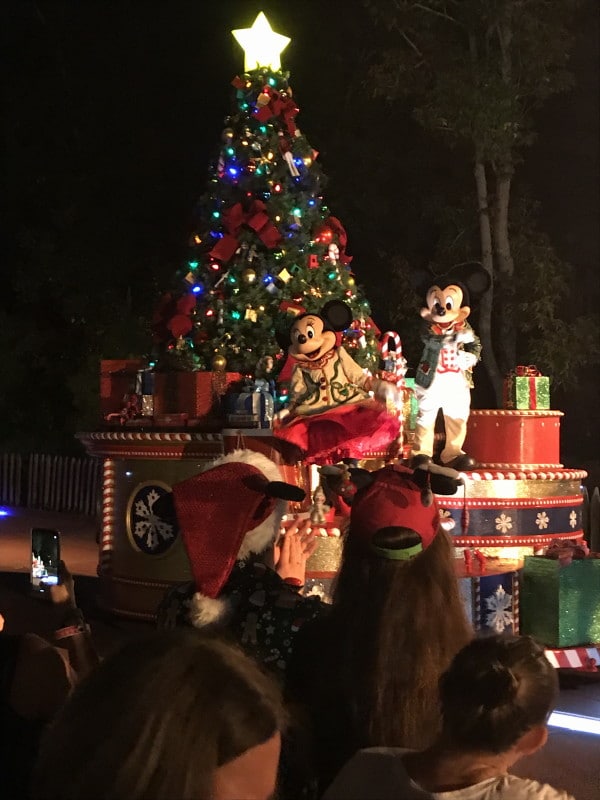 …then Minnie and Mickey.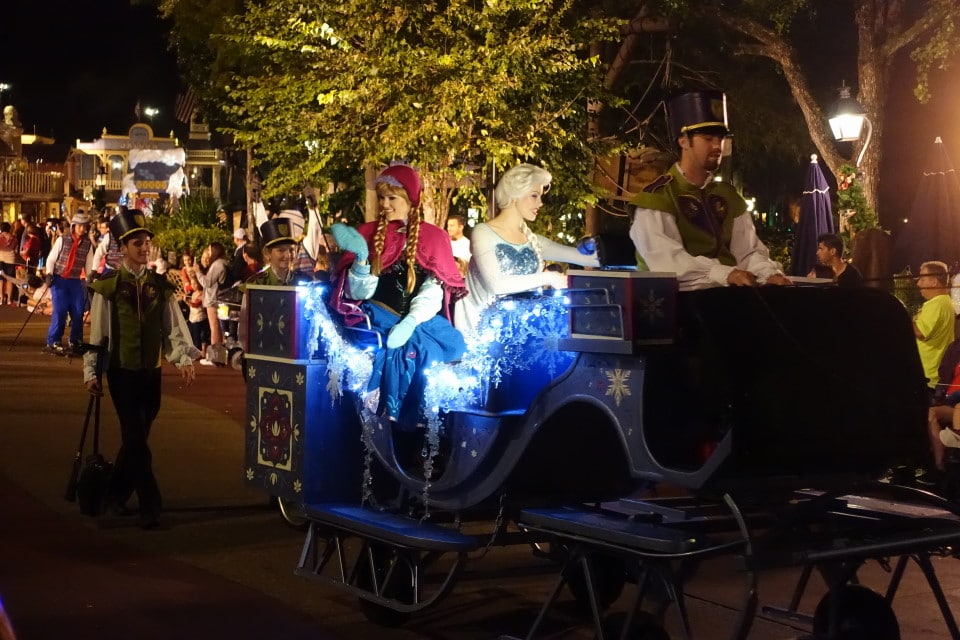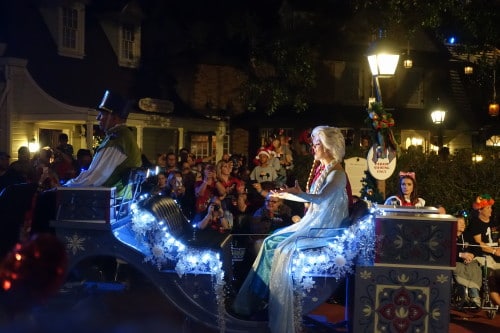 Frozen comes next with three floats, beginning with Anna and Elsa…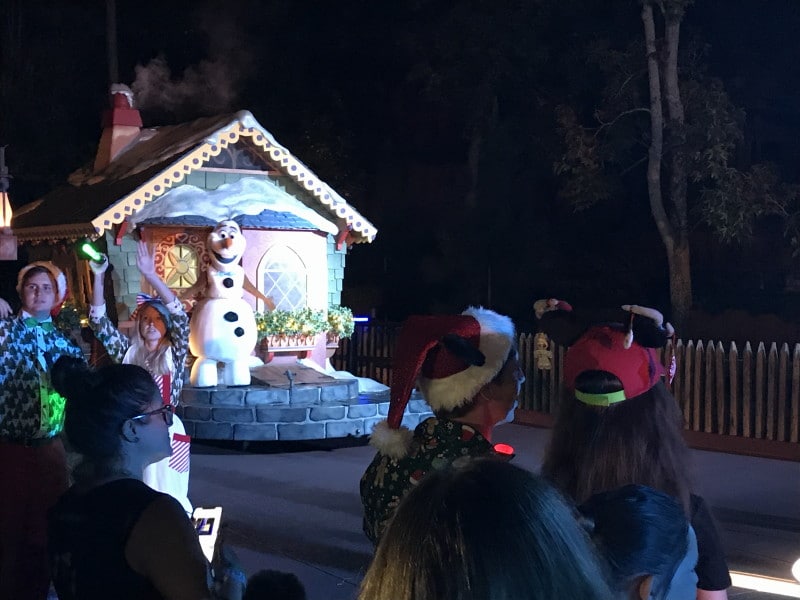 …then Olaf…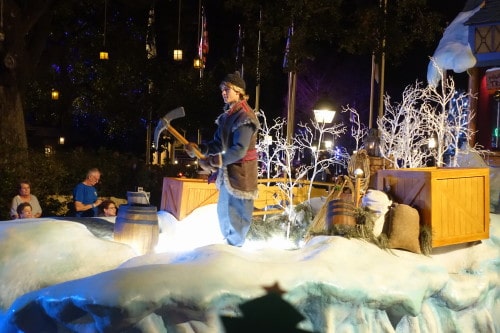 …and then Kristoff.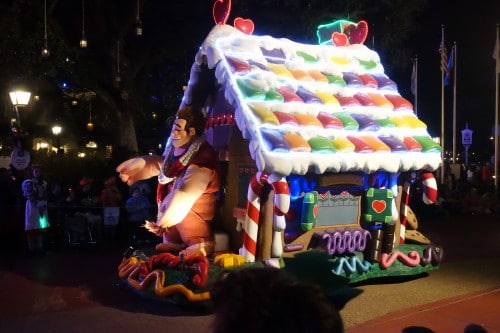 Next is Wreck-It Ralph…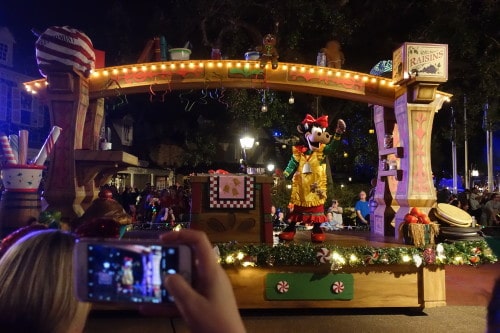 …then Clarabelle Cow and Christmas cookies–I still wonder why no resort is themed to Clarabelle?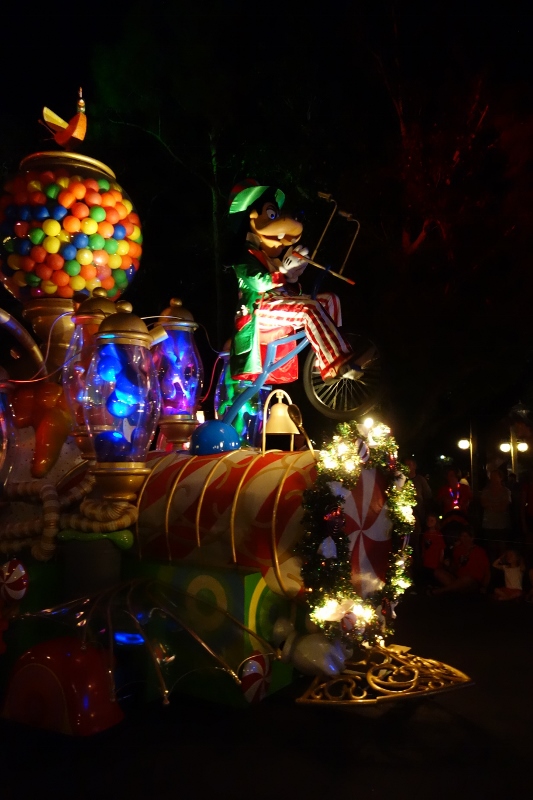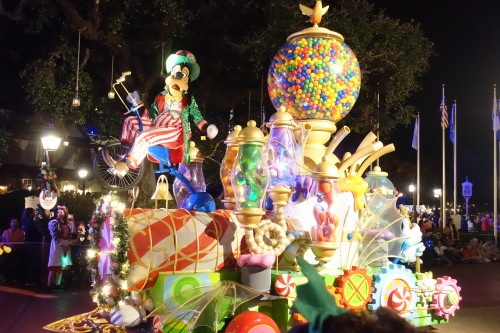 Next is Goofy and Christmas candy.
Next up is a sequence of princess-themed floats.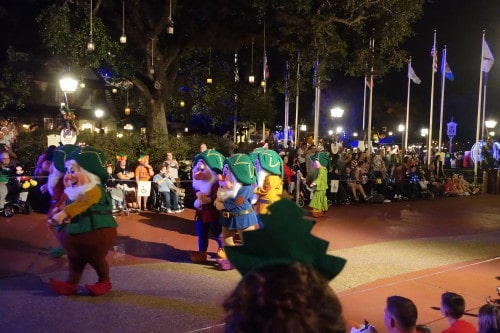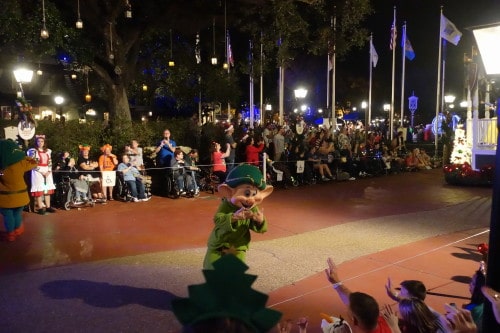 You might spot some dwarfs.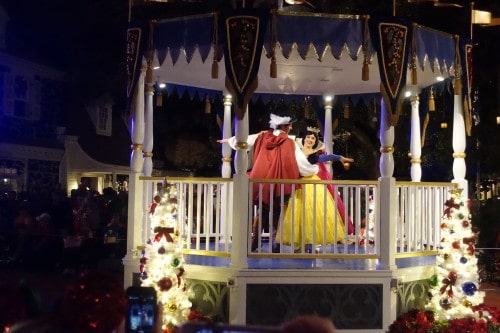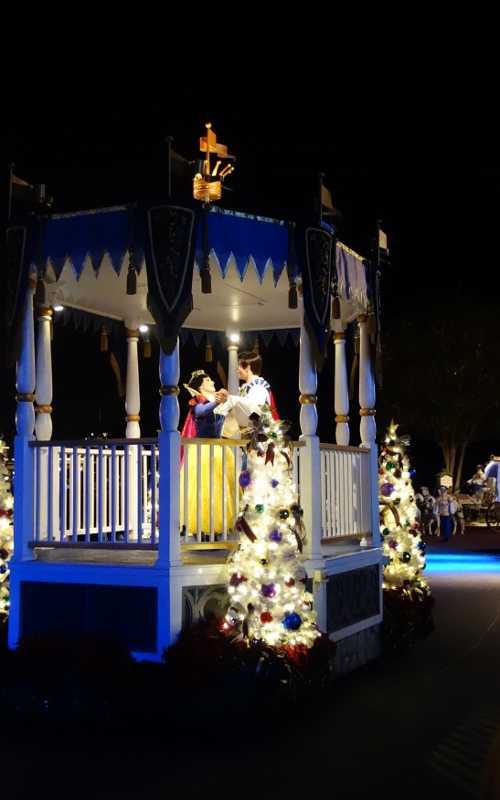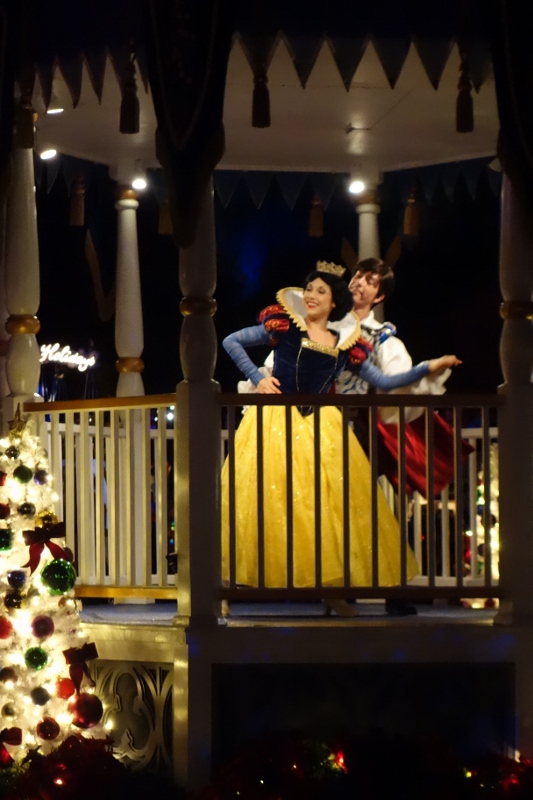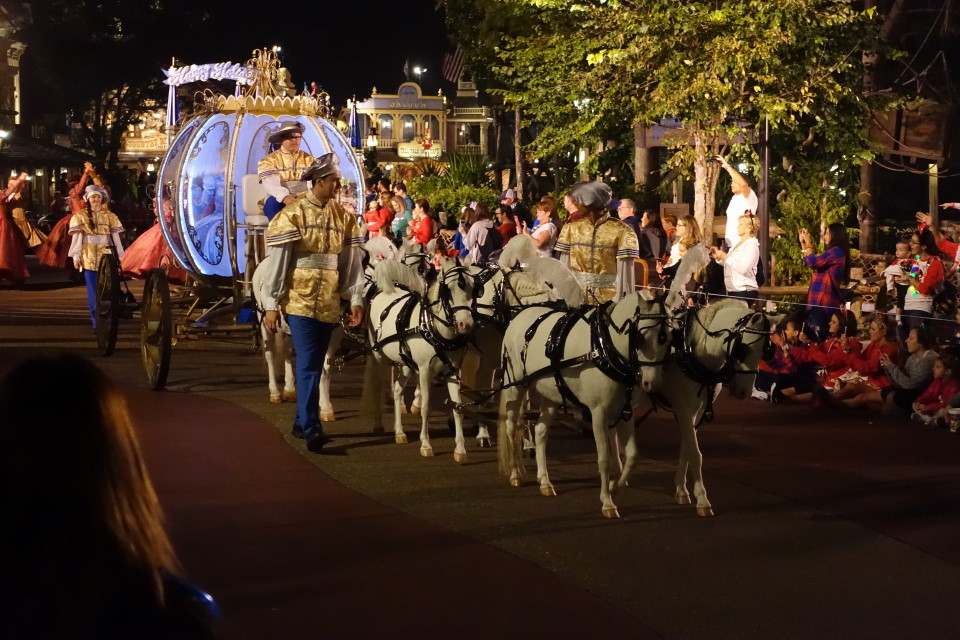 Snow White and Cinderella get their own floats.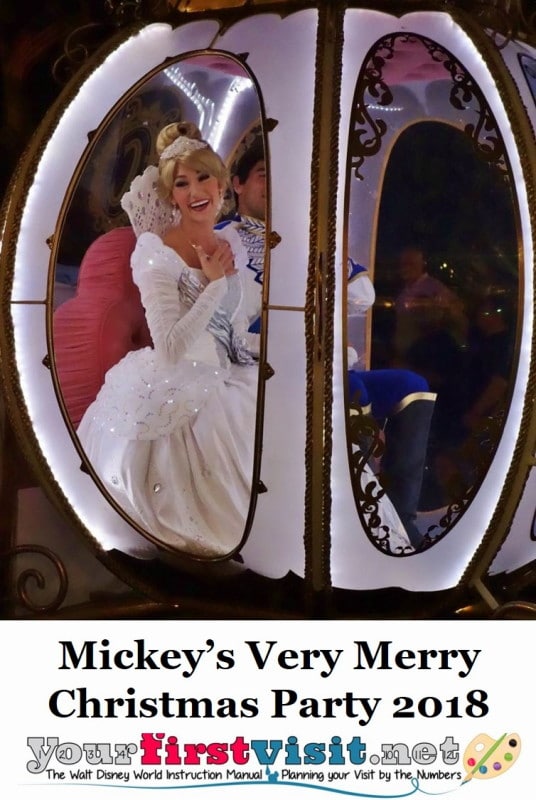 A closer shot of Cinderella.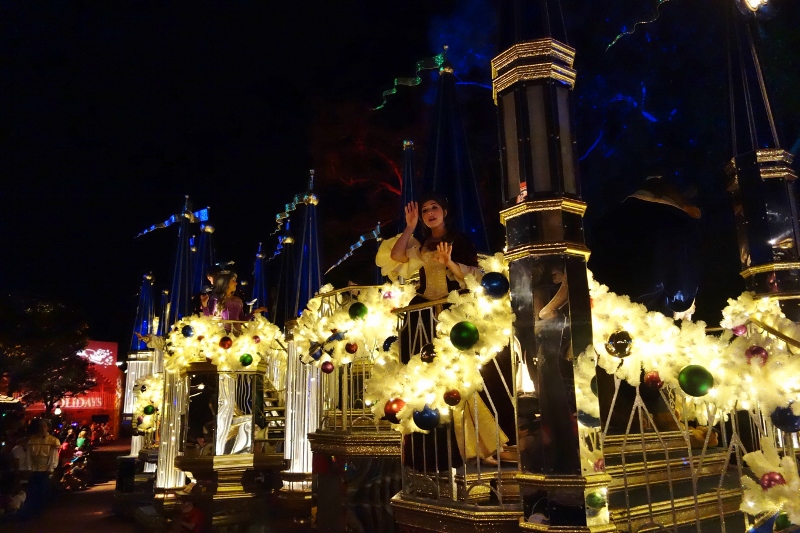 One large float is fronted by the Beast and holds a passel of princesses.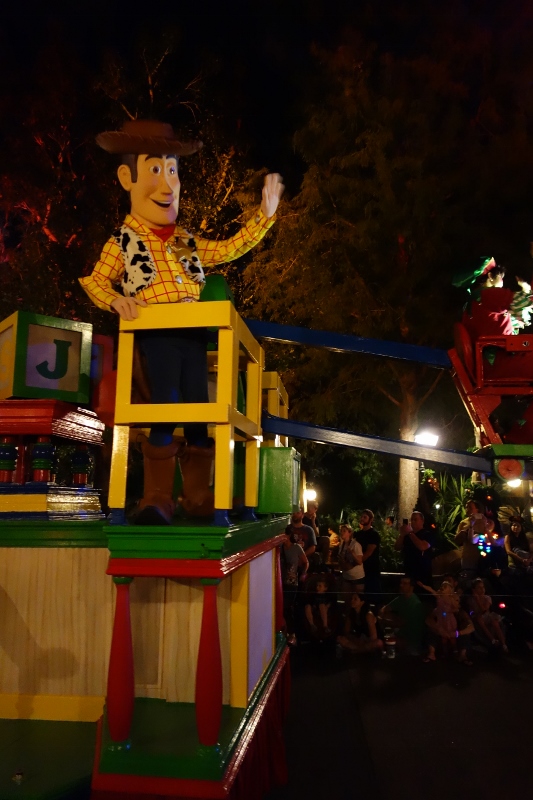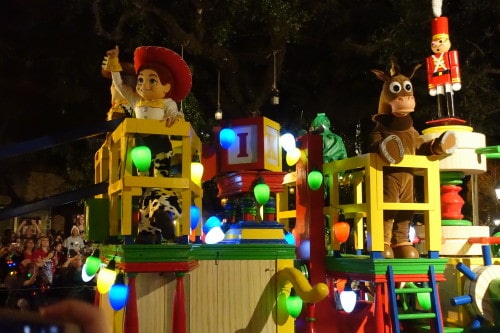 The parade then shifts to a toy theme, including Woody and Jess…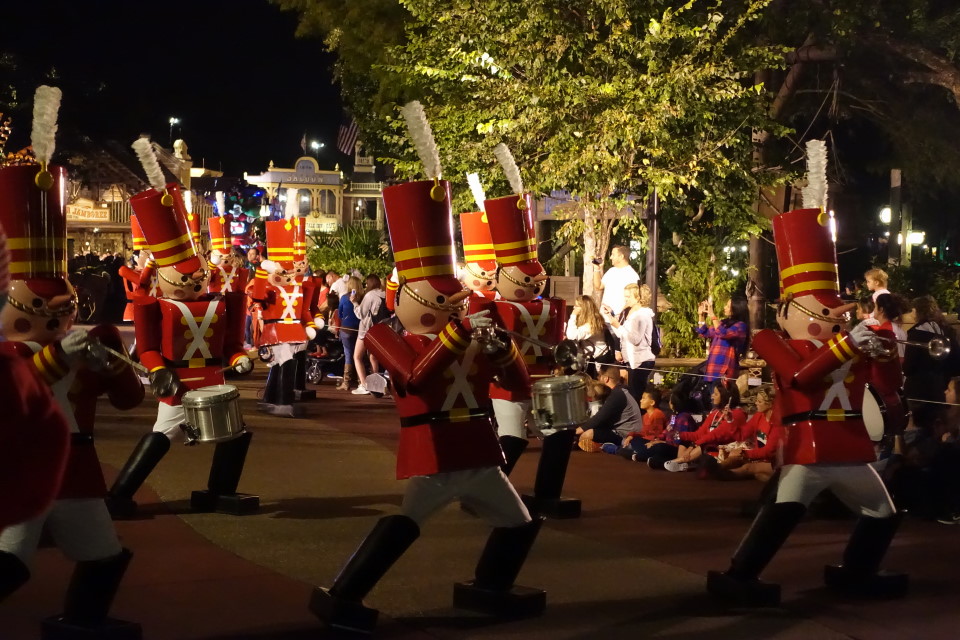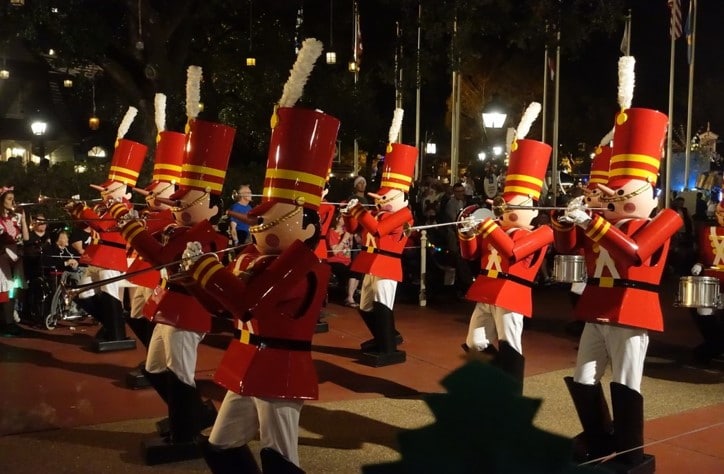 …and toy soldiers.
Santa Claus is on the last float.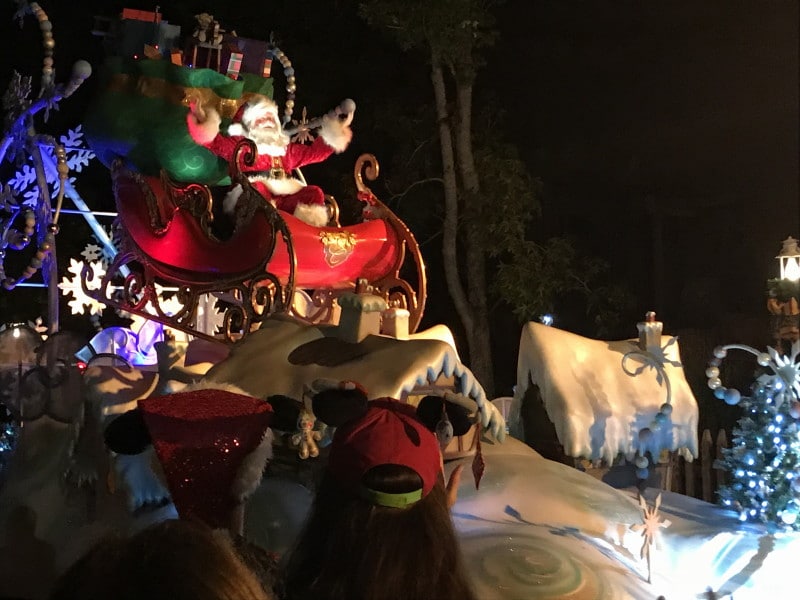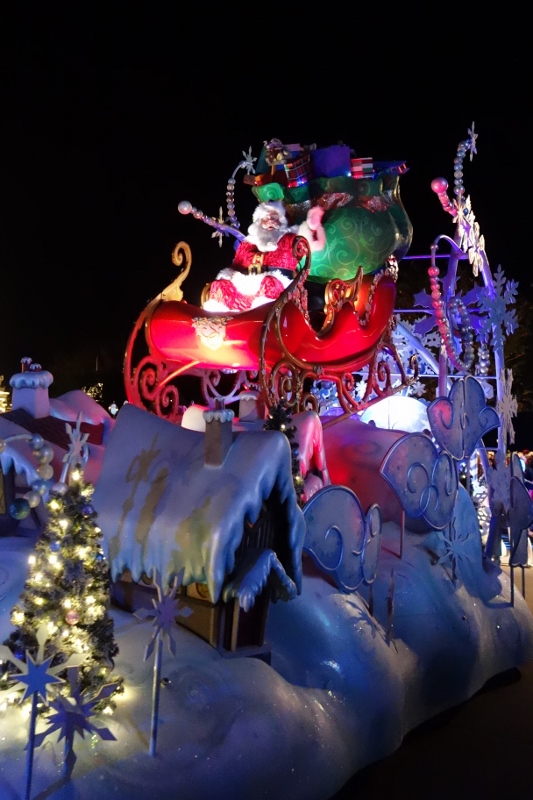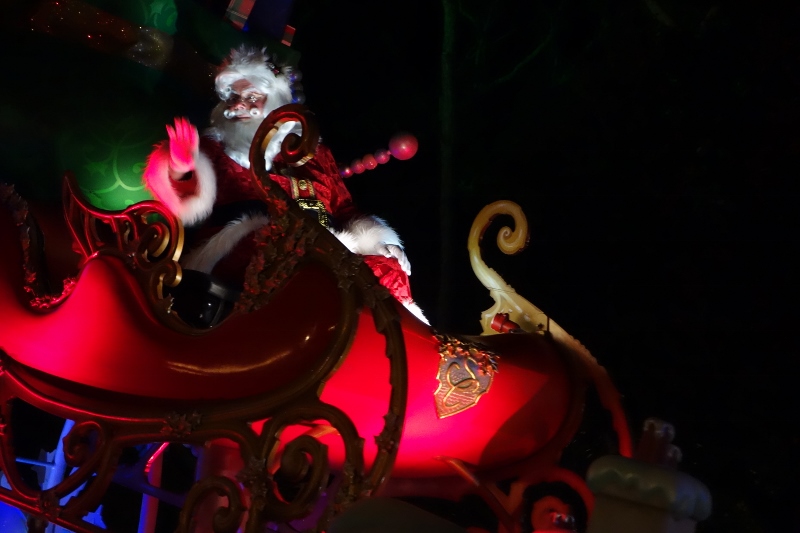 The fireworks, called Holiday Wishes, happen between the parades at 10p.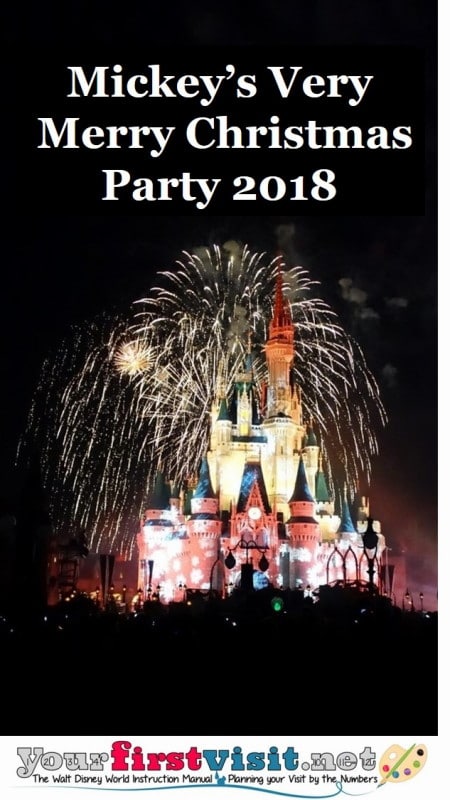 More fireworks: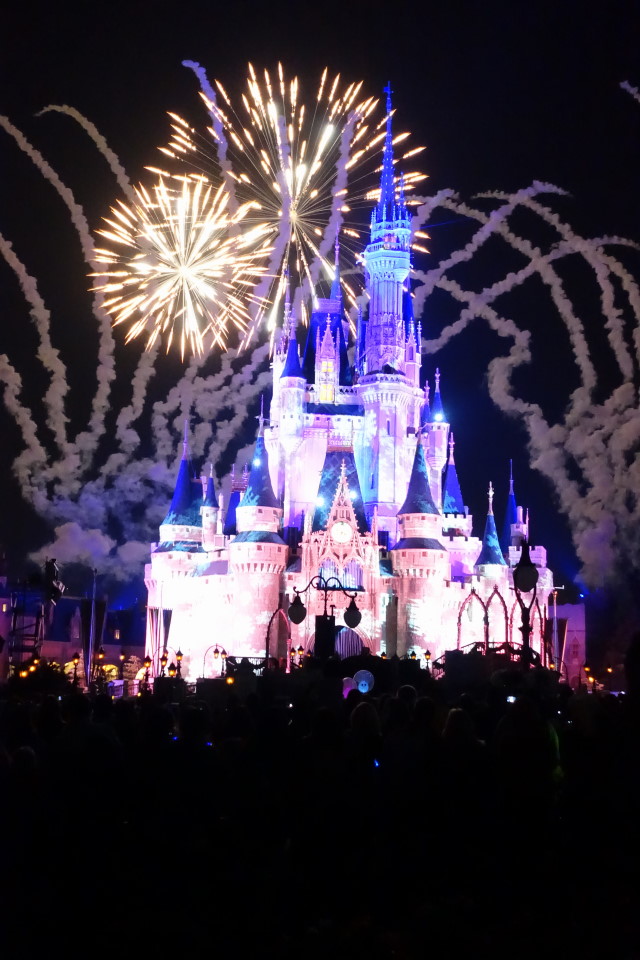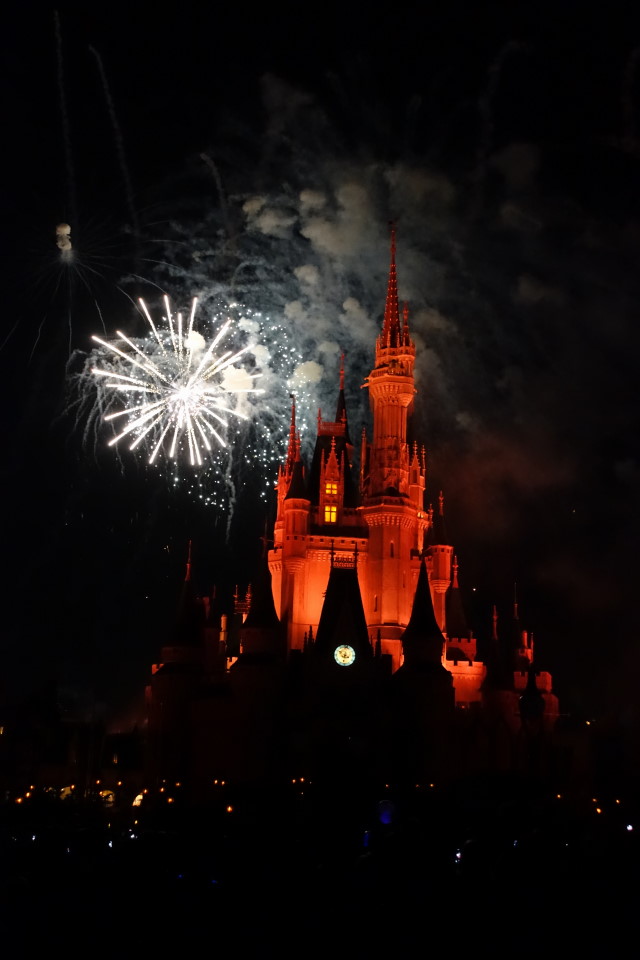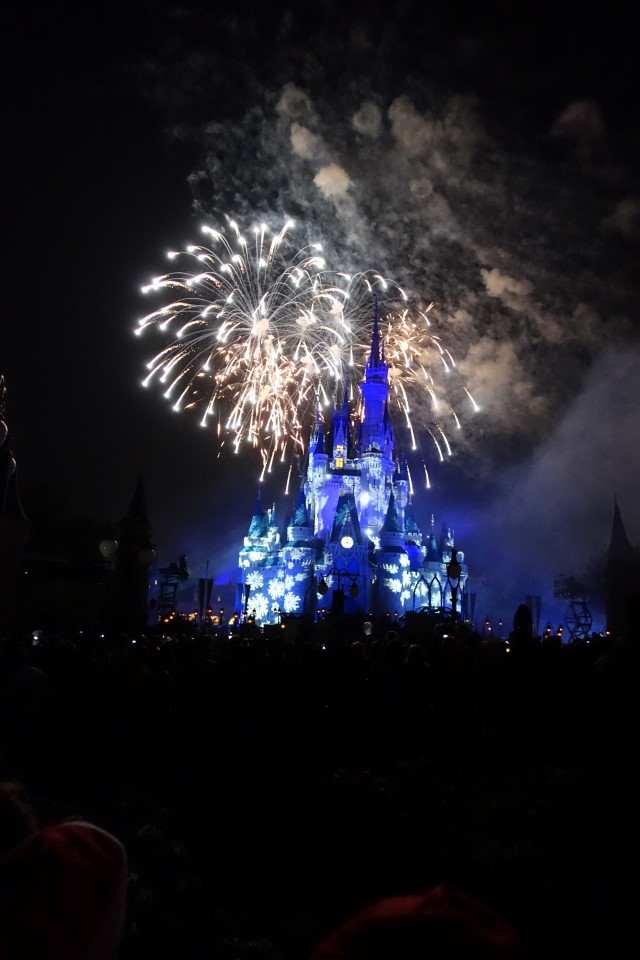 Also noted already are the rides.
Not all rides are open, but all of the most popular ones are (there's a list of what's open on the brochure below).
Because of the limit on tickets sold, most of the rides are pretty easy to get on to without major waits. The park will feel very crowded on Main Street and near the Castle, but this is because of all the people lining for the castle shows and the parade route.  Away from Main Street and Frontierland the park opens up and ride waits are quite short.
There's some shows, some unique to this event.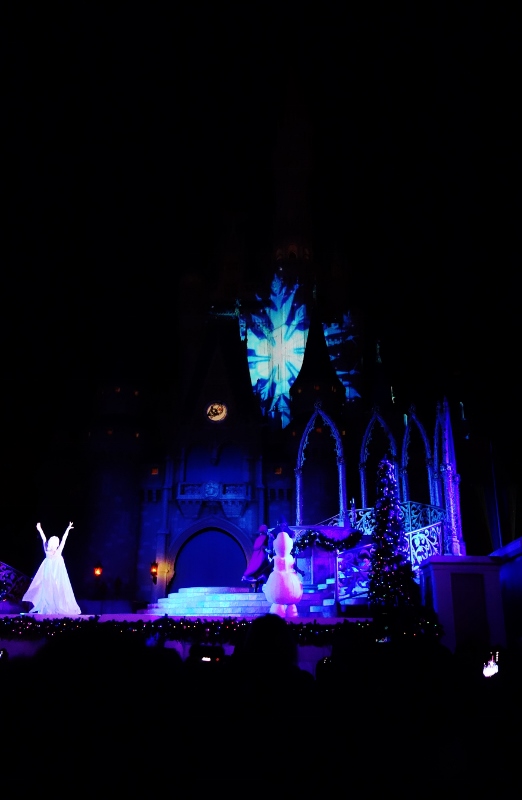 A Frozen Holiday Wish is the same as on regular MK evenings. It's OK but the 8.15 show will be mobbed and cut into your ride time.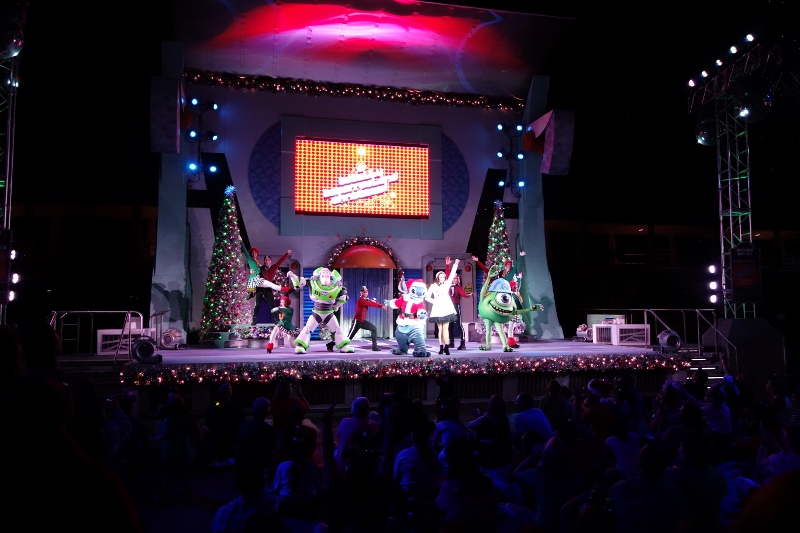 Only shown during the party are the skippable A Totally Tomorrowland Christmas in Tomorrowland…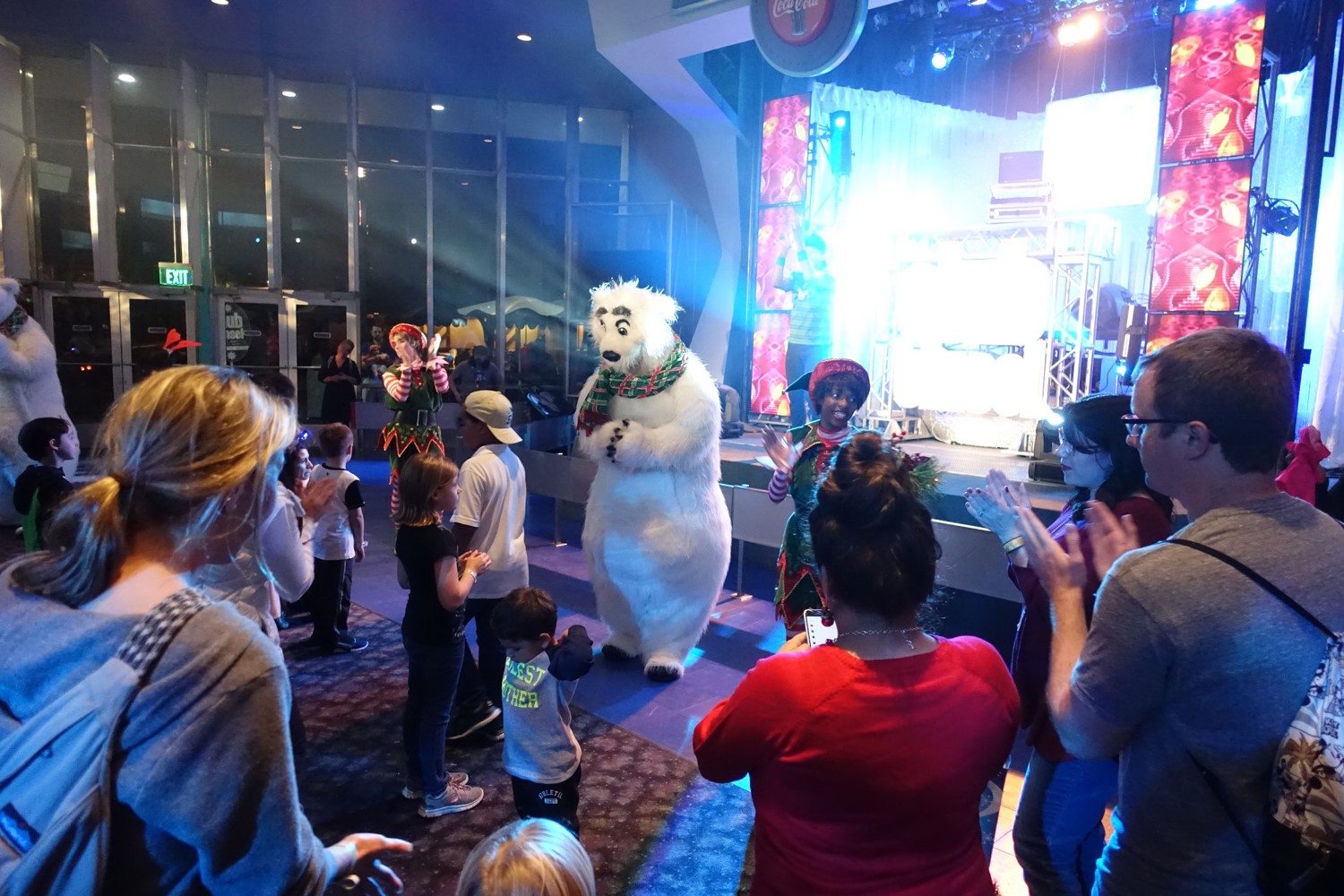 …and a skippable dance party in Cosmic Ray's in Tomorrowland.
Also available is "The Edge," showing on the same stage as A Totally Tomorrowland Christmas at 8.10, 9, 10.20 and 11.10p.  This will please you in direct proportion to the joy you take in boy band a Capella gestures towards Christmas songs.
Continuing from its 2016 debut is the Castle stage show "Mickey's Most Merriest Celebration." Showing at 7.40, 9.25, 10.30p, and 11.55p, this utterly skippable show includes dancing and character appearances to (mostly) second rate Christmas standards and (mostly) third rate original songs (all powerfully sung, however).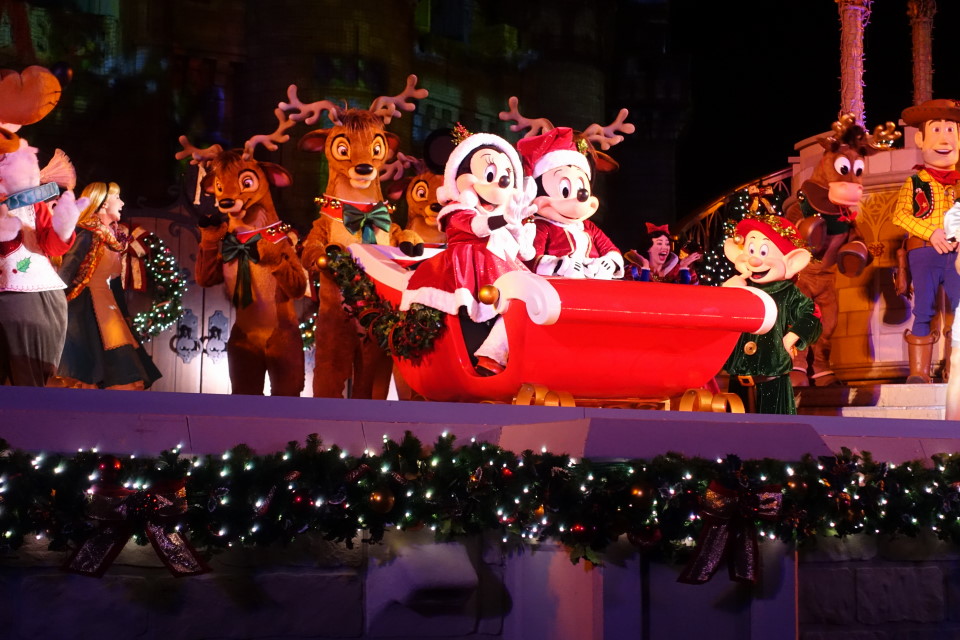 Oddities include a song about texting and keeping your phone charged which also features Daisy's rarely expressed longing for Donald, and a torch song by Clarabelle that will chill any potential target of her affections.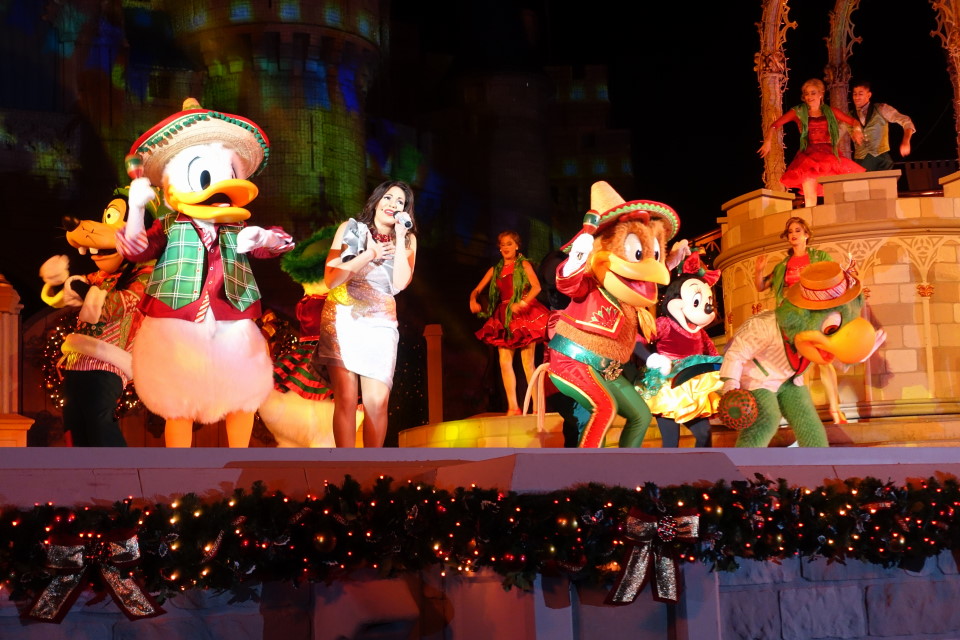 But wait, there's less, as the Three Amigos also are a focal point.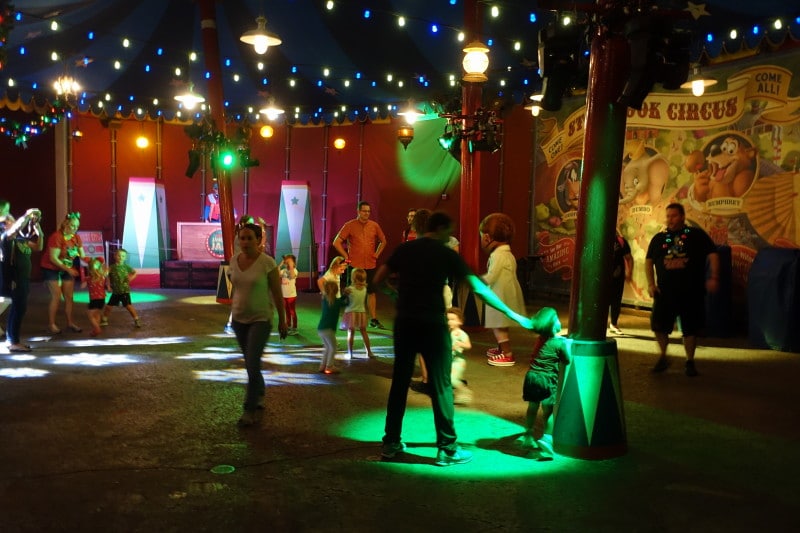 In Storybook Circus you'll find, most likely by mistake, a sparsely attended dance party with Disney Jr characters.
There's some fun other business: free cookies, free hot chocolate or other drinks (locations on the map), and snow!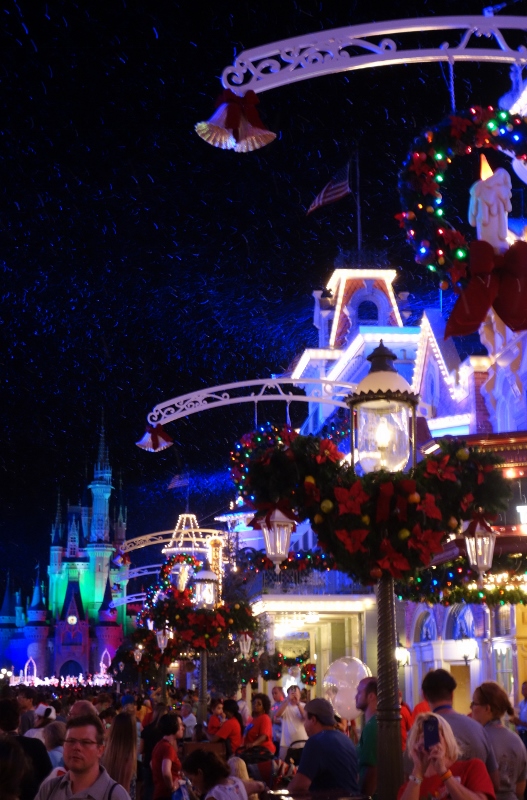 There's also character encounters, some typical, and some rare.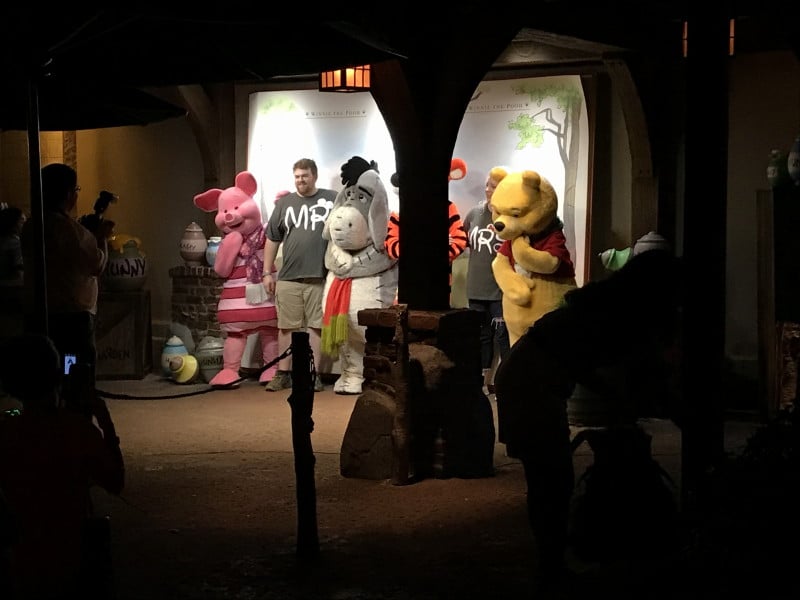 You can spend a lot of time waiting in lines for characters–go for it if that's your thing, but for most there's much better ways to spend your time given the cost of this party…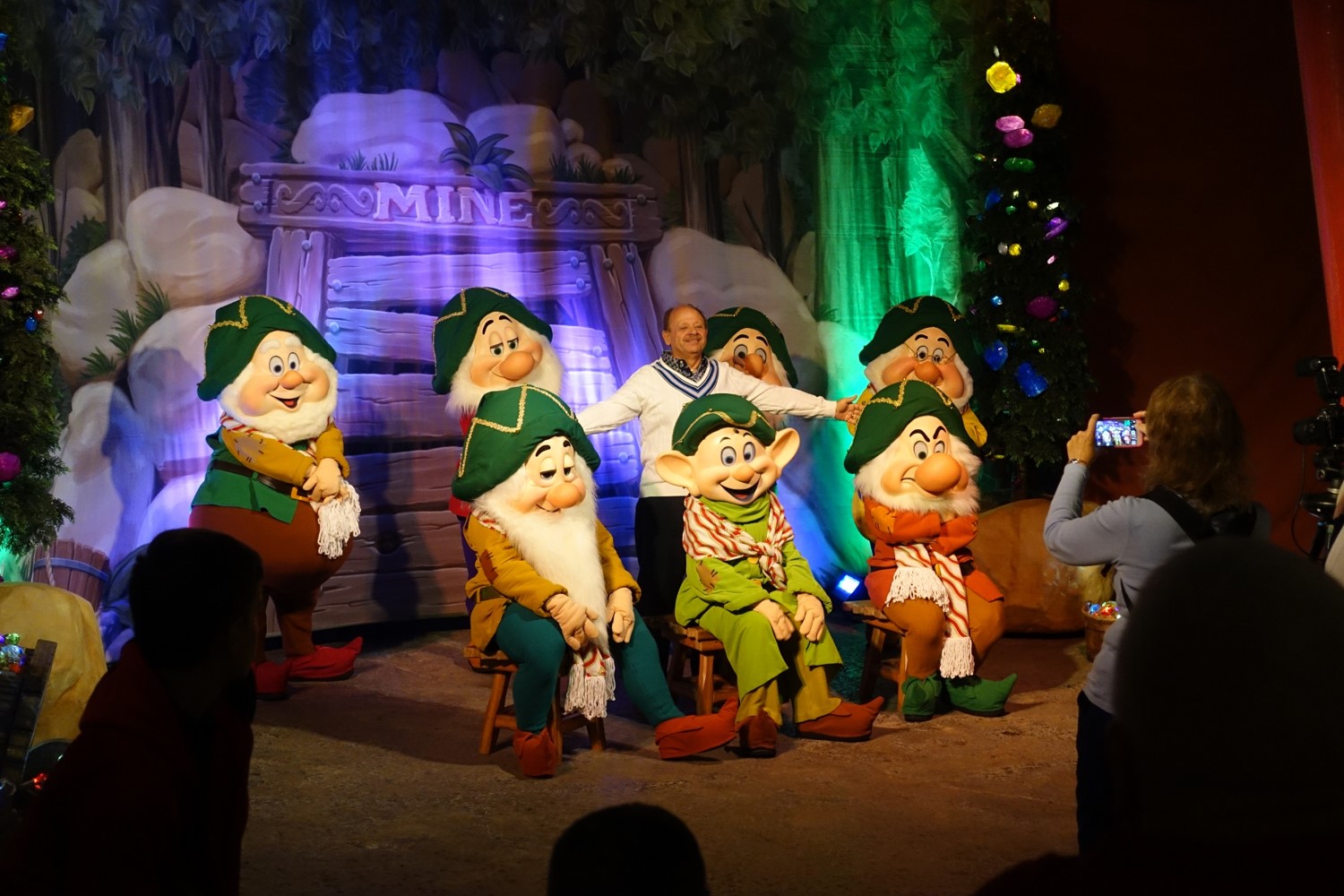 More characters: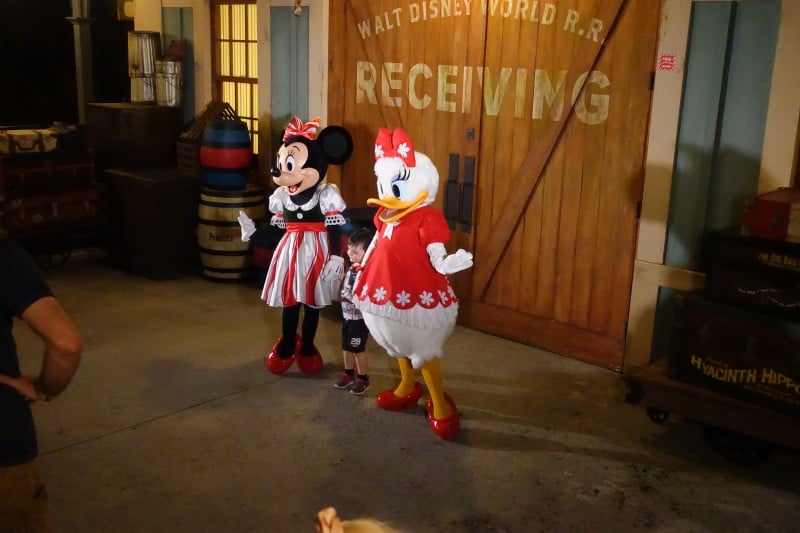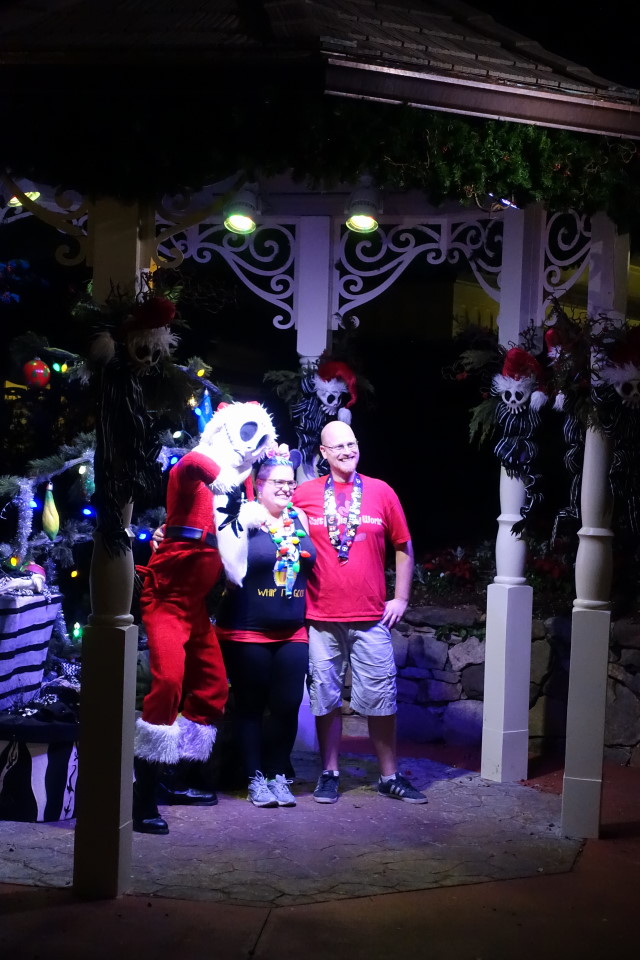 Both sides of the 2018 MVMCP brochure are below–as always, click them to enlarge them.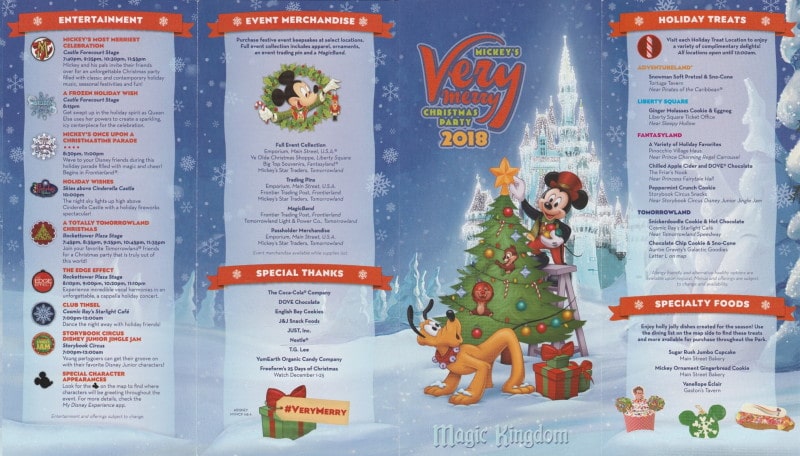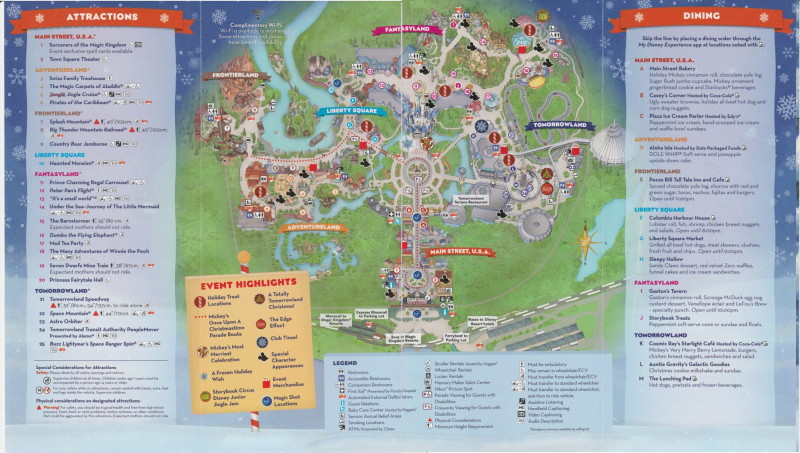 Even though the party starts at 7p, Disney traditionally lets people holding tickets for it through the turnstiles beginning at 4p. Show up early, see some of the lower wait rides, and have dinner.  If you show up around party time, Main Street will be mobbed.
FastPass+ is not available during the party–but it's also not needed, as only Seven Dwarfs Mine Train, Peter Pan and the Jingle Cruise see major waits. If you want to see these at the party, do them as late as you can stay up.
New in 2018 is a dessert, drinks and appetizer offering at Tony's, which also gives access to the area around the Christmas tree for viewing of the 11p run of the parade.  I don't entirely get the logic of paying around $100 to got to the party, then another $100 to avoid it. I think Victoria & Alberts would be the better choice for about the same money. My co-author Josh has a more positive view of this offering here on easy WDW.com.
WHAT ABOUT PEOPLE NOT FOLLOWING THE BASIC ITINERARY?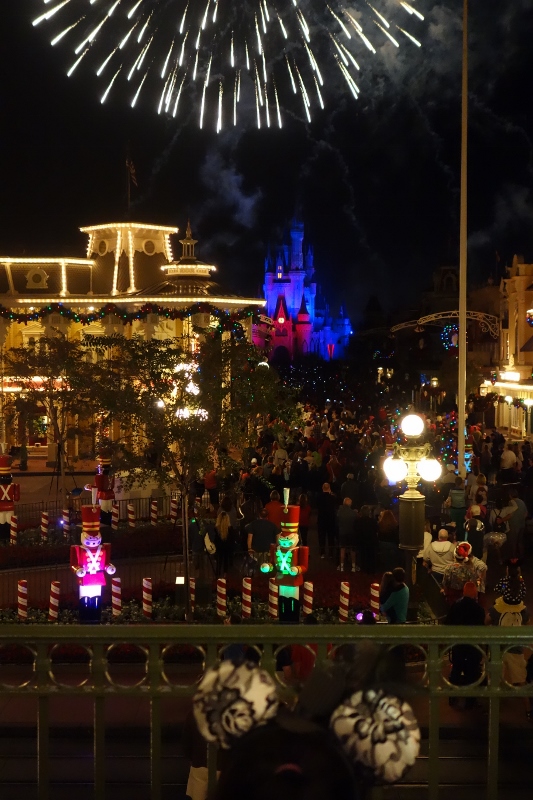 As noted, this show is expensive, but worth considering if one or more of the following apply to you:
You otherwise won't see the fireworks at the Magic Kingdom
Your plans otherwise leave you short on Magic Kingdom time, and/or
You are really a fan of Christmas
With kids old enough to be focused on rides, the right plan for MVMCP is to
Show up early, and eat before the party
Do rides until around 9.30p, and then
Position yourselves near the Castle for Holiday Wishes, and the second showing of the evening parade.
After the parade, do more rides or see the shows!
Some more shots from around Magic Kingdom during the party: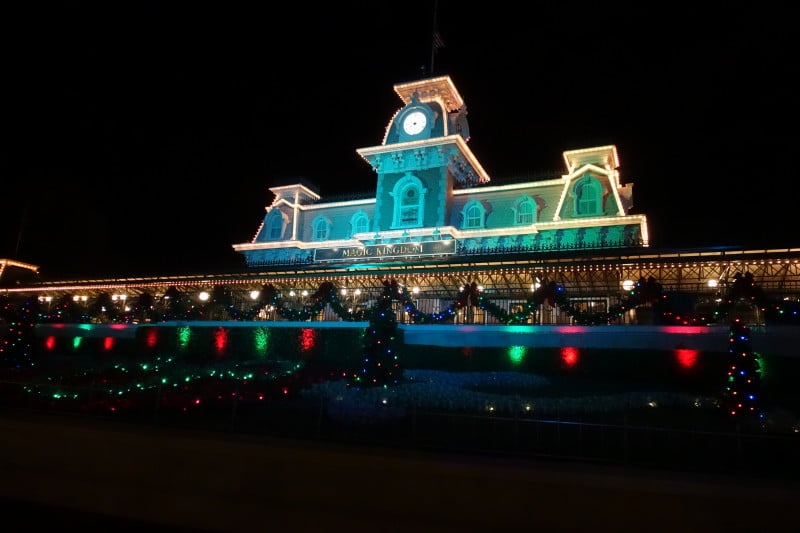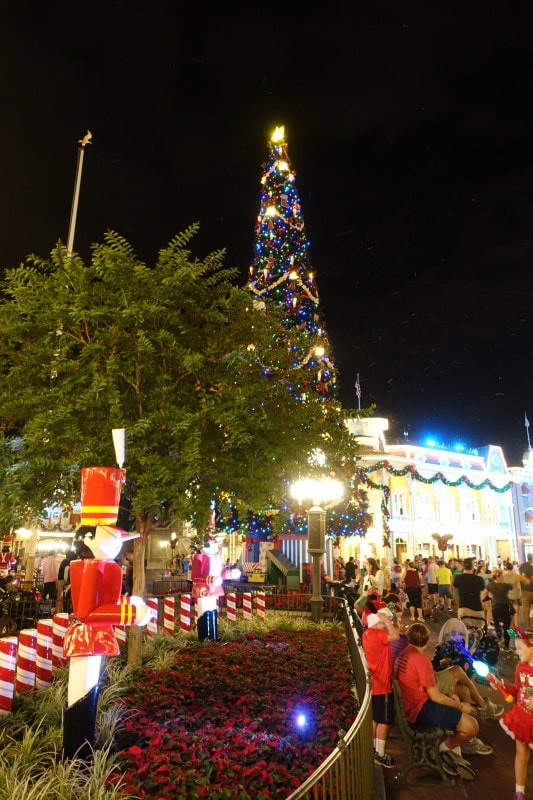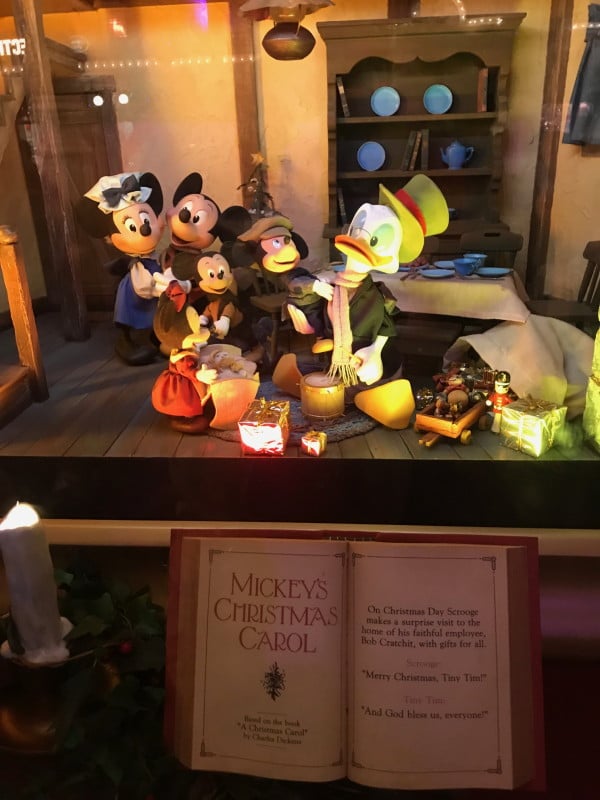 Around Main Street.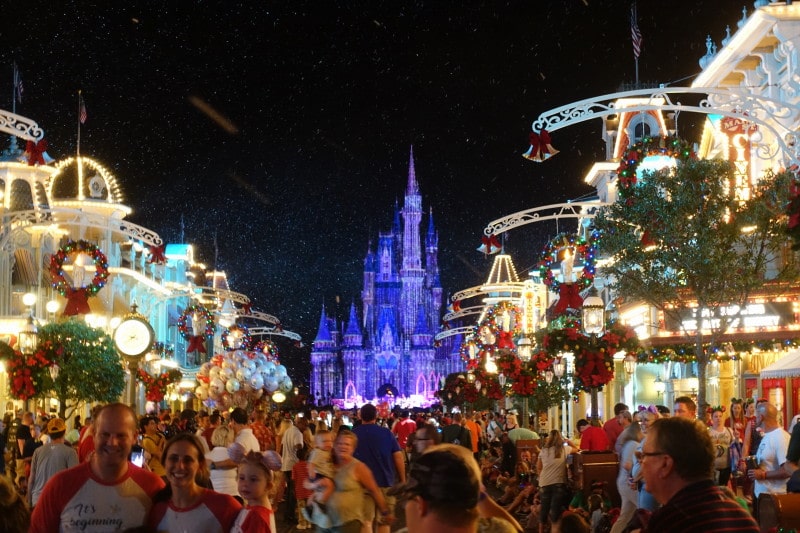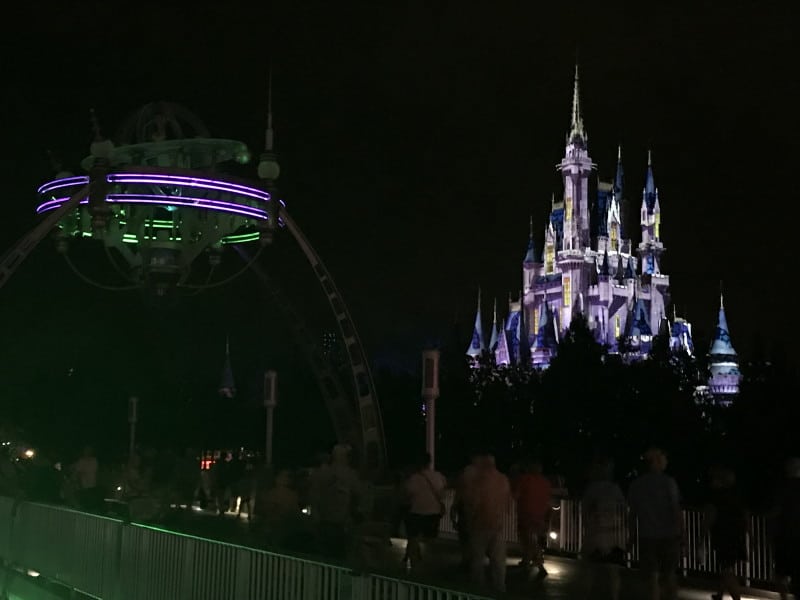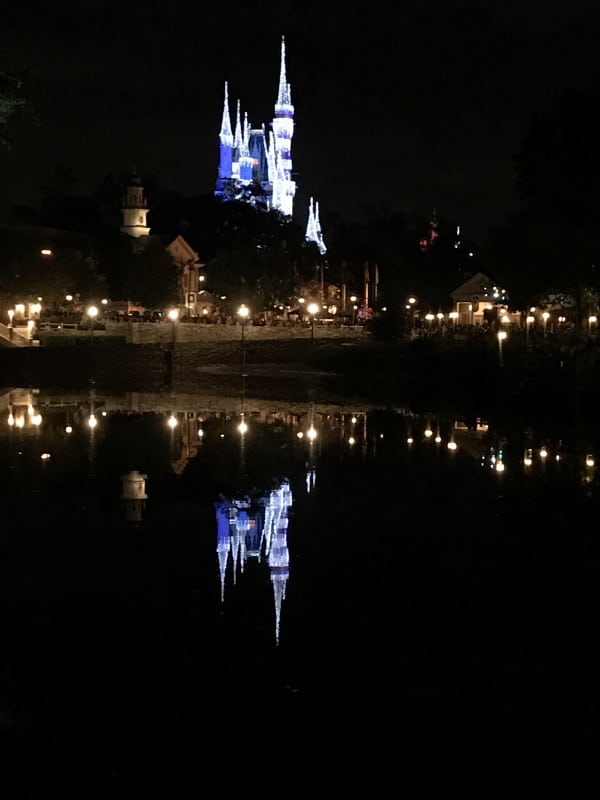 Shots of the Castle.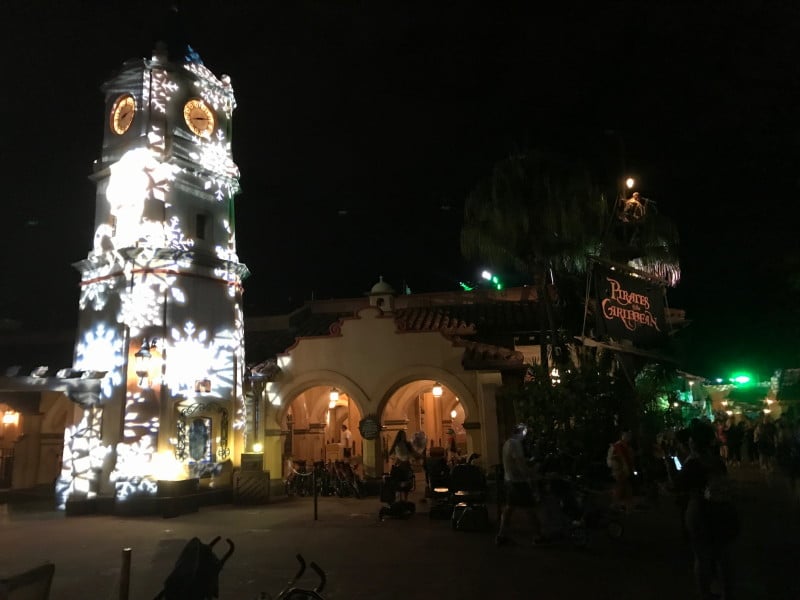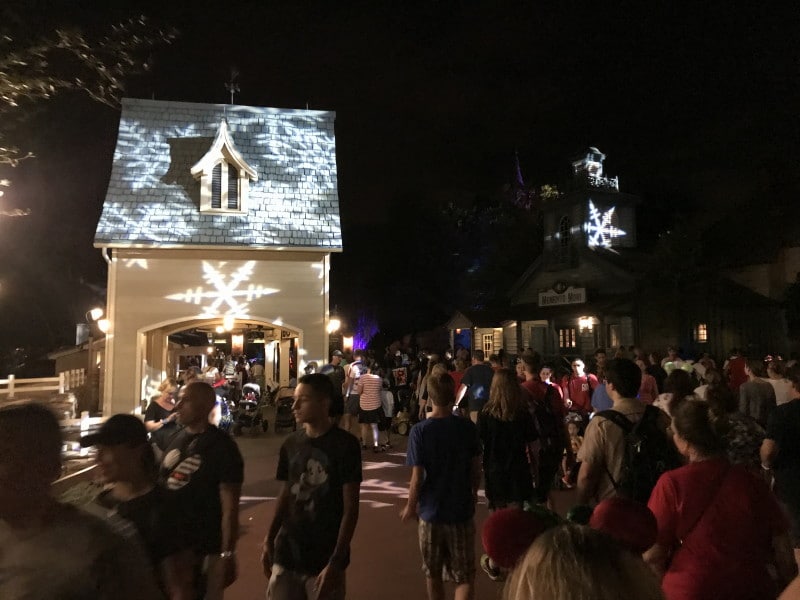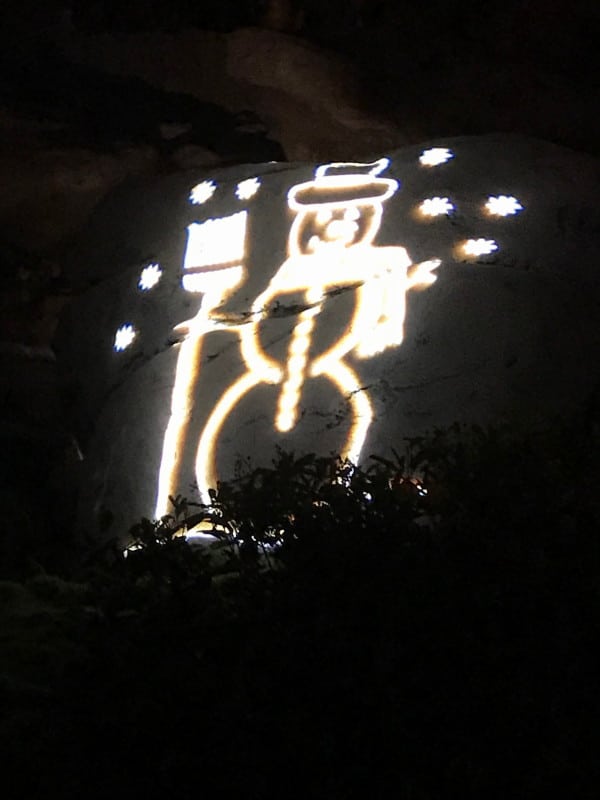 Some graphics.


Follow yourfirstvisit.net on Facebook or Twitter or Pinterest!!