Alien Swirling Saucers in Toy Story Land in Disney's Hollywood Studios
By Dave Shute
REVIEW: ALIEN SWIRLING SAUCERS IN TOY STORY LAND AT DISNEY'S HOLLYWOOD STUDIOS
Alien Swirling Saucers opened in the new Toy Story Land at Disney's Hollywood Studios at the end of June 2018.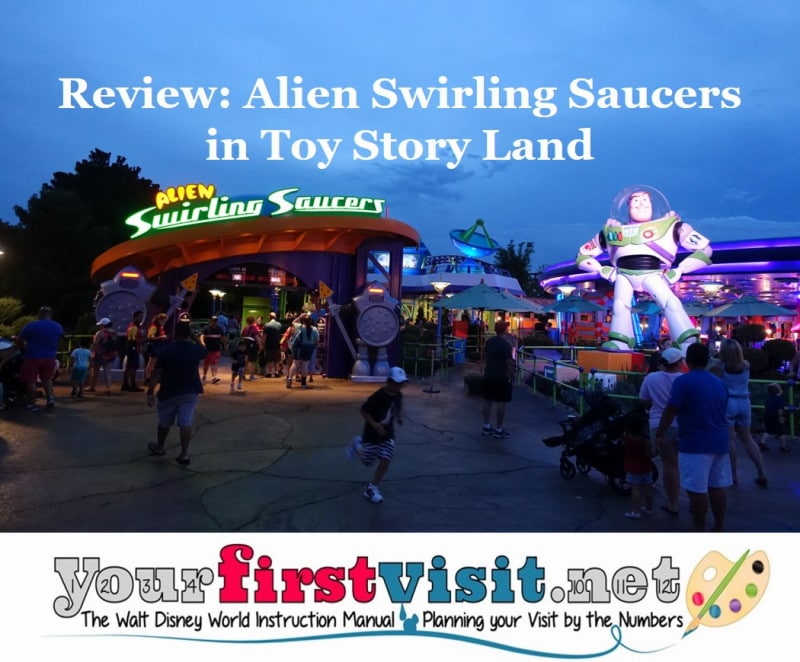 Very much the lesser of the two new rides that opened at Toy Story Land (my review  of the other, Slinky Dog Dash, is here), it does delight kids!
According to Disney, "inside a play set that Andy won at Pizza Planet, the Aliens have powered up their flying saucers—and they're ready to spin you on a wild ride into space! Hold on for some wild fun as your toy rocket takes off, all while electronic space music provides an intergalactic soundtrack. And if you're really lucky, you might just get "chosen" by the claw."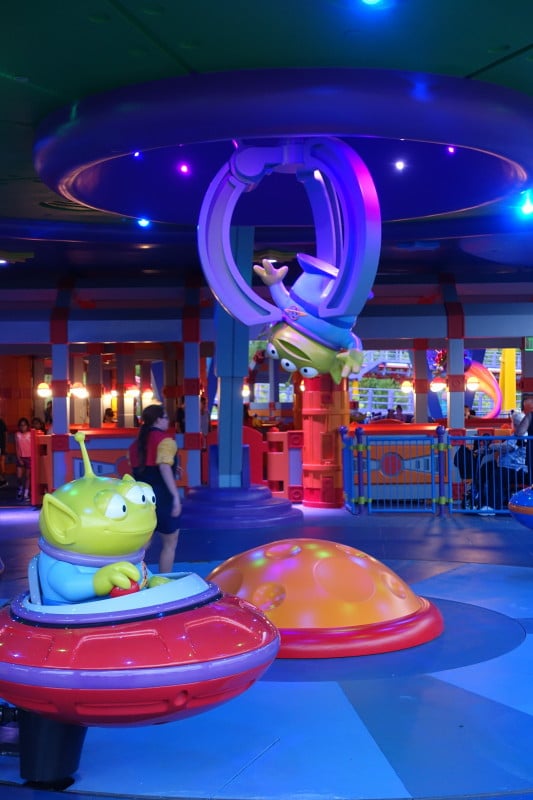 So just to be clear, you won't be chosen by "the claw"—the claw plays no role in the ride, and you might miss its presence entirely.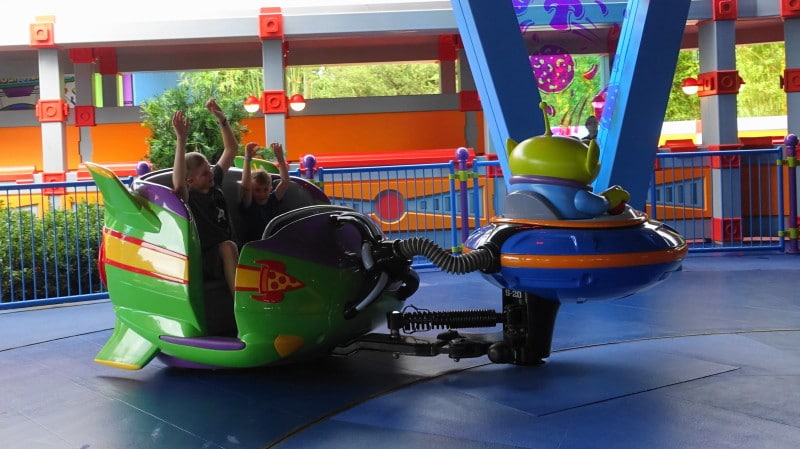 Rather, Alien Swirling Saucers is simply a fun, carnival style spinning–well, swirling–ride.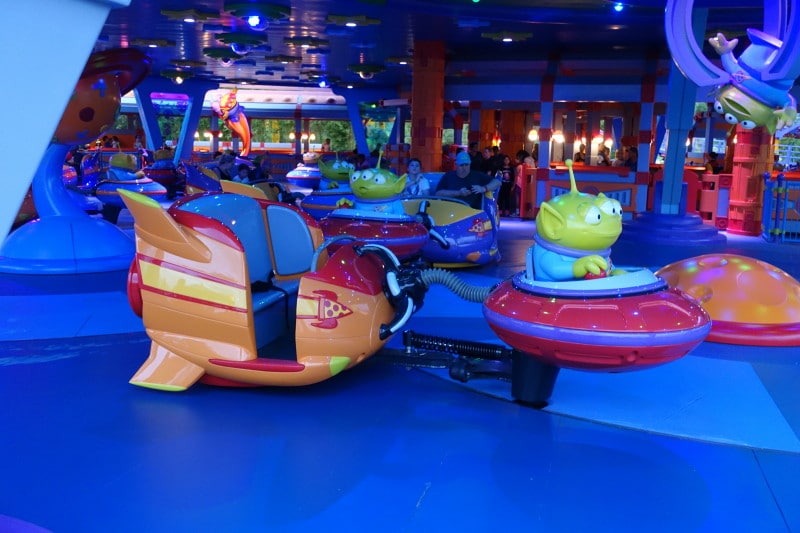 You ride in the back part of a two-part ride vehicle. which will seat two or three people.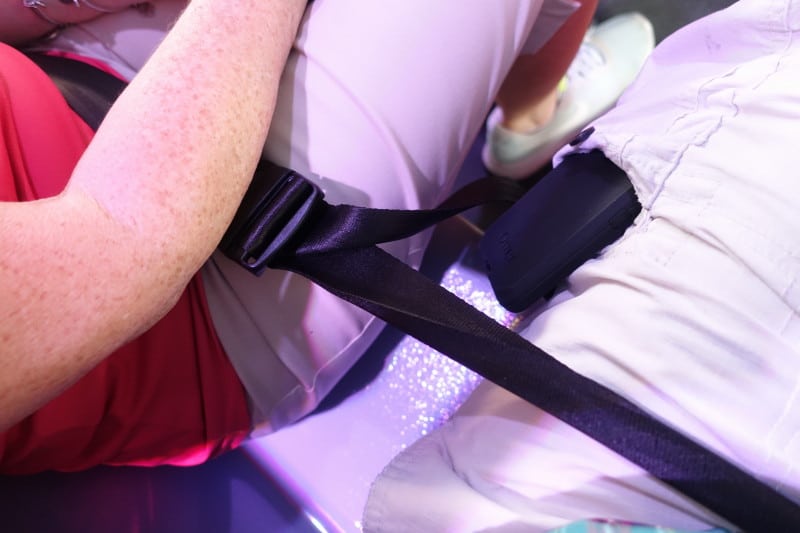 One seatbelt is shared by all.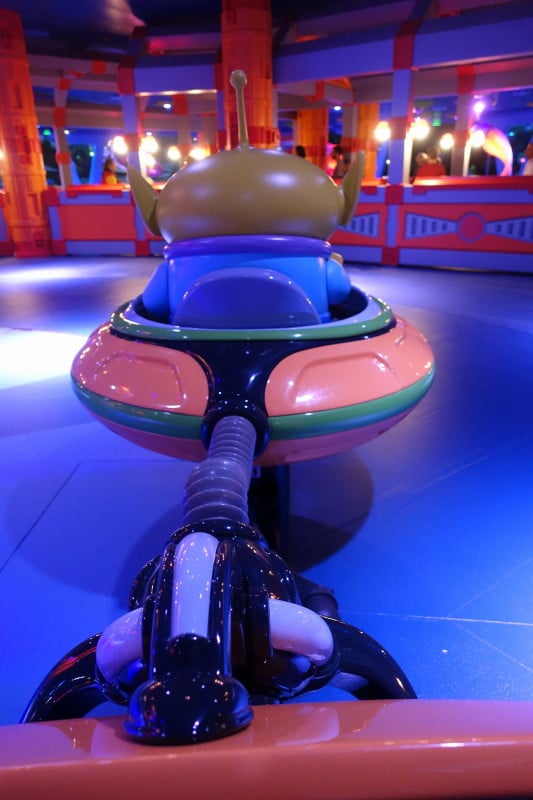 The front part of the vehicle rides a track that shifts it from circle to circle, and the back part, where you sit, moves more freely, including by centripetal force, with a fun but not trivial "crack-the-whip" motion in your part of the ride vehicle.
The most similar ride at Disney World is the teacups of the Mad Tea Party at Magic Kingdom, but at Alien Swirling Saucers the "whip" creates more energy and kinetics, and there is, thank God, no means for your kids to speed the circular motion of the ride.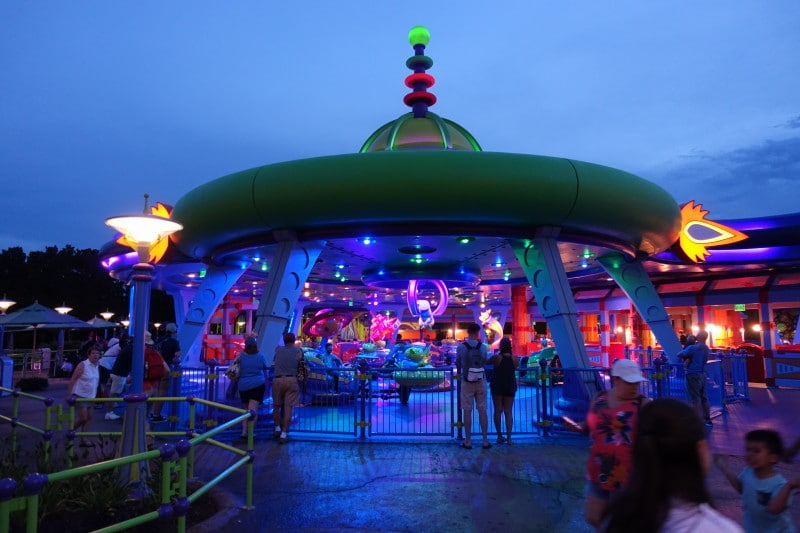 Like the rest of Toy Story Land, Alien Swirling Saucers takes on added charm at night—although perhaps not as much as does the rest of the land.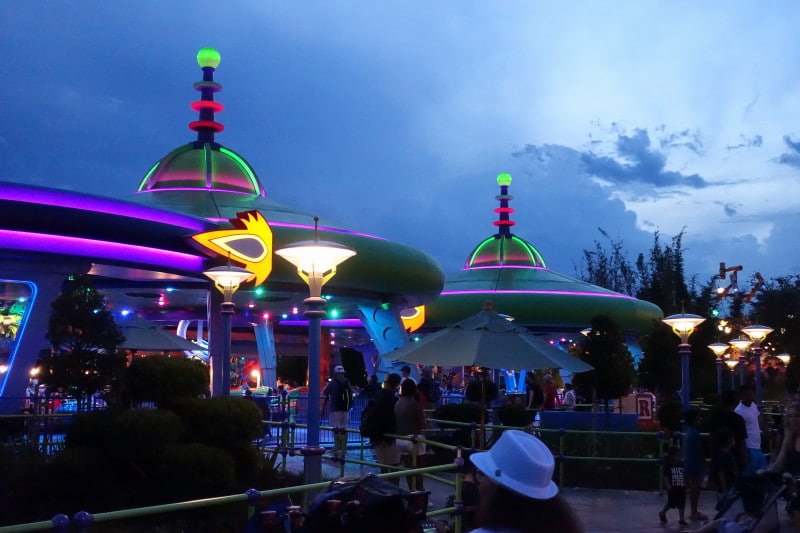 Overall, I'd rate as more fun than the teacups—but the ride's extra energy and kinetics is perhaps why, unlike the teacups, it has a height restriction, 32 inches.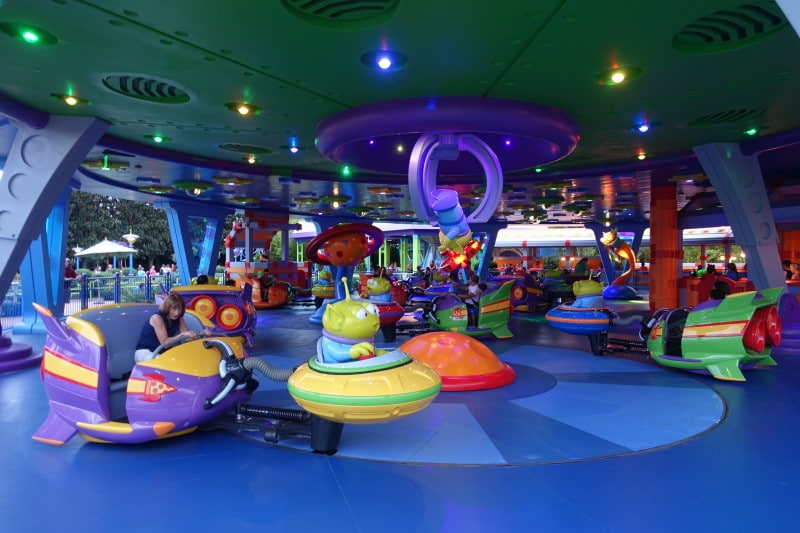 There are two sides to Alien Swirling Saucers, each with eleven vehicles. The vehicles can take three people, if two are little—you will more commonly see two riders, or perhaps a lonely blogger all by hisself. Kids younger than seven need an older person with them, and there's no sitting on laps.
So with 22 vehicles and around two people in each, call the capacity about 44 folks. The entire ride cycle, when I timed it, was 3 minutes—90 seconds to unload and load, and 90 seconds for the ride itself. That makes for an hourly capacity of about 900 people. At least at open, many more than that wanted to ride it, so standby waits can get long.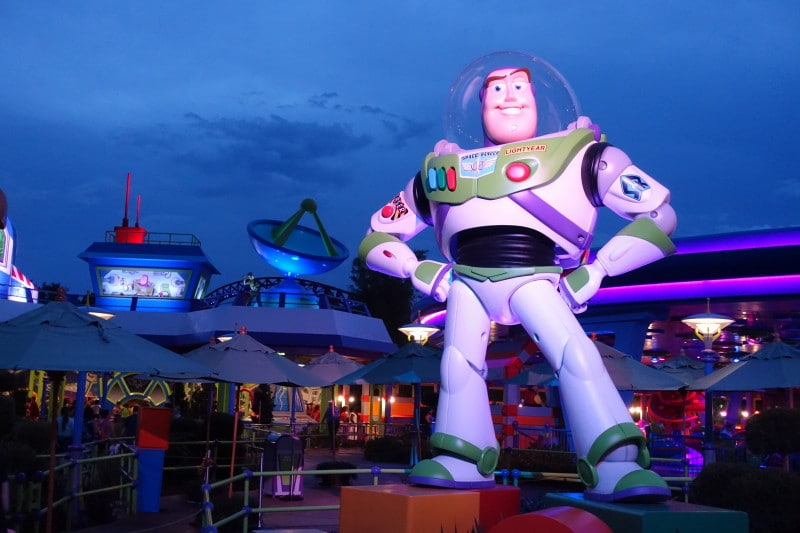 Alien Swirling Saucers is one of three rides at the Studios in Tier One of FastPass+–meaning you can pre-book only one of the three.
There will be very, very few people for whom it is the best choice—from among the other two Tier Ones those up for a thrill should pick one of Slinky Dog Dash, and those looking for tamer fare should pick Toy Story Mania.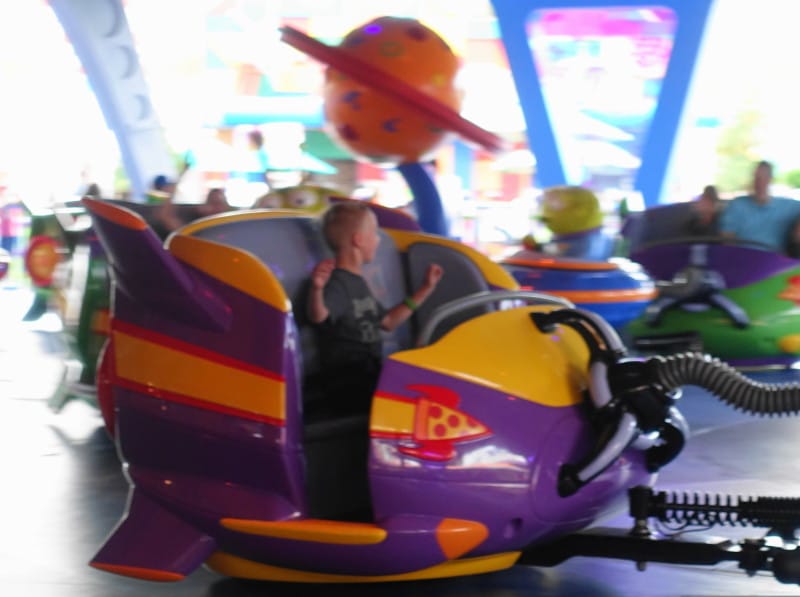 That said, I saw only smiles on this ride, especially from youngsters. (Above, by the way, is the worst photo I've posted on this site, which is saying a lot.  But I loved the smile on that youngster.) So it's worth a bit of a wait.


Follow yourfirstvisit.net on Facebook or Twitter or Pinterest!!
RELATED STUFF