Toy Story Land at Disney's Hollywood Studios
By Dave Shute
Toy Story Land opened at Disney's Hollywood Studios at the end of June 2018. It offers two new rides—Alien Swirling Saucers and Slinky Dog Dash—a re-imagined entrance and exit to the already existing Toy Story Mania that now puts it in this land rather than its old location of now-closed Pixar Place, a fun new dining venue, and meets and greets.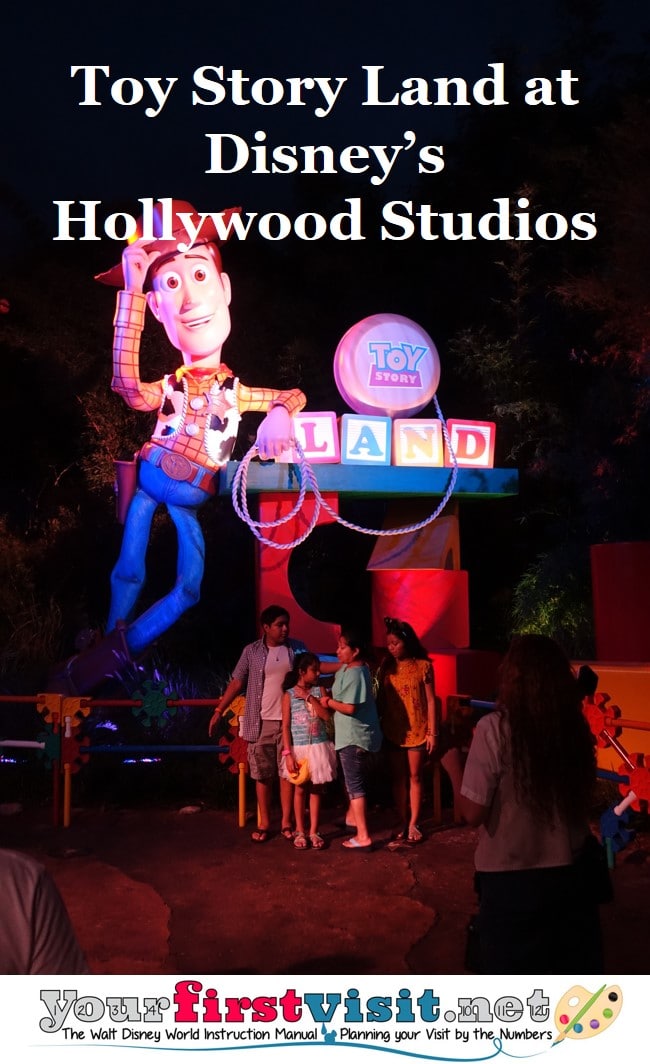 The overall theming presents a terrific atmosphere—especially at night (during the day, there may be a bit too much atmosphere, as there's little in the way of shade, rain protection or air conditioning in the queues for the new rides).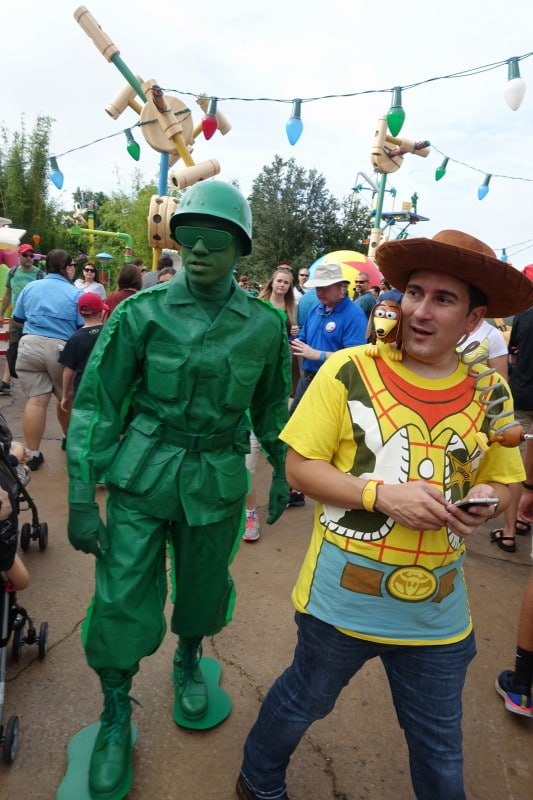 Toy Story Land itself is themed as Andy's backyard, with the conceit that visitors have not only shrunken down to the size of toys (specifically, the size of Green Army Men), but also have become toys—which is what lets the other toys like Woody, Buzz Lightyear, etc., be present and in motion in the land. (Toy Story Mania happens in Andy's bedroom, which is why its queue gets to be enclosed and air-conditioned…)
Moreover, the three rides are presented as though Andy had created them from his own toys, so in theory Slinky Dog Dash is assembled from a toy roller coaster construction set, mashed up with others of Andy's toys, and topped with Christmas lights—of course, just like in his bedroom!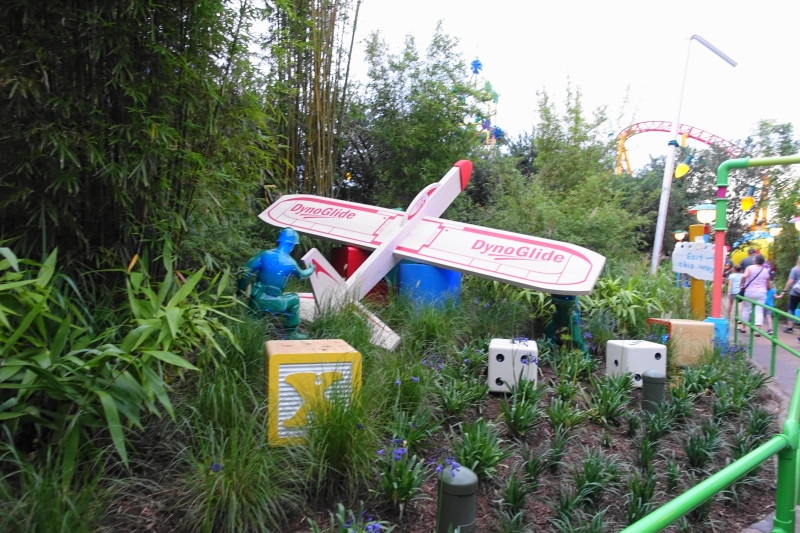 As the father of a couple of boys, I recognize Andy's overall approach to his yard, which quite simply is to leave his toys everywhere, in whatever spot they might have been when last he played with them.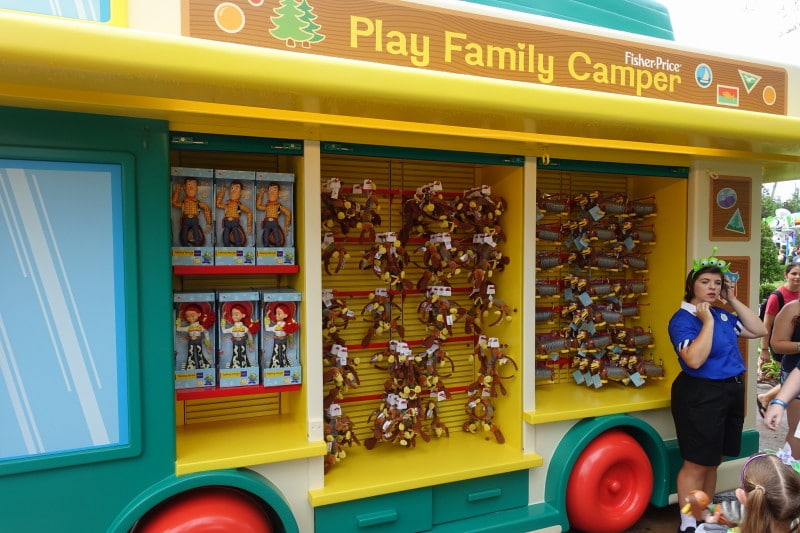 As a result, besides the toys enmeshed in the three rides, Toy Story Land is suffused with other toys, both as objects and in the basic shapes of the land—the fences, the benches, even the gift kiosk (a Fisher-Price camper!).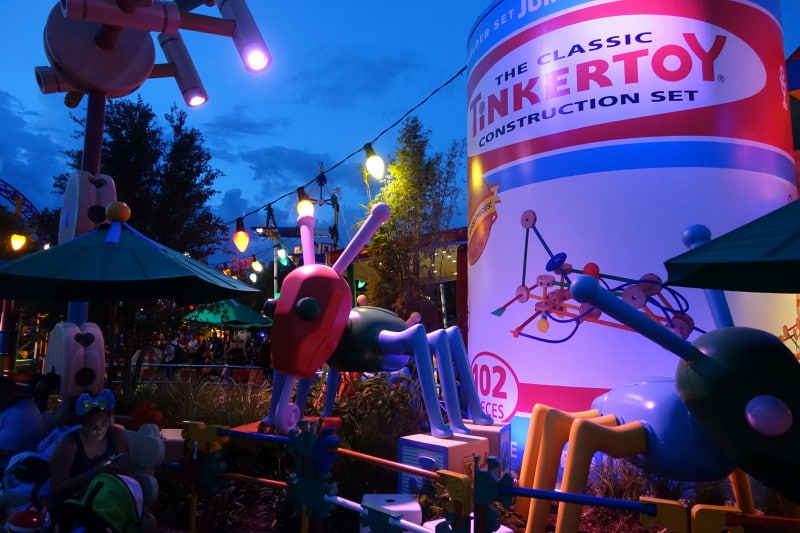 You'll see playing cards and balsa gliders and Tinkertoys and crayons and Scrabble tiles and K'nex and dice…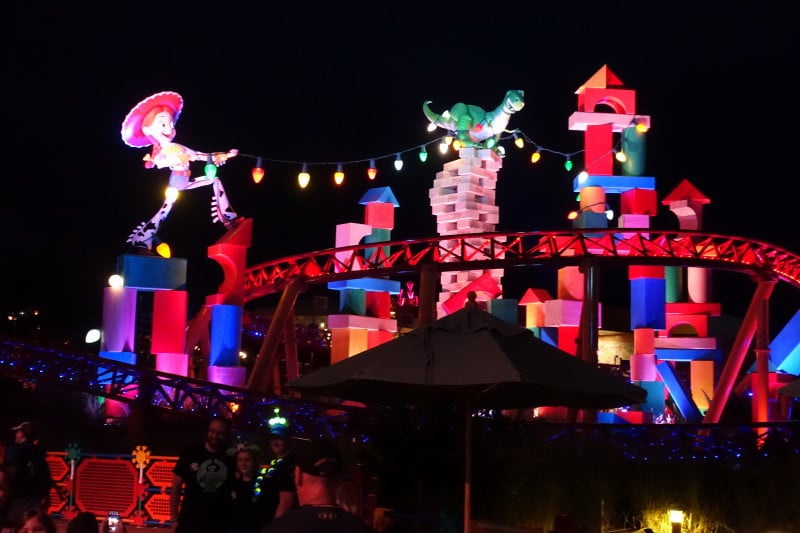 …and also the Toy Story crew, including Woody, Buzz Lightyear, Jessie, Wheezy, Rex, Slinky Dog, and plenty more!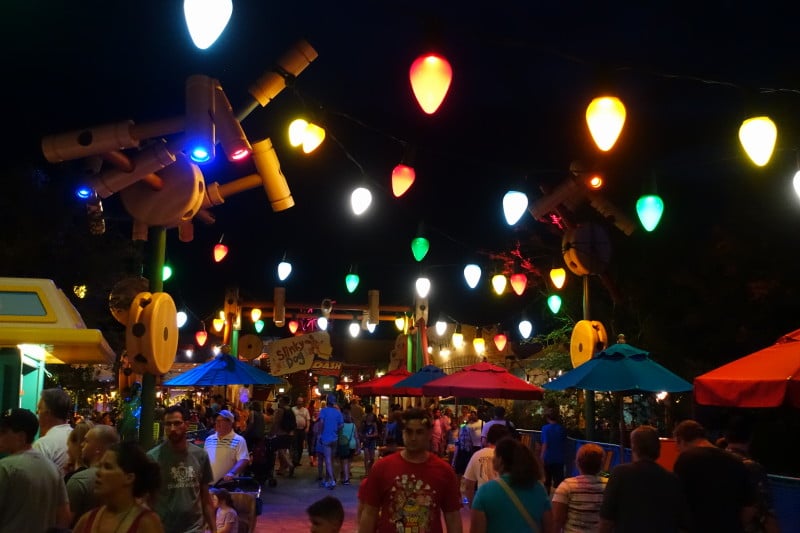 The open and playful setting of Toy Story Land is unlike anything else at Disney World. Slinky Dog Dash dominates the feel and adds tremendous kinetics to the land, and when combined with the Christmas lights at night creates the color and energy of the midway at a county fair—and I mean that in a good way.
The rides themselves are a mixed bag, but mostly quite positive.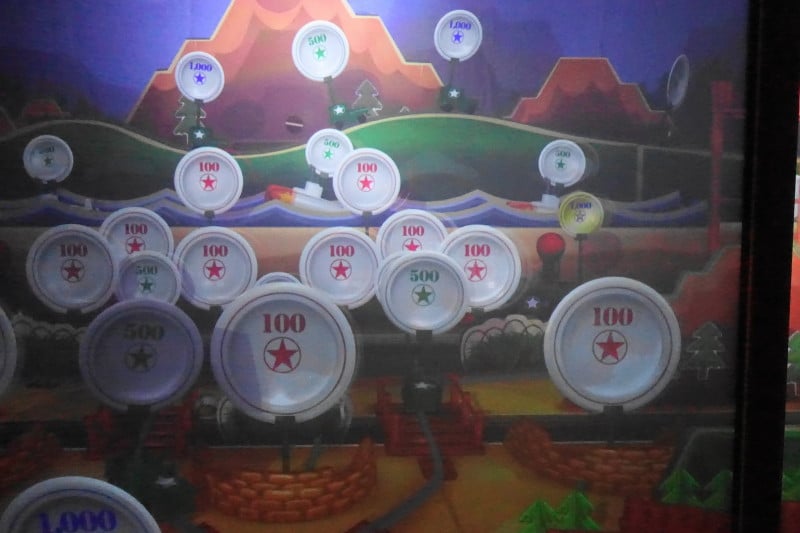 Toy Story Mania remains a standout…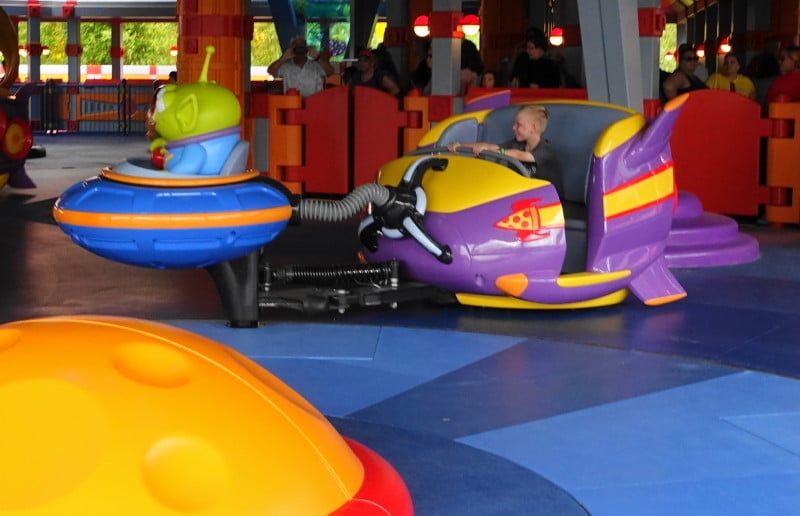 …but Alien Swirling Saucers, while it will put a smile on everyone's face, is worth a re-ride only for the youngest of visitors—which is fine, as there is little else at the Studios well-suited for toddlers. (You need to be 32" tall to ride it, even in a lap—but that's a height most exceed by the time they turn three years old.)
Slinky Dog Dash is the real surprise here—it manages to be both hardly scary and tremendous fun, and will be an all-ages favorite at the Studios for years to come. Slinky Dog comes with a 38 inch height requirement—a height most kids hit during their fourth year.
Since it opened, there has been a curious amount of fussing about Toy Story Land—specifically that it might be a failure because standby waits at Slinky Dog have not been punitively long. The Disney fan community, I suppose, complains only about two type of waits: waits that are too long, and waits that are too short. A moment's thought will remind you that the true test of waits at Slinky Dog will only come after Star Wars: Galaxy's Edge opens in late 2019.
Toy Story Land largely occupies space that had been devoted to the Backlot Tour, which had not been much of a thing for years. Disney's Hollywood Studios in general has seen a lot of closures over the past few years, to make way for Toy Story Land, the upcoming ride Mickey and Minnie's Runaway Railway (maybe the late spring or summer of 2019), and the upcoming land Star Wars: Galaxy's Edge.
With the exception of the Great Movie Ride (where the Runaway Railway is going) most of what closed was low capacity, low popularity, or both. Much poorly-informed slander followed these closures—many called the Studios a half day park. Well, if you write itineraries for first-timers like I do, the only way the Studios was a half-day park was if you skipped half of what was available there.
That said, the opening of Toy Story Land without question breathes new life into the park. Each Toy Story Land ride is now in the first tier of FastPass+, meaning you can only pre-book one. For most, Slinky Dog Dash will be the right FastPass+ choice.


Follow yourfirstvisit.net on Facebook or Twitter or Pinterest!!
RELATED STUFF