150 Different Rooms
By Dave Shute
"I've long said that Dave has the absolute best Disney resort room information I have found!" –Didi Marie, DIStherapy
In November, when I checked out of my Studio at Bay Lake Tower, I completed my 150th different stay in (and review of) a Disney World owned room, studio, villa, suite, cabin, or campsite.
Anyone can ride all the rides. But most who write about Disney World have not stayed in all the hotels–not even close.  I've stayed in them all, and in every major room variant, multiple times–and recently.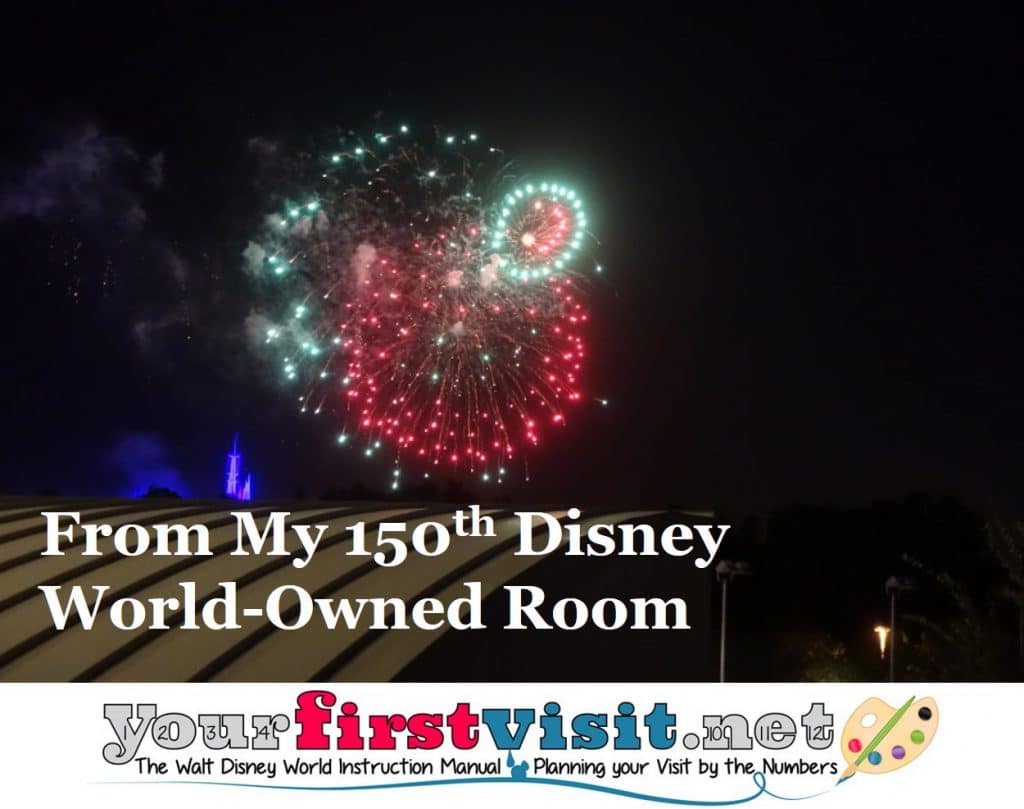 This includes
In 2017 I stayed in (and published updated reviews of) twelve different Disney-owned rooms:
(In 2017 I also stayed in and published updated reviews of two on-site but non-Disney resorts–Four Seasons Resort Orlando and The Disney World Dolphin. In 2016 I stayed in 17 different Disney World-owned rooms, and in 2015 14 Disney World-owned rooms and 6 non-Disney on-site rooms.)
This experience matters because universally the weakest part of most Disney World guidebooks and websites is their material on where to stay, and that weakness what I am trying to avoid.
One person staying repeatedly in all the rooms and in all their major variants (e.g. at Port Orleans Riverside not only standard rooms, but also five-person rooms, and Royal rooms) is the only way to develop a complete, consistent, up-to-date and accurate picture of the hotel options and their strong and weak points.
Reading and copying other people's experiences just won't cut it, and those whose approach depends on this routinely publish howlers and generally get too many facts or judgements wrong. I can think of one site (whose owner has very little actual Disney World experience) that claimed that Fort Wilderness is a monorail resort, and that the Contemporary is one of the least expensive deluxe resorts!
Even having your own team of reviewers doesn't work well, as they can't compare across their own direct experiences the way a single reviewer can, leading them to miss comparative floor plan nuances or even major differences. Careful readers of a well-known 840 page guidebook will discover that Port Orleans Riverside has trundle beds, that Pepper Market uses stamped tickets, and a dozen other claims that just haven't been true for years–or were never true. (My guide book, while not perfect, is much better.)
Consistently good and up to date material on the Disney hotel options is sadly rare, because it takes major, multi-year commitments of time and money.
Luckily, I have been able to create the time, and you, because of your support of the book, your patronage of the site's various sponsors (like Kelly B and The Official Ticket Center), and your interest in the ads on this site, create the money that in turn I spend trying to keep this hotel material great and up to date.
For links to my reviews of all the Disney World-owned hotels, see this.


Follow yourfirstvisit.net on Facebook or Twitter or Pinterest!!
RELATED STUFF