The Next Disney Vacation Club Offering Will Be High-Adventure Campsites
By Dave Shute
THE NEXT DISNEY WORLD DVC VENUE HAS BEEN ANNOUNCED
April 1, 2013—In an announcement that caught the fan community off guard—Josh was so shocked that he immediately ran off to take more photos of merchandise—Walt Disney World, RunDisney, and Adventures by Disney today jointly announced that the next Disney Vacation Club ("DVC") venue at Walt Disney World will be high adventure backpacking campsites.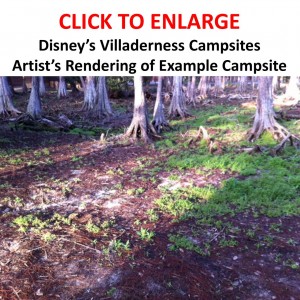 The campsites, to be known as Disney's Villaderness Campsites, will be located in the stinking mangrove swamps pristine wetlands area northeast of Bay Lake, near where several years ago Disney announced it would build a high-speed rail line.
The idea behind the new DVC resort is fastpacking—the combination of backpacking and trail running.  It will be themed around "pain."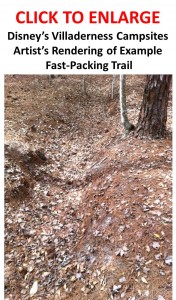 Guests at Disney's Villaderness Campsites will check in at the Contemporary Resort, and then "fastpack": run from there along wilderness trails to the campsites, while carrying personal backpacks filled with all their gear—tents, sleeping bags, stoves, food, clothes, etc.
Transportation to and from the parks will also be via running, but guests will not be required to carry their loaded backpacks for day trips, except to the Animal Kingdom. ("Because we say so," a Disney spokesperson explained.)
Adventures by Disney guides will accompany, goad and belittle the runners, and shout out the highlights of what is being passed—pythons, sink-holes, and the like.  (DVC guests staying on points will be able to use the Adventures by Disney guides only every fourth day.)
Sell-side analysts are quite excited.  "In the traditional DVC model, Disney convinces future guests to pay Disney to build a hotel for them, and then to pay Disney for its upkeep, but they do get a sticker," says Bertie Wooster of UBS. "At the Villaderness Campsites," he continues, "guests will be paying Disney for 50 years for the privilege of running their own gear to unimproved swampland!  Not even a community room or second-rate restaurant! Brilliant!"
THE STORY BEHIND THIS JUST-ANNOUNCED DVC RESORT
Disney's Villaderness Campsites were inspired, insiders say, by the stunning growth of Disney World's various running events.
The current RunDisney events, including the full, half, half-full, 3.1415k, sideways, silly walk, and Hoop Dee Doo marathons, were originally inspired by management's observations of guests in the parks during peak-crowd weeks.
One insider told me "we realized that people would pay good money to stand in hot lines for two or three hours per ride.  So the question we asked ourselves was, 'how could we take people's willingness to be just miserable for hours and make even more money off of it?'"
And thus the marathons and other running events at Disney World were born, as there seems an almost insatiable demand to combine the best of Walt Disney World with hours of pain and misery—and pay extra for it.
Disney's Villaderness Campsites (pronounce it like a movie-Nazi: "Veeeeelderunessss") are the natural outgrowth of the need of many to pay for pain and Disney's wish to grow income while limiting capital spend after pouring hundreds of millions of dollars into the Tangled bathrooms.
(Helping a bit on the capex front is that the plans to add Minnesota as Epcot's next World Showcase nation were recently quietly canceled, pouring some capital back into the cash till).
Fastpacking to the pain-themed campsites creates the combined misery/Disney experience so deeply craved, while the unimproved sites, and the requirement for guests to bring their own backpacks and gear, makes the capital investment negligible.
Negligible, that is, for Disney.  Guests will still need to pay an arm, a leg—and a couple of feet. The minimum buy-in points and point calendar are still being developed, and may be related to best marathon times.  But the expectation is that pricing will be similar to One-Bedroom Villas at Saratoga Springs, since an un-developed wasteland is comparable to those tiny rooms.
But at least at Saratoga Springs you won't have to pack in toilet paper and a trowel!
Follow yourfirstvisit.net on Facebook!
RELATED STUFF