The easy Guide to Your First Walt Disney World Visit, Chapter 6
By Dave Shute
Chapter 6 of The easy Guide to Your First Walt Disney World Visit (now available on Kindle!) covers "How to Spend Your Time."
(I've previously published an introduction to the easy Guide, and discussed Chapter 1,  Chapter 2,  Chapter 3, Chapter 4, and Chapter 5.)
Chapter 6 is the heart of The easy Guide, as it covers why people actually come to Walt Disney World–the four theme parks. At about a hundred pages it's also the longest chapter, accounting for more than a third of the book.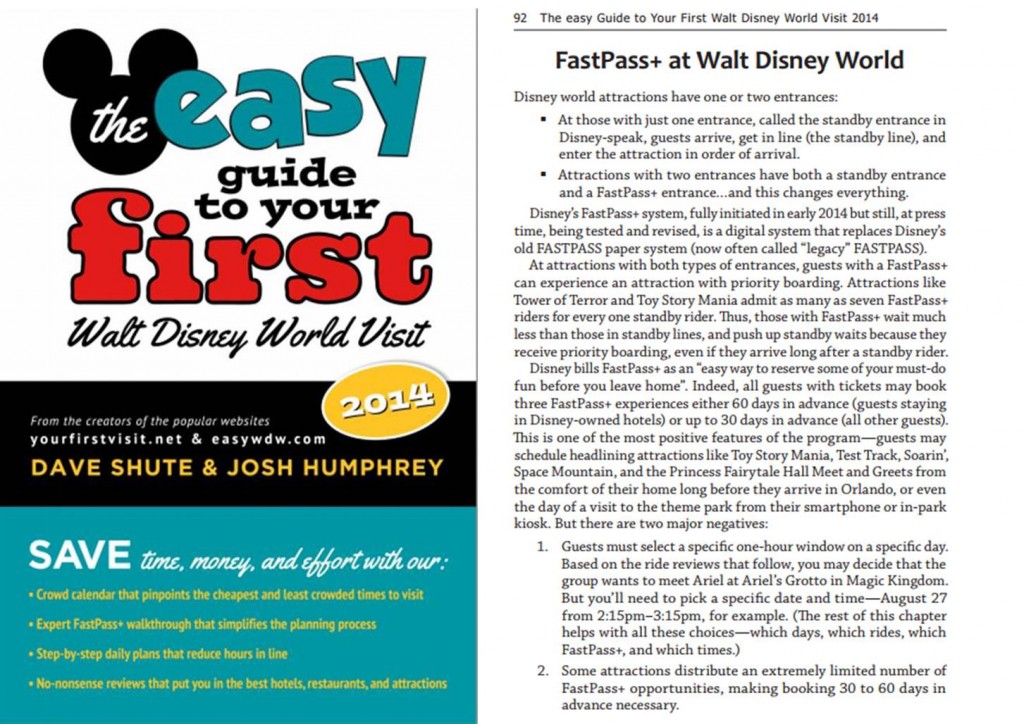 After the usual introductory stuff, Chapter 6 begins with an overview of FastPass+. FastPass+ (and My Disney Experience, covered in Chapter 9) is the heart of Disney's brand new attempt to make visits less burdensome, and if well-strategized works really well for first-timers. A key contribution we make in Chapter 6 is delivering those strategies.
After that we cover the principles of designing an itinerary, and then give some example integrated multi-day itineraries. Because we know not everyone can use them as is–or even at all–we then cover each park overall and review each ride in the parks, so that those who need to can pick and choose from among them. Our reviews are very brief, and meant not to tell the whole story of each ride, but rather just enough to guide people to or away from them.
At the end of the Chapter are the Cheat sheets, one for each park.  These include maps (better printed from here, by the way) and step by step touring plans designed so that people who can't use the integrated itineraries presented earlier in the chapter can put together their own visits quickly and easily.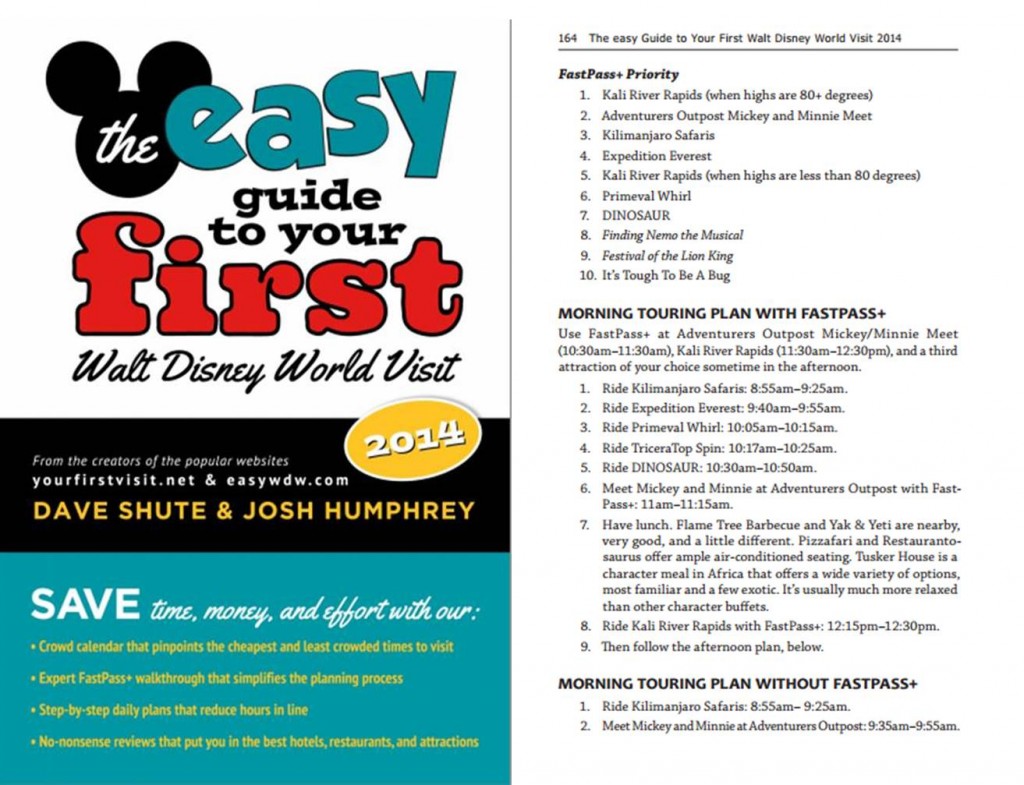 There's a bit of redundancy between the Cheat Sheets and some of the earlier material in the chapter–which is purposeful, as we wanted the Cheat Sheets to stand on their own, so that you could tear them out and use them in the parks without having to pull the book along with you.
Of course you could instead simply take the Kindle edition along with you on your phone, and thus avoid tearing our book up!
Follow yourfirstvisit.net on Facebook or Google+ or Twitter or Pinterest!!
RELATED STUFF