The easy Guide to Your First Walt Disney World Visit, Chapter 3
By Dave Shute
Chapter 3 of The easy Guide to Your First Walt Disney World Visit covers "How Long to Stay."
(I've previously published an introduction to the easy Guide, and discussed Chapter 1 and Chapter 2.)
It provides advice for fun trips of almost any length–while noting that if it's an only visit, eight or nine days in Orlando remains the minimum time needed to see all the best of the Disney World theme parks while also providing for some needed down time.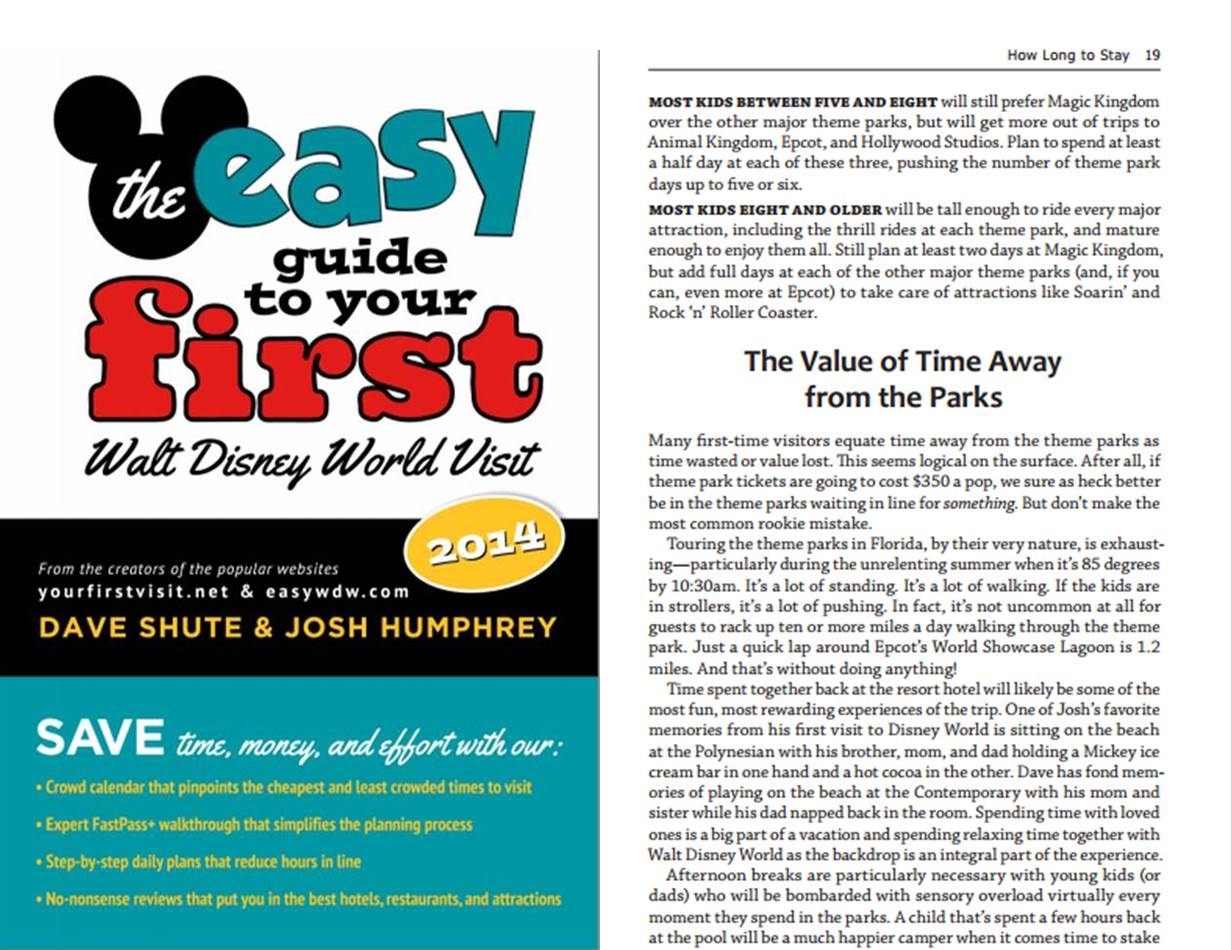 The chapter overlaps a bit with the one that precedes it, "Why Age and Height Matter," as shorter trips–while of course possible for everyone–make much more sense the younger the kids are.
There's so many different things that surprise first timers about Disney World that it's hard to say what's the biggest.
The importance of dining, and the need to book it way in advance, is near the top of surprises, but a close second is just how much time it takes to see the best of everything, and a near third is how much those park visits will wear you and yours out.  Six days in the parks is right to see just about everything, and you also need a couple of days off, and some time for traveling to and from Orlando.
Of course you can divide this over multiple trips, and if you do so, you'll get to see your kids experiencing Disney World in different ways as they grow up:
Thinking that Mickey is real (and I'm not saying he isn't…) and being afraid of the Great Movie Ride
Wanting to re-ride Expedition Everest again and again and seeing the character playing Mickey (but I'm not saying he isn't real) as simply as a co-creator, along with your kid, of the overall playful and joyful ambience of the setting
But multiple trips also cost more.  You have to pay for transport multiple times, and that, combined with the way Disney prices tickets–with ticket days after the fourth almost free, but the first three days costing the moon–means that two shorter trips can cost almost twice what one longer trip will set you back.
Chapter 3 covers all this, and more–and you can buy it, and all the rest of our book too, on Amazon by clicking the link: The easy Guide to Your First Walt Disney World Visit.
Follow yourfirstvisit.net on Facebook or Google+ or Twitter or Pinterest!!
RELATED STUFF