The easy Guide to Your First Walt Disney World Visit, Chapter 1
By Dave Shute
I'd noted in yesterday's post why the new Disney World guidebook I co-authored with Josh, The easy Guide to Your First Walt Disney World Visit, is different from this site:
It's meant for all first-timers, not just those with kids 8ish or so who may never return
While inspired by this site, it represents the best of our joint thinking, so is different than either of our sites
You can see this immediately in Chapter 1.
Chapter 1 plays two roles in the book: it introduces all the other chapters that follow it, and it summarizes our key recommendations in one place–kinda like the home page of this site. That lets those who wish to plan their Disney World vacation very quickly!
But, because the book as noted is meant for a wider audience and comes from both of us, the recommendations are different.
See the excerpt: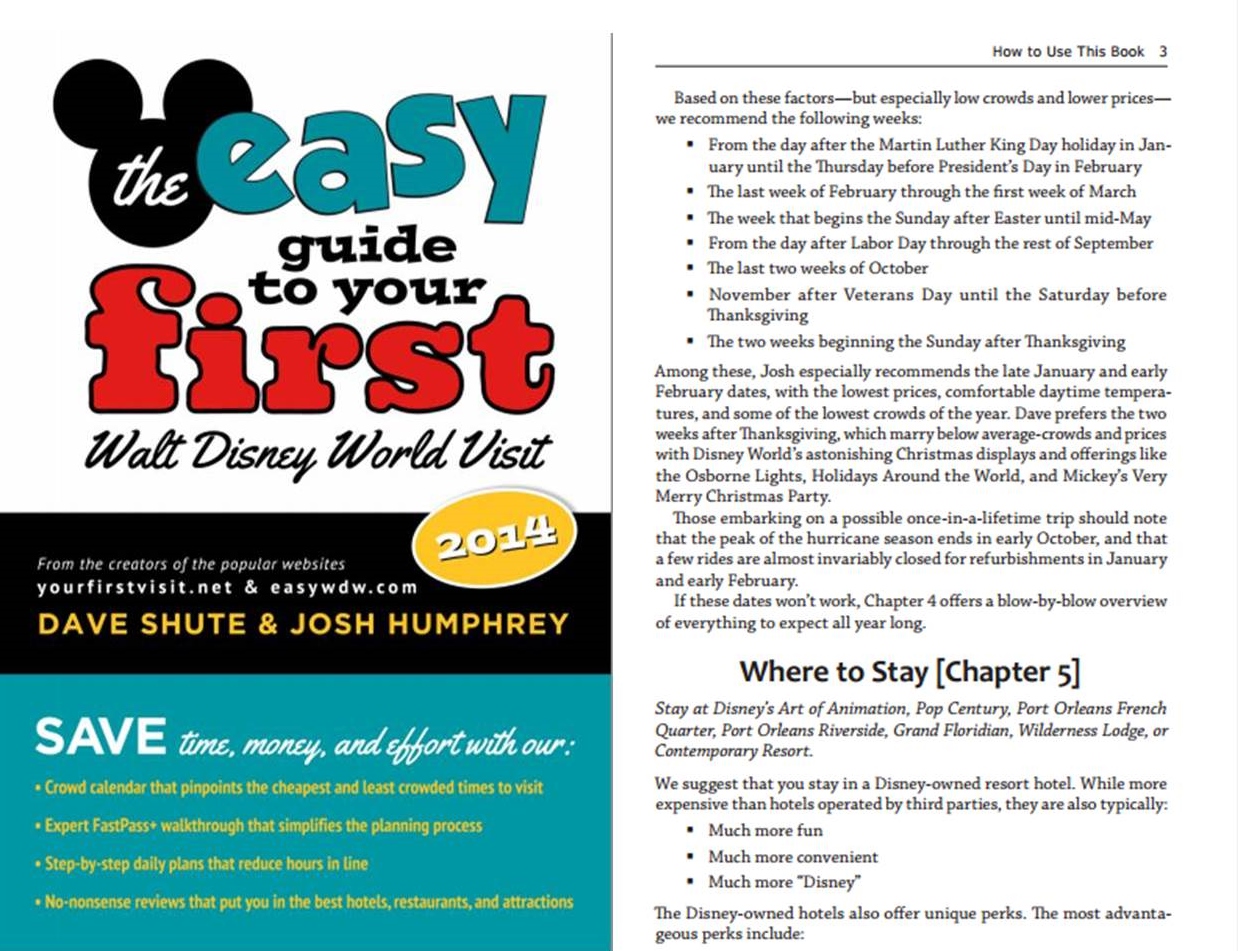 What's on the right is from the first chapter, page 3.
Note the recommended dates. On this site I shy away from recommending to first timers who may never return later January and early February because of ride closures, and September because it's in the peak of the hurricane season.
But if you can return, those are great dates to visit, combining low crowds and low prices!
So that's what you'll find in the first chapter–a combined introduction to the rest of the book and the summary of our recommendations!
Thousands have already bought the book–it's been one of the top three best selling theme park guidebooks on Amazon pretty much since we released it.  Shouldn't you, too? Click the link:  The easy Guide to Your First Walt Disney World Visit!!
Follow yourfirstvisit.net on Facebook or Google+ or Twitter or Pinterest!!
RELATED STUFF